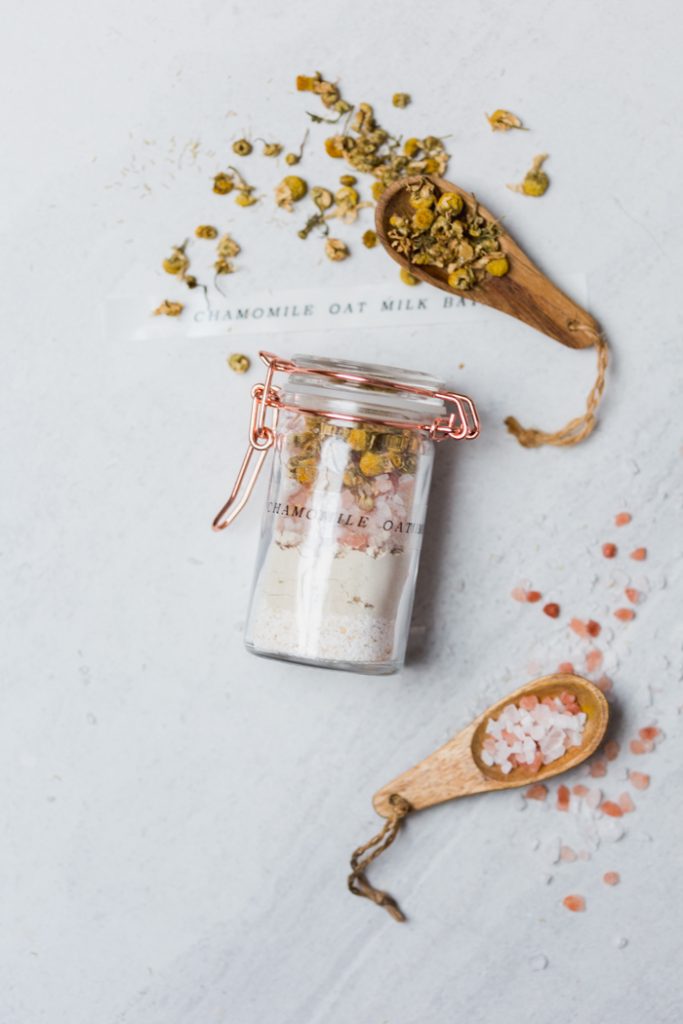 This post is sponsored by Brother. Thank you for supporting the brands that support Fall For DIY.
Ok, before we get to the reason your all here I have a small tangent to veer off into for just a moment. Bare with me while I take this detour but…
How have I lived my life up until this moment without owning a label maker!? I'm not even joking – about not owning a label maker and how on earth I've resisted the urge until now. I've always wanted one, but it seemed like one of those things you buy, use once, run out of tape and never use again. And you know, I thought I was doing alright when it took a solid 5 minutes to work out which of my unlabelled spices I needed. Or 20 minutes figuring out which box the glue was in again? I didn't need to label things, I could just get stressed out and waste time instead.
But what if your label maker could do more than this? What if it could print on ribbon? Make clear labels? Black on white? White on black? Red on white? Green? Yellow? Blue? What if it could make patterns and change fonts? Outlines, italics, borders!!? Now you have my attention. I can label my spices, tools, materials and make personalised gift wrap. Now I don't have to go around labelling everything in my house twice over to get my money's worth. I can make anything from cup cake toppers and decorations to table settings and planner stickers. Now I'm interested!
I am of course talking about the Brother P-touch Craft label printer.
I've been testing it out and making some DIY beauty products for gifts this year. I thought they'd be more of an add on gift, but the packaging really gives these a more luxurious quality. Using the P-touch Craft I've created three different finishing touches for three different beauty products. I've tested all of these products myself but please do test them before using as your skin might react differently to mine. If you're giving them as a gift ensure you add a note and tell the recipient to test them on a small area of skin before using them too. Ok, that's the fine print done. Let's get to the making!
DIY Chamomile Oat Milk Bath
This is a great vegan alternative to powdered milk baths. Oats are wonderfully moisturising and if you've ever made oat milk you'll understand how well they can work as a milk bath product. I've added clay for its toxin drawing properties, bath salts to improve skin tone and texture, and chamomile as an anti-inflammatory. Basically, it's a little jar of wonder for a really relaxing bath! Here's the recipe:
Using a small jar fill one quarter with blended oats, one quarter clay, one quarter natural Himalayan pink salt. Add 5 drops of sandalwood to the salt layer then fill the remainder of the jar with dried chamomile flowers. You can buy these as a loose leaf tea.
I've used black on clear laminated labels to give a very minimal look to the packaging. I love how this sits over the pink hues of the salt!
Oatmeal Bar Soap
I love that oatmeal used in a soap can act as both an exfoliator and a moisturising element. It can relieve skin irritation and level the ph balance. It's basically the beauty wonder product you didn't know you had sat in your cupboard all your life!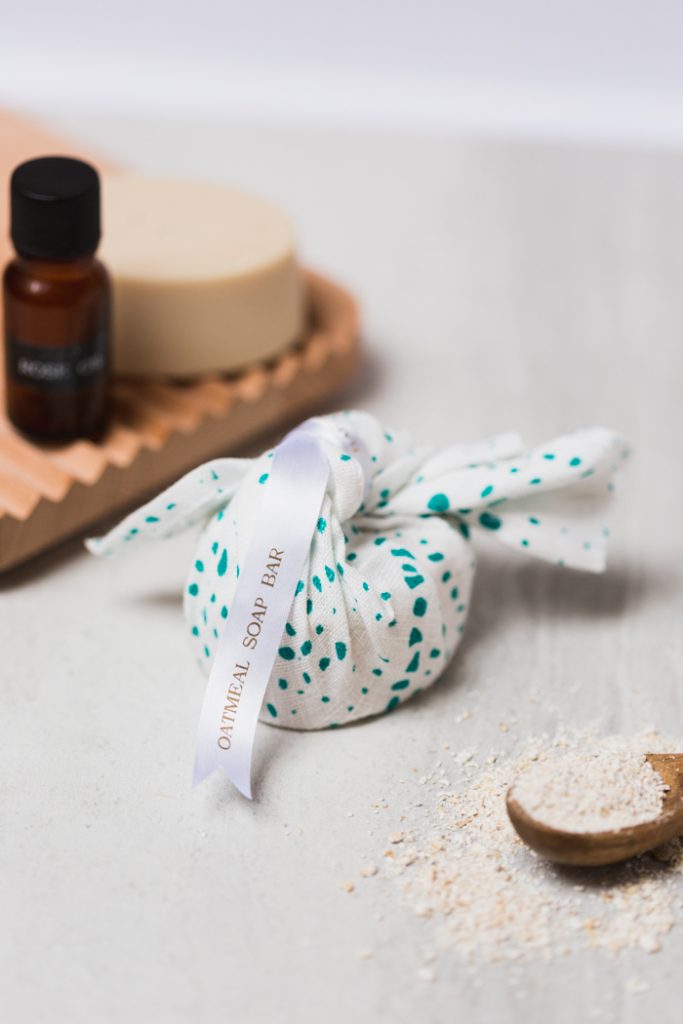 Here's the recipe:
Heat melt and pour soap base in a pyrex dish over a pan of simmering water. Add roughly 5 drops of rose essential oil for each soap you estimate you will make. When the soap is liquid add a tablespoon of blended oats for each soap. Pour into a silicone mould and leave to set.
I've used a small piece of fabric to wrap the soap, then added a printed ribbon to the knot. To finish snip the end to make a v shape.
Oat Clay Mask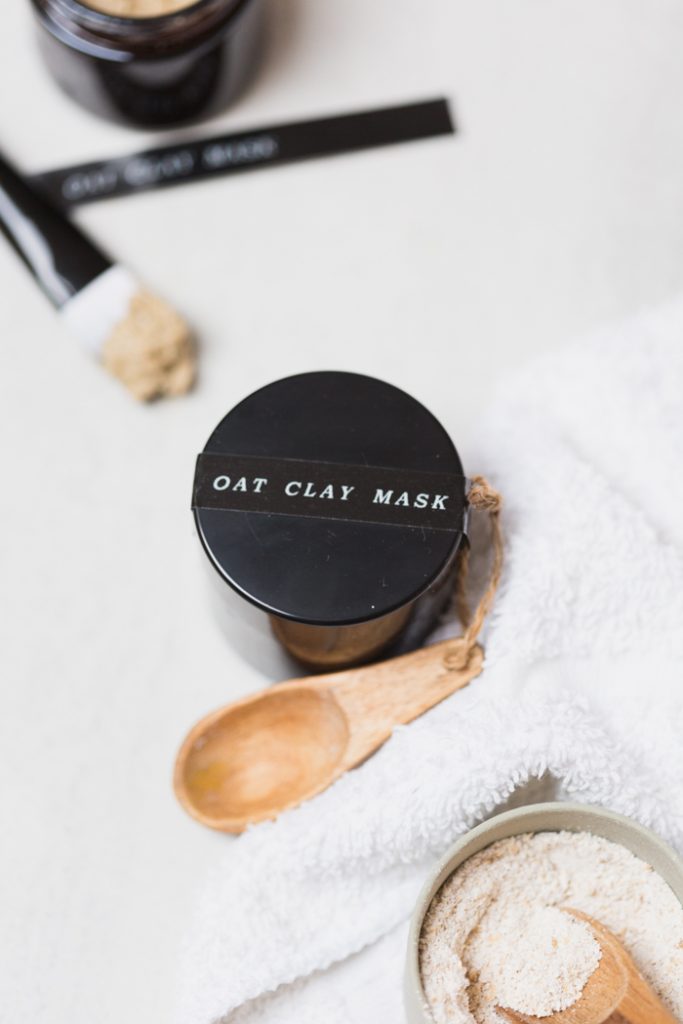 I love this mask! I have very dry skin on my face that becomes inflamed easily. I've been using this mask to detoxify my skin without leaving it dry. Once again, make sure anyone using this mask has tested it on a small area of skin first.
Here's the recipe:
2 tbsp Bentonite clay
1 tbsp Blended oats
10 drops Almond oil
Mix the ingredients together with a wooden utensil and add to the jar. When you want to use the mask add 5 tbsp of water and mix well. You can either do this right before giving the gift or instruct the recipient to do it themselves. The mask should last about a week in the fridge.
I wanted to use these dark glass jars for the mask, so I created a black label with contrasting white text to sit over the top of the lid and down onto the jar. Set the length of your label at around 130mm to achieve this look.
As you can see I am very happy with my P-touch Craft! It's going to take my Christmas wrapping to the next level and I'm already dreaming about more ways of using it. Especially on those spice jars…
Thank you again to Brother for working with me on this dream project!