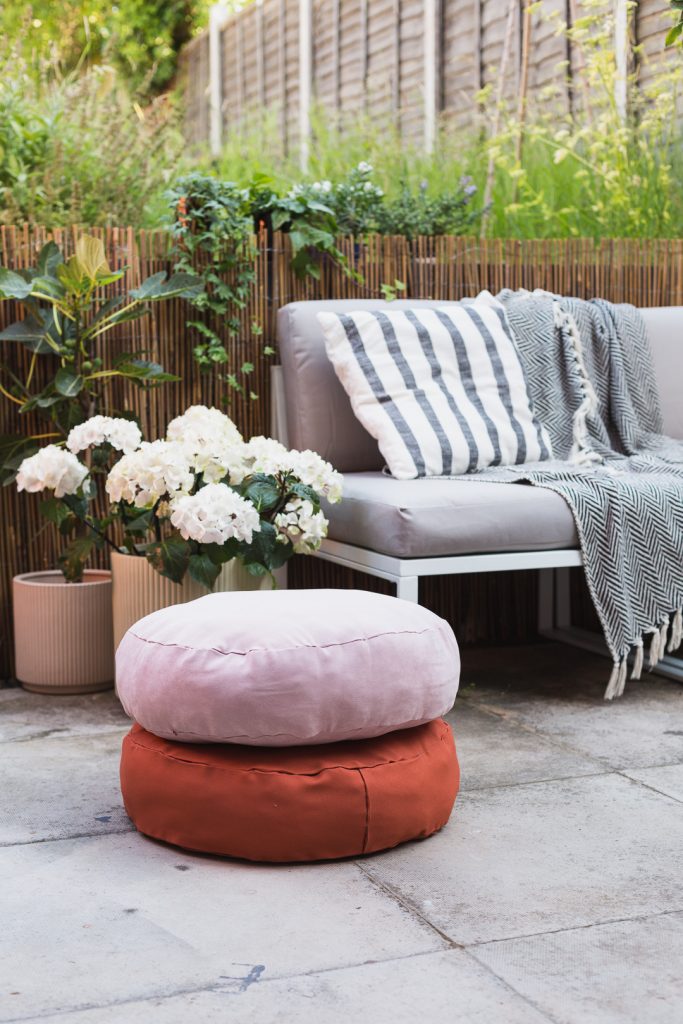 This post has been sponsored by Beacon Adhesives. Thank you for supporting Fall For DIY!
We're spending every sunny day we can in the garden before the colder months arrive and we need to pile on the layers before venturing out of the house. As well as laying down on the grass and digging in the unused flower beds it's actually really nice to have somewhere more comfortable to sit and eat/read/badly sing nursery rhymes (and annoy my neighbours) in calmer moments. I'm basically bringing my living room out into nature.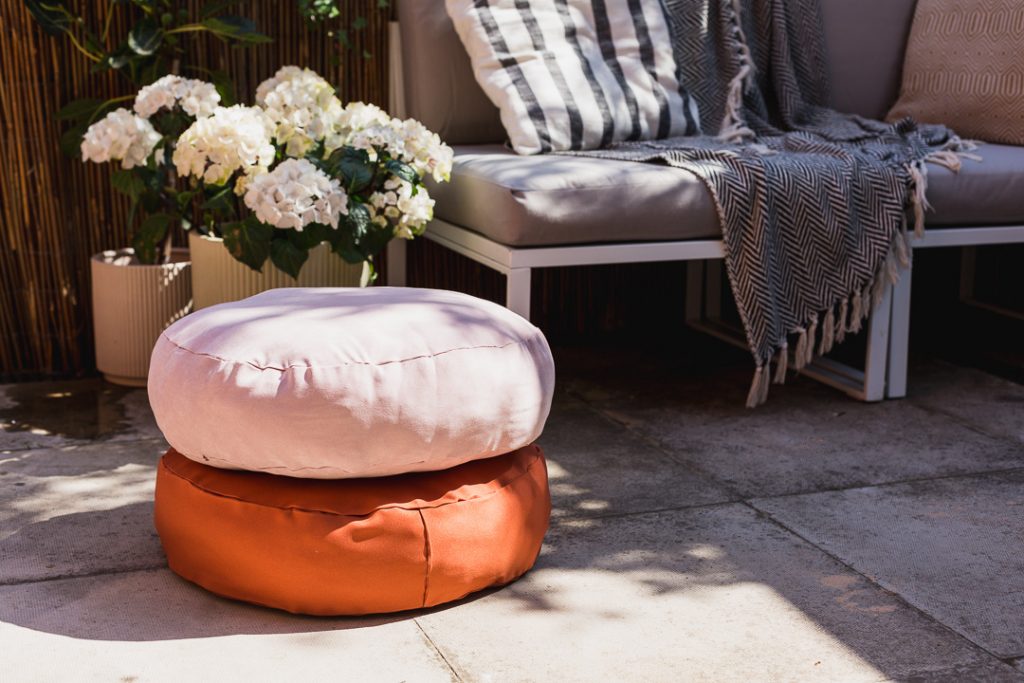 Since Ollen turns every item both in and out of our house into a fun (for some) throwing around game, I thought I'd make him some seating he could also use as tower blocks or a climbing frame or a trampoline. All things he has already done with these cushions. 
I thought it would be more difficult to make cushions which were suitable for outside use, but it's actually so easy! These can be used inside and out, and can withstand a light shower of rain or with a watering can… because we all know that's definitely going to happen.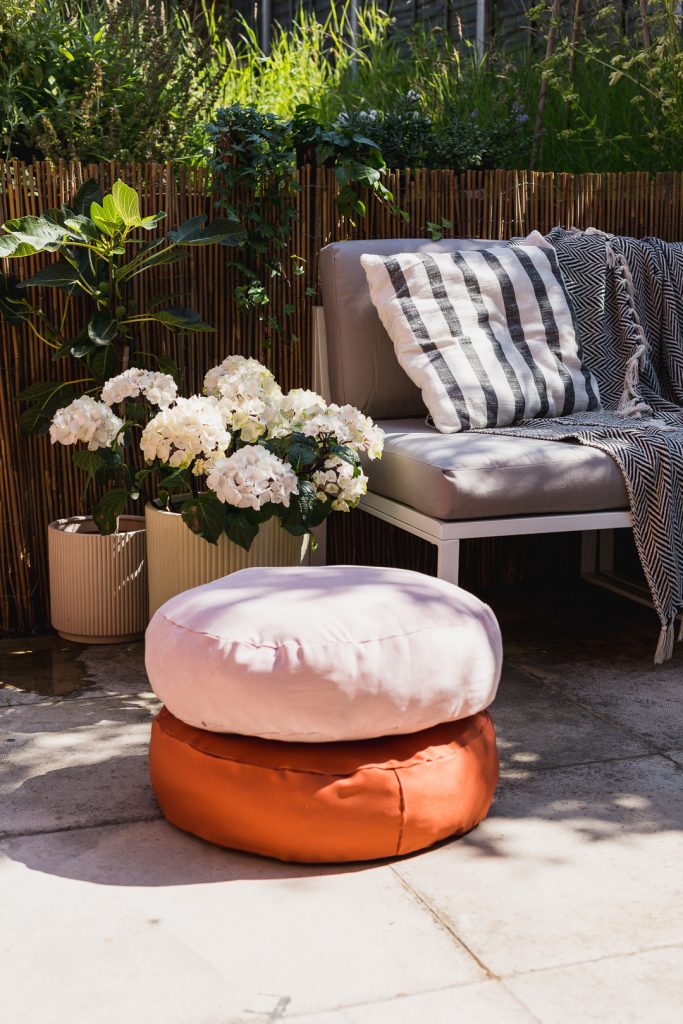 The best thing about these cushions is that you don't need any sewing skills. I've used a magic glue from Beacon Adhesives. Fabri-tac is the best fabric glue I've used up until now. It creates a really strong bond which has so far coped with an 18 month old let loose on it. That's good going in my books.
You can follow along with the tutorial below or watch the video I've made here. 
Materials:
Fabric (around 1 metre – mid-weight cotton and linens are a great choice)

Circle template

Sewing chalk/pen

Scissors

Waterproofing spray

Iron
Instructions:
1. Create a circle template on paper by drawing around an object around the same size as the cushion you want. I used a mirror.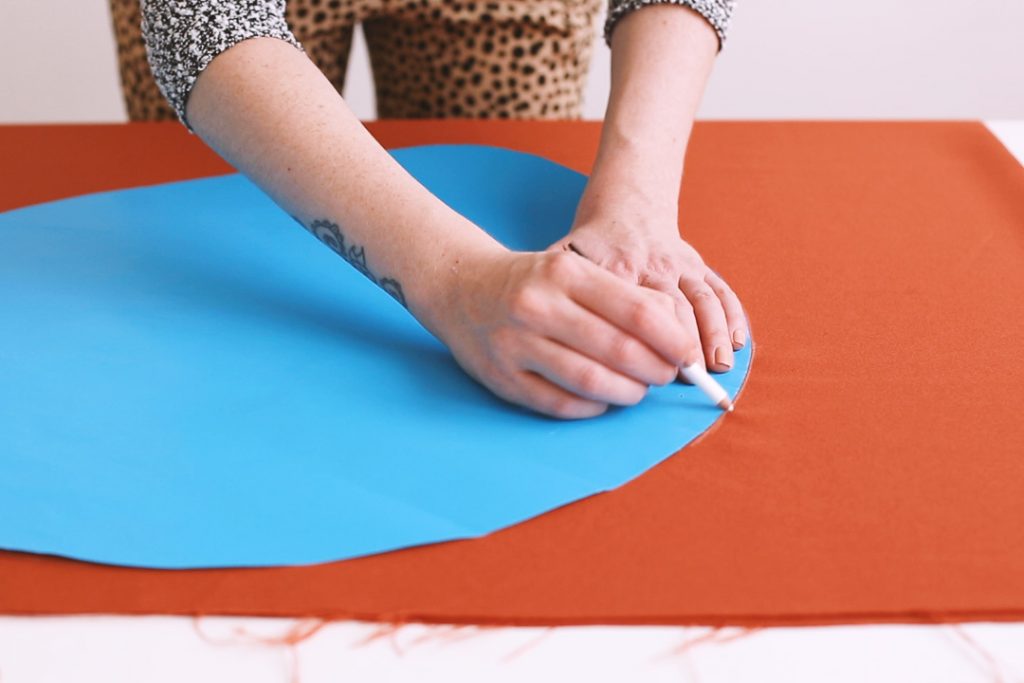 2. Fold your fabric in half and using a chalk pencil draw around the template.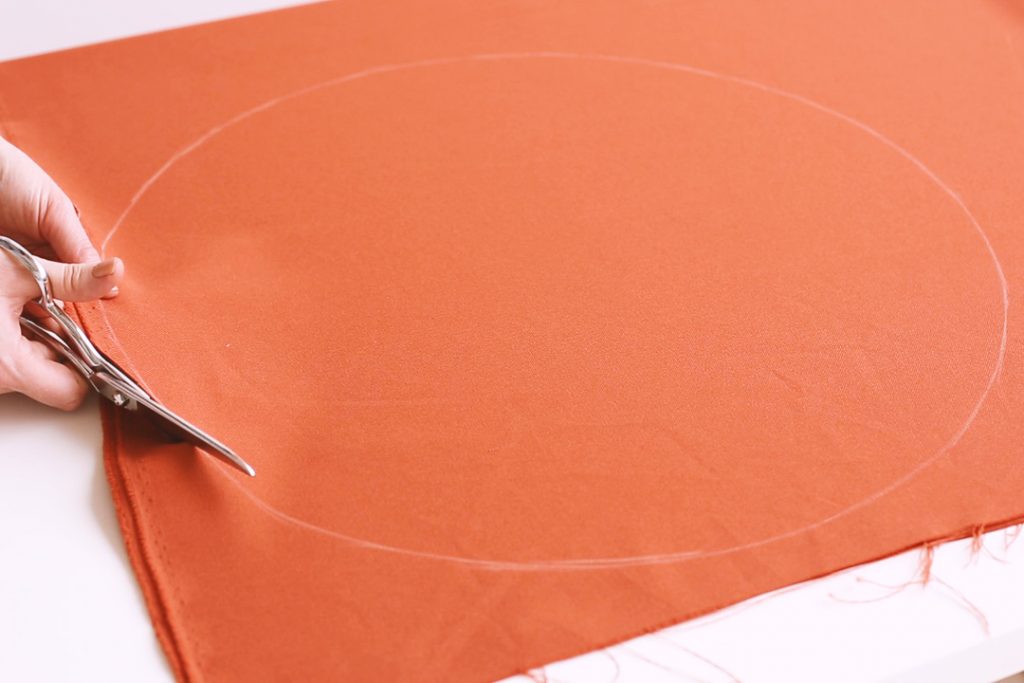 3. Cut out both layers of fabric. You can use pins to hold them in place if you need to.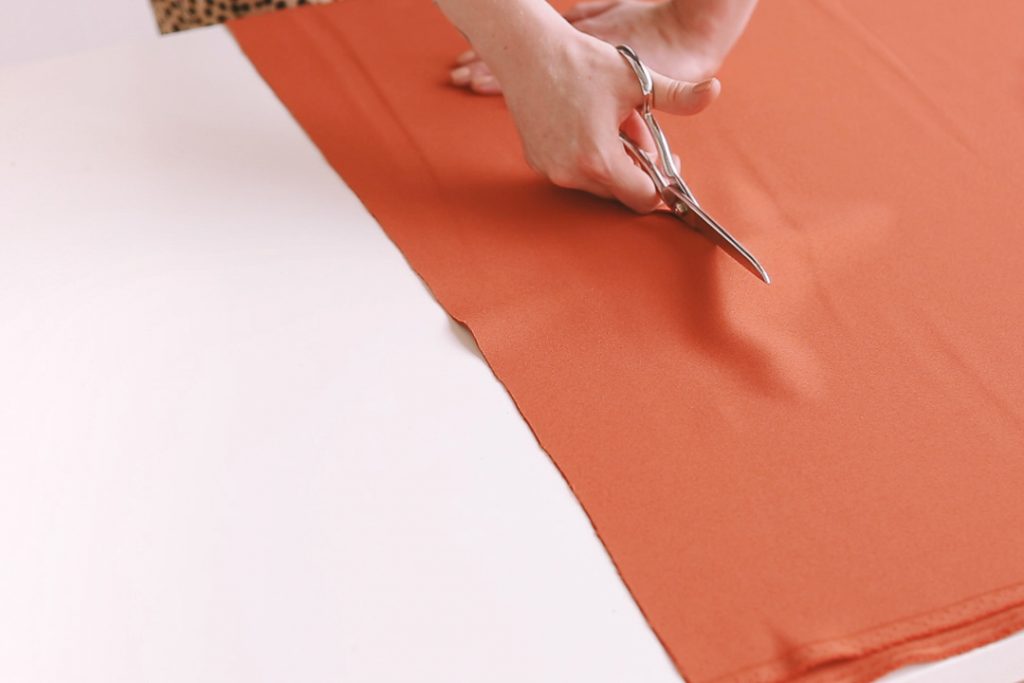 4. From the rest of the fabric but 5" wide strips. You need to cut enough fabric to cover the circumference of the circle pieces.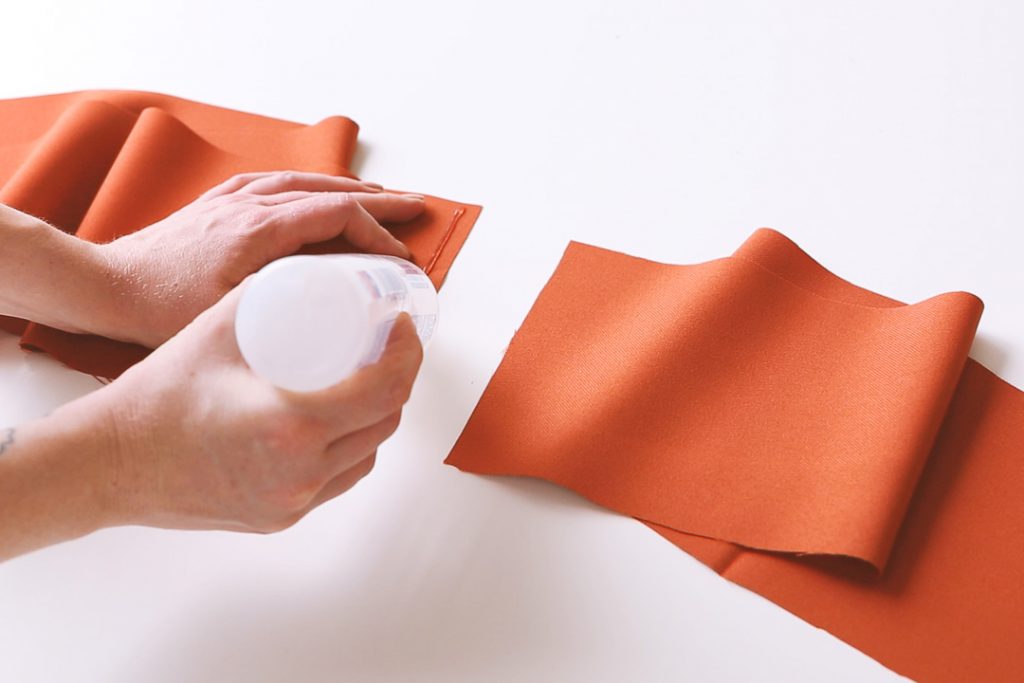 5. Squeeze a line of Fabri-tac along the edge of one of these pieces and press the edge of another onto it. Make sure the lengths of fabric are facing the same direction.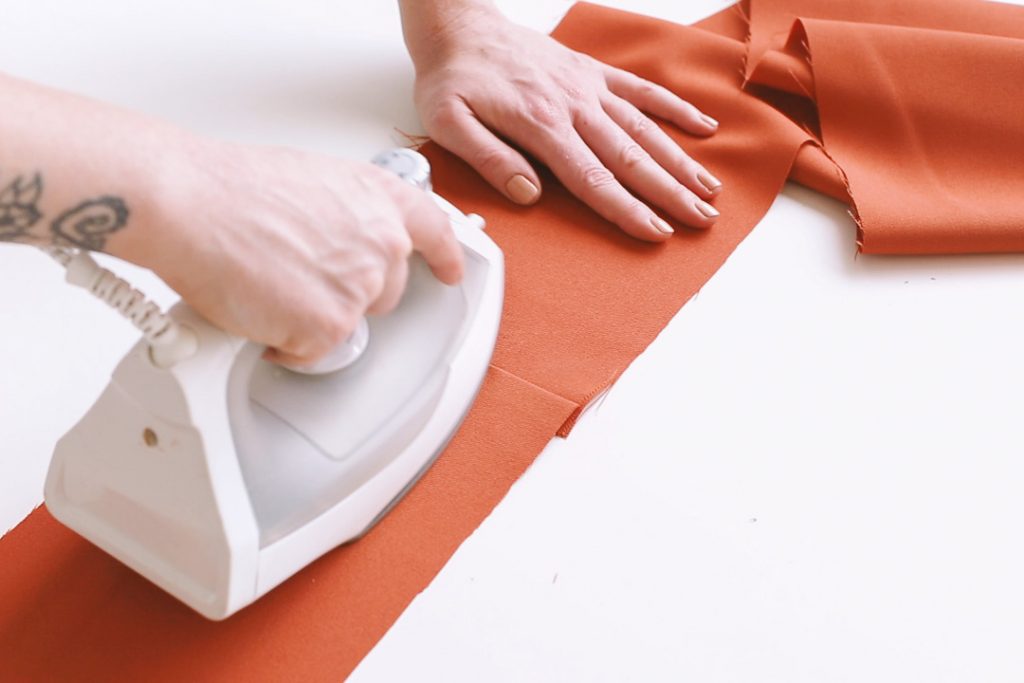 6. Once this is dry open up the join and press flat with an iron.
7. Repeat steps 5 & 6 until you have enough fabric for the outer edge of the circle. 
8. Place the strip flat on a surface with the excess fabric at each join facing down, underneath the fabric. Squeeze a small straight line of glue around half an inch away from the edge of the strip and line up the edge of the circle with it. Press this down in place until it has formed a bond.
9. Continue to squeeze glue along the strip in small sections, pressing the circle into place while twisting the strip as you go, until you reach back to where you began.
10. Repeat this along the opposite end of the strip with the second circle of fabric. This time leave a small gap just before the join.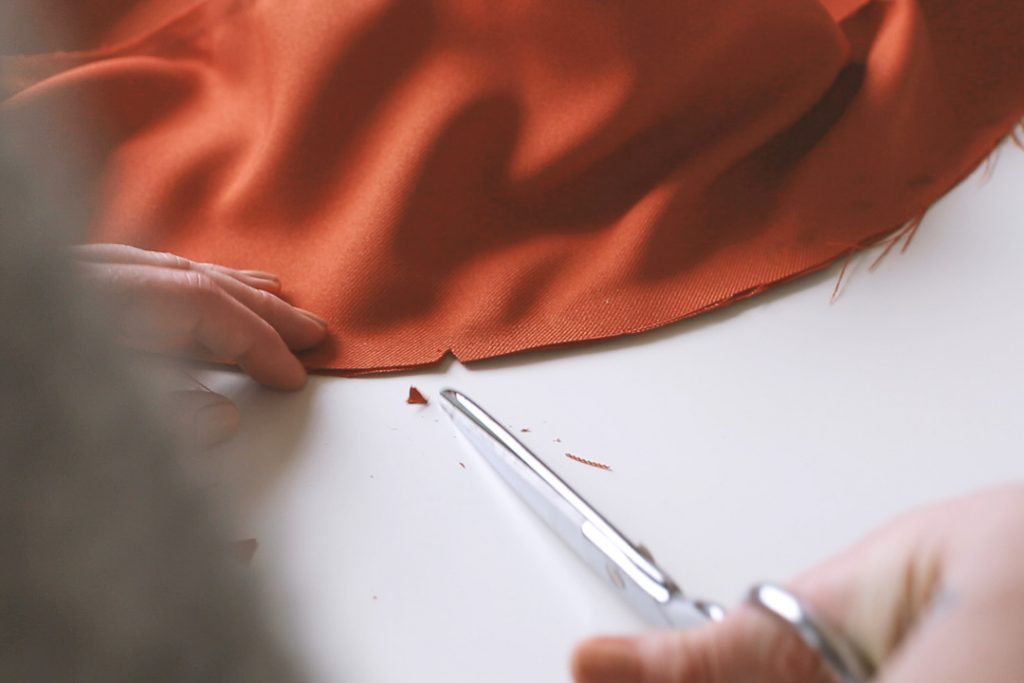 11. Cut small triangle notches along the fabric joins. This will help create an even circle.
12. The cushion is currently inside out, so turn it the right way around. Use an iron to press along the joins on both circles. This will help to define the cushion shape.
13. Stuff the cushion with filling and use the Fabric-tac to close the opening. 
14. To give the cushion some resilience against moisture, spray it with a waterproofing spray. I was so surprised at how well this worked on a variety of fabrics. This won't protect the cushion from a downpour, but it will survive spills and light rain.
Now just wait for the adhesive to dry and your cushion is ready!