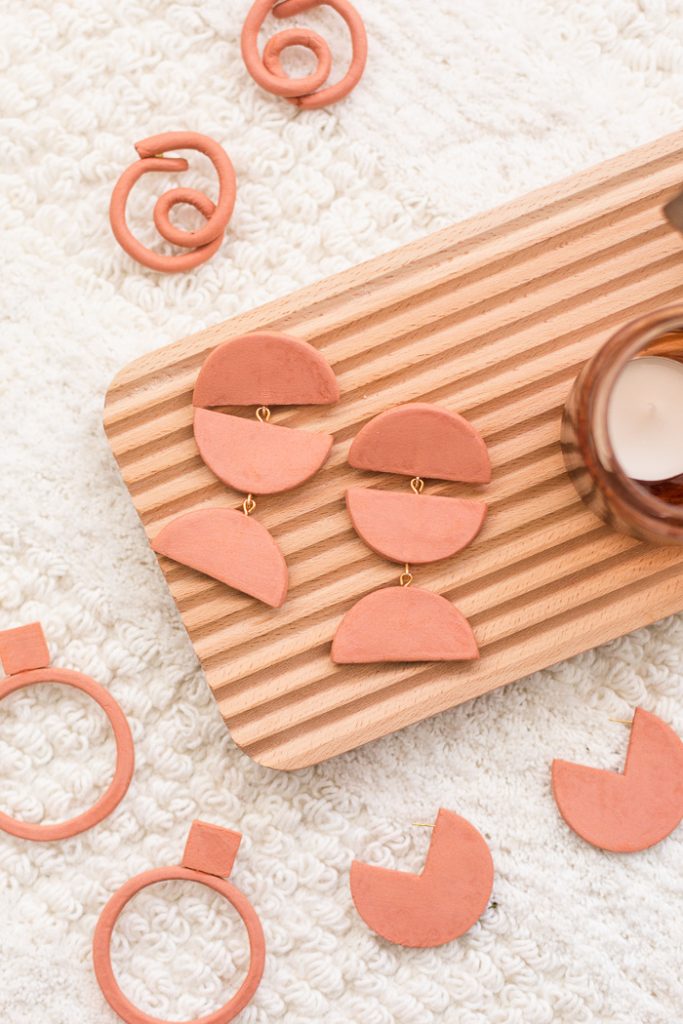 I have three levels of how I wear jewellery. It's either 1, nothing at all. 2, one small, understated piece or 3, big statement earrings. My new favourite is the latter. After giving birth to Ollen (yeah, I some how make every blog post about this at the moment) I lost a lot of my hair. I've never had great hair and it's quite difficult to style at the best of times, but this last year I've struggled with it daily. What I've learnt is that a great pair of earrings can really help you look a bit more together even when your hair is not playing along.
I wear my hair tied up much more often these days and a great pair of earrings can make this look more intentional (than time saving). So as well as designing my own earring range with Working Clasp, I like to add to my collection with some DIY's now and then.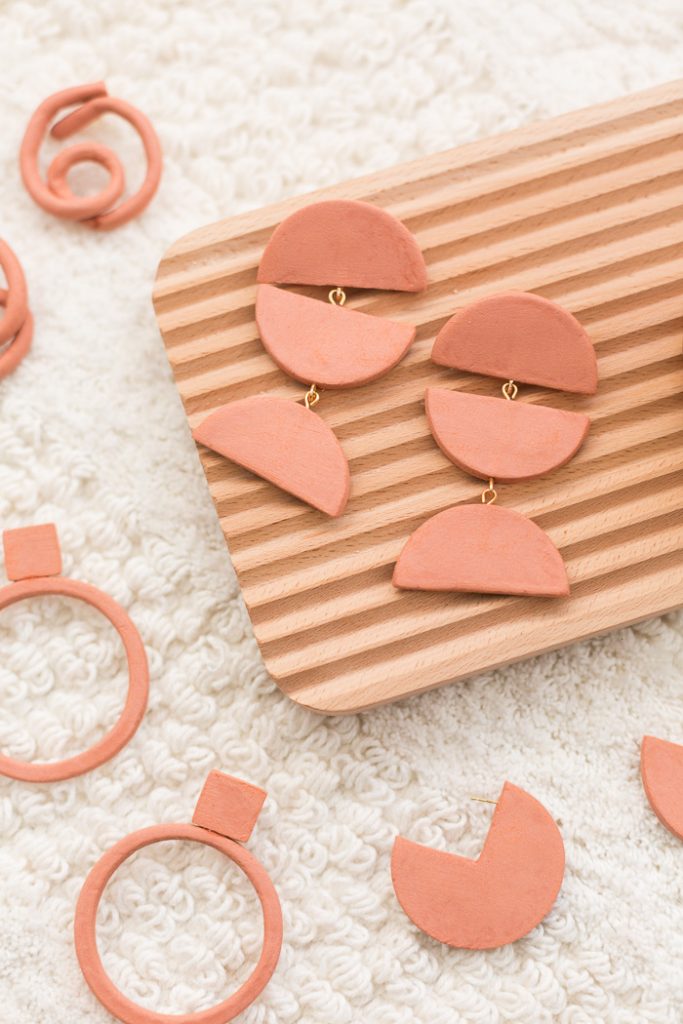 I promised this tutorial a while ago after posting my DIY Terracotta Hanging Planters (thank you for all the love on this post by the way!!) I quickly whipped these up with the left over clay and I finally finished them this weekend. Now I just need somewhere to wear these. We're just about to head out to the garden centre… I'm doing it!
Materials (affiliate links)
Instructions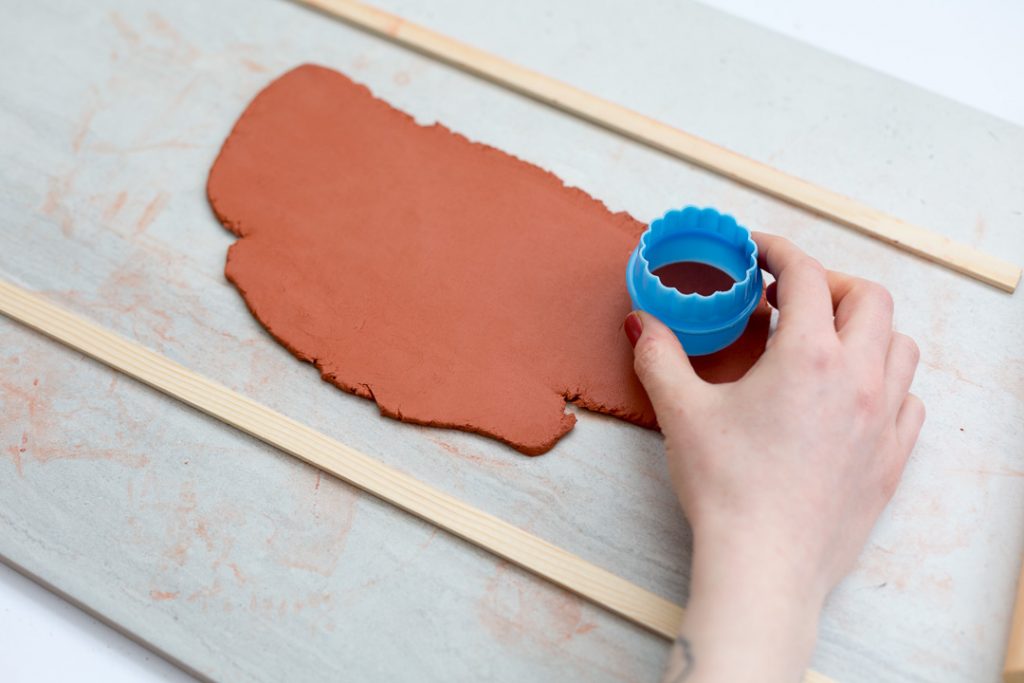 Roll out your clay using a fondant roller or two pieces of thin strip wood to keep it an even thickness.
Three Quarter Earrings
1. Cut out a circle around 2″ in diameter using a cookie cutter. With your craft knife, cut out one quarter of the circle.
2. Cut off the end of the earring blank using plier cutters and push the post into the clay. Once this has dried take the post out and add some E6000 glue to the end of the post. Push it back into the hole and leave it overnight to set.
3. Sand the clay with fine sand paper until it's smooth all over.
Hoop Earrings
1. Cut out two circles and using a smaller cookie cutter cut out another two circles inside them.
2. Using a craft knife cut out two squares. Leave the clay to dry, sand smooth and glue the square to the top of the circle.
3. Use the E6000 adhesive to glue the earring blank to the back of the square and leave to set.
Knot Earrings
1. With your hands roll out a long sausage of clay. Wrap this into a knot or twist and leave to set. Make sure you overlap the ends to create a place for the earring blank to be added. Repeat with another piece of clay mirroring the first knot.
2. Once they are dry, sand and add the earring blanks to the overlap.
Half Circle Earrings
1. Cut out three circles about 2″ in diameter. Using a craft knife cut these in half. Lay them out in the design show below.
2. Push your eye pins into the clay where it joins with the next piece. Make sure the eye pins are twisted 90 degrees where they meet so that each pin can be joined with the one next to it.
3. Leave the clay to dry then sand smooth. Using the round tip of the pliers gently open the eye pin (see this post for video tutorial) and attach it to the next one in the design. Add the earring blank to the top of the first half circle and leave to dry.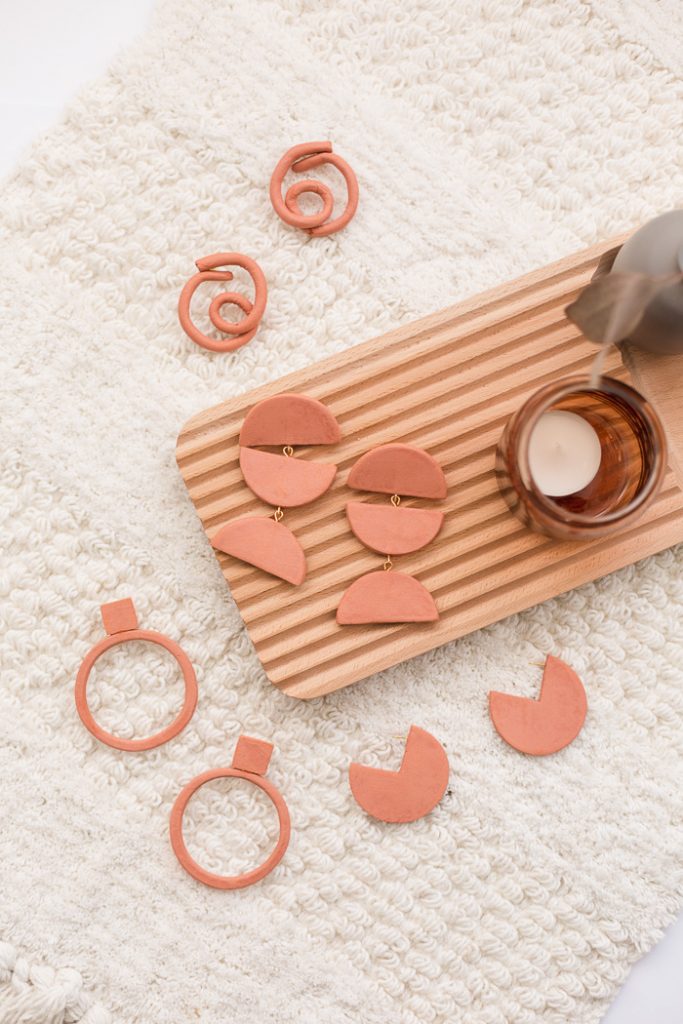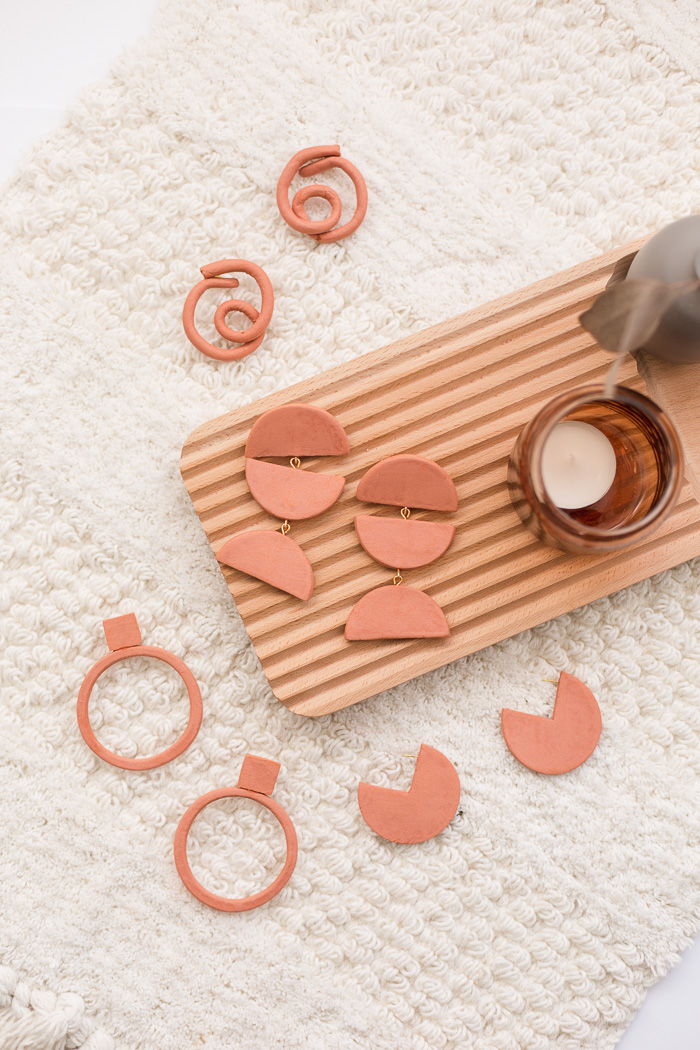 I hope you love these earrings as much as I do! While we're talking about jewellery, I'm thinking of doing a technical jewellery making series. For example I made my eye pins for this post. It's so easy once you know how and it means you can always whip something up without having to buy materials in advance. I'd love to know if you'd actually be interested in reading something like that! Please let me know in the comments xx