This post has been sponsored by Direct Wood Flooring. All opinions are my own.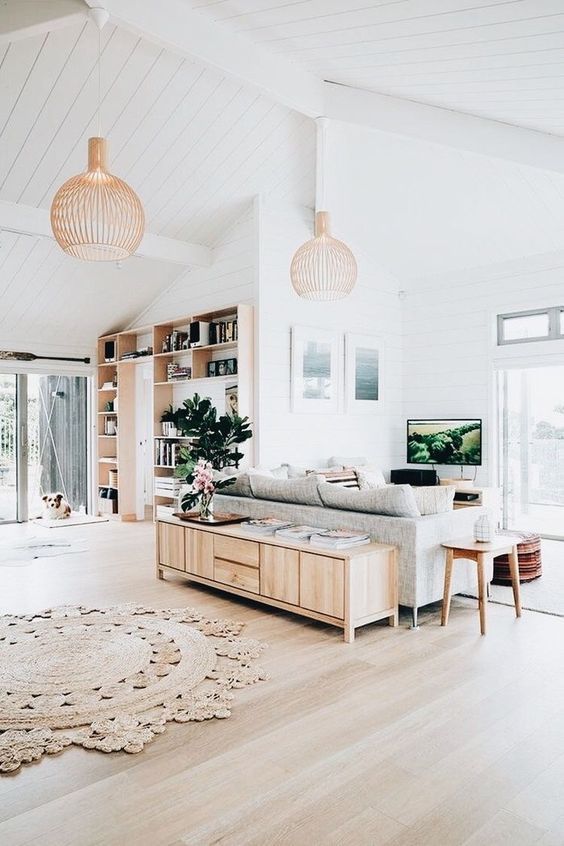 It's no secret I love laminate floor. I know, real wood flooring is amazing and don't get me wrong, I'd love to deck out my whole house in a gorgeous chevron frosted oak (a girl can dream). While I am saving all my pennies to make it happen in just my kitchen, the rest of my home needs a more budget option. My house is a relatively new build. It's about 10 years old and squeezed into the place a garage once stood. I'm guessing it was a quick buck for someone, somewhere. So, the builders weren't putting down solid wood flooring for me to miraculously discover on buying the house. Instead they did pretty much the minimum necessary to making a solid floor.
Laminate has been a saving grace in our home. Being able to rip up the old, dirty carpet and replace it easily and inexpensively has made such a huge difference! I'm currently in the process of laying the floor for the office/spare bedroom makeover and I cannot even begin to tell you what an improvement this has made. Sometimes I just come up to the room and stare at the floor… I genuinely do this. I also make everyone who comes into our home look too. If you follow me on Instagram you will have seen the progress in my stories. It's not even finished yet!
I will say that choosing the right floor has been a bit of a learning curve for me. To be honest I didn't know where to start picking out colours and styles. After a bit of research I do feel more confident picking out what I need now. Hopefully this post will help you if you're struggling to work out what might look good in your home too!
How to Choose Laminate Flooring
One tip I've learnt when you're buying laminate flooring is to always, always, ALWAYS get samples. You need to know exactly what you're ordering, how the grain and the colour look both at different times of day and under your artificial lighting. This can make a vast difference and while natural light will usually make your floors look amazing, you don't want to spend your nights sitting in the dark for fear of a colour clash. Test the sample next to wall colours, furniture and rugs that you want to keep. You might find it's easier to replace a rug than pick a colour that works in all these situations, but you want to avoid any surprises!
I've been researching flooring that I love and although I believe that most of these rooms are most likely using real wood flooring I've linked to the laminate equivalent over on Direct Wood Flooring, just to give you an idea of what you could buy for your home.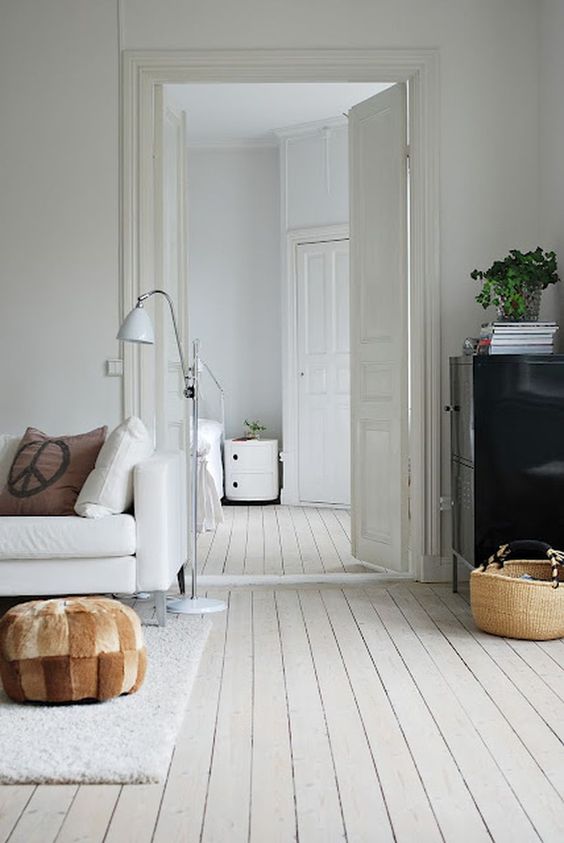 White Wash
A great way to achieve a minimal aesthetic is to give yourself a blank canvas to play with. A solid white board looks fantastic in a Scandi vibe home, but you can soften the look by going for a white wash instead. A gentler version of this gives you room for flexibility if you decide to take your decor in a different direction.
Warm Woods
Strong colours look great with warmer tones in your home. To make this work in a modern setting use in a lighter room and team up with another strong accent colour that compliments the warmer hues. Blue works perfectly with these honey tones but if you're not that daring, charcoals and black look amazing as well. Below are a couple of examples showing how you can modernise a warmer wood tone.
Natural Grain
There's a reason we love wood flooring. Yes, it is practical but there are many practical options out there. Most importantly it really is beautiful. Play with the beautiful tones and patterns in natural wood and make it a feature on more than your walls. I love the way the flooring has been used under the breakfast bar to create a distinction between the top and bottom half of the room. If you love the natural look but want a more paired down version try a light neutral palette to still show off the grain in a more subtle way.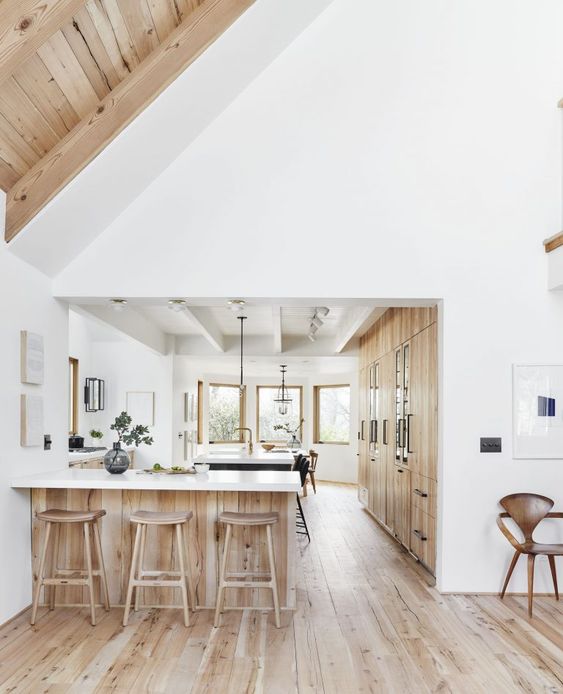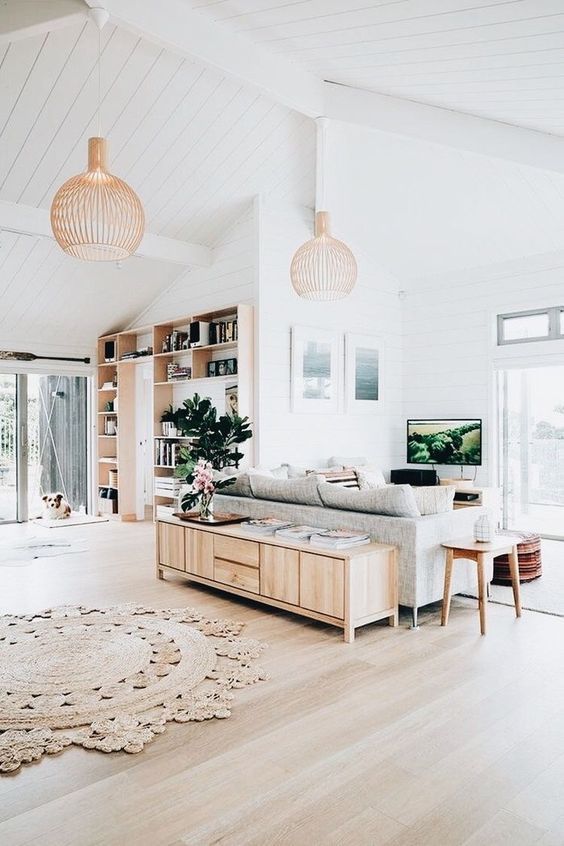 Darker Floors
Dark flooring hasn't been as popular in recent years, but this doesn't mean it's not right in your home. If you want a luxurious, moody decor a rich, dark tone will work perfectly. The general rule is to use darker colours at the bottom and get lighter as you head towards the ceiling. Of course rules are made to be broken, but if you're not confident with design this is a great trick to remember.
Both warm and cool tones work with darker interiors. If you have warmer wooden furniture it's nice to use this with a warmer floor and likewise with cooler pieces.
I've chosen an example below which uses lighter colours (grey on the walls and white on the ceiling – getting lighter as we get higher) which really helps to visualise how an almost black floor can work with lighter colours in a room. Here darker fixtures, furniture and accessories create accents that help to tie the elements together. This lets the eye dance around and the resulting contracts is not jarring or uncomfortable.
If you're still struggling to make a decision get some inspiration. Find lots of pictures of rooms you love (Pinterest is the ideal place for this. You can start with my home boards) and see what you're drawn to. Look at the images as a whole to pick out your style, then study the floor. What colours, size and details are they using? Order some samples and see if they work in your home. Take your time and don't feel rushed into a decision. Fitting laminate floor is actually really easy, but that doesn't mean you want to do it more often than you need to!!