This might just be one of my favourite DIY's of all time. Can I say that? It's like picking out your favourite child… If you had like 800 of them. Yeah, that metaphor went uncomfortably wrong towards the end there. Anyway, I really like this DIY ok. And it's not just because it looks great. Creating something that looks complicated or difficult, but is actually very easy is my motivation in life.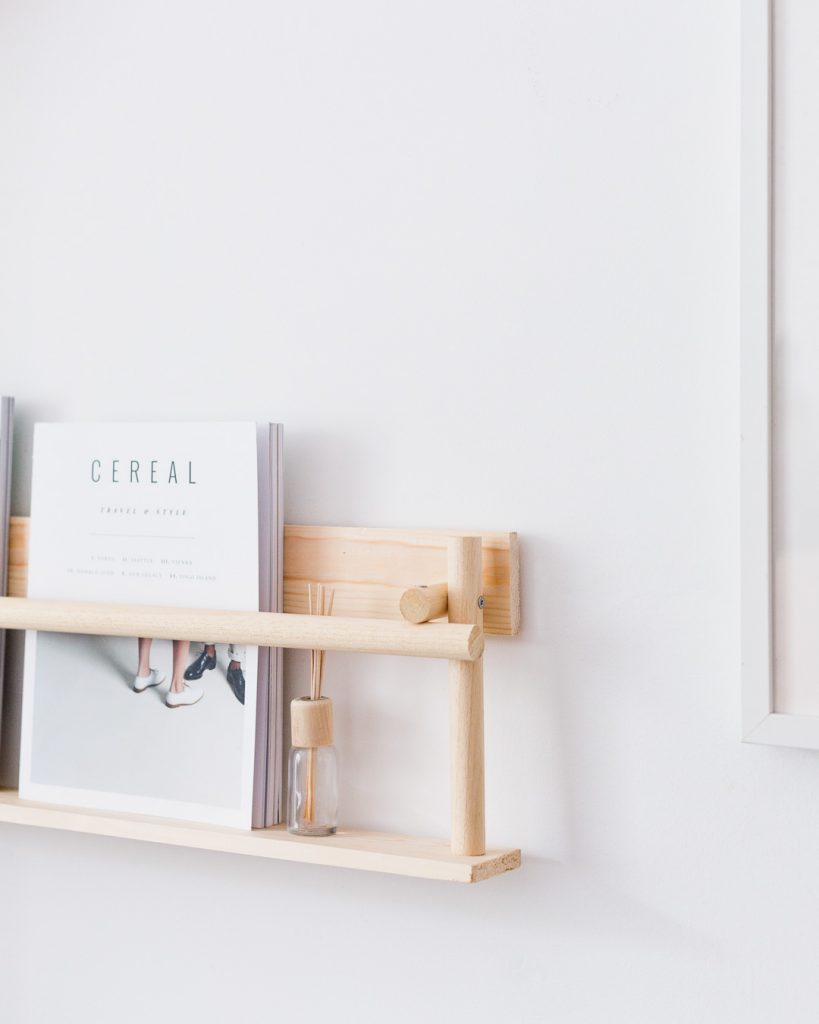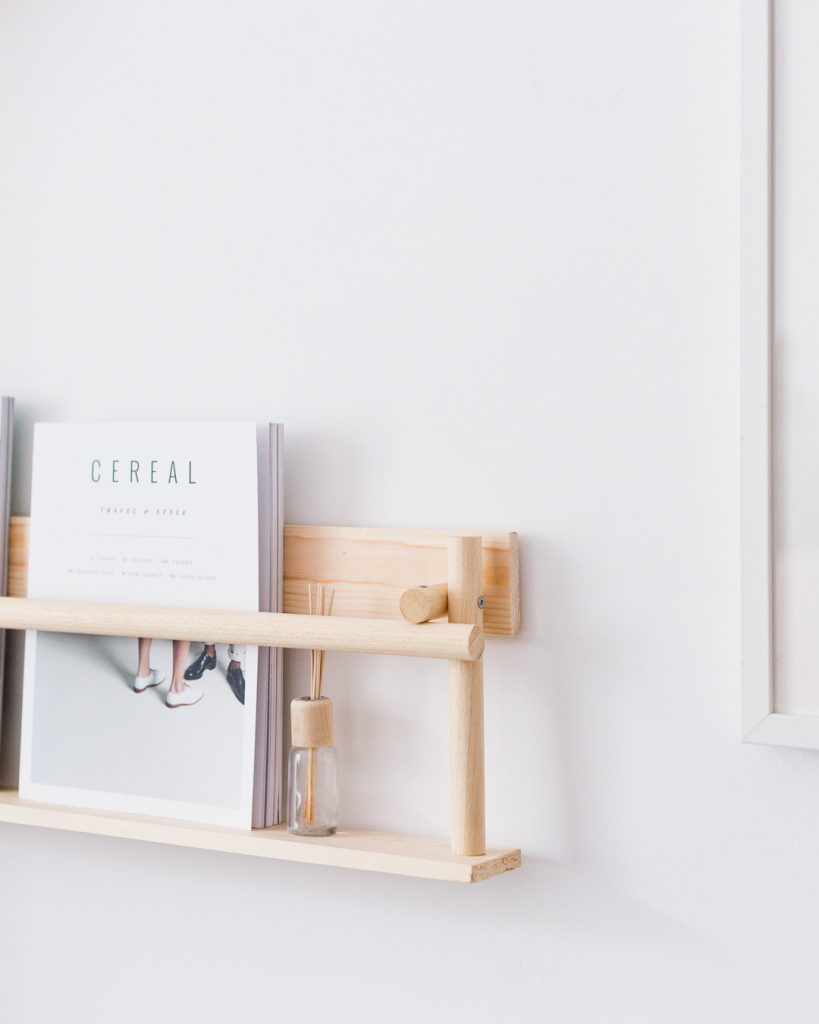 I currently use this shelf as a place for Ollen's books. It is in arms reach when he stands on the sofa, which means any magazines will get torn to shreds in seconds. This kid has an obsession with tearing anything he can into tiny pieces. Which is really fun to clean up. Luckily he loves his books too much to really go for them, but we always have the Sellotape to hand, just in case.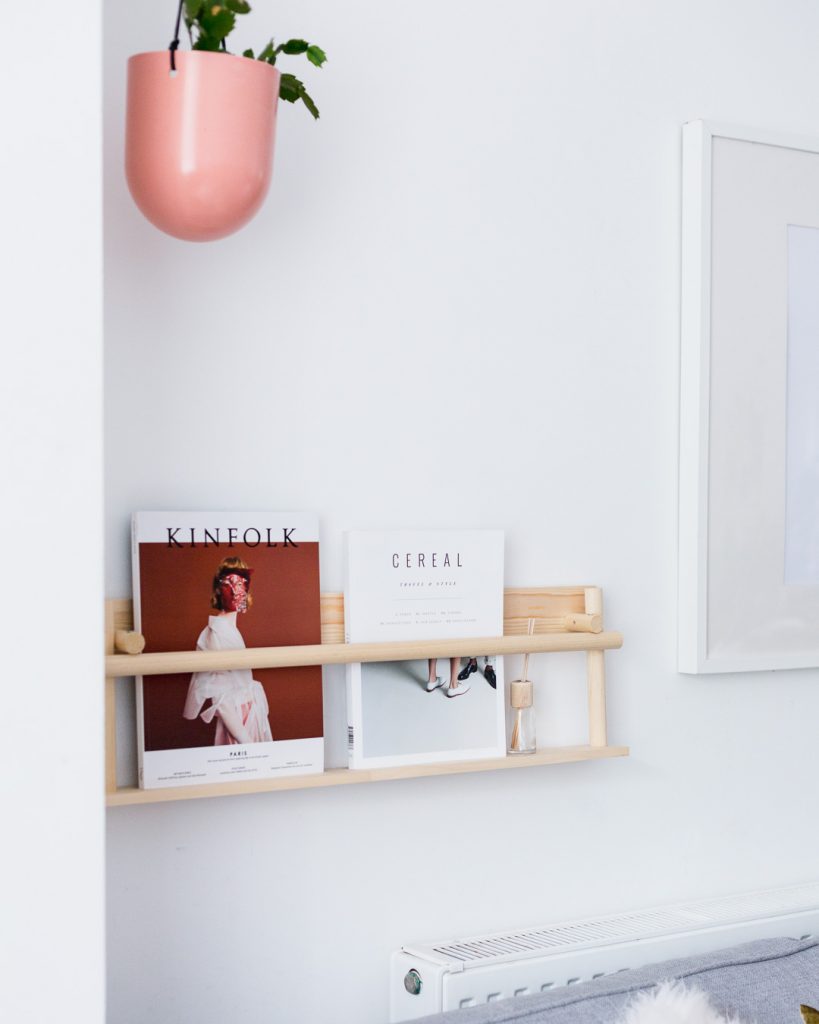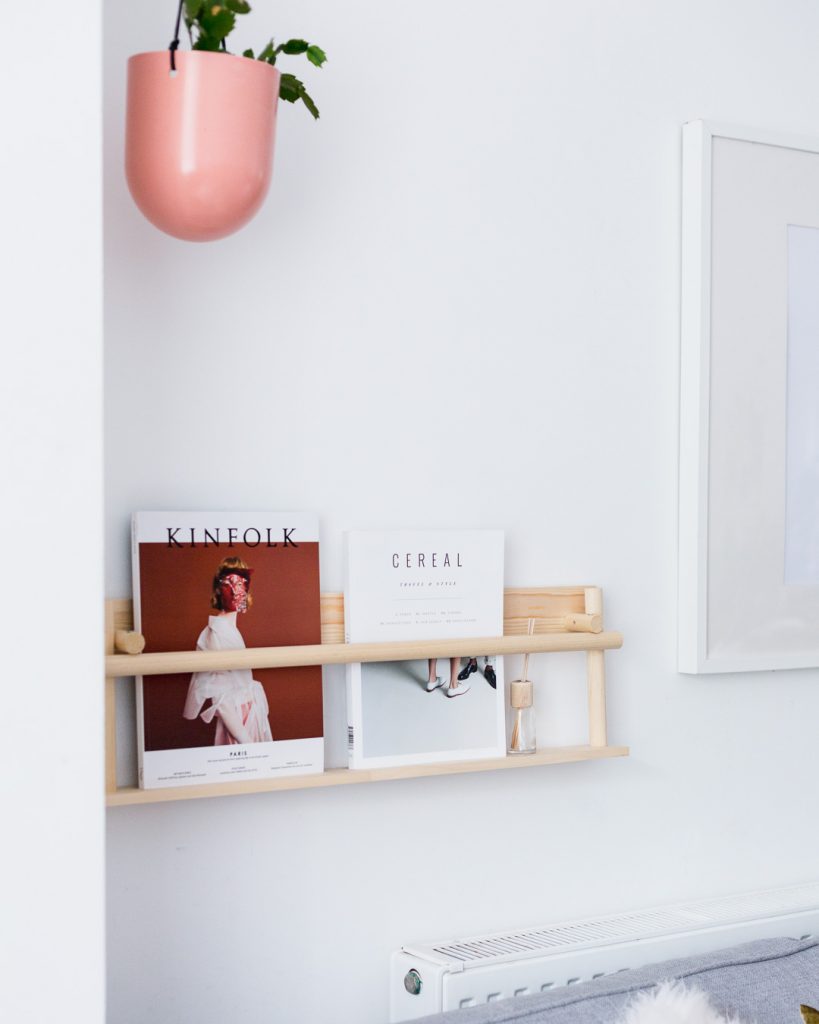 Like I said, this shelf might look really complicated but in reality it's all about drilling 8 holes. That's it really. You just have to get them in the right place. And that's where I come in!
Full disclosure (here comes the boring stuff), I originally made this shelf for a collaboration with Black & Decker. They paid me to post myself using the drill on Instagram, but after this shelf was so popular I put together this tutorial. So this post isn't directly sponsored, but I was given this drill and paid for the Instagram post. After using this drill a lot, I am very happy to recommend it. You can get it here (Affiliate Link).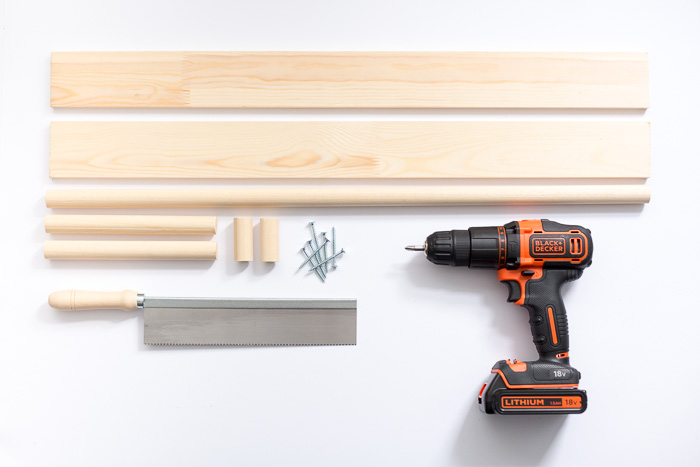 You'll need:
+   2 Lengths of wood – 70cm x 7cm x 1cm (you can change the length to fit where you'd like the shelf easily. Just change the length of the long dowel as well)
+   1 x Dowel – 70cm x 2cm
+   2 x Dowel – 20cm x 2cm
+   2 x Dowel – 5cm x 2cm
(Buy a 2 metre length of dowel and cut into these pieces. I like using this saw to create easy, clean cuts)
+   6 x 4cm long screws
+   2 x 3cm long screws (this is important – I'll tell you where you need to use these)
The width of the screws isn't too important. Just make sure you have a drill bit close to that size to make life easier.
+   2 x Keyhole hanging fasteners
+   4 x 1cm screws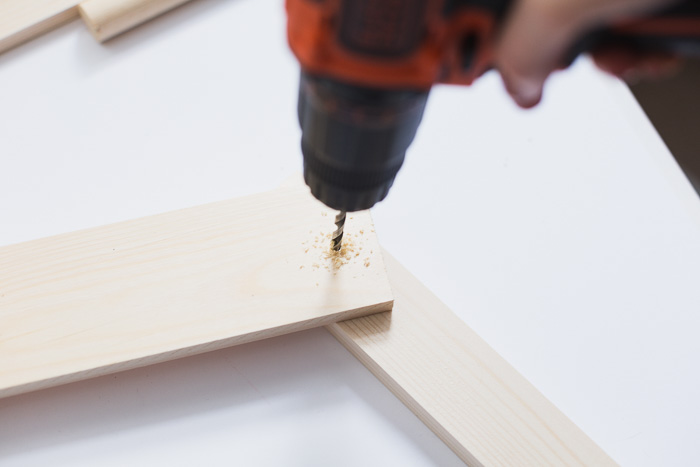 1. Take one piece of 70cm x 7cm and drill a hole at both ends – 2cm from the edge and 3.5cm from both sides (in the middle)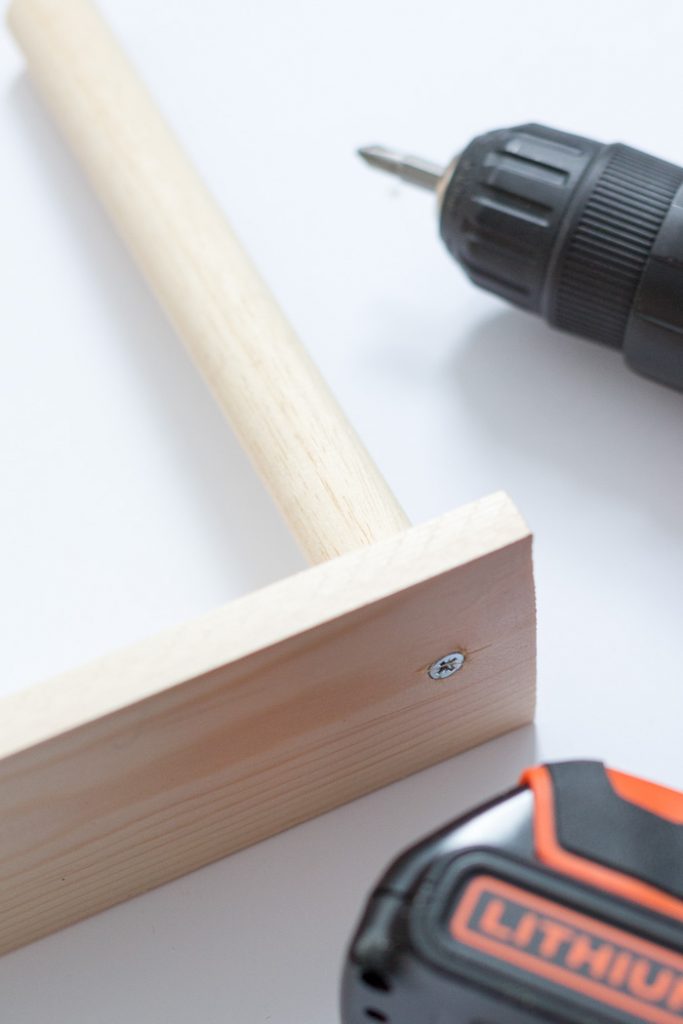 2. Use 4cm screws to attach the 20cm dowel pieces. It's easier if you drill a small hole in the dowel but please use a vice to do this. You can use the drill bit provided with your drill (on the screw setting).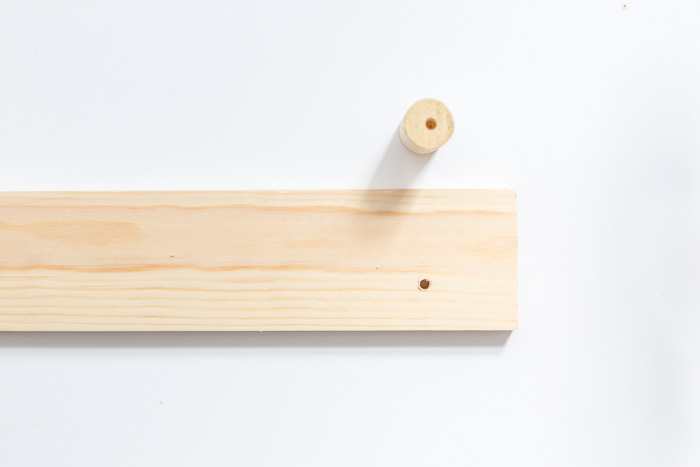 3. On the second piece of 70cm x 7cm wood screw a hole at each end 4.5cm from the edge and 4.5cm from one side. Using 4cm screws attach the 5cm dowel pieces as you did in the last step.
3. Put the two piece in position as shown above. Make sure the longer dowel is completely horizontal and isn't sloping down. Mark the point at which both dowels cross on the outside of the longer dowel. Drill a hole at this point and using the 3cm screw attach this to the smaller dowel. Repeat on the other side.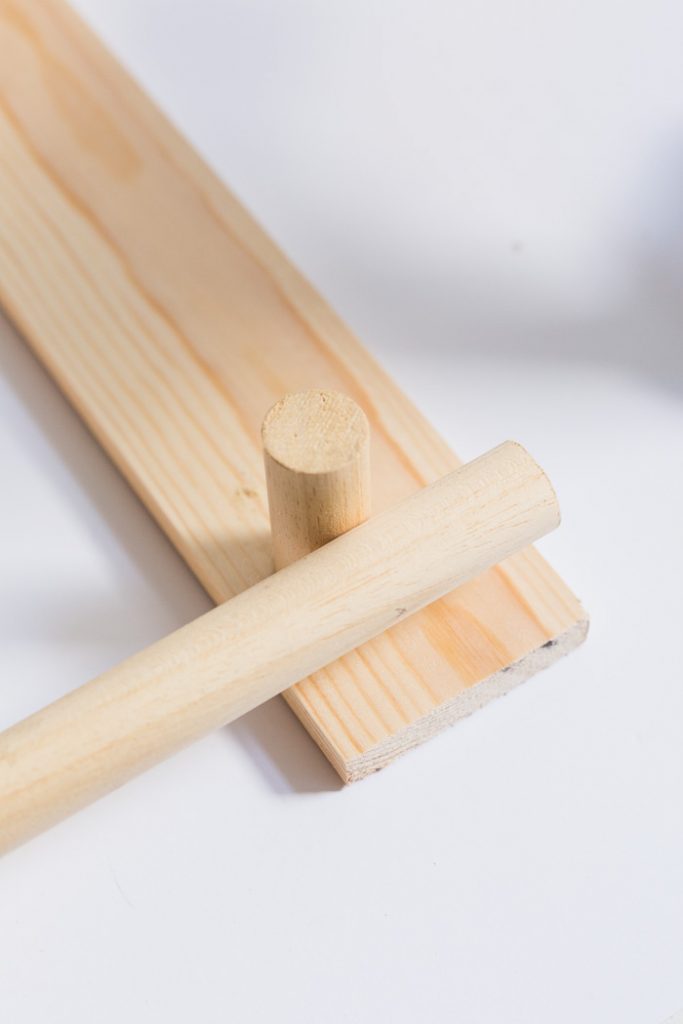 4. Place the 70cm piece of dowel in position underneath the 5cm dowel. Mark where they cross on the top of the 5cm dowel and drill a hole. Use the last two 4cm screws to attach this last dowel on both sides.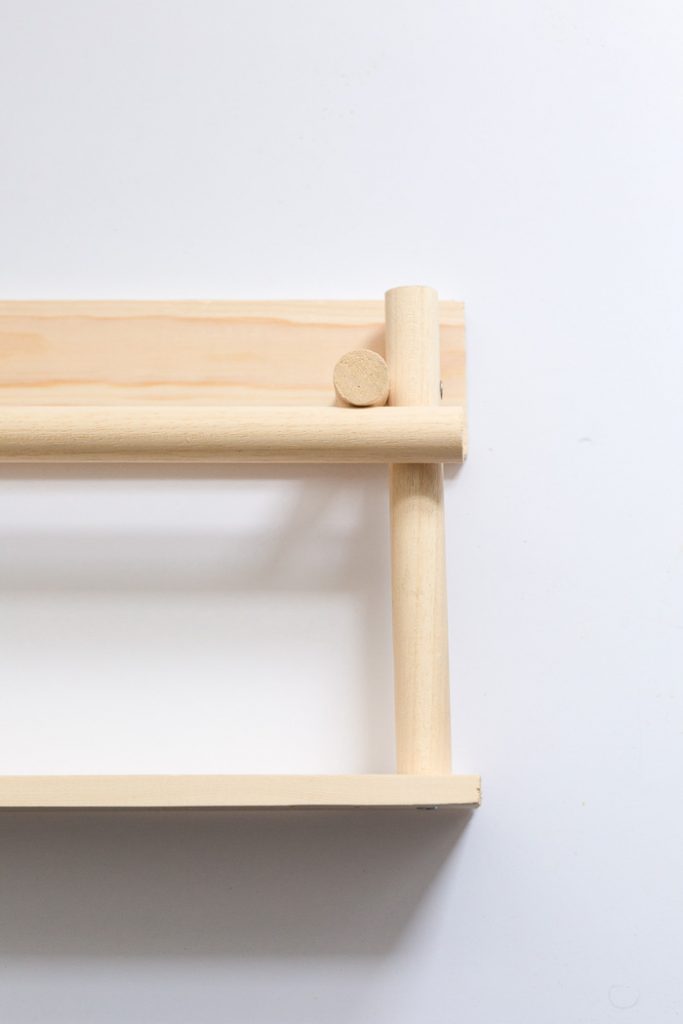 5. Attach the keyhole hanger fittings to the back of the shelf. Take care when screwing these in that the point of the screw doesn't come out the other side of the shelf. Make sure they're secure but don't overly tighten the screws. If you do, just move the fitting slightly to one side and fill the hole with wood filler.
You can now attach this to the wall using Rawl plugs and screws. Slide the shelf into place in the keyhole fitting.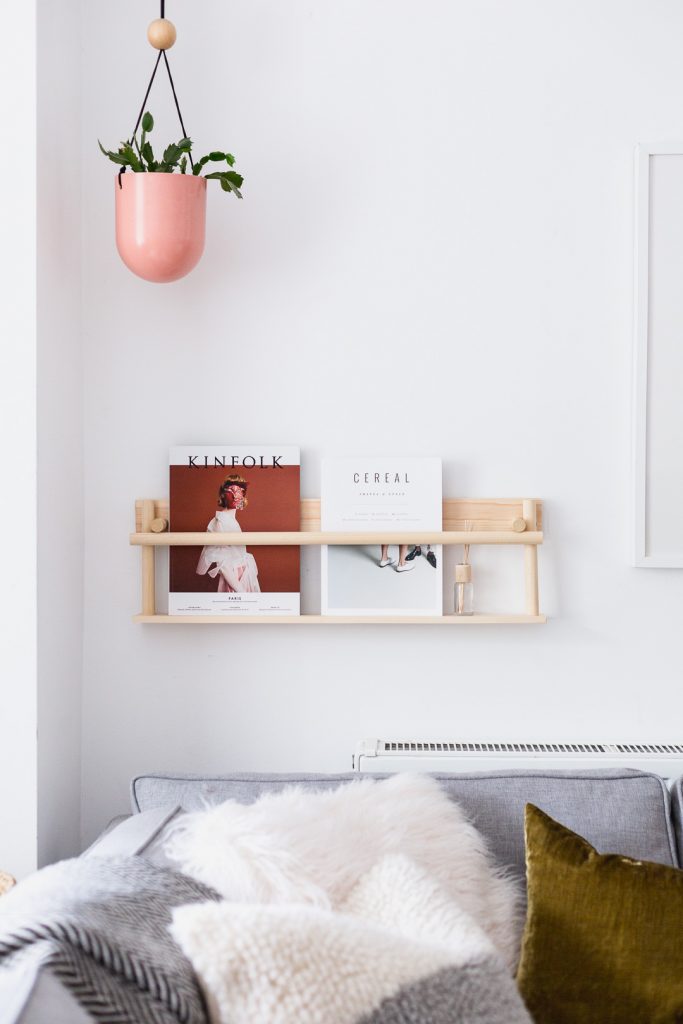 Really hope you guys love this post as much as I do! If you make it please, please tag me on Instagram. It seriously makes my day when you do!