I have a few big DIY and room makeovers planned for 2019. I'm slowly (and painfully) realising that a baby and renovations are a tricky mix, so I'm practicing some self care this year and giving myself much longer timelines to work to. The biggest project I have planned is the attic room/my home office/spare bedroom. This room needs to do a lot. It's not easy (impossible in fact) for me to get into my studio every day so I need somewhere at home to work. But, a lot like my studio, it started off organised and clear of my craft clutter but slowly and surely more and more supplies have appeared.
As this space also serves as a guest room it needs to be presentable and not a wild, creative mess. Which is how things often end up after a busy period. Good storage is key (as well as regular clear outs, but that's another post for another day). So with that in mind it's a great time for my latest collaboration with Prettypegs!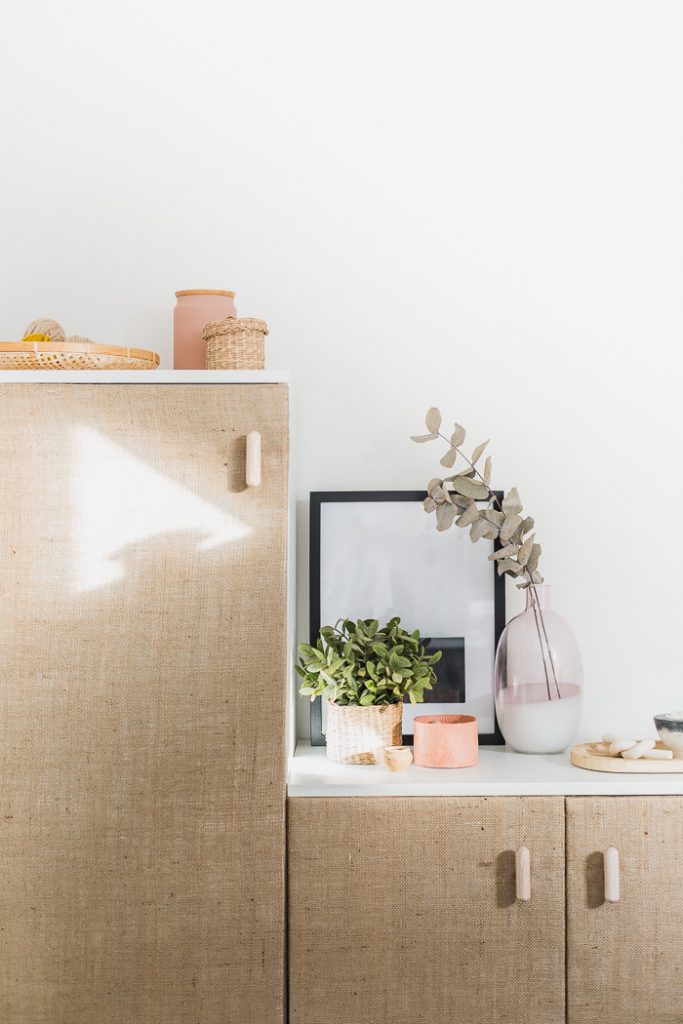 I'm hoping that eventually I'll be able to leave Ollen to play in here while I work for short periods. It means it needs to be Ollen friendly (which is like baby proofing on a whole other level). If this kid can grab, climb, push, pull, crawl under, tear, dismantle, empty, shake, open, topple anything he will spend his life making it happen. Especially if I tell him not to. While creating his own personal path of destruction I'm following behind making sure he doesn't permanently maim himself in the process.
So my shelving wall had to come down. It was way too tempting for those small hands. But in it's place I've put these DIY hessian door cabinets which are just as beautiful AND hold a lot of my growing craft stash, safely – at least once I get the locks on them! I have used IKEA's new PLATSA range of cabinets. It's really easy to plan online to specific heights and lengths. This corner of my office has a sloped ceiling so I went with an L shape to make the most of the space.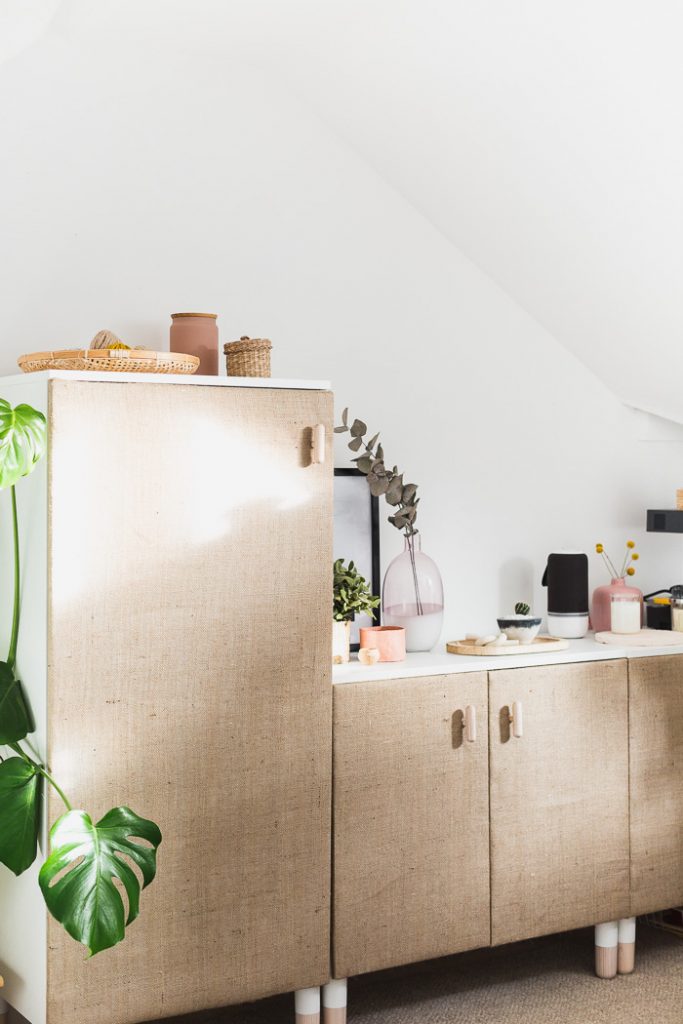 I wanted to add hessian and wood for a more natural finish. I chose the SVEA 150 storage legs to tie them together with the original cabinet. I've been wanting to use the FRANK 80 wooden handles on a project for such a long time! The raw wood and the hessian fabric are the perfect combination! I'm so happy with the way these have turned out!
On that note it took me a long time to get these right. I spent way too long trying to create a door frame to set the fabric onto. It turned out a complete disaster and ended up costing more than just buying the PLATSA doors and covering them with the fabric! Sometimes (most of the time) it's best to go for the easy and simple option. This is definitely one of those.
My next hurdle was attaching the fabric. After searching for a staple gun and then the staples (for some reason these aren't kept in the same place… yeah, I really need to organise!) I realised they weren't strong enough to go through the wood. Who do I turn to? My trusty glue gun of course. Yep, this is done with just hot glue! A revelation!
Keep on scrolling for the tutorial.
Materials:
– PLATSA cabinets
– Hessian fabric
– Glue gun and glue stick
– Scissors
Instructions:
(Before you begin I would advise measuring where you want your handles to be and drilling a hole. This will make life easier later)
1. Place the door (with the inside facing up) onto the hessian fabric and cut out your fabric with around a 5cm / 2″ border.
2. Fold over one edge and glue into place. Cut away the corner leaving some excess fabric to add a fold (see next step).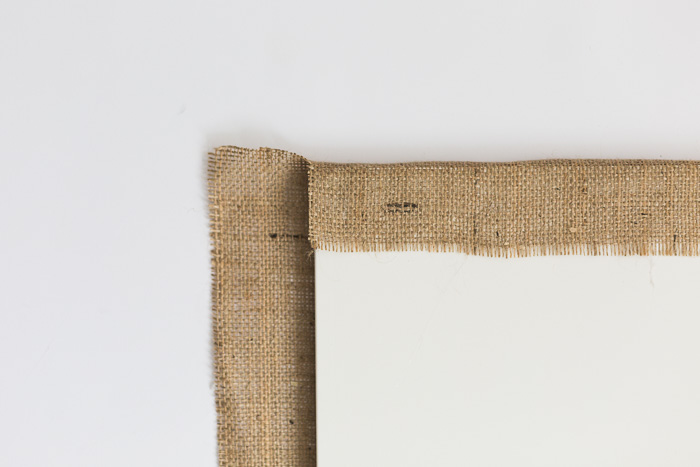 3. Fold the excess fabric to tuck it away (and create a neat edge), then fold over to the back of the door and secure in place with the hot glue.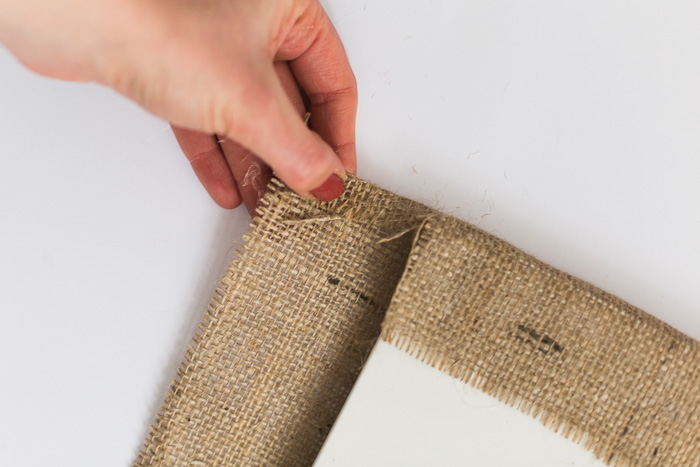 4. Repeat this at each of the other three corners. Once the fabric is in place cut away the hessian from the holes on the back of the door and add a little more glue to keep the fabric tension tight.
Now you can just add the handles (which should be easy it you followed my earlier advice!) and attach the doors the the cabinets.
I'm already loving spending time styling the cabinets, but I'm elated with how much they hold. It's dangerous because I'm sure I can fill them pretty quickly! New years resolution? Less clutter maybe?
Hopefully I'll be sharing more from my office update really soon! I'm off the watch Marie Kondo on Netflix…