Last year on Christmas eve me and Alex got engaged. If you didn't see this Instagram post you might have missed this altogether. I haven't exactly been shouting it from the rooftops. But not because I'm not excited to marry my best friend. Because ever since we got engaged we've had something much bigger to think about! Ollen. This tiny human has taken up all of our head space and it wasn't until we went to register his name that we sat down and talked about our ideas (or lack of) for our wedding day.
I've never been that into weddings. Don't get me wrong, I love it when my family and friends get married. But I've never really thought about my own wedding. I have no wedding folder tucked away in a cupboard or even in the back of my mind. I've not planned the venue, dress or flowers. I'm not sure I even want any of those things – well not in a traditional sense at least (no nudist wedding plans, I can reassure you). So we are really starting from scratch.
All I really know is that it's going to be a DIY affair (of course). My bestie (who knows how indecisive we both are) made us set a 'date' for next summer. So that's the plan so far. But that doesn't stop me getting started on the decorations! That is where I do have ideas. I'll be posting some summer wedding inspiration soon, but today I'm sharing the first DIY which is this foliage string light sign that I've made in collaboration with Hobbycraft.
You can write out anything you like, but I've kept it simple with 'You & Me'. The wire is wrapped in these beautiful foliage string lights which makes this really easy to recreate. I've used four sets of lights and one reel of this copper coloured aluminium wire.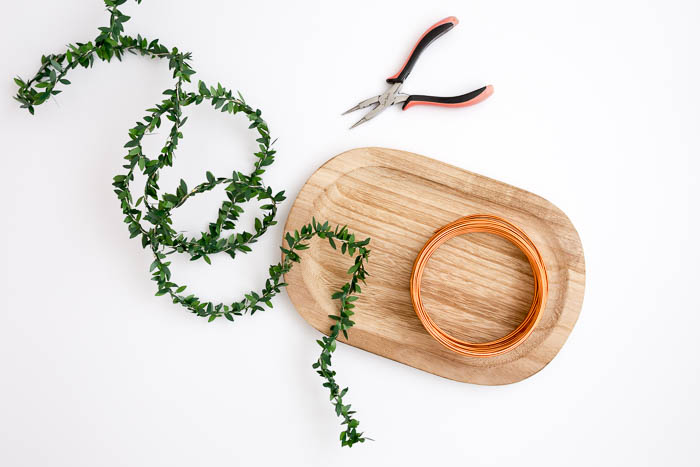 Materials:
Instructions:
1. Stretch out the wire and shape into your letters. It can help to write these down first and use it as a template. The aluminium wire is flexible making this easy to do with just your hands. Don't worry if you make a mistake. Just reshape the wire. Any small kinks will be hidden by the foliage later.
2. Once the wire is ready to wrap the string lights around it. Start at the end closest to the battery box. I've made sure my letters have flourishes in various places to hide these boxes behind later.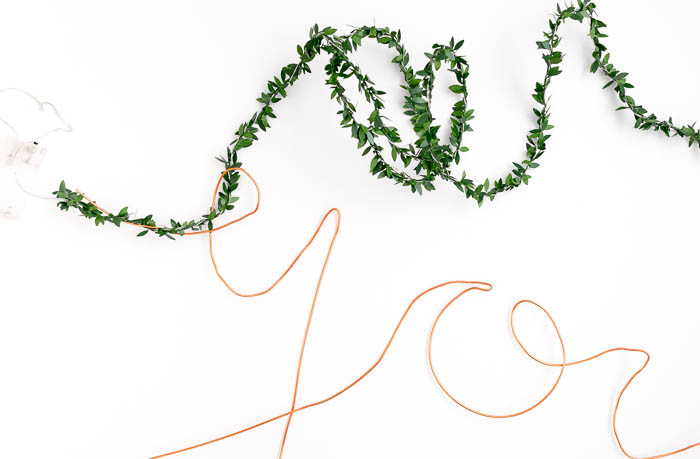 3. When the letters are wrapped adjust any areas that need fixing. Then attach to the wall using nails. Cover the battery boxes with masking tape and tape onto the wall behind your letters. You can even paint the masking tape the same colour as the wall to hide the boxes.
This works on any scale, so you can make table names, photo booth backdrops or venue signs. Whatever you need for your big day. Head over to Hobbycraft to get your materials! I've styled these with some faux white wisteria and these candles holders and wooden tray.
This post was sponsored by Hobbycraft. Thank you for supporting the brands that support Fall For DIY.