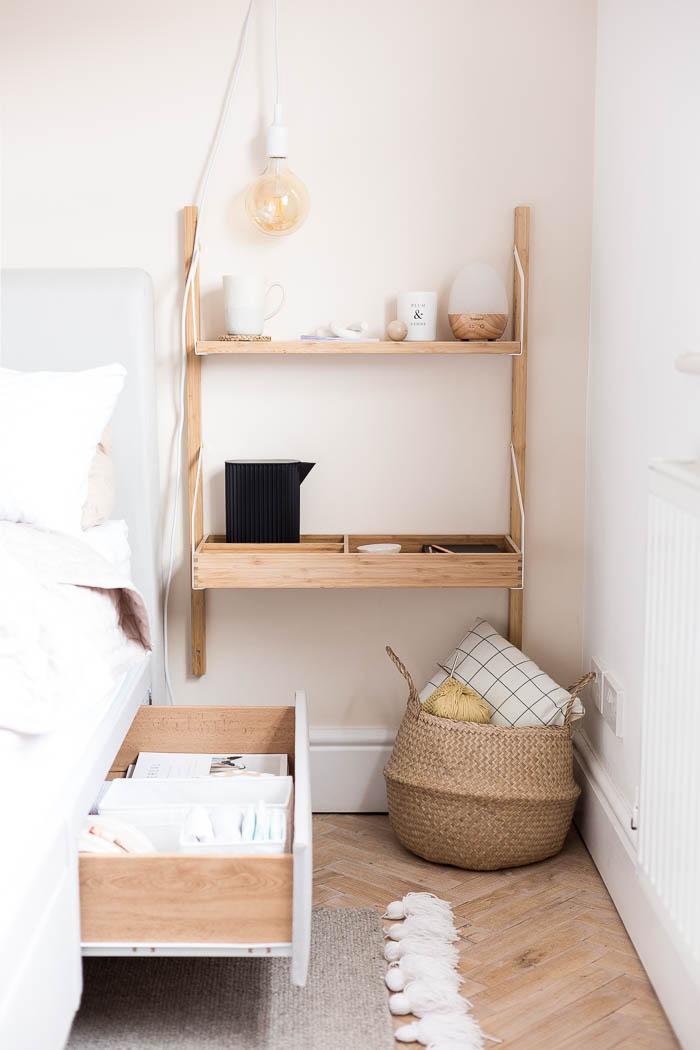 I've always found the bedroom one of the most difficult rooms to decorate. You want to create a space that is both relaxing and functional. This is where you start and end each day. It's where you need to both pep yourself up for the day ahead in the morning and also switch off once it's over every night.
There are a few things you can do to achieve both opposing needs. I try to make the space as minimal in decor as possible. Clutter and mess make it more difficult to unwind. Especially if it means jobs to be done. But on the flip side you also need to access clothes, makeup, hair products, blankets, books, laptops etc, as and when you need them. No one wants to be digging around for hair straighteners when you're running late in the morning. Good storage is vital for a not so manic morning routine.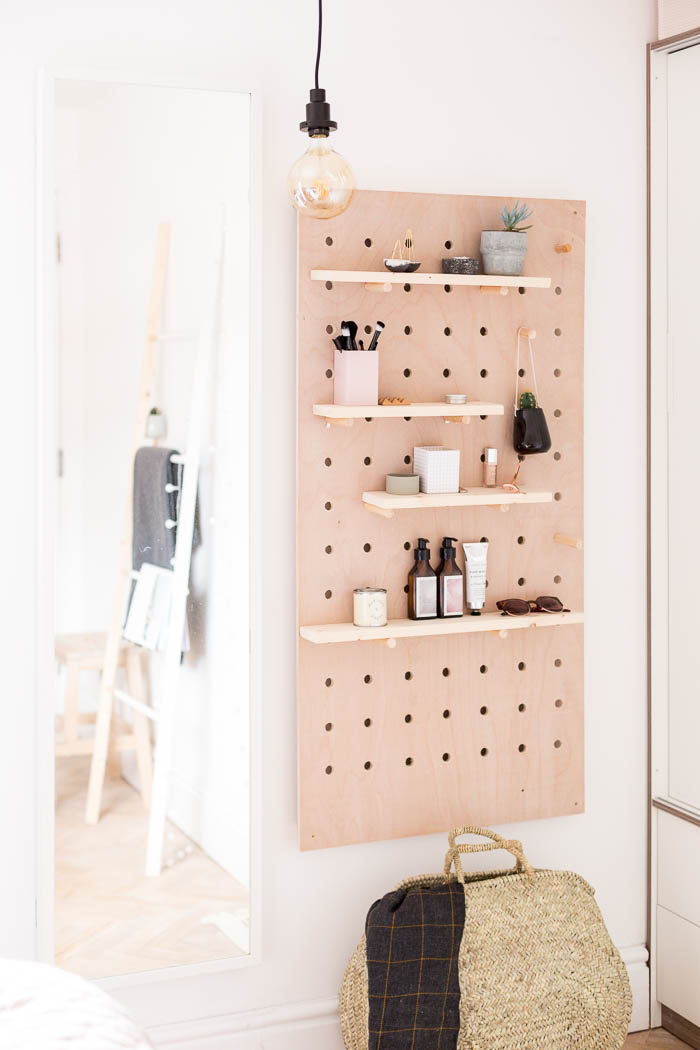 Our bedroom is small. In fact, the only pieces of furniture we have in the room are the wardrobe and the bed. So finding alternative solutions to storage, space and decor are a priority for us. To make sure we have a room that is cosy, calm and organised we've had to think outside the box.
Start with the Bed
This is clearly the most important item in any bedroom (who doesn't want to sleep well?) but it takes up a lot of room. We could probably push this to one side and get more furniture in, but actually it doesn't feel worth compromising on that extra bit of space to squeeze in a small sideboard. Instead we found a bed that provides the extra storage we need.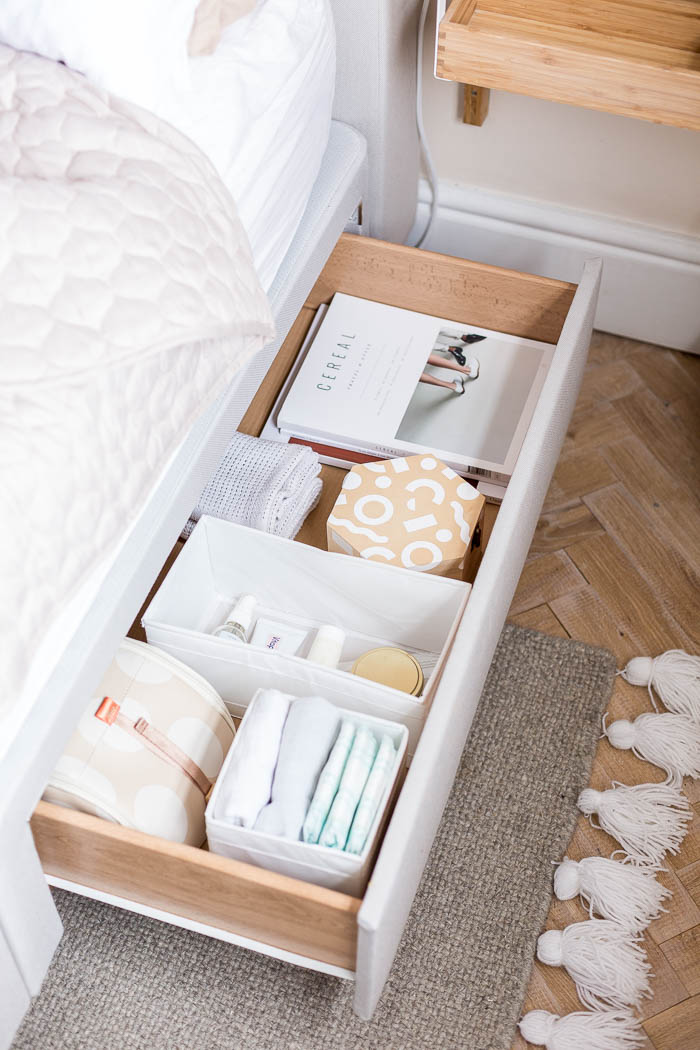 My Studio by Silentnight King size bed gives us that additional storage space without settling for less than a great night's sleep. The award-winning mattress (a Which? Best Buy no less) is so comfortable I can quickly drift off to sleep again after feeding Ollen for the fifth time that night. Waking up for the next one is not so easy though.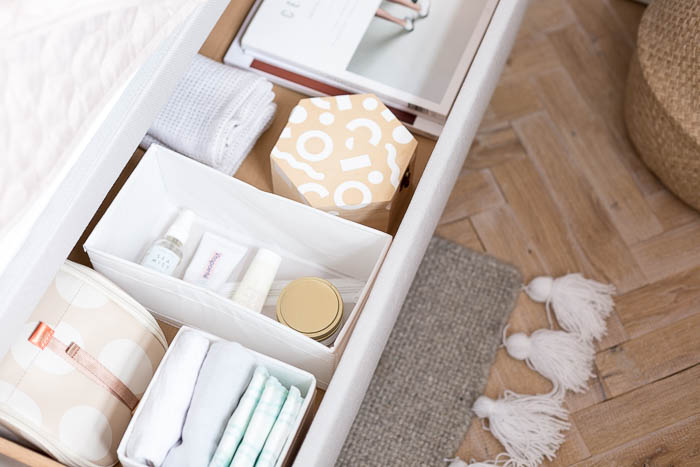 The storage in the bed base provides hidden storage for extra blankets, bed sheets and pillows at end of the bed. Easy to access when needed, but neatly tucked away the rest of the time. I keep cosmetics, baby changing supplies and the odd magazine in the drawer on my side of the bed. Full disclosure, it's never this neat. But I thought I'd tidy it up for you. No one wants to see my messy drawers!
Make the most of the vertical space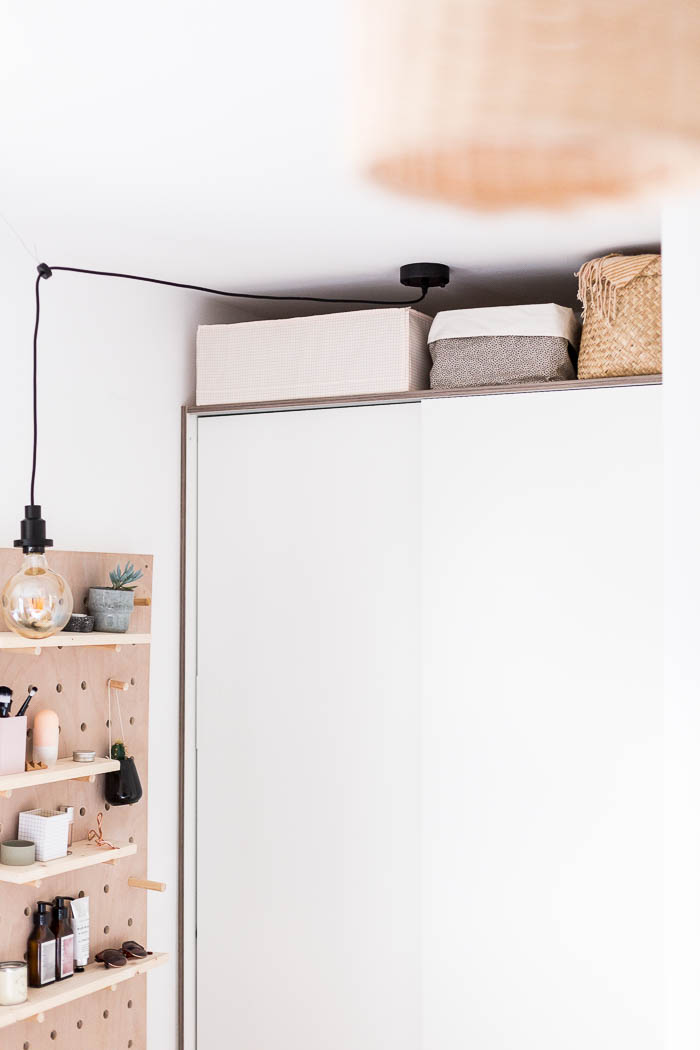 The empty space on the top of my wardrobe is a great additional storage space. I keep out of season clothing in these baskets to free up space in my wardrobe. Shaving off valuable minutes when you're trying to find the right outfit for the day. And when Ollen is having one of those 'you can't put me down, at all, not even for 5 seconds' kind of a day this is invaluable! These baskets also hide anything that might be quickly shoved up behind them when you need a quick clean-up solution.
Hidden Storage
Adding hidden storage wherever you can helps to clear up clutter and provide easy to access storage. Use the back of wardrobe doors, boxes that fit under pieces of furniture or even inside your mirrors as I have done here. Get creative with your solutions and if you're confident put your DIY skills to the test. If not command hooks are your best friend!
Creative Lighting
I don't have space in this room for a standing light or desk lamp, so instead we've installed some pendant lighting. This takes up less space, looks great and also offers plenty of lighting options. I like to put soft light bulbs so I can build up the light in the room when needed, but keep a calming atmosphere in the evenings.
Alternative Solutions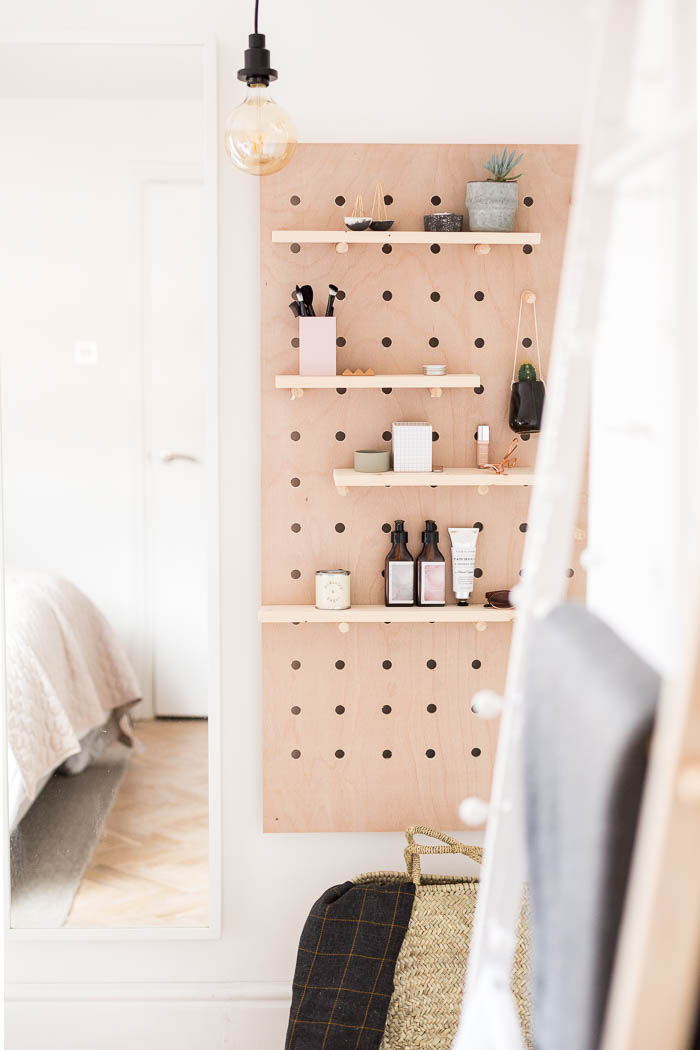 My DIY pegboard gives me plenty of options for storage on both the shelves and hanging on the pegs. It also makes use of a space that would otherwise have gone unused. And let's face it, who doesn't love an oversized pegboard. Any excuse to fit one in my bedroom.
I use this for makeup and everyday cosmetics to keep them close to hand. I've found cute pots and try to buy products that have beautiful packaging, so keeping them on show is a design feature rather than necessity. Just add plants and you have an Insta worthy shelfie ready to go!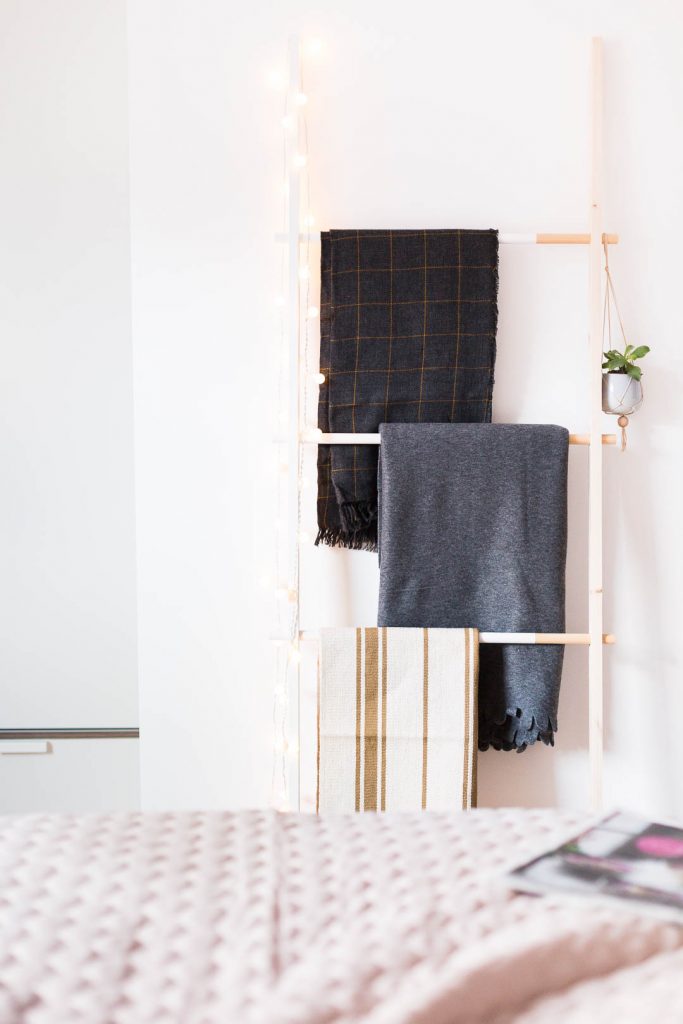 I've also DIYed this blanket ladder which is great for throws, magazines and even occasional items of clothing when I don't have a moment to put them away. A set of fairy lights help to create a cosy vibe at night when Ollen is asleep.
I also plan to put up some picture shelves for magazines/books/actual pictures and some hanging planters to add more greenery to the room. Do you have any tips for designing a relaxing and functional bedroom? I'd love to hear them. Let me know in the comments.