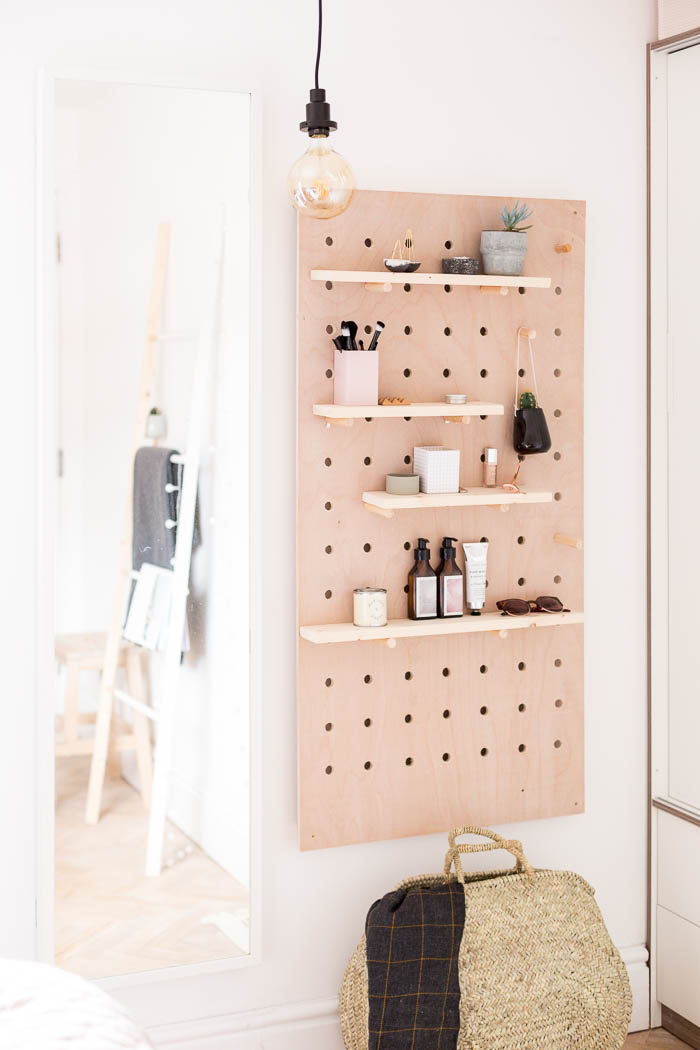 I'm pretty sure I haven't invented the idea of a standing vanity area, but I've never seen one before. So I thought it was worth sharing with you guys not only how I put this together (and make it a valuable space for both storage and doing my hair and makeup), but also sharing why I created this space instead of something a little more traditional.
There are many reasons I wanted to create a standing vanity area in our bedroom. Firstly we have very little space. Even a small desk would have meant climbing over the bed to get to one side of it. That's easily reason enough for me but read on, because there's more.
Moving onto the also the issue of my eyesight. If you're a glasses wearer you'll know how difficult it is to achieve the perfect eyeliner flick from a distance when you can't even see your own eyelashes. In fact, the last dressing table I had went unused for years for this reason alone. I used my full-length mirror to get up close instead of leaning awkwardly over a desk in a half squat position. Great for the thighs, not so much for the eyes.
I had the idea of a standing area for this room for a long time. I was initially going to use wall shelving but couldn't resist making a pegboard and sharing the tutorial with you!
Materials
12mm plywood measured to fit your space
15mm dowel
15mm drill bit
2cm x 4cm strip wood (at least twice the length of your plywood)
Narrow pine shelving/strip wood
Rawl plugs and screws
Wood screws
Instructions
1. Measure the large piece of wood and divide that by the number of holes you want. Do this horizontally and vertically. Draw the grid onto the wood  using your measurements as the distance between the lines.
2. Drill holes into each point where the lines meet. Place a scrap piece of wood under the area you are drilling to stop the back splintering. Once you've made all the holes sand down the edges.
3. Measure and cut 2 pieces of the strip wood the length of the pegboard and using strong rawl plugs and screws attach these to the wall where the top and the bottom of the pegboard will be.
4. Attach the pegboard to these pieces of wood using a screw in each corner.
5. Measure the distance from the wall, through the holes in the pegboard and add on the width of the shelf. Cut up your dowel into pieces this size to hold the shelving in place. Any off cuts can be used as smaller pegs to hang things off.
6. Push your pegs into the holes and place sections of the narrow shelving onto them. Once you have everything in place you can use brackets to keep the shelves in place.
Read on for my other storage solutions…
For the mirror storage you'll need a boxy mirror with space behind the glass to create your storage area. I got this one from IKEA a few years ago, but unfortunately, they don't sell them anymore. Once you've sourced the right mirror use hinges to attach it to the wall on one side. Use adhesive hooks and tabs to create a storage area for jewellery and nail varnish hidden away in the back.
To create some additional storage I've added a large basket from The People Shop. I keep my hair dryer/straighteners and larger product bottles in here for easy access. Then to finish the area I've added a pendant light so I can see exactly what I'm doing no matter what time of day or night it is.
One of the reasons this area works so well for me is because I thought about the items I needed to store/easily access and built my storage around it. You might need to tweak the ideas for your own needs/space but this is hopefully showing you how you can have as much storage and accessibility with much less space than a vanity table.
I'd love to hear if you have a traditional vanity table or have you tried out something different too? Let me know in the comments!