Is there anything cuter than a fluffy bunny in a floral crown? You might disagree with me but I'm not sure you guys. I've basically got a Pinterest board dedicated to this exact (let's call it a) phenomenon. Maybe I'm baised but it is my favourite place on the Internet right now. Need a little pick me up after reading a thread on Twitter? Bunny board. Accidentally read the comments on that article? Bunny board. It's my antidote to all things angry online.
But what's better than a bunny board? (Out of context that might sound odd.) The real thing. You guys, I have rabbits! Unless you follow me on Instagram you might be unaware that I've been a bunny mama for a few years to the fluff ball. But recently we adopted our newest bunny boy, who, has less fur but much more, let's call it spirit. He's also a bit more open to the idea of accessories.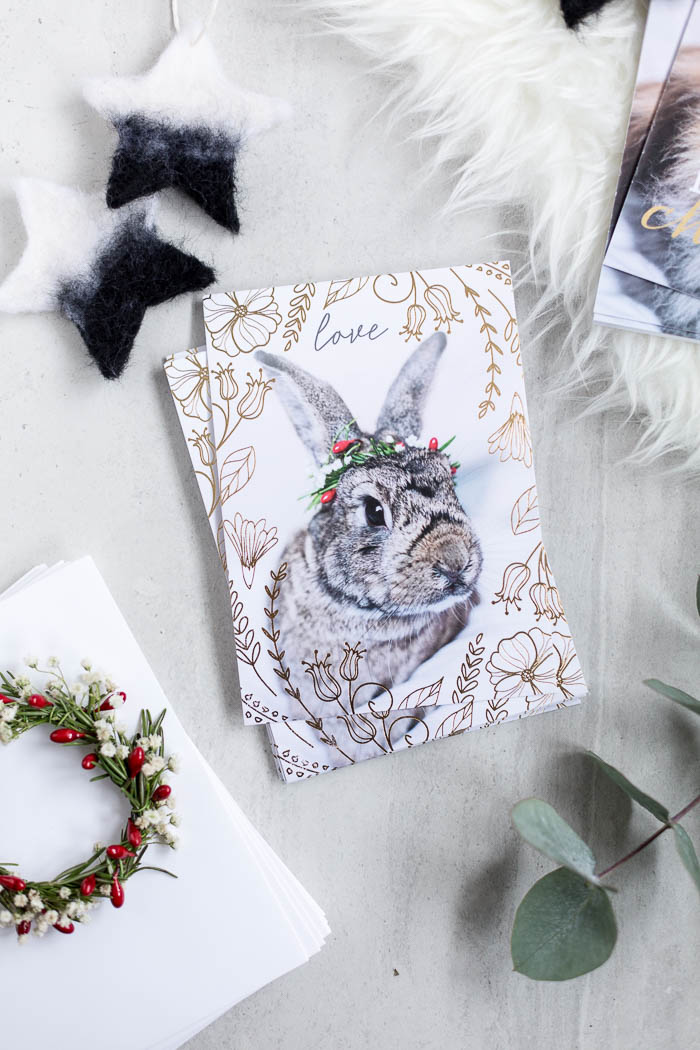 So when Mixbook asked me to try out their new foil Christmas cards I took full advantage and decided to welcome Mo Mo into the family in full festive fashion. Their gorgeous holiday designs make it incredibly easy to design your cards in minutes. All I needed was the photos. By next year our little family will have grown again so it only seems right to give them the spotlight before our (hopefully not so furry) baby arrives.
I don't know if you guys have ever tried to put clothes on a rabbit (I swear I haven't… honest) but they don't like it. They're not the best pet if you like your animals to look like pirates or hot dogs.
But they can be persuaded (with treats and attention) to wear a little crown for very short periods of time. So I got to work creating these mini wreath/crowns for them to model in the photos to give the shoot a winter wonderland vibe. (I've included some of my favourites at the bottom of this post because I know you'll love them as much as I do!) Now if you have a pet (and are just crazy lady enough to want to dress them up in winter crowns) you can make these in all different sizes. Or alternatively just make cute mini wreaths for any reason you like. Table decorations, hang them in windows, placecard holders, whatever you want!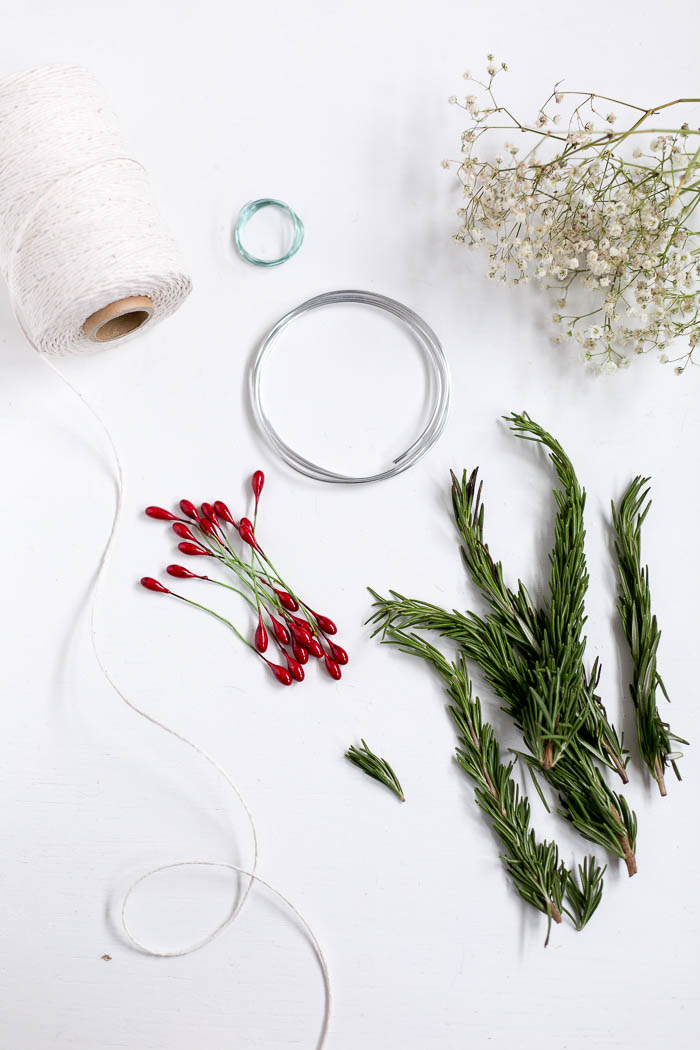 Materials
Aluminium wire | Thin copper wire | Wire cutters | Rosemary | Glass faux berries | Baby's Breath
I've used faux berries on floral wire. These were really inexpensive from my local florist warehouse and come in really useful later on. They are also inedible which is much better than putting potentially poisonous berries around animals that will try eating anything!
1. Roughly measure the length of wire you need, add a few inches and cut from the aluminium wire. Shape this into a circle and wrap the excess around each other making sure the ends aren't sticking out. The reason I use aluminium wire for this is because it's soft and light which makes this step very easy.
2. Using the thinner wire secure the rosemary around the aluminium wire, overlapping the ends to completely cover the wire. Try to hide the copper wire underneath the rosemary leaves as you go.
3. Cut off small sprigs of your baby's breath and push them into the rosemary. Secure in place by wrapping the berry wire around everything. Keep going until your wreath is complete. Make sure there are no wires sticking out and cut off any excess.
After the photoshoot all you have to do is head over to Mixbook and insert your photo into the design. You can try out different compositions and even switch up the foil elements. I got my cards printed on lux cardstock which gives them a beautiful finish.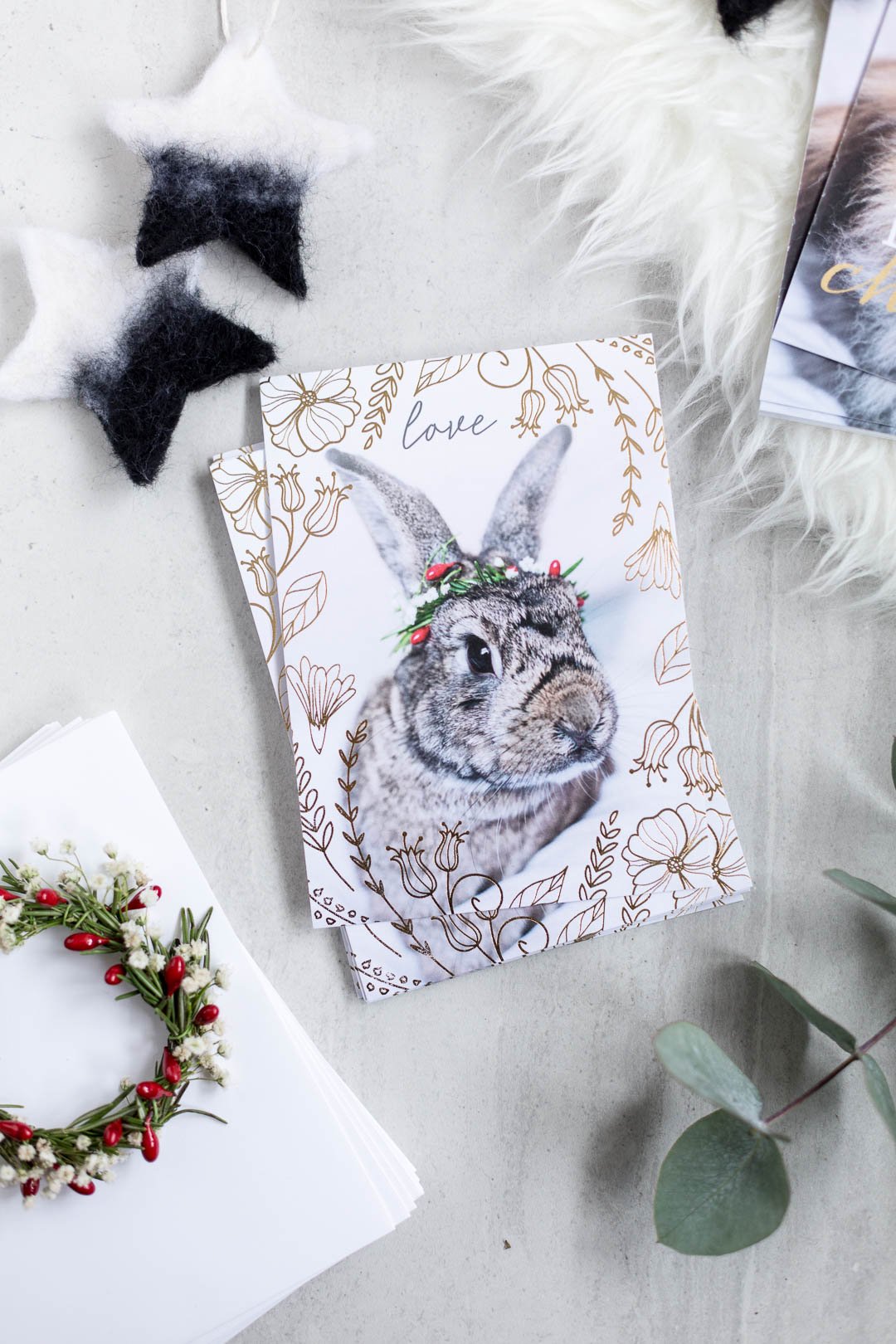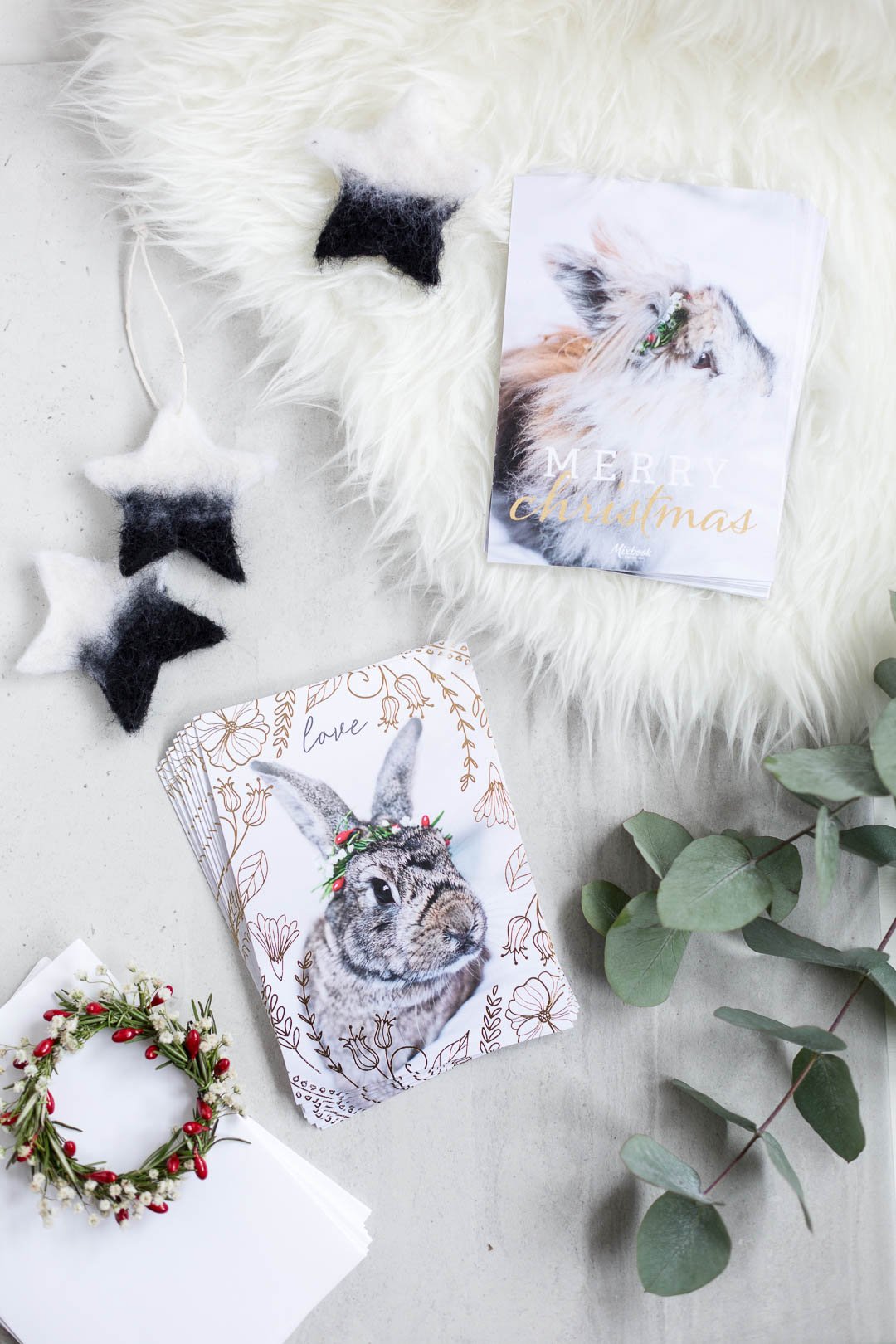 And as promised here are the photos from our bunny shoot!