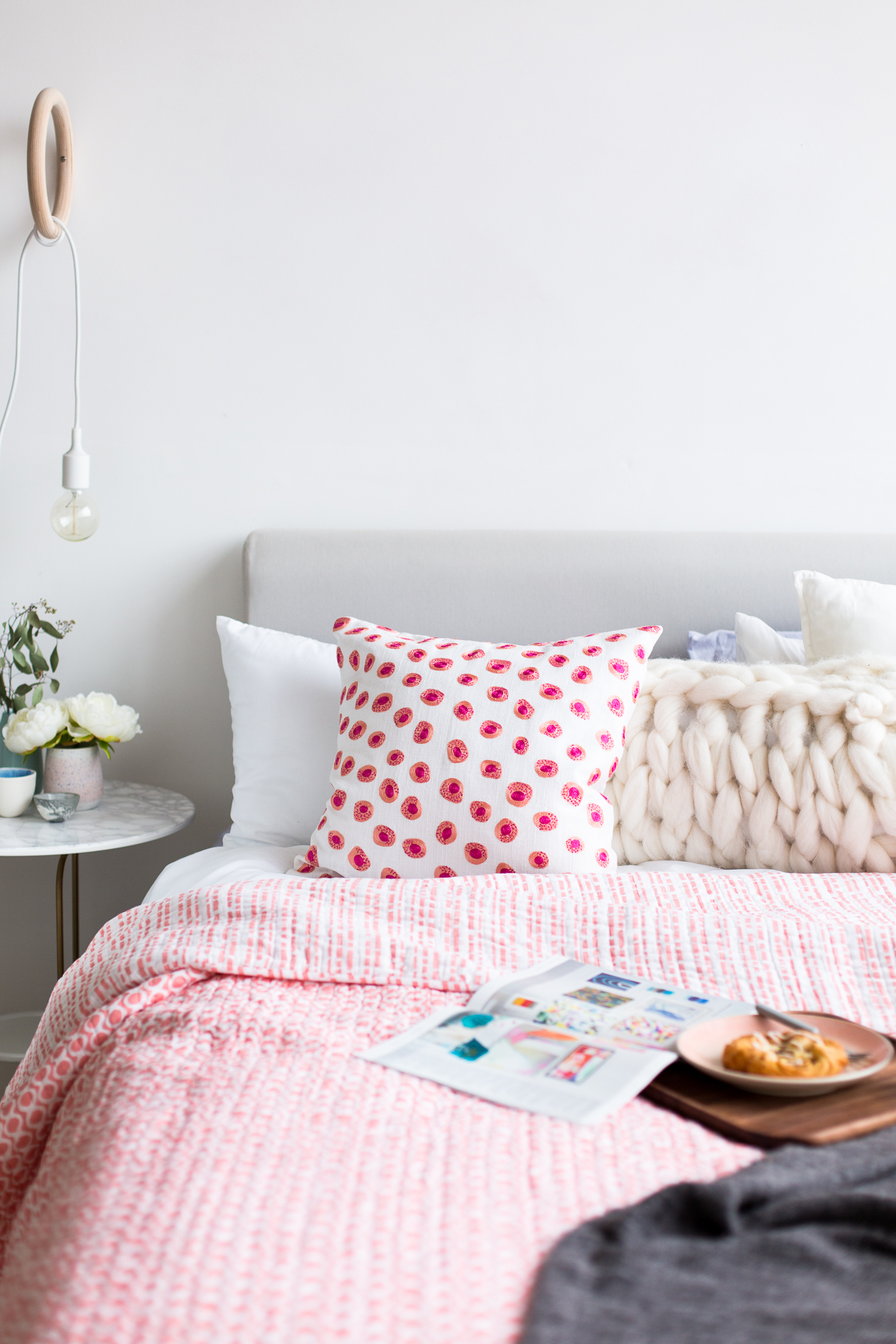 Now that spring has well and truly begun I'm starting to add more colour into my wardrobe, Instagram feed and my home decor. But moving away from the safety of minimalism can be pretty difficult. Especially if you're someone who doesn't know where to start when adding bright accents.
But there are ways you can keep your minimal winter styling and enjoy warm, bold colour at the same time. If you stick to a few guidelines and be conscious with your decision making you can enjoy a colourful yet chic home without accidentally creating the dreaded colour clash!
I've teamed up textile and home décor company, Annie Selke to help add colour to my space with items from the new Palm Springs summer catalog, which is full of bright and colorful inspiration!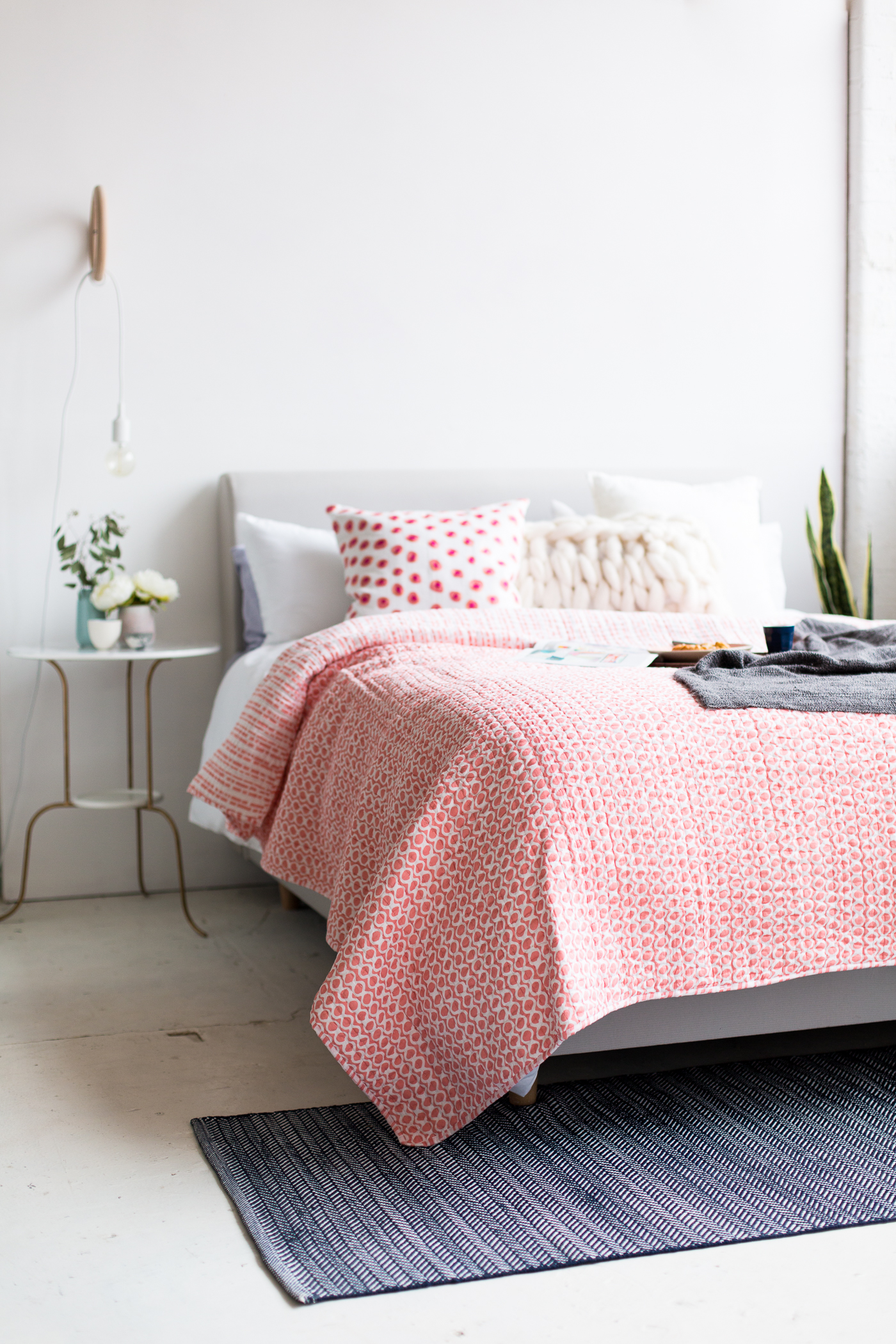 Keep it tonal
I've kept my colourful accents in two or three tonal ranges. This helps to simplify the whole area and make it much easier on the eye, blending the tones to keep the room uncomplicated and not overly busy. I've used complimentary colours in corals, blues and greys, allowing the combinations to work together well and as individual items.
Be bold
Don't be afraid to use large areas of colour. This will actually create more of a minimal effect over lots of smaller elements that can create clutter. Rugs, blankets and curtains can add areas of interest with bright pops that feel perfectly in place. I've used the Herringbone Indigo Indoor/Outdoor Rug and the Tyler Coral Quilt both by Annie Selke.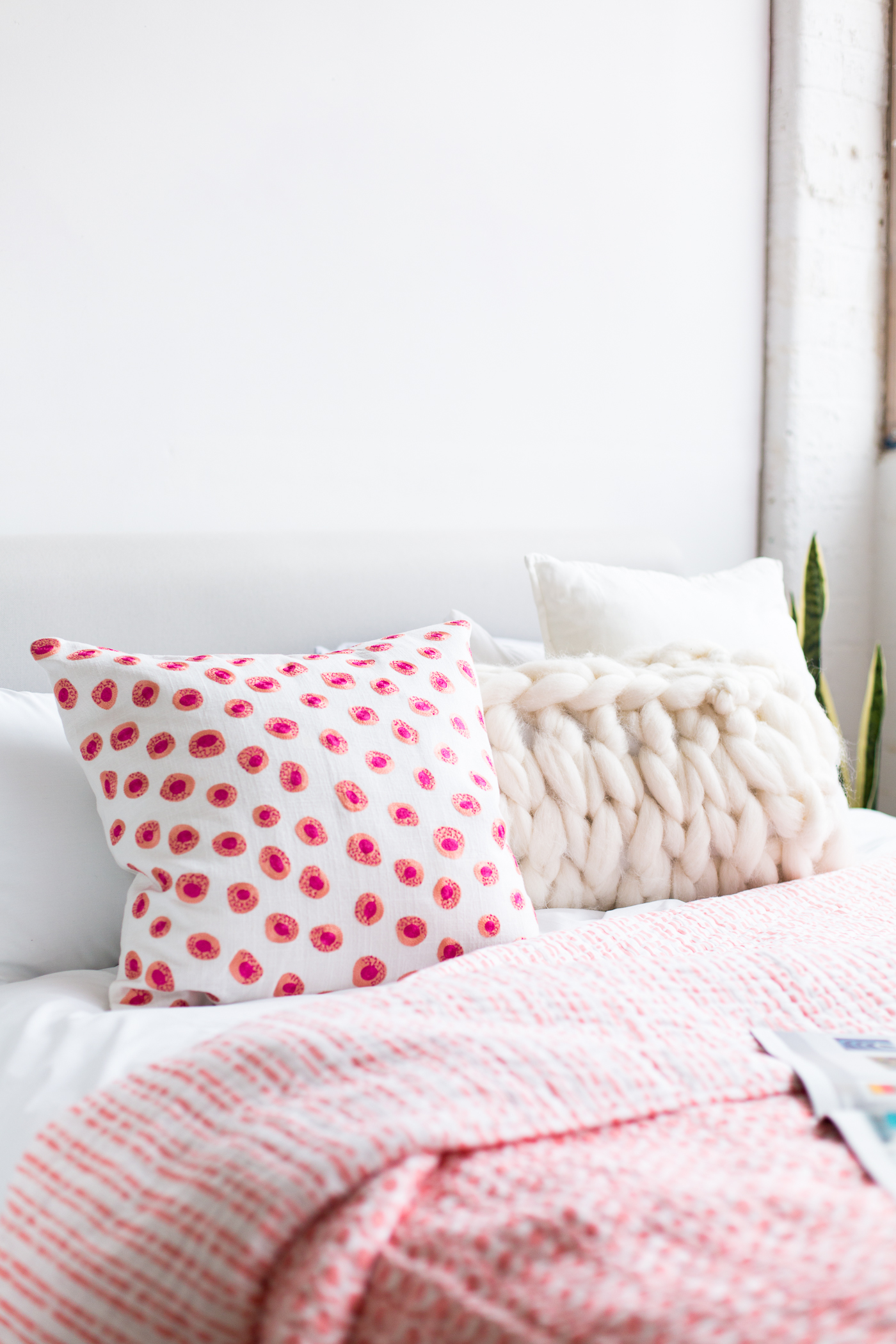 Simple, repetitive patterns over complex motifs
When it comes to pattern keep it simple. Tonal or minimal colour patterns work best. I've gone for designs that are set on or include a lot of white. This ties the items in with the rest of the room so they feel completely at home and not out of place at all!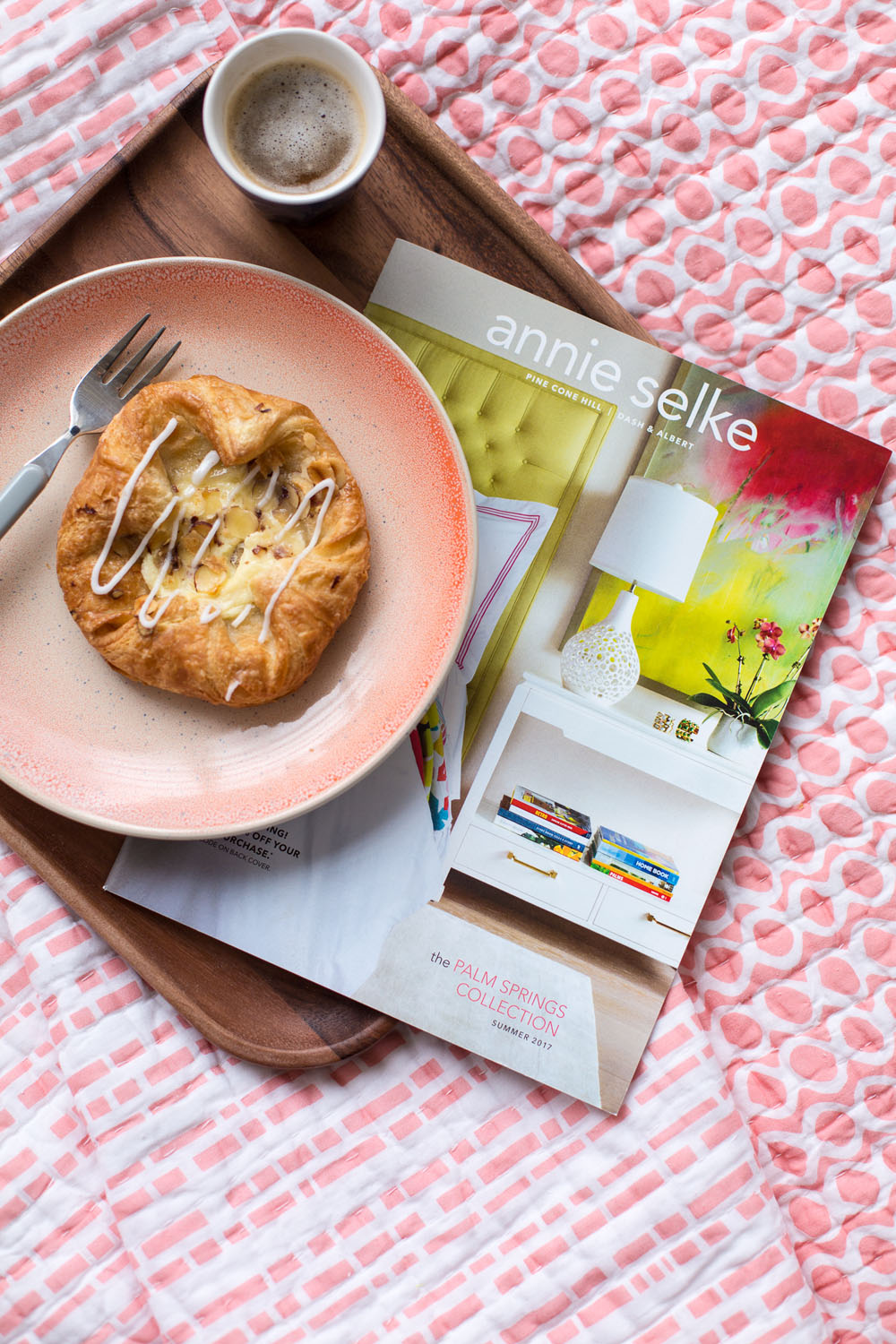 Made to be together
Look for a range of products that go together. Anne Selke has created a catalog for summer 2017 which focuses on celebrating a Palm Springs colourful and playful style. Choosing items from a range that are designed to work with each other is a great way to add colour that is cohesive and that adds to a minimal room without overcrowding it.
Request your own Annie Selke Palm Springs Catalog by clicking here. Then once you've picked out your items get 15% off your first purchase of this collection by joining the Annie Selke mailing list.
Cut back on the clutter.
Channel your inner Chanel and put her to use in your decor. Once you think you've finished organising the room, look around and take one thing away. Keep the clutter stored away and be thoughtful about your accessory choices. Most of all stay on top of the mess. Cleaning little and often helps stop those jobs piling up and getting out of hand!
If you want to add more interest and detail try including different textures like this Thumbprint Coral Embroidered Pillow. These additional elements will draw the eye without being distracting.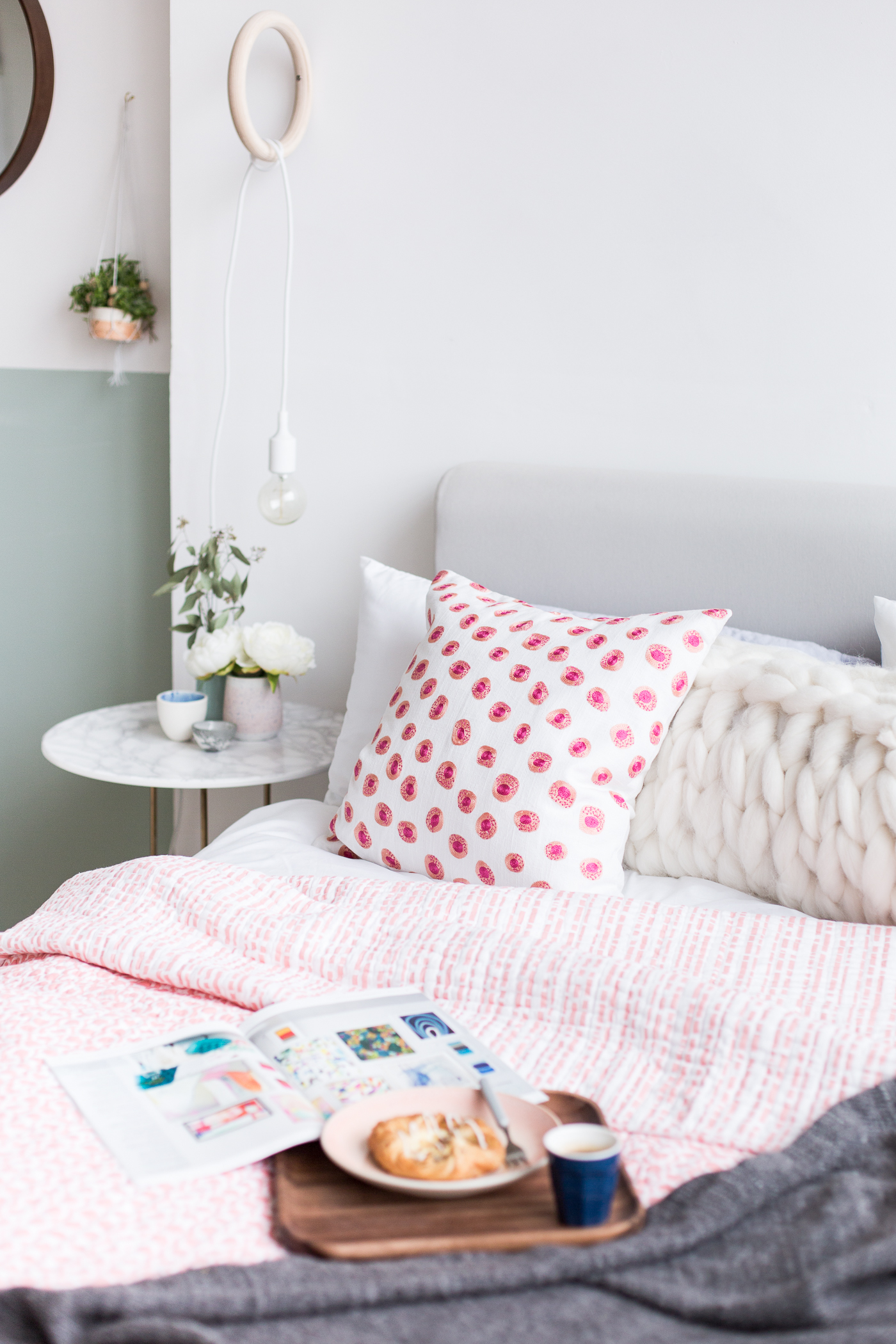 This is a sponsored conversation written by me on behalf of Annie Selke . The opinions and text are all mine.