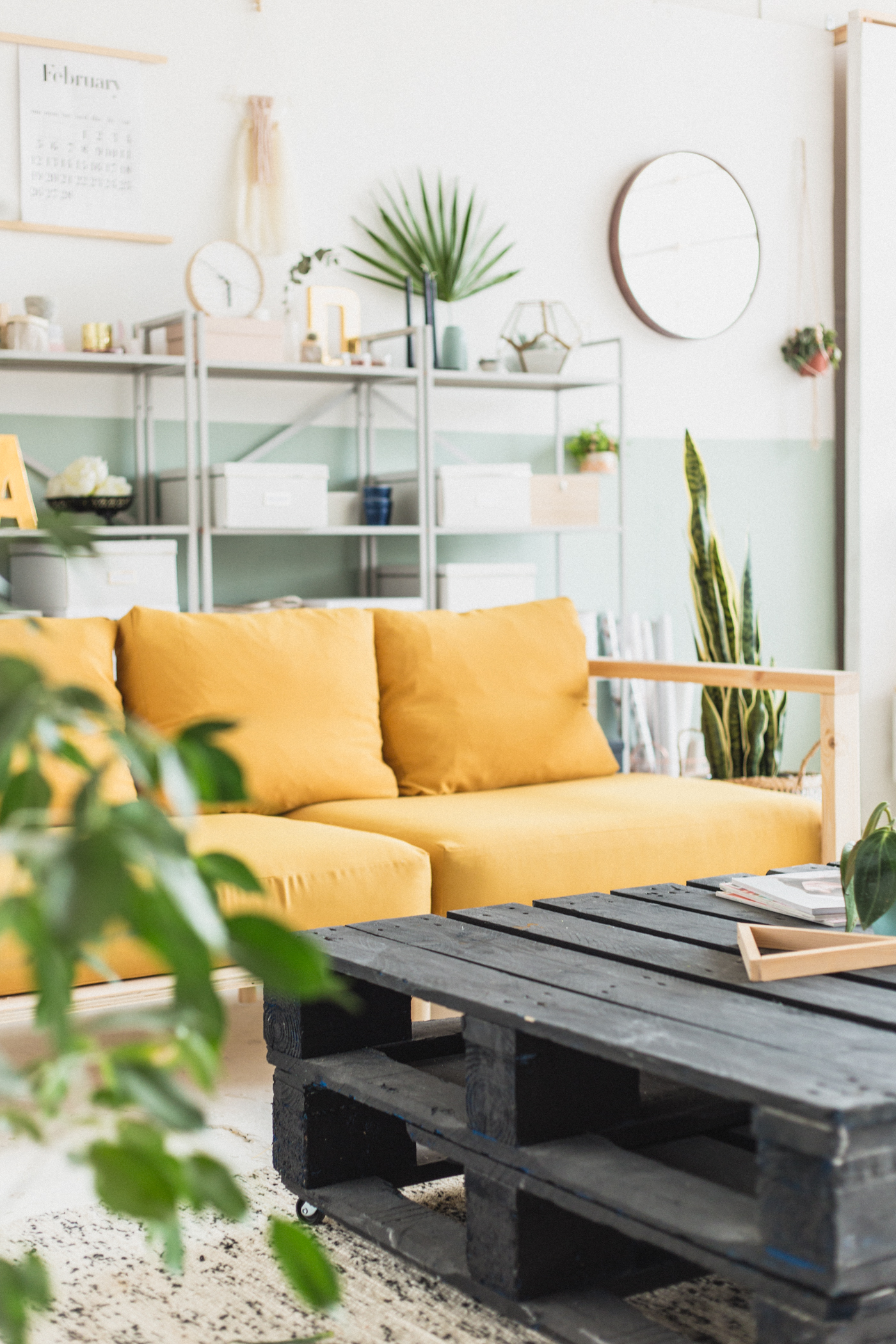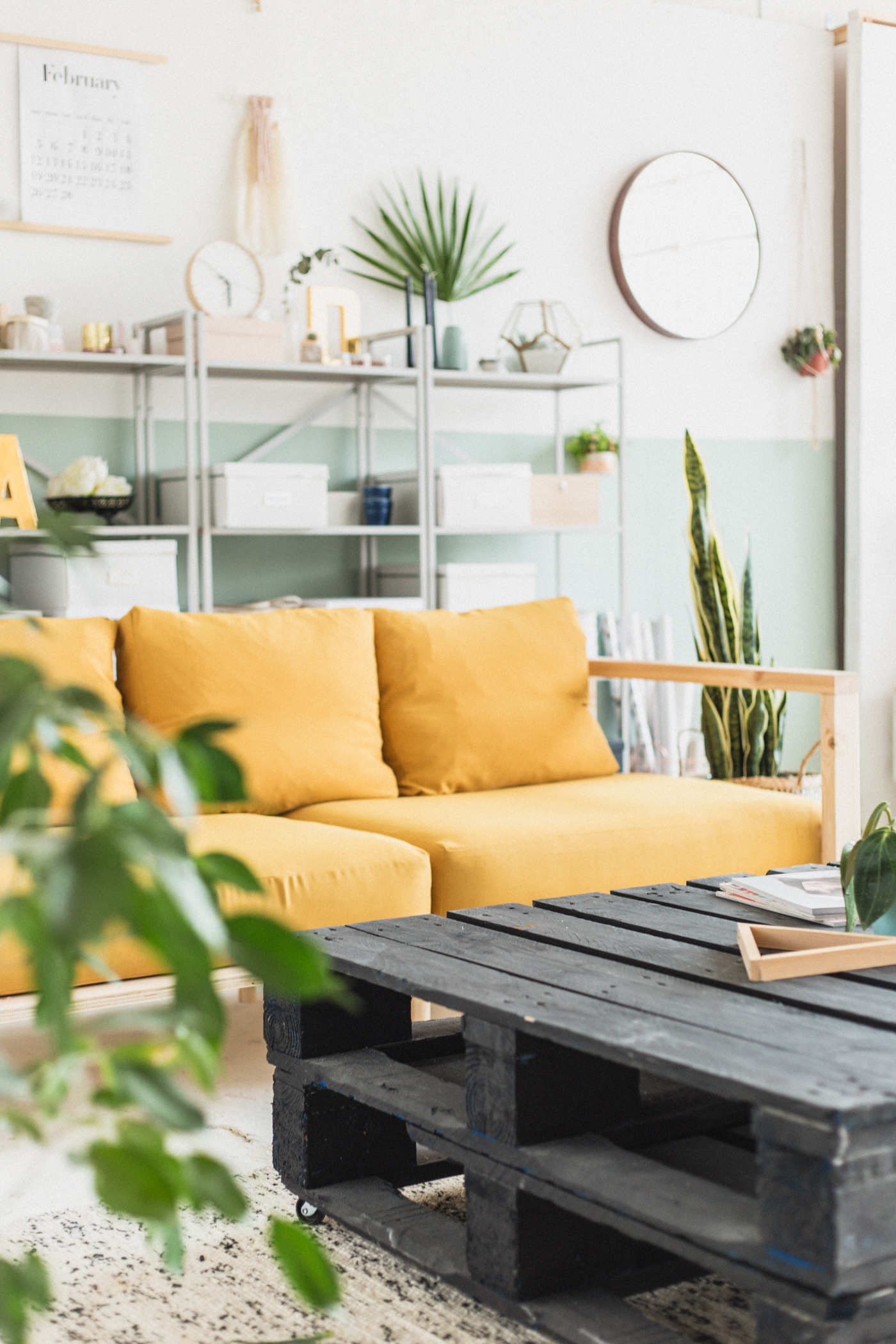 It feels like I spent all of this last winter planning, organising and just getting myself ready for the spring. Back in September I decided I would put a lot of work into my studio and at the same time we were in the middle of a house hunt (I know, this is all I talk about these days! But it's actually all I've done for months now!) As the days have been getting lighter I finally feel like my workload is too.
The studio is starting to look something like I imagined it all those months ago. Of course, there's still a lot of work to do but instead of spending half my time painting or sanding or plastering I can get back to the actually blogging side of my blogging business… what a novelty!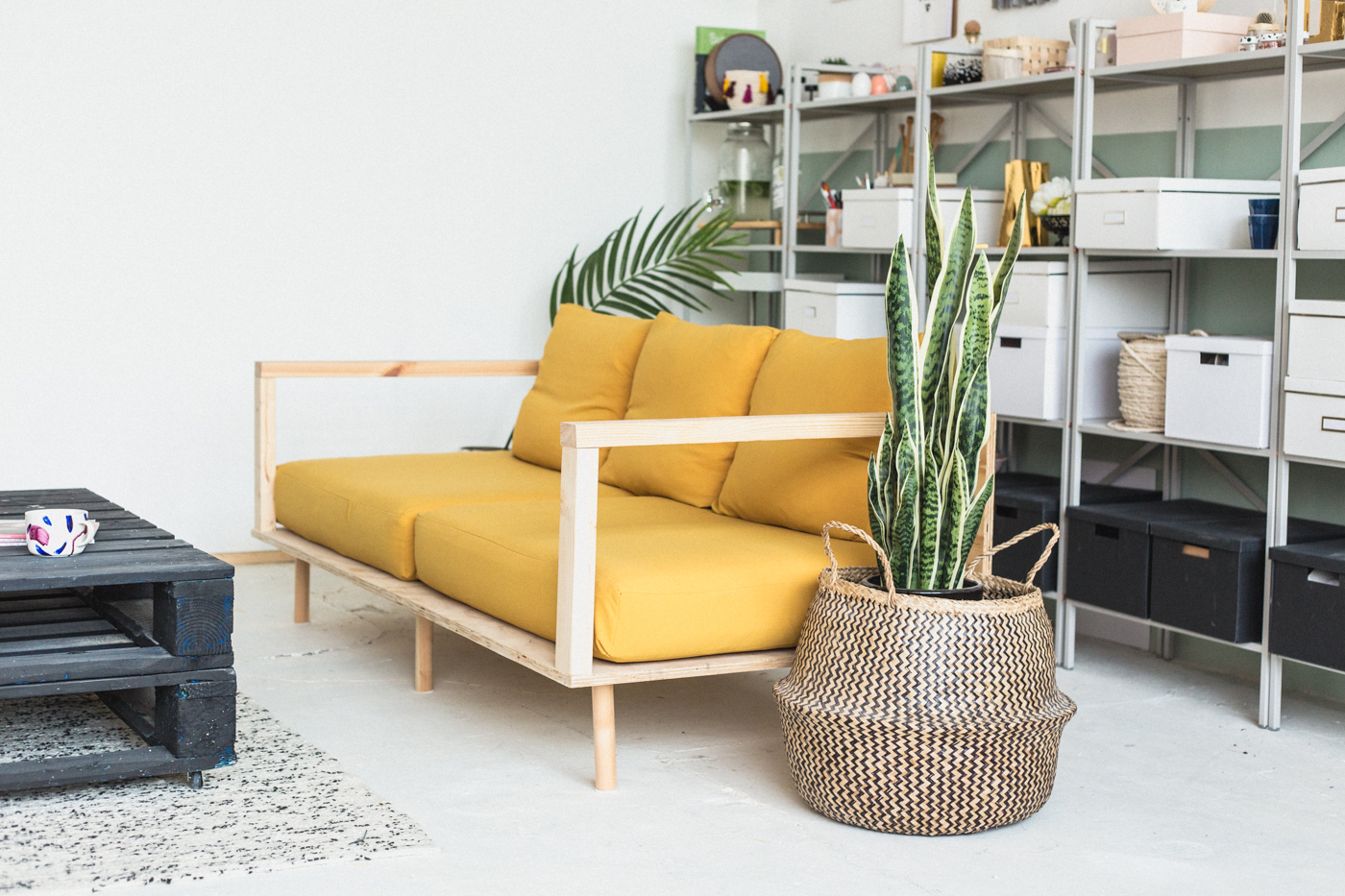 I can also spend less time cooped up in the office room of the studio (heaters blasting to stay warm) and out in the brighter, more spacious photography area. This space is so much more inspirational (and so much tidier which definitely helps) to the point I feel more productive here. So while my vision was to always have a sofa I have been eager to finish this DIY wooden studio sofa project recently (six months after I started it) to give myself a comfortable space to sit and you know, Instagram and stuff.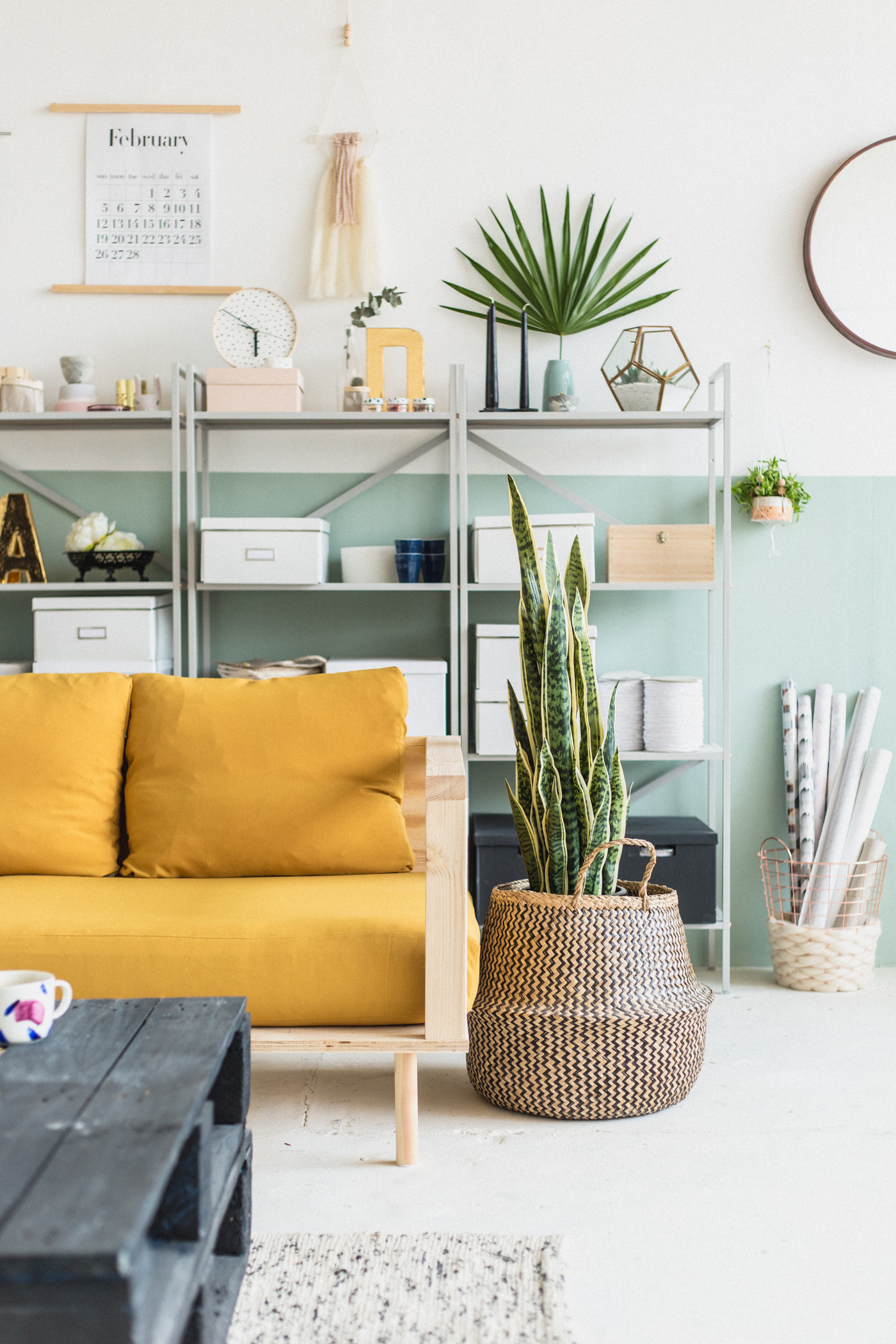 I say this took me six months but that is literally one/two days at both ends. While this looks like a difficult project with the right tools it is actually easy. I made this by myself but I would not have turned down a helping hand. So if there's someone close by who can hold things in place for you a gentle bribe might be a good way to go. If not, don't panic. You got this!
Oh and I definitely need to update my calendar… (face palm)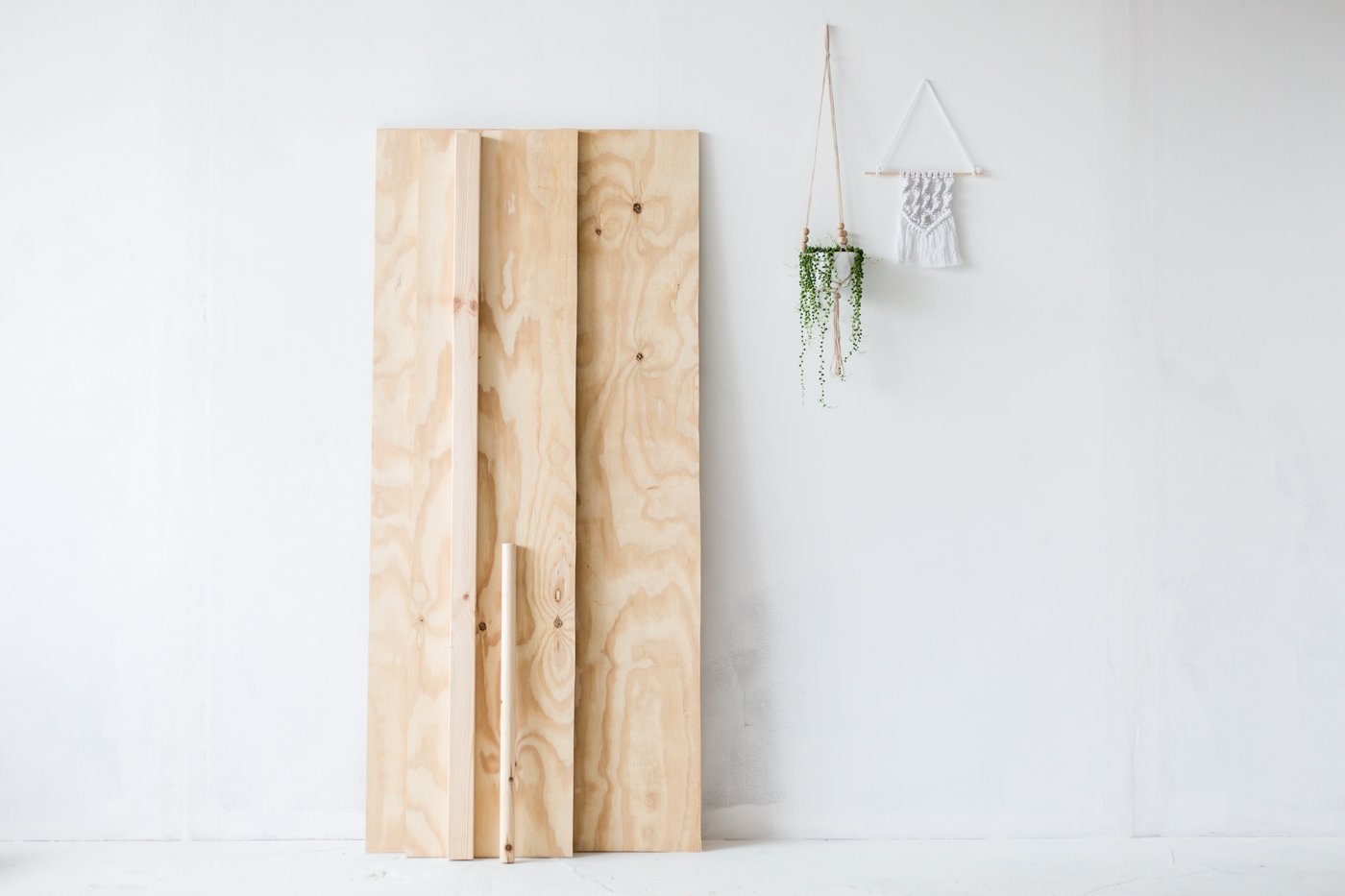 You'll Need:
Plywood One – 1.5m x 70cm
Plywood Two – 1.5m x 40cm
2m Softwood Timber – 1.5″ x 2.5″
1.5m Dowel – 35mm diametre
Miniature dowel plugs – 6mm diametre
Wood Screws
Electric Drill
Saw/Jigsaw
Sandpaper/Electric Sander
I actually cut my own plywood from one large piece using a jigsaw but you can ask your local DIY store if they can cut the wood to these measurements for you.
1. Measure 10cm in from both edges, at all four corners on the largest piece of wood. Where the two points meet drill a hole smaller than the head of your screw. Measure half way down the longest length and drill another hole 10cm in from both edges. This should give you six holes in the wood in total.
Cut 6 x 15cm lengths of your dowel and sand both ends flat (an electric sander is your friend here). Then drill a hole into one end. Use a screw to attach the dowel legs to each of the holes in the wood. After using the sofa I've found that the feet could benefit from Leg Mounting Plates. These are easy to attach but let me know if you need a tutorial on this in the comments.
Add the felt pads to the bottom of the feet.
2. Pick up this piece and place it on one of the shorter sides. With the second piece of plywood create a right angle on the longer side. Your second piece of plywood should sit on top of the base. Holding firmly in place screw 8-10 wood screws through both pieces of wood from the bottom. Take your time to make these straight so they don't stick out of the wood. If you see them leaning at an angle, take the screw out and try again in a different place.
Carefully lift the sofa back into position. The back should hold steady now but won't be able to take any pressure. We're going to fix this with the arms.
3. Measure and cut two pieces of softwood the length from the back to the front of the base (measuring from the backboard). Place this piece on the sofa base then measure and cut another two pieces the length from the top of the first piece of softwood to the top of the backboard. This will let you get a perfect fit.
Measure the centre point of the one end of the smaller pieces of softwood. Use these measurements to mark a corresponding point on the longer edge of the longer length of softwood. These two points should match up when you place the longer and shorter lengths at a right angle.
Drill a hole the same width as your small dowel (around 6mm) and just over half the length. Press the dowel into the hole on the longer piece of softwood. Then push the hole in the shorter piece of softwood onto the remaining dowel. You can use a little wood glue here to keep this in place. Attach the other ends of the softwood to the plywood sofa using long wood screws. You might need to pre-drill holes here to make it easier.
That's the base finished. I've used old sofa cushions for the upholstery but you could make new ones from foam and wadding. To cover them in this gorgeous mustard fabric I used this tutorial from my sofa re-cover project. I've made these cushion covers a number of times now and they always work perfectly.
I love the pop of colour the sofa adds to the studio. And it's as comfortable as it is beautiful! This is easily my favourite place to lounge (with a big cup of coffee) after a busy morning.