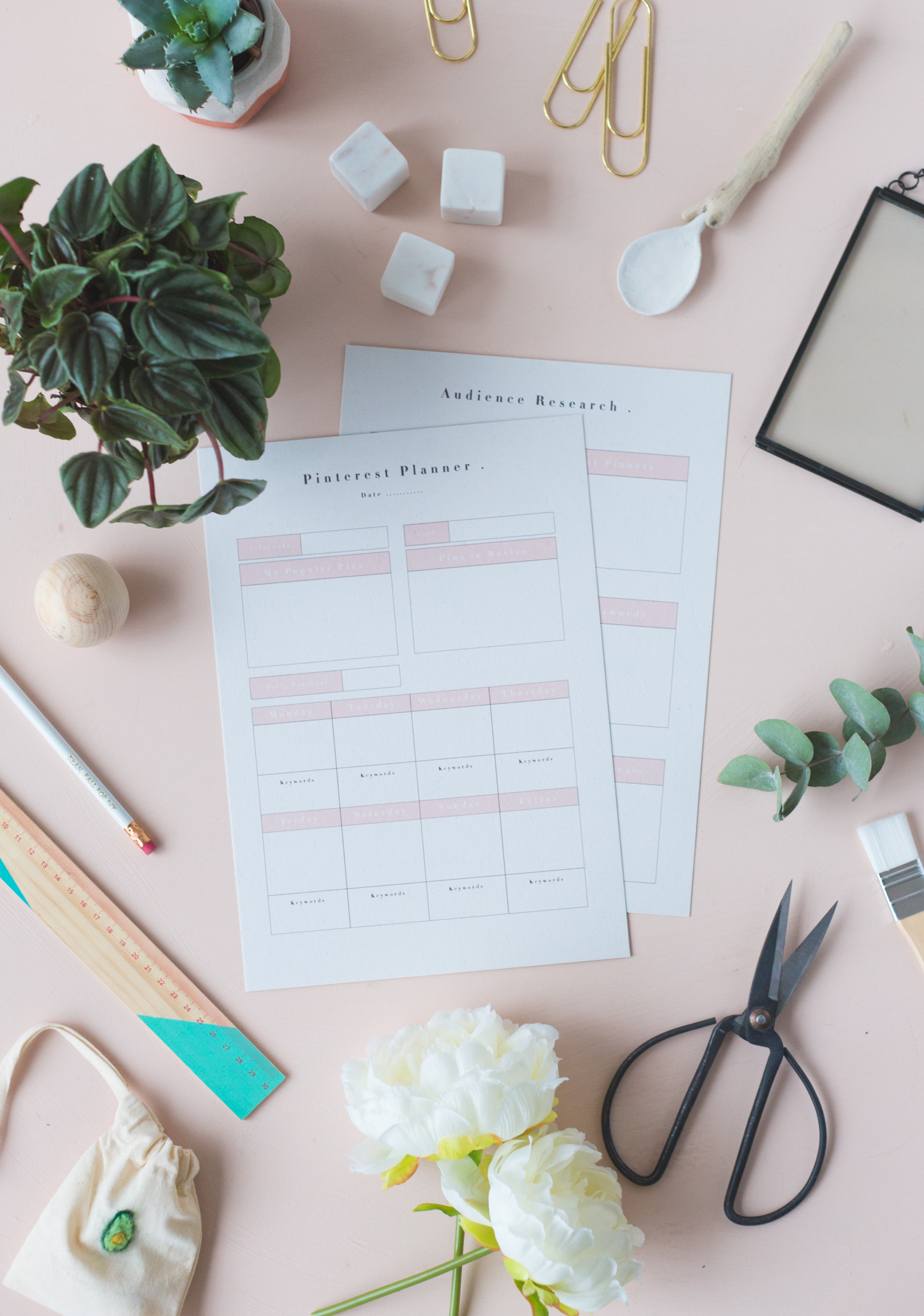 Why you Need our Free Printable Social Media Pinterest Planners
The way I see it the good old days of using social media in your business because, you know, it was fun (can we be nostalgic for only half a decade ago?) are over. And while we can definitely still use these platforms for our own amusement, if you want to make them a viable and an important part of your business plan you need to get serious.
I've never really delved into planning and scheduling my Pins. Pinterest has always felt like a naturally social (not social media of course) form of sharing anything and everything I love. And it just so happens that anything and everything I love are similar to the things all of you love. So while I was doing something I enjoyed and something I felt was helping me become a better blogger, I was in fact also building an awesome audience on a major platform. Who knew!?
But now we have yet another algorithm and as a consequence it takes much longer for our Pins to get any traction. So we need to start strategising. We need a plan. And for that we need a planner.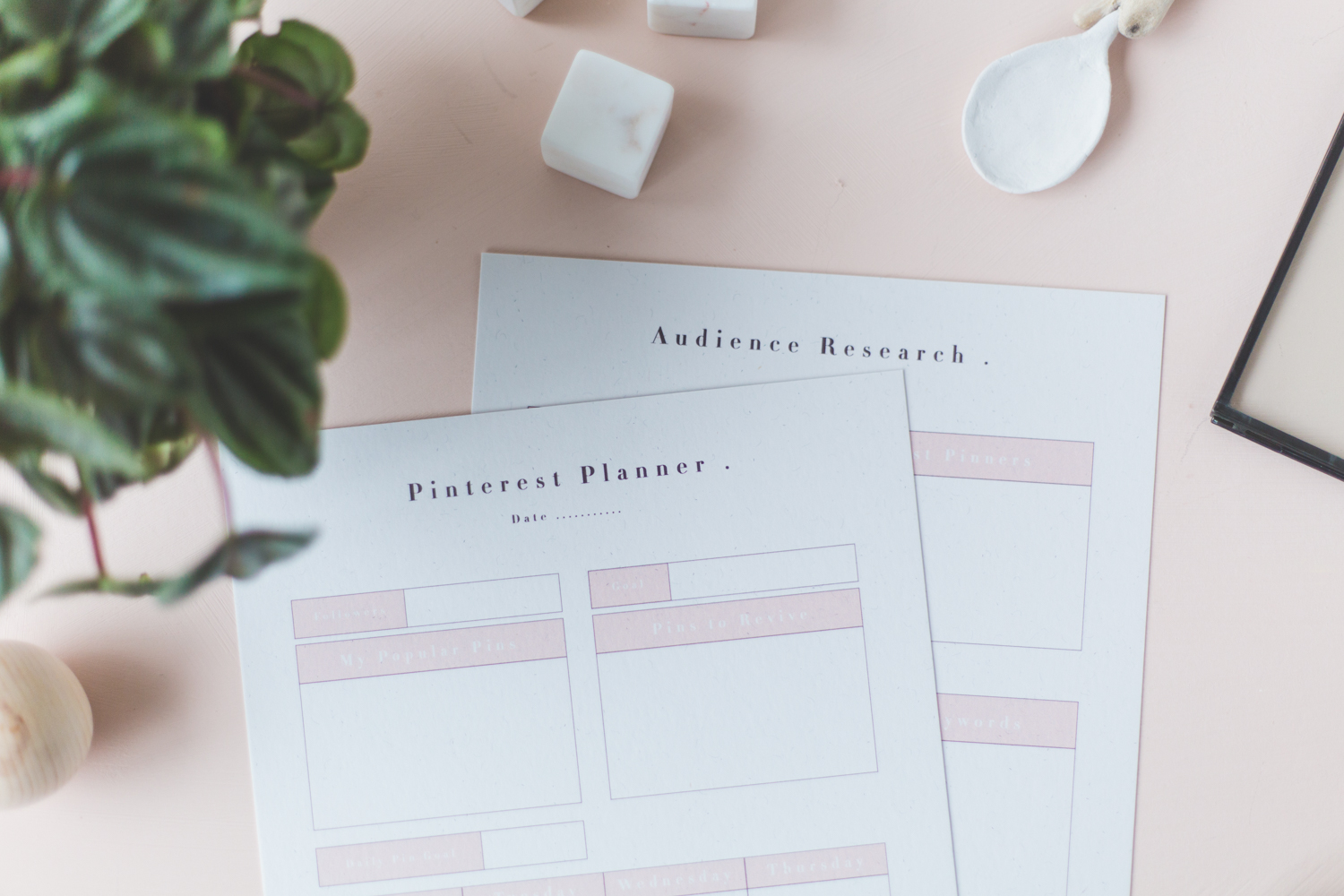 I've been putting in place many of the strategies I'm sharing on these pages. I actually use Boardbooster to recycle old Pins so I always have something on the home feed but besides that I'm pretty hands on. I'm on Pinterest daily for personal and business uses and I regularly move boards and update covers but I know I could be doing more.
It's all too easy to get sucked into the Pin this pretty thing, Pin another pretty thing routine. I don't want to ruin Pinterest for you (I'm about to sound like a massive killjoy) but rather than just arranging pretty pictures we really need to be thinking about a little thing I like to call SPO.
Search Pinterest Optimisation
Don't panic! I'm not getting all Google on you. But think about how you use Pinterest. If you're anything like me you will head over when you need to find the answer to a specific question. Or when you want to find 50 examples of light fixtures for your bedside table. You know, because you need at least 50 options to make sure you making the best decision possible.
So you'll head over to Pinterest and type in bedside lamps, or mid-century bedside lamps, or hanging bedside pendant lamps. And if you make/sell/advise on beside lamps you want to make sure you have something coming up in that search that links to your resources. Which means you need these keywords as you board names and descriptions, and in the Pin descriptions themselves. So just pop them in there. Easy right? Keep your descriptions natural and conversational. If you're providing something you honestly think will be advantageous to someone searching this term that should come easy.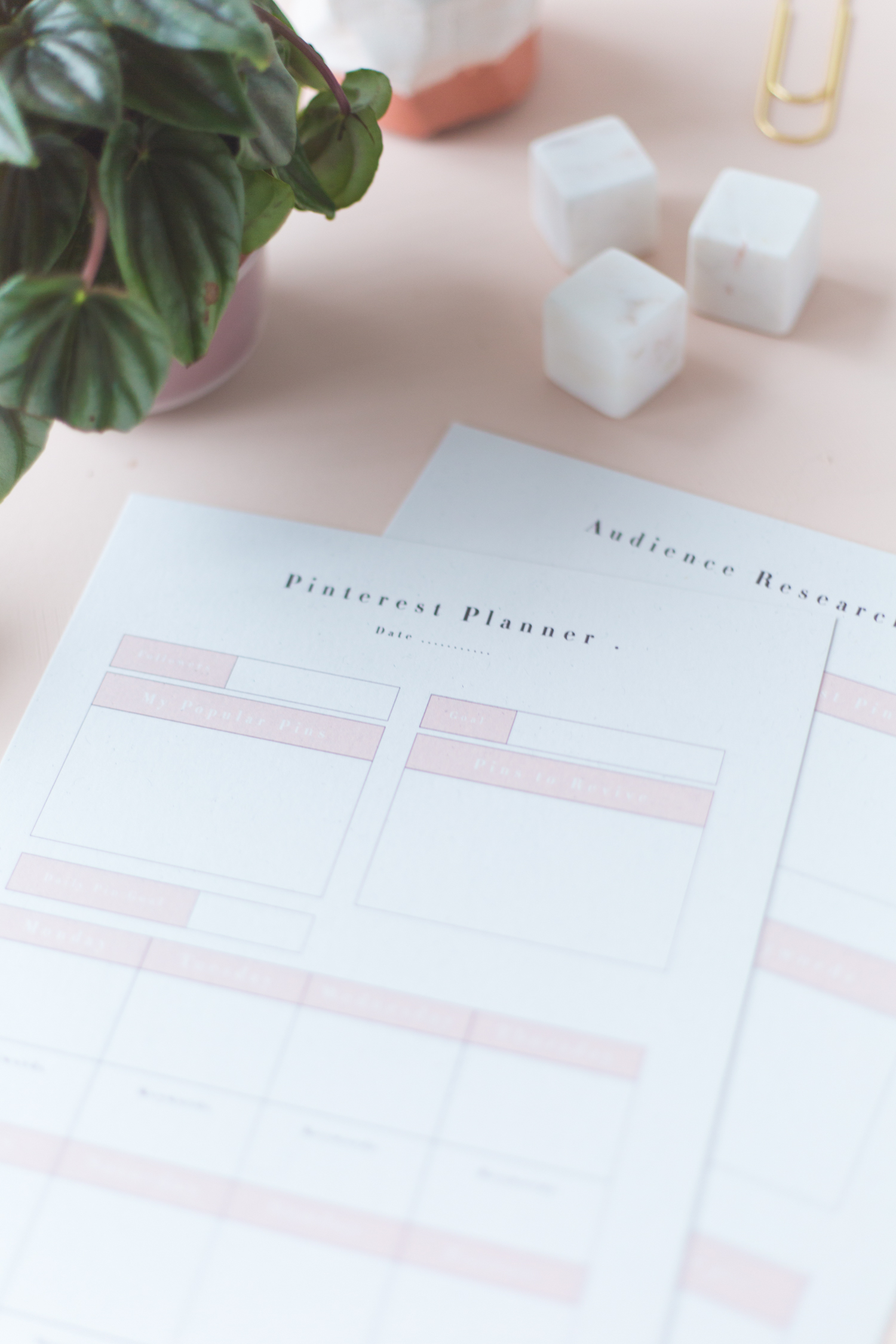 With this in mind I've included a space to add your keywords. Be it for the week, month or your entire social strategy for the year. If you're struggling for ideas try searching for your pin. Pinterest will include additional options to refine your search. Add any of these that are relevant to the list. Keeping them accessible on your Pinterest planner just to make life easier when you have a black screen (and blank mind) in front of you.
Research your Audience
But of course being a great Pinner isn't all about you. Your audience might want to Pin those beside lamps one day but not the next (unless they really, REALLY love lamps and have a lot of beds). People have different interests and Pinterest is the place all of these combine. Knowing what other interests your audience has will help to keep them interested in you and over time trust your judgement, Pins and products/services. And actually this is the ultimate goal. You can have millions of people see your online presence but if there's no trust you'll never convert.
Being able to listen to the needs of your ideal customer will help you provide a better service and give them a reason to choose you in a growing market.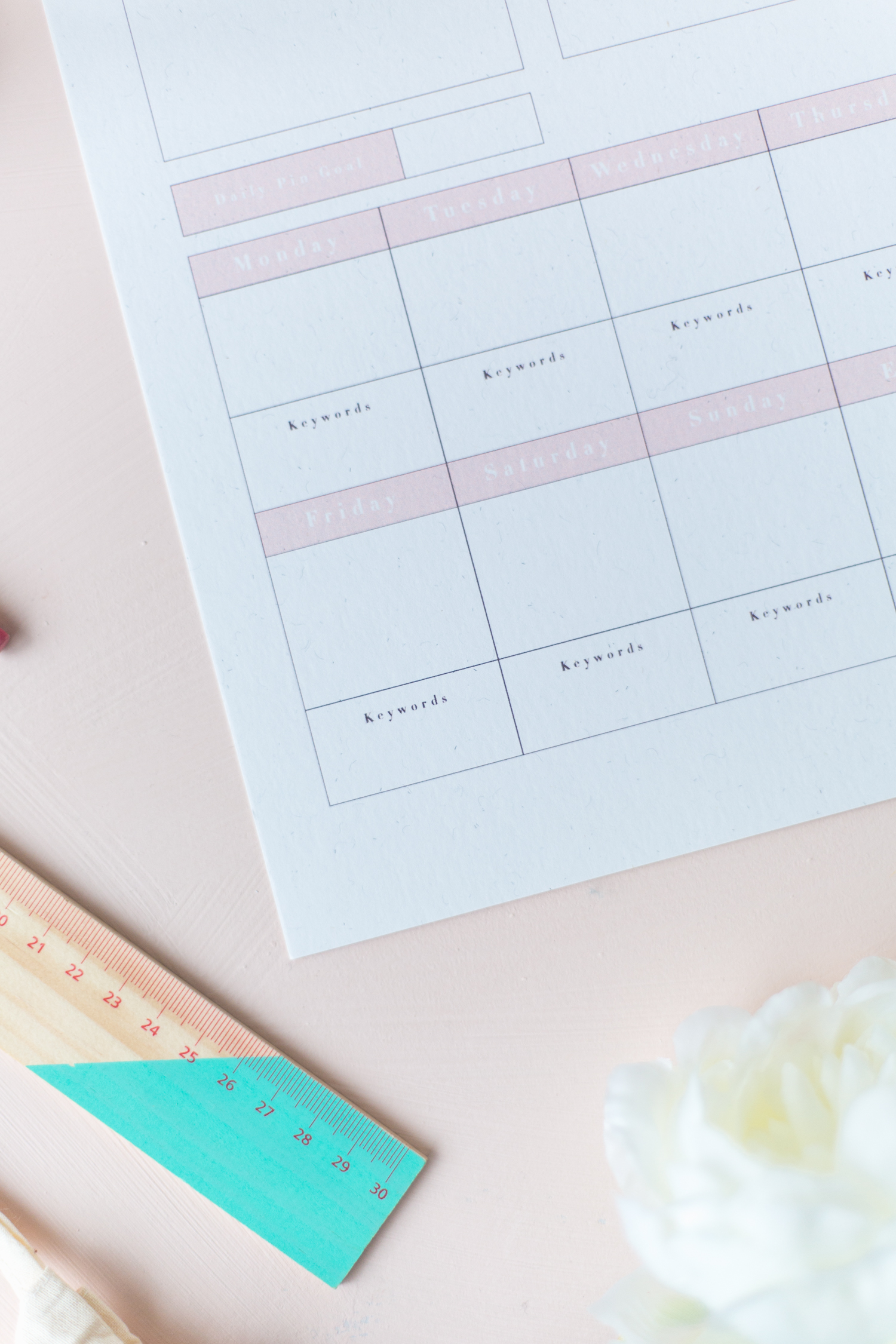 Take Inspiration from Others
If you're struggling to understand your audience's needs, take a look at your 'competitors'. Find accounts that really tap into your niche and look through their boards. What do they pin? How focused are their topics? Try creating similar boards focusing on your unique style but with these themes in mind.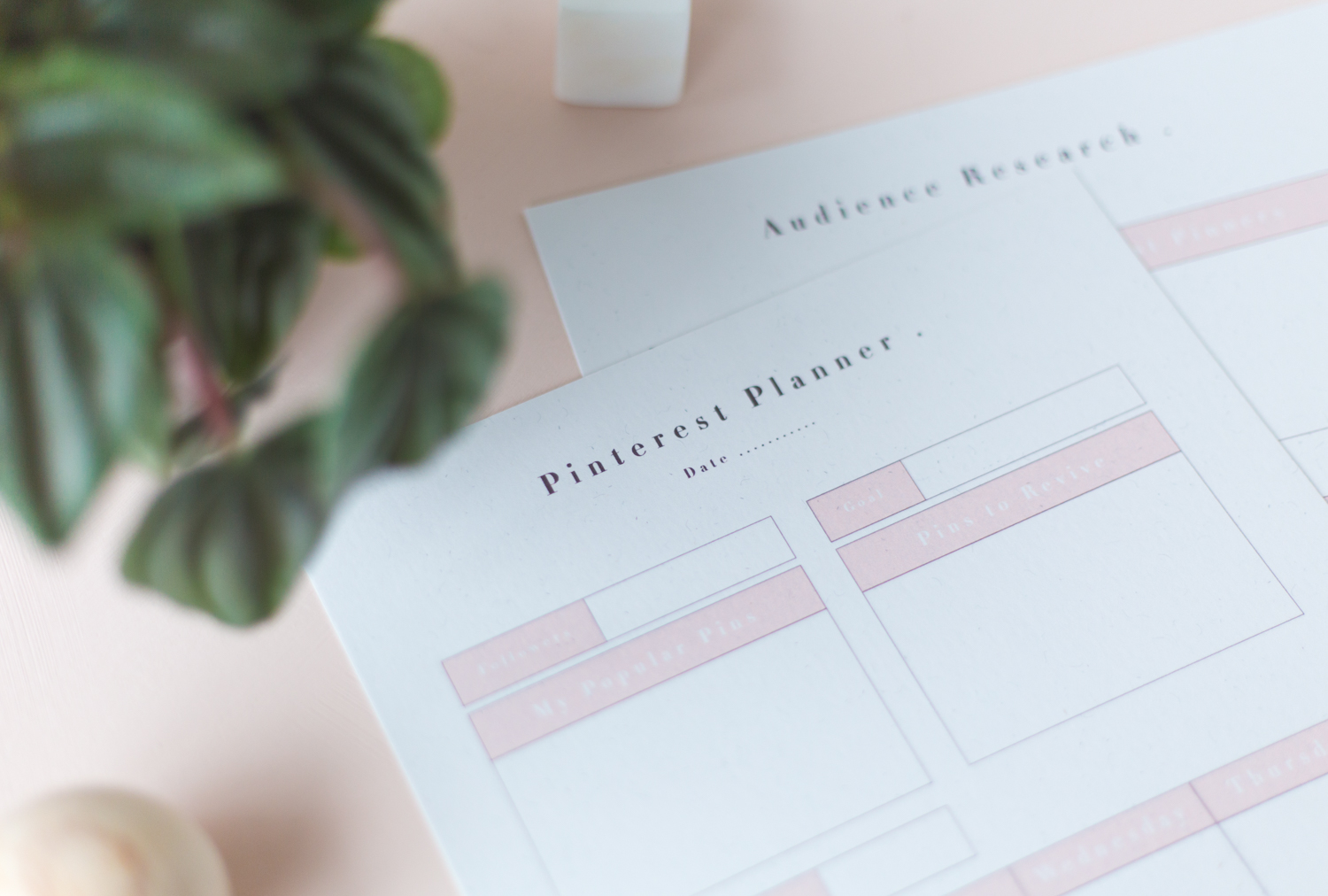 Seasonal Scheduling
As we come to the end of the post if you take anything away today grab this little nugget with both hands and hold on for dear life. Pinterest is festive floozy and when it comes to planning Pinners start early! Pull those holiday boards up to the top, change covers, repin your content and make your keywords count. On your planning pages add in key dates to start planning for relevant times, joining/creating group boards and take new photos for old content. Yes – repurpose like a boss!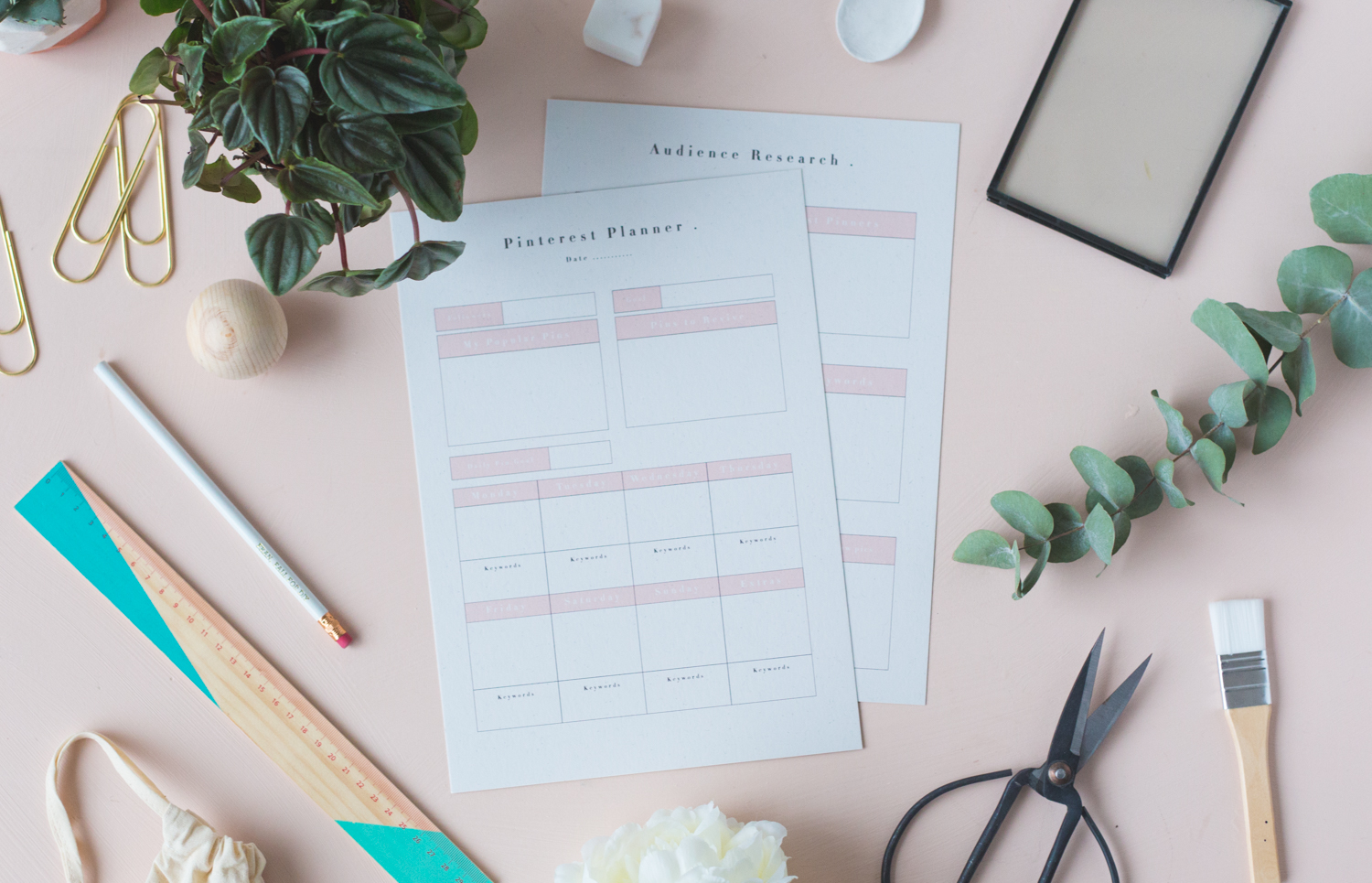 If you want to put all of these strategies into place you can get these planners as well as our free printable Instagram planners just by signing up to our mailing list below!
And if you use these I'd love to see what you find useful. Tag me @fallfordiy over on IG with your planning goals!