I'm absolutely over the moon to share this before and after with you today. One of the goals I'm currently working towards is being able to buy my own home. I want to get a run down place and completely transform it into my own little space in the world. I have too many ideas and I have to admit I'm so massively impatient when it comes to getting something I really want. This project (a makeover my sisters new fixer upper) has given me enough of a nibble on the dream stick to tide me over… for now.
So once we had an idea of our end goal we headed over to B&Q for supplies. (Is it just me or does anyone else get excited by DIY stores. It's just a world of possibilities in there!) Three hours later we emerged with everything we needed and even more ideas than we went in with. Then it was time to get to work!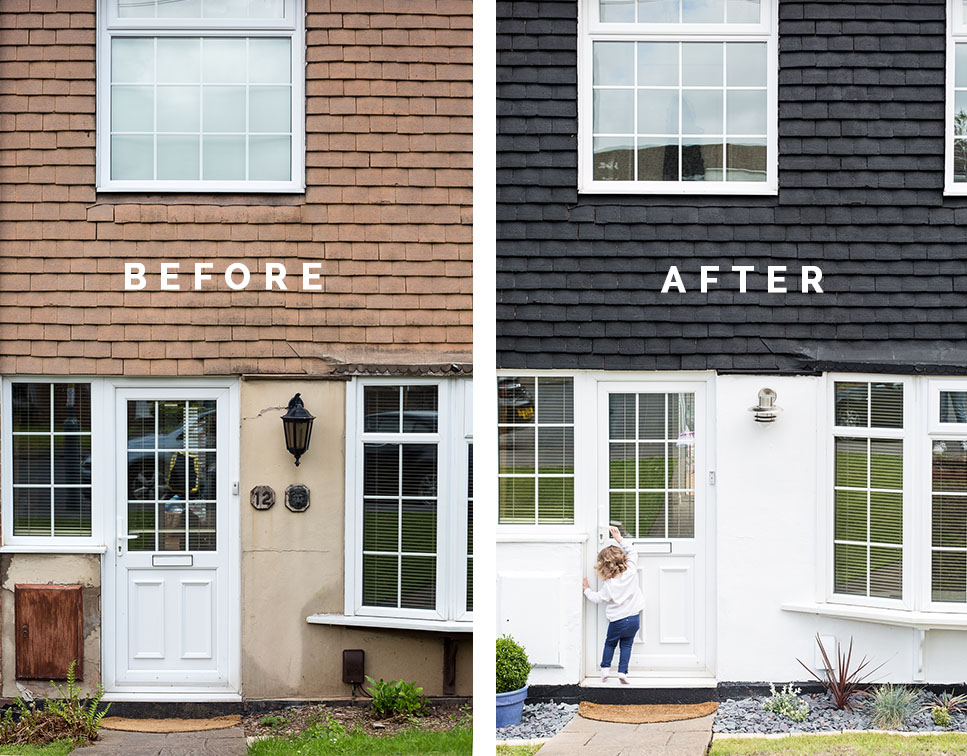 How we did it:
Masonry paint is the biggest hero in our entrance makeover. It has made the world of difference to the house. We took our inspiration from these beautiful black and white buildings and the effect is stunning. Simply freshening up the paint makes the whole house look brand new.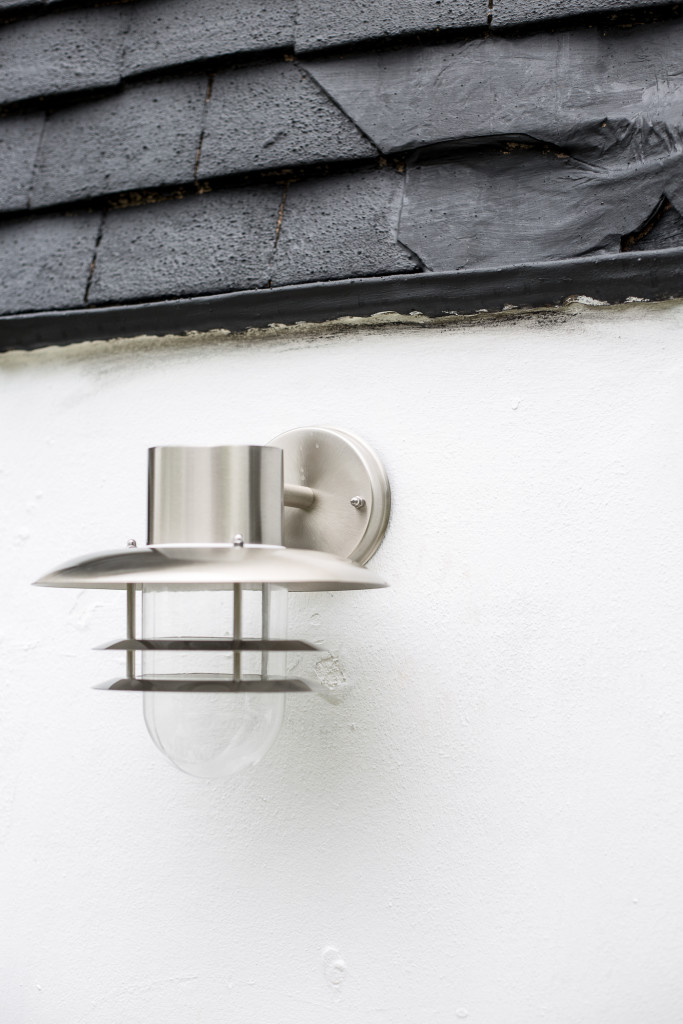 We've also updated the lighting as the previous light was outdated and as run down as the rest of the building. This was one of the hardest decisions we had to make. B&Q have a great selection of lighting in a range of styles. If this were my (hypothetical) home I might have gone for something like this, but in this case we thought something more neutral would go with the black and white theme we have going on. This chrome light stands out enough not to blend into the background, while at the same time it doesn't look out of place next to either colour.
I didn't get a shot of the garden before the work began but the plants there previously were a little too wild and unruly (and not in the good way.) We needed something easier to manage but still gorgeous to look at… Succulents I hear you cry. Well of course! So we went with it along with some other non flowering plants to add a variety of colour.. We kept some of the taller plants in the pots to stop them overgrowing. The rest should fill out the spaces in between them in time. You can't ask for a better welcome home party every day right!?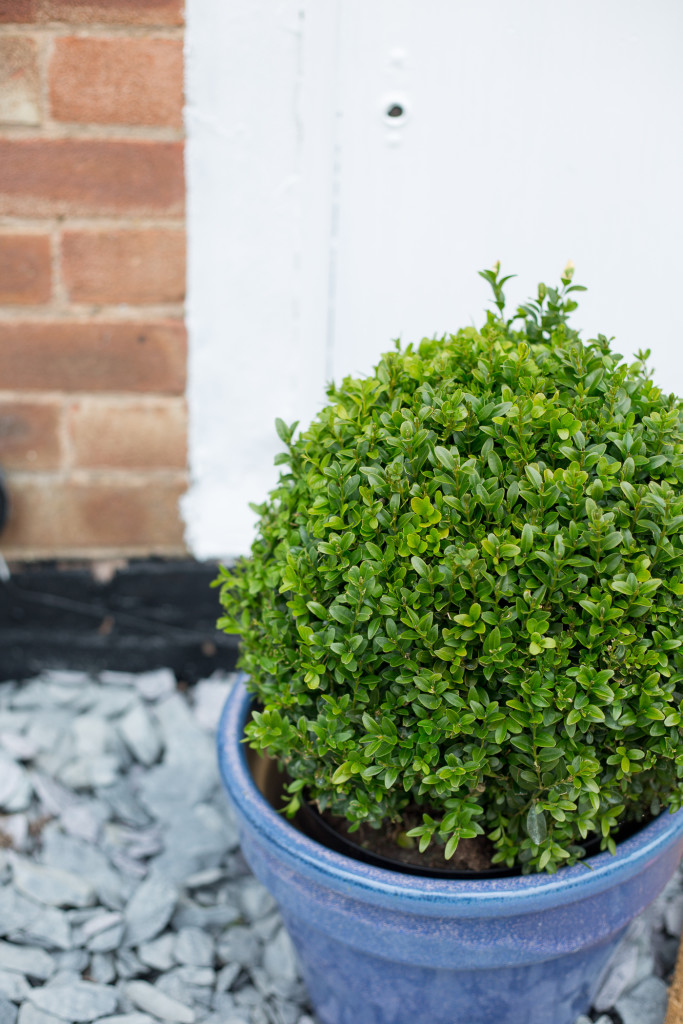 We scattered blue slate chips to create some colour while we're waiting for the plants to grow. This also gave us a fantastic opportunity to add pots to the garden. I'm a big believer in potted plants and isn't this bulby potted evergreen just the cutest!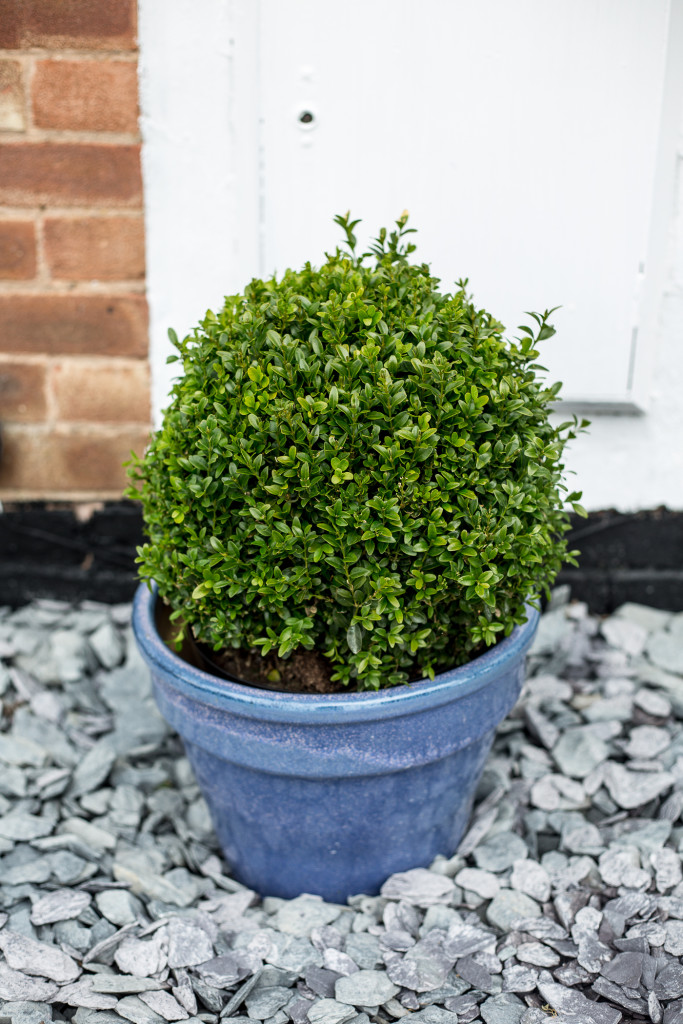 To add some extra plants (because you really never can have enough) we whipped up this number plate with a box for succulents on the bottom. They're still deciding whether to hang this under the light or keep it on the floor next to the door. What do you think?
Overall I am still amazed by what a huge difference a little time and energy has made on this entrance makeover. Hopefully I'll be able to say that about my own home really soon! 
*A big thank you to B&Q for sponsoring the post and helping us transform this house into a home.