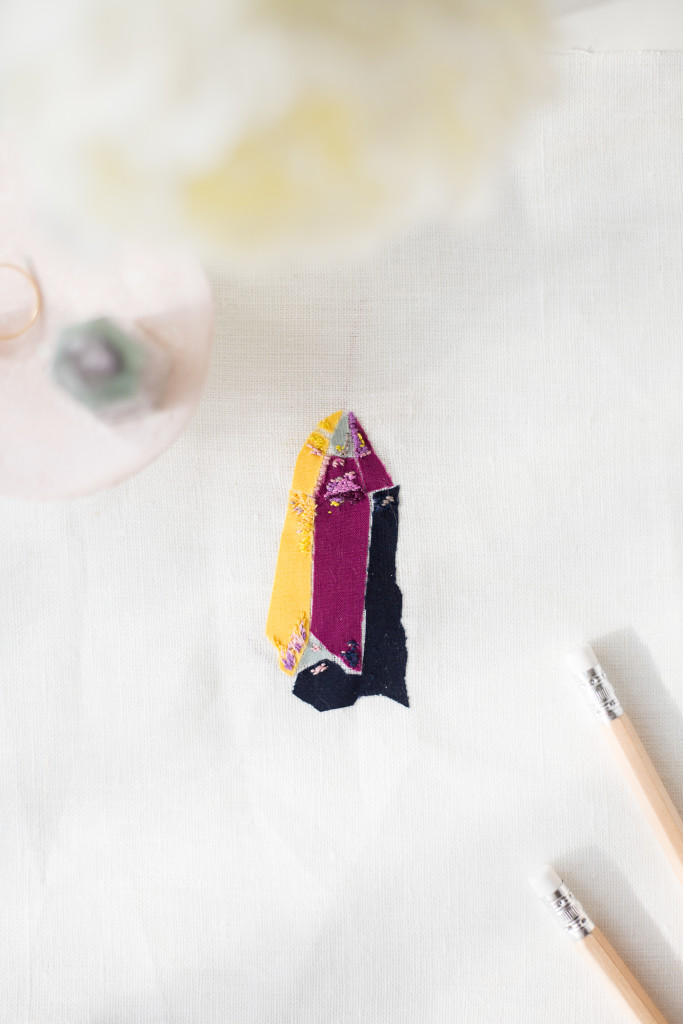 Today I'm starting a new series that I hope will be here for a long time. As well as getting to collaborate with some of my favourite artists on projects for the blog, I'm delving right into my what really sparks my happy, creative self -Embroidery. If you haven't already, you can read my journey to becoming a creative blogger which is all about my background and how I specialised in embroidery for my textile design degree.
I'm sad to say that in the years since I left university I have been neglecting my skills. I've spent the first half of this year trying to remedy that. I wanted to explore easy ways to build up my confidence and I thought the best way to do this would be creating fun little samples. Quick designs to experiment and develop.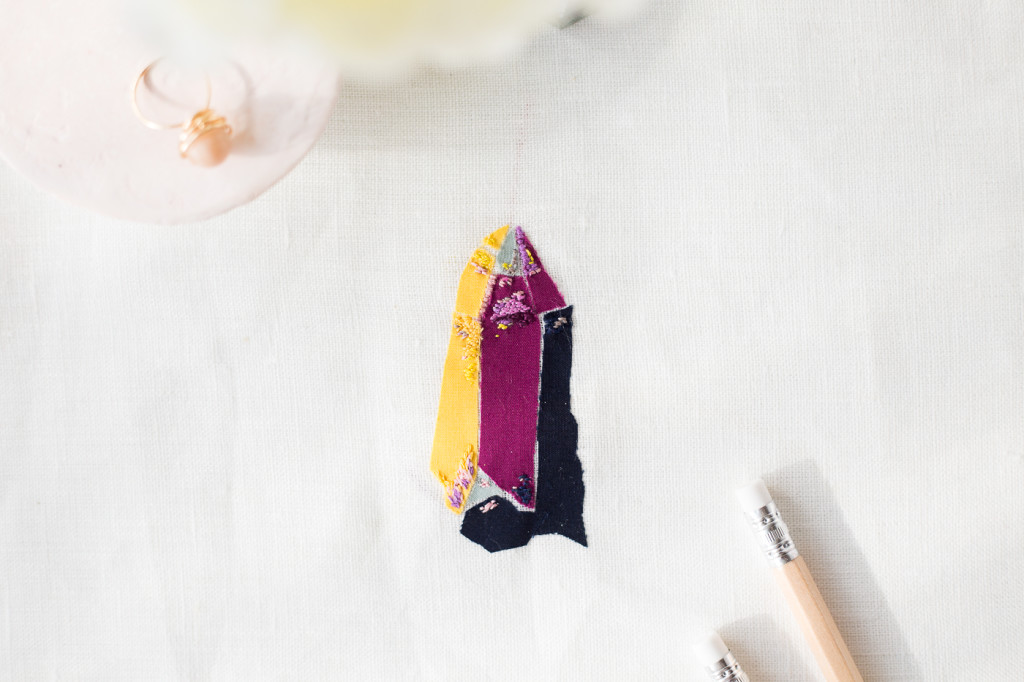 To help me I've called on some of my amazing, creative friends who are so generously sharing their designs with us! You will be able to download each design for free to work on and create your own stitch in. Our first artist is Tan from Squirrelly Minds. Tan creates these AMAZING crystal watercolour paintings so she was an obvious choice to collaborate on these post. She has simplified one of her designs (shown below) so we can use it to create our embroidered piece. Thank you Tan! Head over to her Instagram to see more of what she does.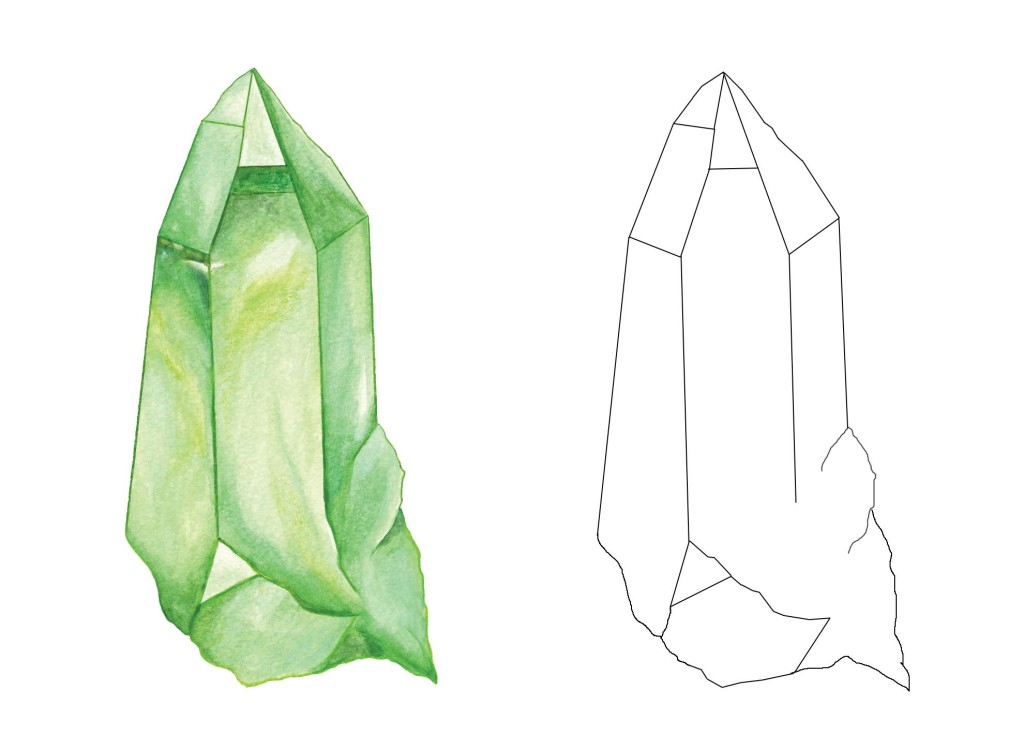 We're calling this series our Stitch-In Designs because it's sort of like a colouring in page but with added texture. And because that in itself is pretty stitchin' no? OK, I promise I won't do that again (I can't really promise that – you understand right?)
I've always loved the technique of appliqué. It's such a wonderful way to create texture, shape and colour. I've combined this with hand embroidered stitches to create some definition in the crystal. Small stitches allow me to build up the refections of light in the stone. Read on for more instructions and your download.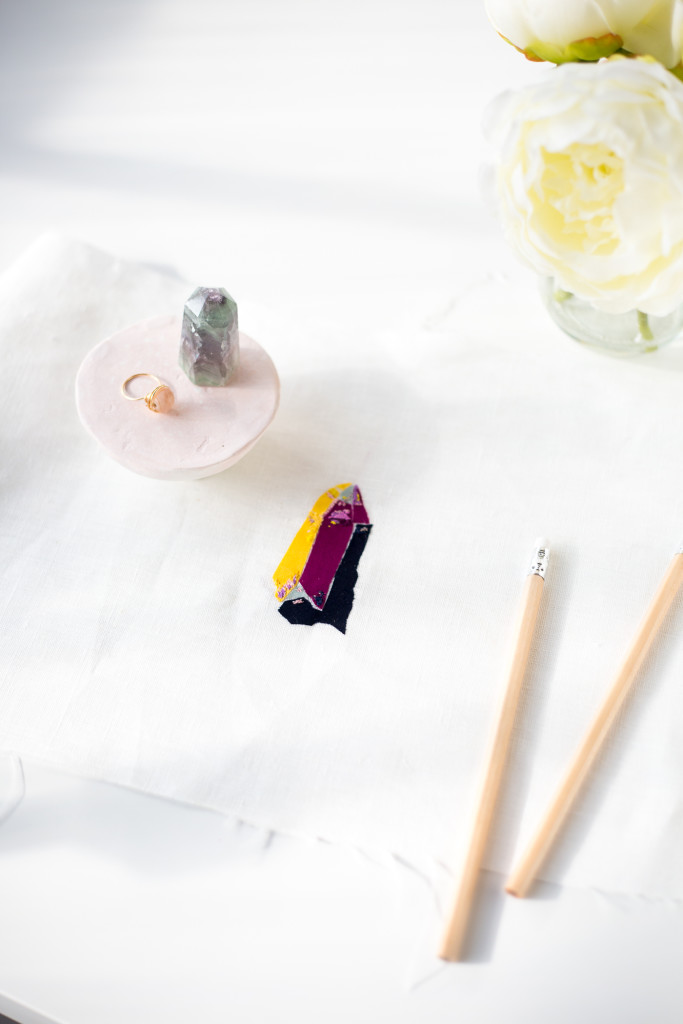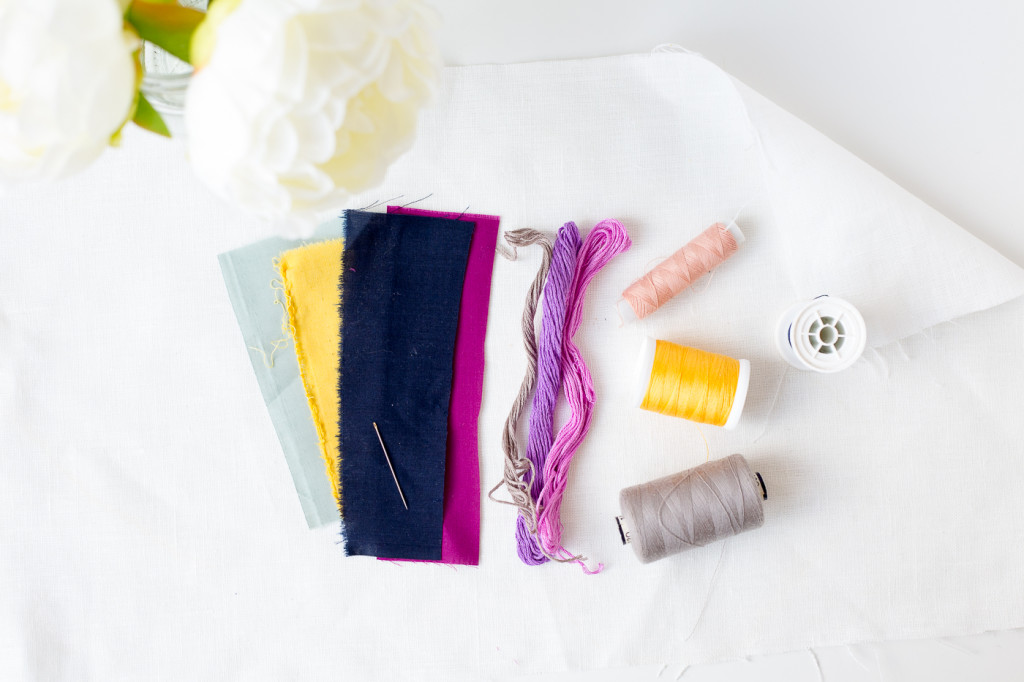 Materials
Linen backing fabric | Fabric scraps | Double sided interfacing | Scissors | Needles | Threads | Iron
The best thing about this project is you have so much creative freedom. You can choose the fabrics and threads you use to create designs unique to you. For some people this can be a little overwhelming though. If you don't have a clue where to start check out Tan's Shop for some inspiration.
Firstly iron the interfacing onto the back of your fabric. Place the rough side onto the fabric leaving the backing paper in place and press. Print out the design and cut into pieces. Click below to download your design. You can resize this to create various designs. I suggest starting small!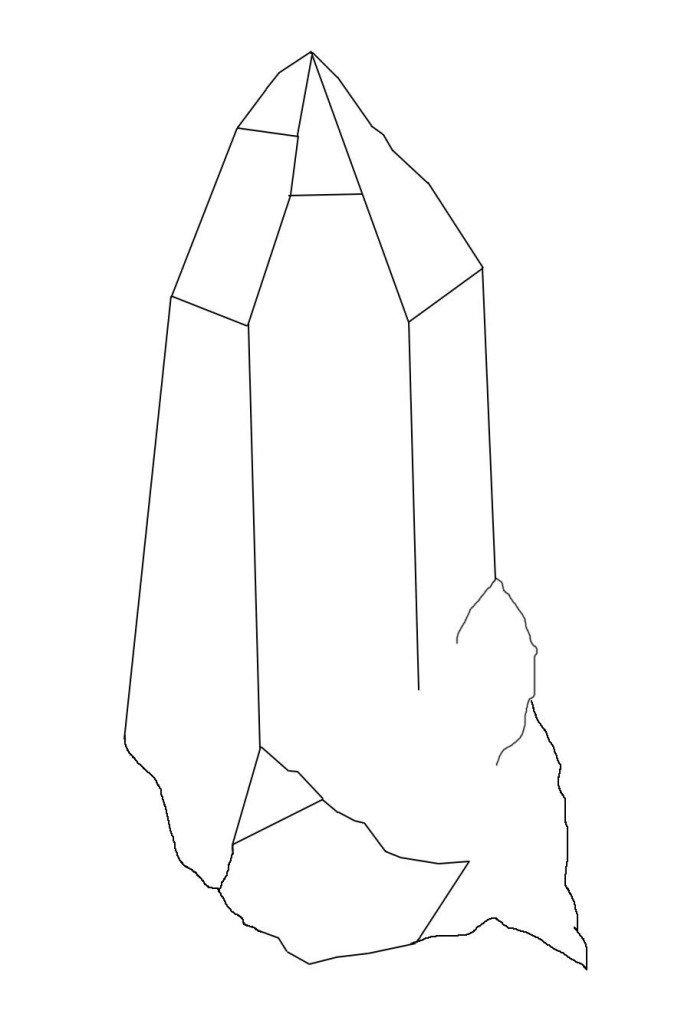 Use each piece as a template and cut them out from the fabric. Remember to keep the right sides facing up as you cut out the fabric pieces.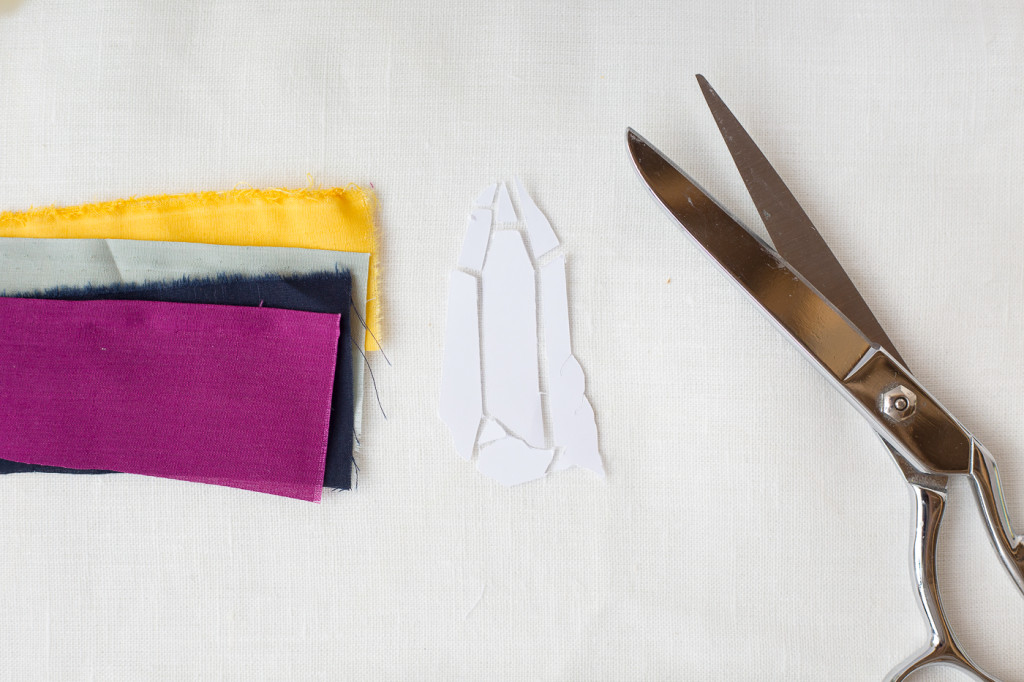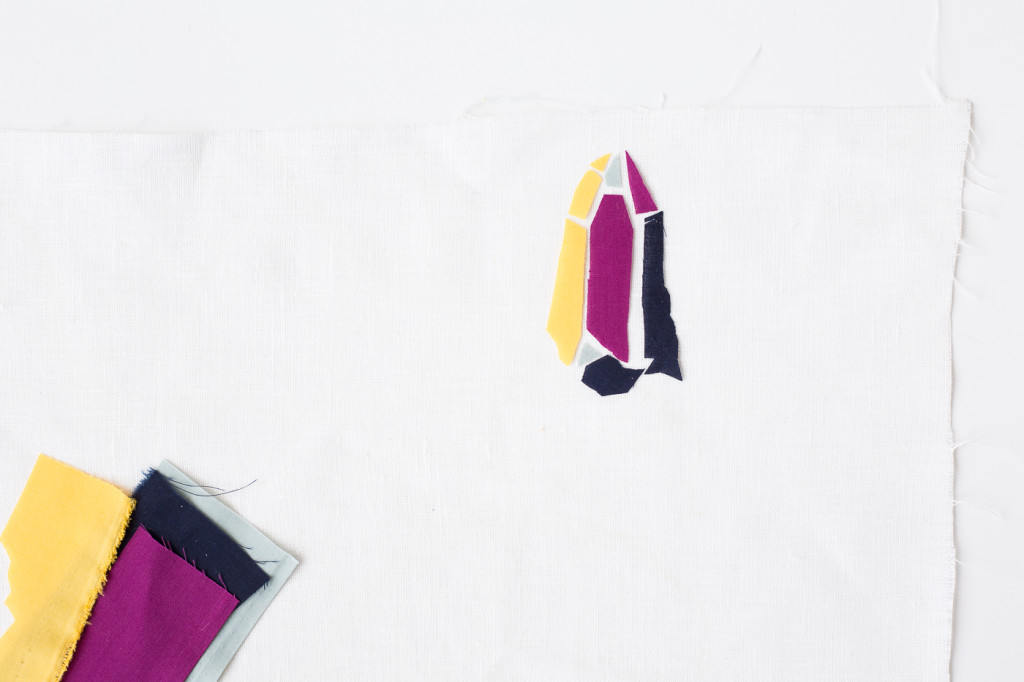 Once all the pieces are cut peel off the backing paper and press them into place. Now start stitching! Build up the stitches adding tonal colours and highlights. Small samples are a great time to practice and play with these stitches so go for it! Don't worry about the end look – just learn from the process.