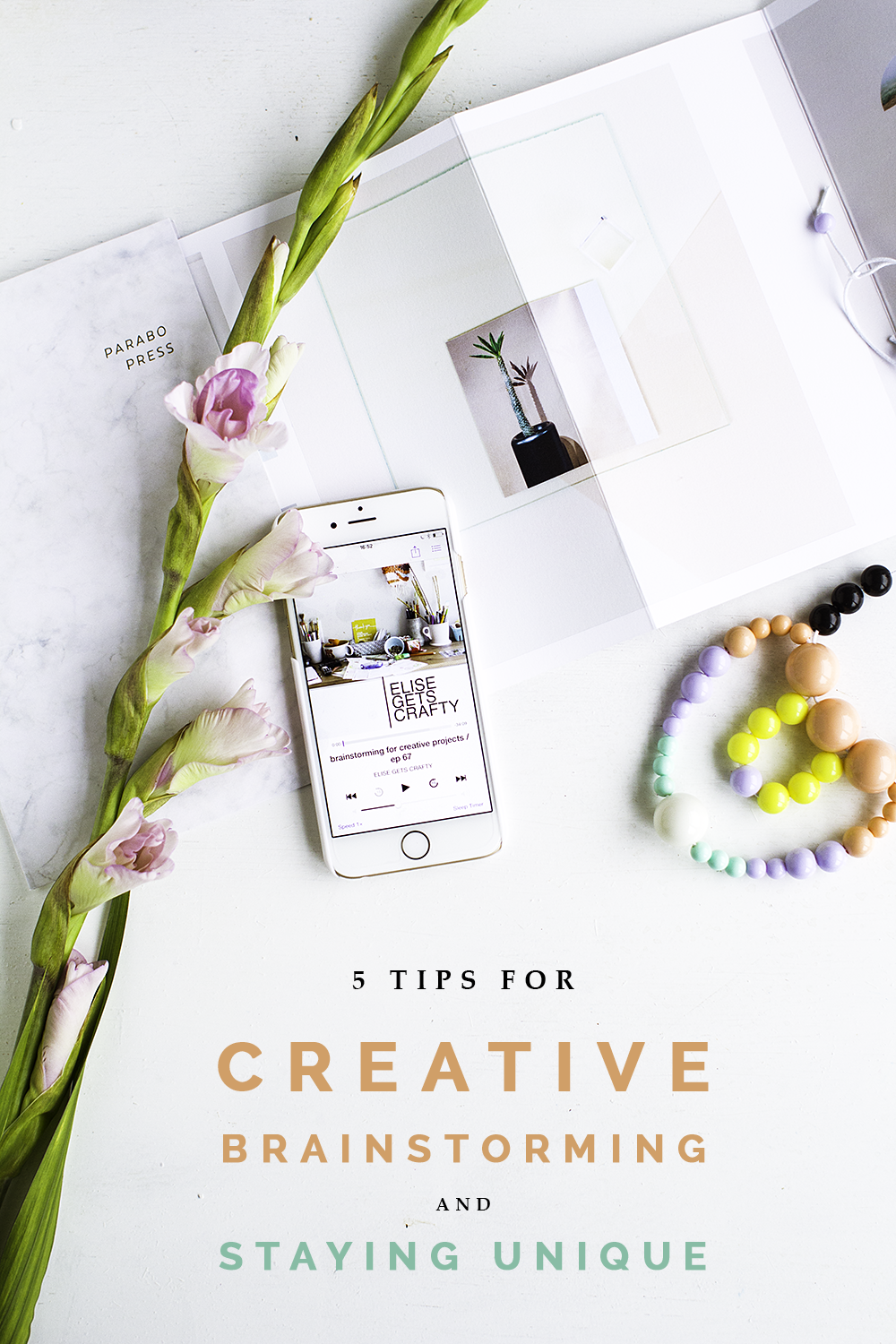 As a creative blogger it's my job to think up new ideas and creative concepts. And while that sound fun and well, let's face it, a bit of a breeze, it can actually be quite tricky to keep the ideas fresh and imaginative. To build up a bank of unique starting points I have to keep my mind open to all different influences and be ready for inspiration to strike at any moment (as I write this in a local coffee shop I can see a light that is calling out to be DIYed… always on it!)
Creative brainstorming has become a regular part of my workflow and I have many systems in place to make this process easier and quicker. But it wasn't until I was asked about my brainstorming techniques that I actually recognised how I had utilised these ways of working. So when I was invited to share my thoughts on brainstorming via the Elise Gets Crafty podcast I fought back the butterflies in my chest and decided to delve deep into my creative thought processes.
I had been a reader of Elise's blog for some years and as soon as I saw she had started a podcast I knew I had to listen along. In all the noise of 'take themselves a little too seriously' business podcasts this one stood out a mile. It was exactly what I'd been looking for! A place for exploring various different aspects of running a small business in a fun, engaging, interesting way. I was hooked. I've listened to every single episode (except this one… You know how you always hate the sound of your own voice? Yeah, that!) and in each one I've found something valuable and helpful to take away.
I wanted to create an episode with those attributes, so I wrote down everything I could think of on brainstorming and of course during the episode I couldn't remember a single one. My on mind likes to self-sabotage apparently. Well instead I just spoke about whatever came to me in the moment but I wanted to write about the extra tips here because I think that some of them are actually useful and perhaps even good.. shock horror.
So here are my tips on finding new, creative ideas. This is focussed on practical, making but you can apply it to any creative outlet.  Like I say I haven't listened to the episode so I apologise if some of these points overlap and I start sounding like a broken record.
1. Influence is good!
It's fine to be influenced by other people's work. In fact I encourage it. Absorb as much as you can. Every time you see something that you like take a moment to recognise exactly what it is that you appreciate about it. Enjoy it, but don't copy it and try not to forget it. It's human nature that we emulate things we like, either consciously or subconsciously. It's the reason fashion exists. Music, art, sport, video games, in fact everything comes from us wanting to do something we enjoy experiencing from others. It's when we push the boundaries in any of these areas that the magic happens.
Don't feel bad if you see or read something you wish you'd created. But just be aware that this has an effect on you and can impact on your creative decisions. Stay aware of them and criticise your own ideas. If you find your own products are uncomfortably close to those you admire try changing them. Make them better. Make them more personal and keep on developing from this initial piece.
2. Ideas.
To make something unique you first need an idea. As a very visual person I find my ideas through images. Be that Pinterest, Instagram, magazines or real life products. No matter how you find your ideas or how original you think it might be you can be pretty sure it has most likely been thought of before.
This takes me back to something my head teacher said when I was only about maybe seven or eight years old. It's something that has stuck with me ever since.
You cannot imagine a new colour.
I don't remember the context or what else he spoke about that day. I think he probably lost me from that point on because it was the first time I realised that nothing I ever did would truly be original. Some element of everything I did would always have been done before. My mind could only dream up variations of what it held already and the way to create something different was to combine, change and refine ideas instead of simply just 'having' them.
That's why no idea is a bad one. Even if it's been done hundreds of times before you can take an element of it and combine that with something different. Bring together enough of these ideas and you might just come up with a combination that hasn't been seen before. A mixture that is unique.
3. Build on it.
You have an idea. Now how exactly can you expand it? Think about materials, shape, pattern and form. Start with a few base ideas and begin to combine them. This is the bit I like to imagine as a family tree. Marry up the ideas to create a litter of child ideas. Then marry them with another combination to create another generation of ideas. The DNA of each is different but certain attributes shine through.
Soon enough you'll have more ideas than you can even produce and you can cherry pick the best to work on.
4. Enjoy the process.
We've been working towards thinking up new ideas with the goal of making something that people will enjoy and want to buy into. This is an important aspect of any business but don't put all of your focus on the end result. Yes, you will probably need to keep this in mind but sometimes exploring ideas and creative techniques are the best part of the process. Doing something you are not 100% sure people will like is liberating. Enjoying what you do means you will do it better.
5. Don't be scared to go rogue!
This is the one you hear on all of these lists but that's probably because it's the most important. Like I said in the podcast, I love trends but never feel as though you have to make a doughnut DIY because that's what everyone else is doing. When you do something you love and you do it well, there will always be someone out there who loves it too!
I'd love to hear more about how you find your ideas and the processes you have to make them unique? Comment below and share them with us and our readers!