I met Hester at Blogtacular this year, but before we had the chance to meet in person I was an avid follower of her Youtube channel Handmade Home. I love any woman who's not afraid to pick up a power tool and Hester definitely knows her way around a drill driver! So I just knew that her new book Furniture Hacks would be full of really interesting ways to create and update beautiful pieces of furniture for your home.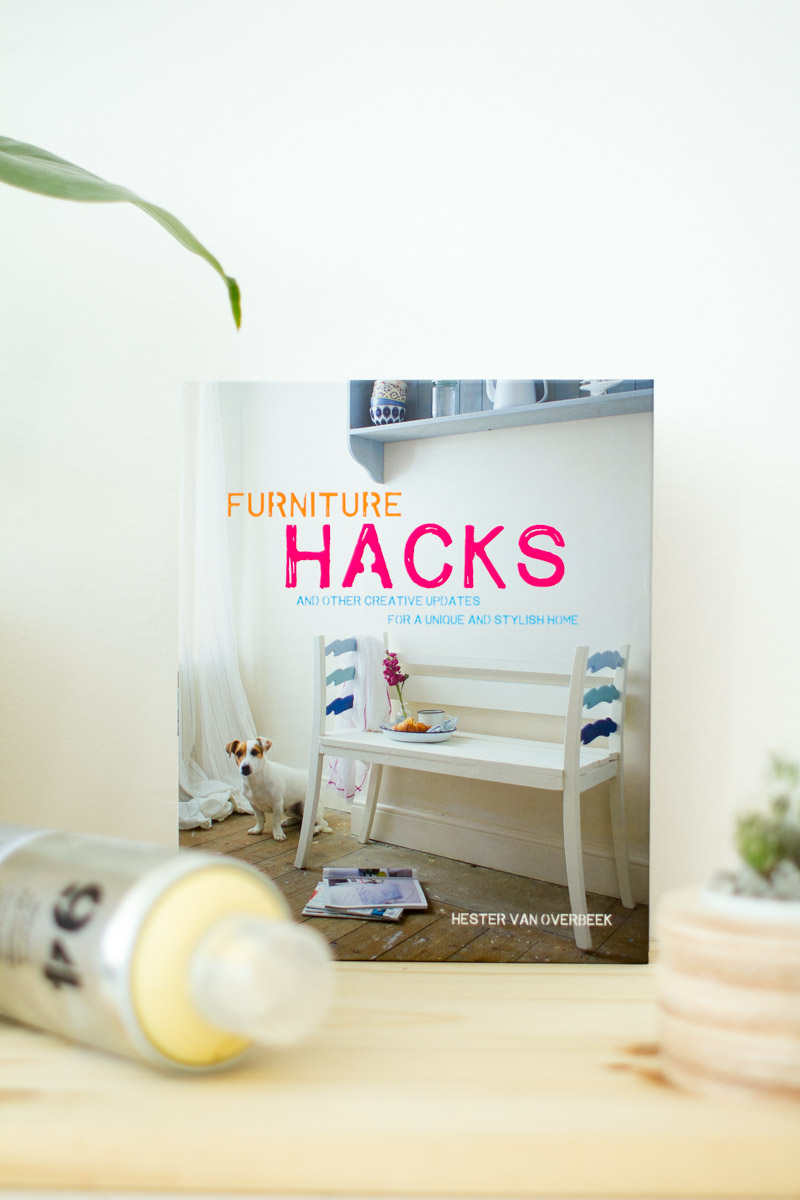 I've got to say there are so many projects in this book I want to sink my teeth into. I like that there's a range of projects lengths – from something you can whip up in an afternoon to longer DIY's with serious impact. My favourite part of the book is the garden section. The moment I move somewhere with any outdoor area I'll be making a dent in those projects pronto!
But I wanted to share a different project with you today. I've been wanting to play with paint for a while now. I've (quite clearly) been very influenced by many abstract artists (such as Meredith Bullock, Britt Bass Turner and Silvia McEwan) and the idea of sloshing acrylics around a canvas was very inviting. So when the first project in the book was how to make your own canvas then it just seemed like the perfect excuse!
Hester does something very different (and very clever) with her canvas which I'm definitely going to try another time! That's if I can stop myself painting on the next one. I had such a relaxing afternoon creating this piece. I'm really looking forward to making more!
Materials*
Wooden dowel | Wood glue | Canvas fabric | Staple gun | Acrylic Paint | Paint brush
I used this gorgeous silver-grey fabric as a base. It meant I could leave some parts of the canvas unpainted and the base colour would show through. Following the instructions in the book I created the wooden frame and wrapped the fabric into place.
The I just began to paint. I didn't plan what I was going to do. I just put colours onto the canvas. When I liked how they looked together I painted more and when I didn't like them I painted over them in white. Depending on how dry the paint underneath was it either mixed with or was replaced with the white.
I kept building up layers and interesting combinations of colour, looking at my brushstrokes to figure out the ones I liked and didn't like so much. Basically it was one big experiment. And by repeating everything I liked and painting over the parts I didn't I ended up with something I love!

One thing I remember from my textile design degree is that you never know when it's finished. I guess it never is… I really want to keep working on the canvas. I might stitch into the paint to highlight certain areas and adding extra detail. But I'm going to leave that for another tutorial, another day!
*This is a sponsored post and also contains affiliate links. All opinions are my own. Thank you for supporting the brands that help make Fall For DIY possible.
Furniture Hacks by Hester van Overbeek, published by CICO Books (£14.99)