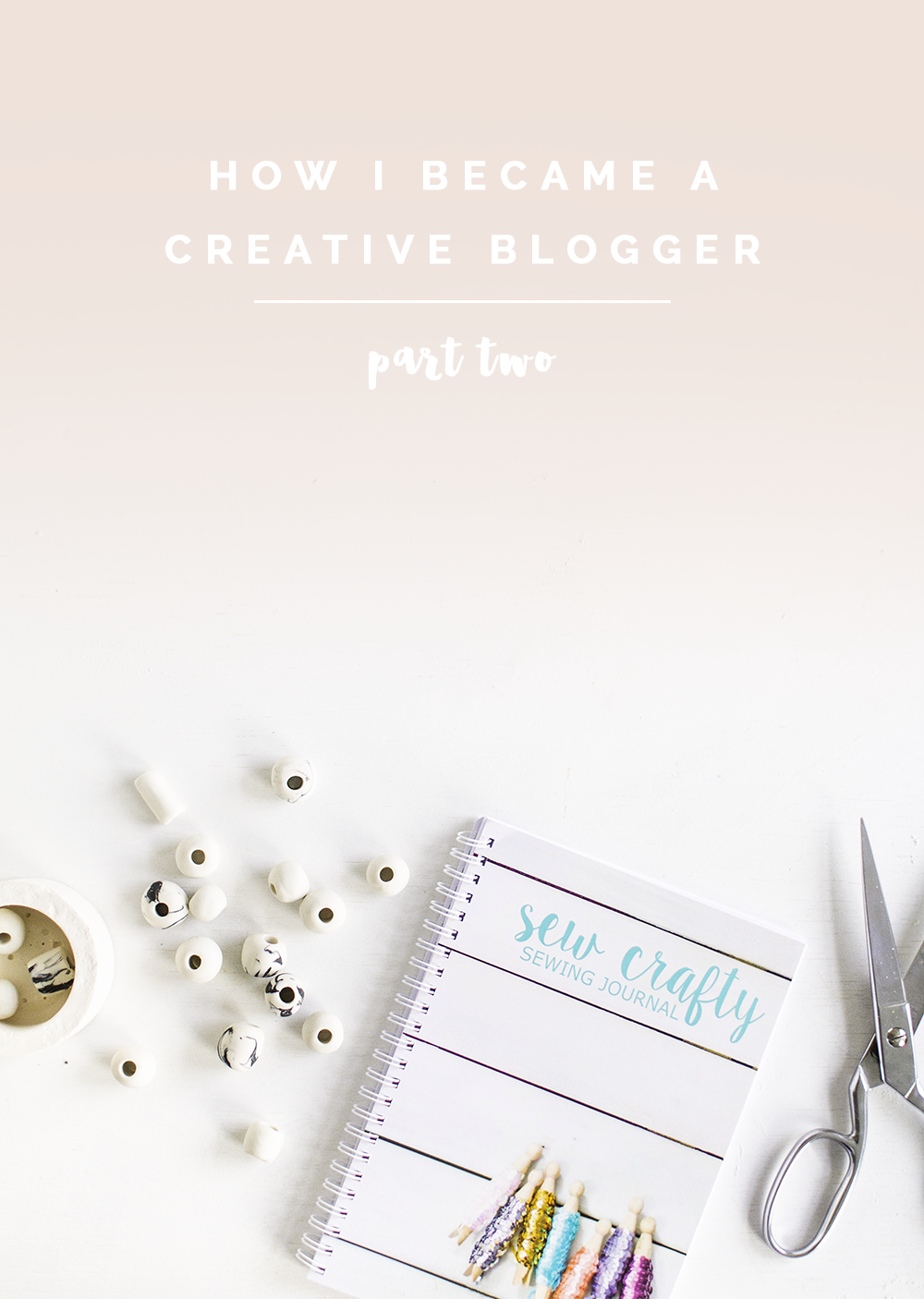 In the first part of How I Became a Creative Blogger I realise I kind of left you hanging. Instead of the hero saving the day bit I gave you the prequel to the main storyline. In doing so I hope it illuminated my motivations for being creative and proved that even when it's not all plain sailing it can be worth pushing through and sticking with something you love. But it didn't explain a lot about how I went from most likely the world's worst blogger (really, really not joking) to one that can make a living from it!
Rather than a count by count walkthrough of my 5 years of blogging (part three, four, five… perhaps?) I want to share something way more concise and probably much more useful to everyone reading this post. Everyone's experiences and journeys are different. Rather than promote an idea that, unless you have ticked these specific events or accolades off your list you're not going to be successful, I want to share with you three key attributes that I believe have helped me to create opportunities and motivate myself to work through them.
Persistence
I have wanted to quit blogging perhaps 50-60 times.. a month – haha! Not really. But honestly I have a blogger break down perhaps once every six weeks. When I can't go for a walk on a sunny evening because I have a deadline or when I want to go for lunch with my friends but should really write up a blog post. When Alex is trying to make some wise crack and I'm not listening because I just got an email I need to answer or instead of actually watching that film I'm editing photos on my laptop.
Individually these are things I can overcome easy (first world problems much?) But there are days when it just doesn't seem to be worth it. When I don't think my work is good enough to compete. When I see someone has done something similar to a project of mine that is SO much better. I could go on and on. There are literally hundreds of reasons I could pack up and go home (metaphorically. I am always at home – which has become another reason. I need to leave the house sometimes!) but for some reason I just never have.
I don't know whether it's my persistence or pride that keeps me going, but all I know is that if I had given in and actually quit I would never be doing this today. Yes, that is probably the most obvious statement that's ever been said here (and I have to write safety instructions – don't drink the concrete people!) but I use it to motivate me. Where will I be this time next year? Who knows, but I hopefully I'll still be blogging.
Being able to criticise your own work
This is such an important skill to learn in order to develop and grow. Having a clear, unbiased view of the things you produce is vital for understanding how to improve. Sammy from Sew Crafty sent over the sewing journal pictured above. (Isn't it gorgeous!?) One of the first things I noticed about it is how each project page has a section for ideas, sketches, materials etc but ALSO an area to critique your projects. What went right? What went wrong? And what would I do differently? Although most of my projects are not sewing related I am really excited to use this journal to document my projects, taking note of mistakes and referring back to it to avoid making them again.
Another way of learning how to improve is through other peoples work. They (the imaginary meme people) tell us comparison is the thief of joy, but one of the best ways to understand where you might be going wrong is to compare. If you're looking at someone else's work and it's making you feel bad about your own then don't just leave it at that. It might be tempting to walk away and feel sorry for yourself but instead use this to your advantage. Write down the differences and use them to understand where you might be going wrong. You can do this with writing, photography, video editing or blog design etc. The idea here isn't to copy someone else's ideas but to find out what makes them appealing and how that might be lacking in your work.
For a long time I used this to improve my photography and in fact I still do to this day. I am constantly learning more about taking and editing photos and I doubt I'll ever be 100% happy. I love to look at the way others have styled their blog post images and really try to understand what I like about them. Is it the way they use colour in the photo? Is it that their white balance is spot on? (the holy grail to me!!) How have they used props? How can you apply these aspects to your own way of working and how can you make it new and original?
Like so many things in life, there is a fine line between healthy and unhealthy forms of comparison. If you're finding it difficult to resist the dark side try reading my post on how to get past creative jealousy (we've all been there, don't worry!) Most of all remember to find ways you can improve without being too hard on yourself. Which leads us onto our next point.
Believe in yourself (and keep going when you don't)
Yeah, so I know what you're thinking. Isn't this point directly contradicting my last piece of advice? But actually to me it's very similar. In the same way that sometimes we cannot see our own flaws, we are also blind to our successes as well! Instead of travelling through life with the blinkers on why not try the happy medium of recognising your flaws and knowing you can get better?
The thing is you're not learning when you can't see you faults but when you can't see your accomplishments either you're missing out on something much bigger. Remember you're allowed to take the bad with a healthy, delicious sprinkling (preferably on cake) of the good. If you've worked hard to improve then be proud of the results. It's the small victories that keep you motivated and if you're not taking time to celebrate your own achievements then what's the point? Take note of the times you get it right. Just as you go back to the mistakes go back to the successes when you need an extra push in the right direction.
And when even this does not work (those days yeah?) remember persistence. Just keep going when everything about it scares you. Right now I'm currently 50/50 ecstatic/a nervous wreck. We're just £500 away from our Kickstarter goal and as much as I can't wait to get this project off the ground, every step of the process has my heart racing. I've never organised something this big before and I'm genuinely scared. But I won't let that stop me and you shouldn't either. If it doesn't scare you it's not worth doing (Instagram meme strikes again!) right?
Don't worry if you're not buying the memes. It's not the only reason you should be doing the things you're scared about. If you're putting something off because you're worried about the outcome then you're only delaying the inevitable. If it all goes wrong then you get up and start again. And if it all goes wonderfully you get out the champagne and you celebrate.