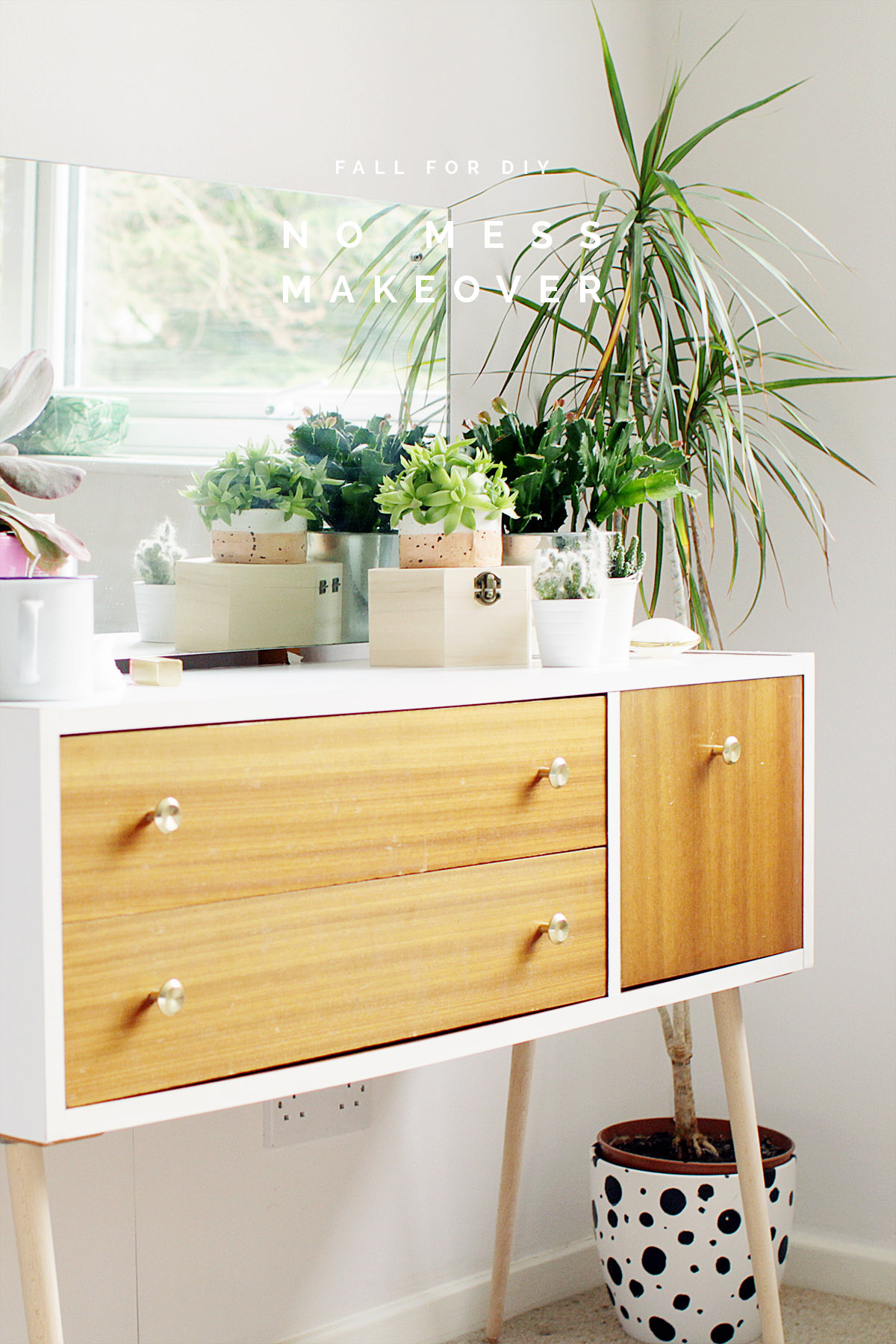 I must admit I've made my fair share of makeover messes whilst attempting to create a home interior I love. My ethos is (quite clearly) that everything can be updated and given a new lease of life with a quick coating of paint. Most of the time it works out really well, but usually ends up being more effort, taking up more time and becoming a huge mess in my kitchen for several days before this point. This can be a little off-putting when you're thinking about starting a project. Just moving the often bulky furniture to my little kitchen can be a nightmare in itself. It got me thinking. There must be a better way…
And there is!
I transformed this project from a very dated, watermarked dresser I got for just £12 in a charity shop sale into a modern piece that now brightens up my bedroom, without a single lick of paint! No getting my hands dirty. And, if you needed any more convincing, the whole project took less than two hours. No waiting around watching paint dry. Here are my tips to updating your furniture (relatively) fuss free.
This is my new go-to material. It will cover any project big or small and gives such a professional finish. Whilst I was using it to hack this project I discovered this great trick to creating a smooth and seamless surface. Using a squeegee to pull out any air bubbles when you're placing the sticky back paper will give your surface a totally pro look. Measure carefully and line up two corners along a long length before sticking the rest down. This will help you align it correctly. For more pictures head over to my Ladder Shelf Hack to see more.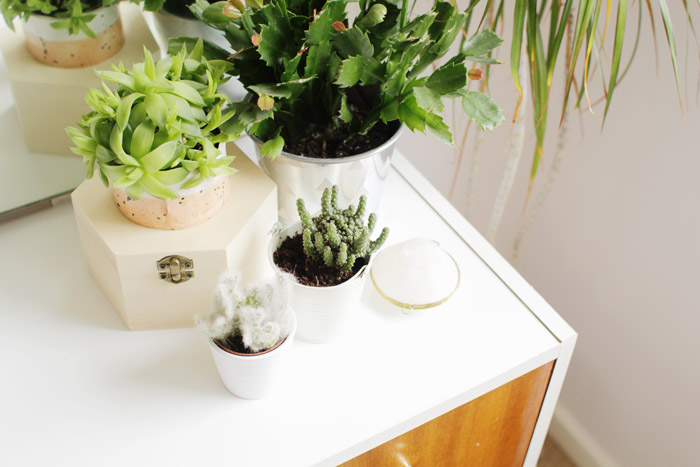 2. Melamine Iron-on Edgebanding
I love how easy this is to use. You can iron this onto practically any surface to add neat, straight and pro edges. This dresser had faux wood laminate edges covering chip board edges so after peeling these off the surface was ready for it's new, fresh edging. Just hold the end in place and carefully run a medium/hot iron over the surface. Make sure your iron is clean so it doesn't leave any marks.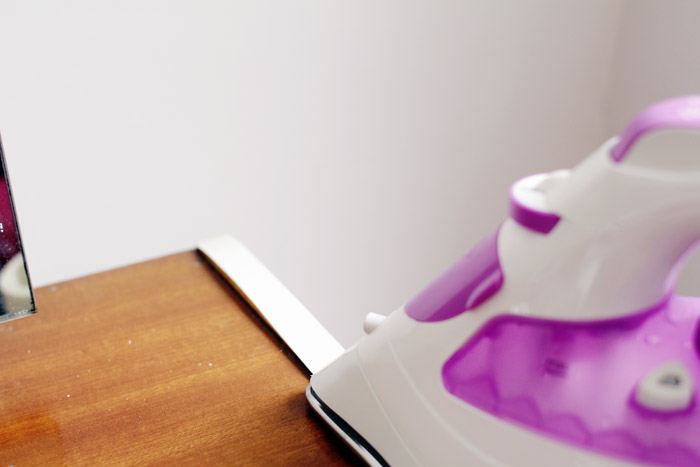 3. What's underneath?
Rather than adding over the top, it's always worth investigating what's underneath. The legs on the dresser were covered in a thick, black, shiny plastic that gave the whole piece a much darker feel. My first thought was to spray paint them but who want's that hassle!? I peeled back a little of the plastic and saw the gorgeous raw pine underneath. After stripping the legs the piece was so much brighter!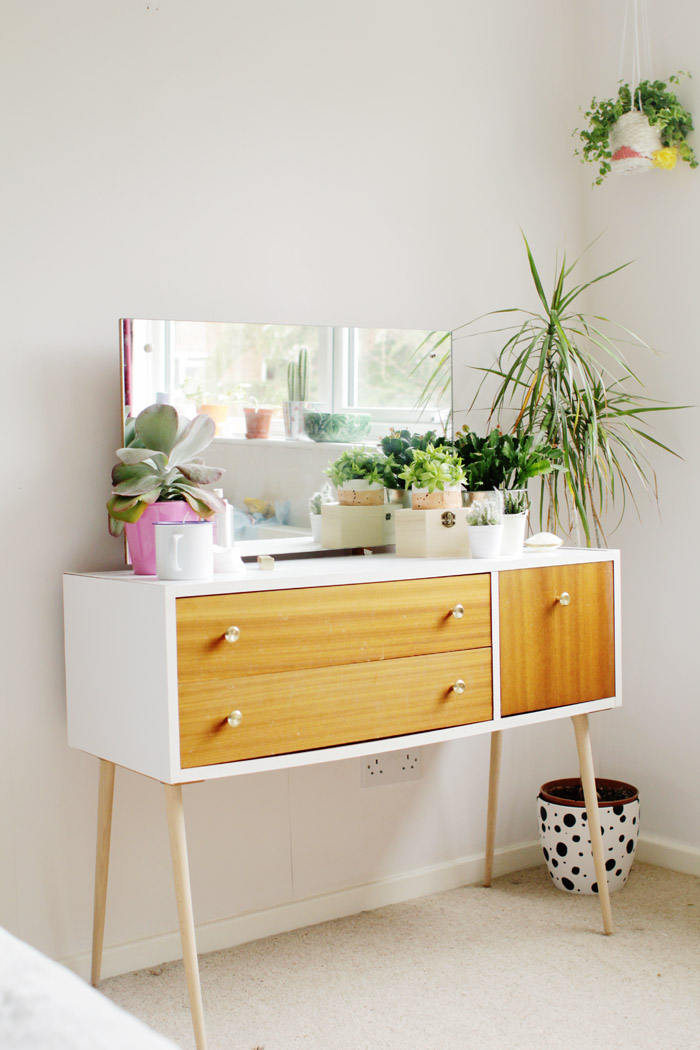 4. Can't reuse? Replace
The feet were rusted and one was missing so I'm on the hunt to replace these with something much cleaner and perhaps DIY? I also want to make some new draw pulls and replace the screw covers on the mirror. This is where your imagination comes in and you can create a piece that encompasses your personality and tastes. It's often the smaller details that make something so this is your chance to really shine.
5. Clean and polish
Sometimes just a good scrub can transform a piece of furniture. Before you treat any surface you'll want to make sure it's free or dust and dirt and you never know what you might uncover? (I definitely need to practice what I preach and get some glass cleaner on that mirror… yeugch)
For now I'm so happy at how this project turned out. It's actually one of my favourite pieces of furniture in the house right now! So much so I'm eyeing up other things to cover in contact paper as we speak…