I made these coffee and coconut marbled soap sticks after I had the most fun making my Semi Precious Stone Soaps. There's such huge potential for shape and colour and flavour and decoration when you're making soap. I'm just starting to scratch the surface!
For this project I wanted to explore using natural ingredients to not only make the soap look and smell fantastic but that would be kind and beneficial to your skin as well. The soap bases I've used an Argan Oil soap mixed with freshly ground coffee for the darker marbling. Argan oil is amazing at fighting acne and blemishes. Mixed with the coffee it will exfoliate all the dry skin cells and bacteria away for fresh clean skin. If you're like me and need a moisture boost most days that's where the white soap comes in. It's made up from a mixture of Triple Butters (Shea, mango and cocoa butters) soap base combined with coconut milk for the ultimate moisturising suitable for even the most sensitive of skin.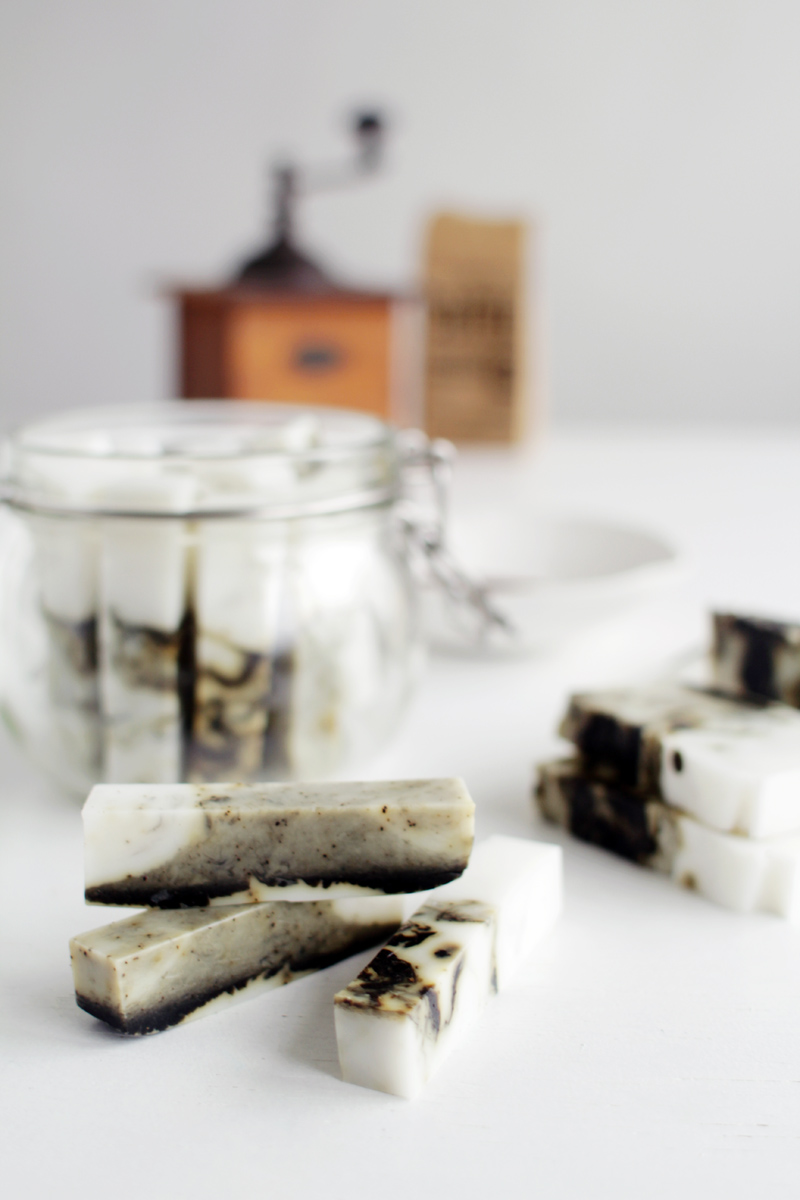 I love this combination because not only does the coffee give me a well needed morning pick me up (before the real stuff can kick in) but I can also use it for some relaxing vibes during an evening soak as well! AND IT'S MARBLED!!! Total win.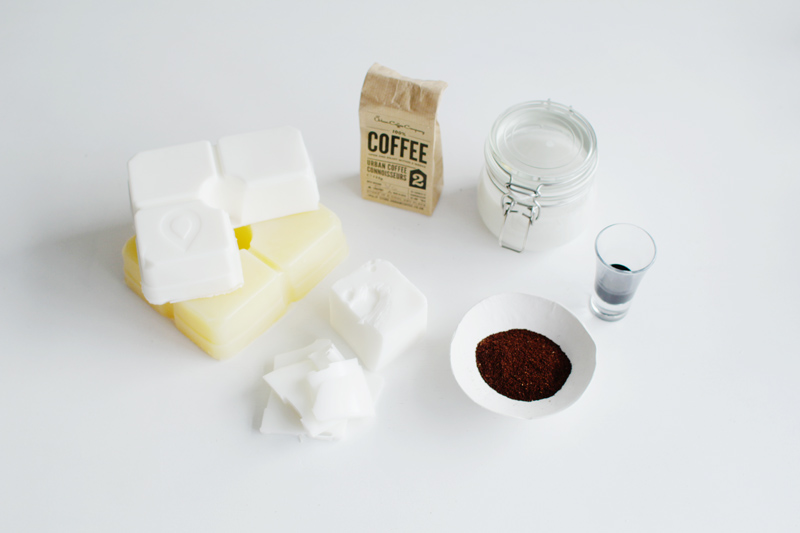 You will need
Argan Oil Soap Base | Triple Butters Soap Base | Ground Coffee | Coconut Oil | Black Food Colouring | Glass Measuring Jug | Milk Carton | Chop Stick

Instructions
Mix 500g of triple butter soap with a quarter of a can of coconut milk in the measuring jug and heat in the microwave until it's melted. Depending on the size of the jug you might need to melt a little then add more when there's room.
Once it's all melted stir and pour into a milk carton with one of the sides cut off (cover the spout hole with a piece that you've cut off). I've used a milk carton (mostly because I've seen other soap makers do it… but also) because it's smooth and non stick and you can just cut it open and throw it out after you have used it.
While the white soap sets get started on the black soap. Grind your coffee and mix a couple of tablespoons with 200g of Argan Oil soap. Add few drops of black food colouring to create a bigger contrast between the main colours a mix well.
By now the white soap will be starting to get a film.  This is good. Begin to pour the black soap along one side of the box. Take the chop stick (or stirrer of some kind) and begin to swirl the soap. To make variations in the sticks leave some white soap un-swirled. Take care not to over mix and blend the soaps together. Now just leave for a few hours until it's set and solid all the way through.
Cut open the box and slice into sticks.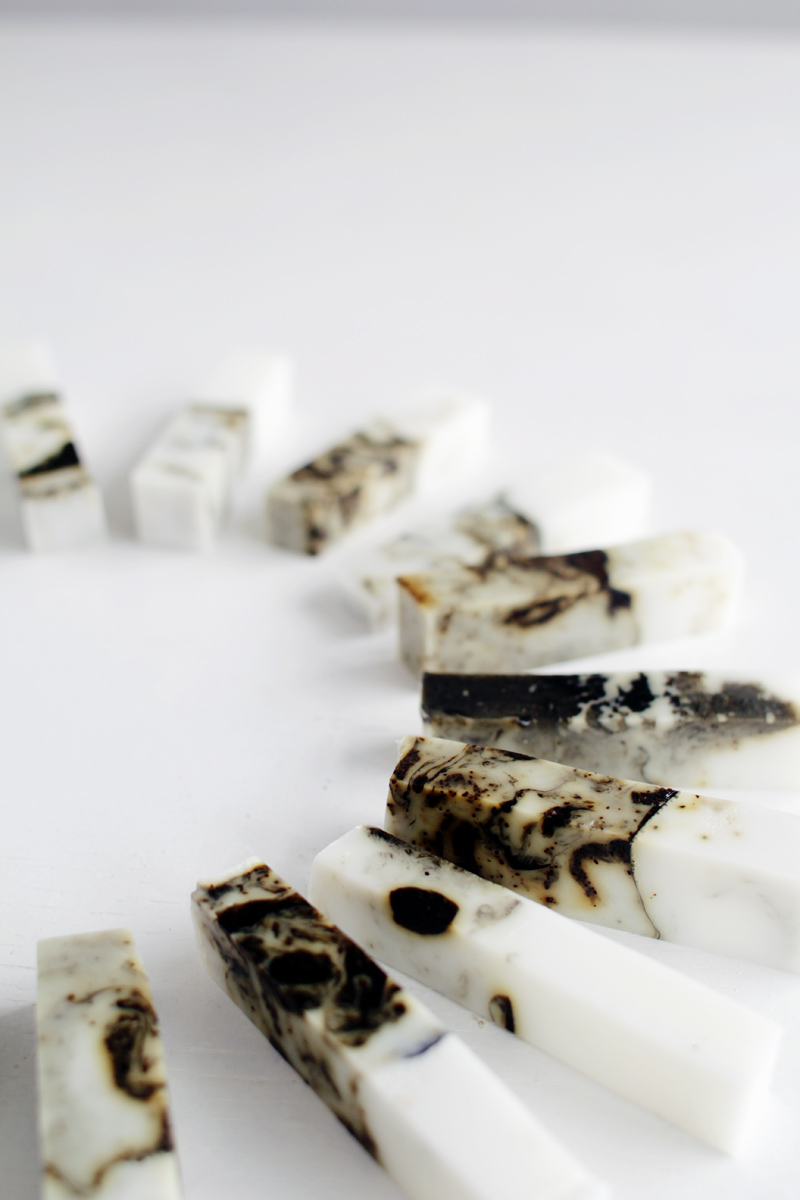 This is definitely my favourite part. Cutting open the soap to see what patterns and colours are inside. Every single one is different!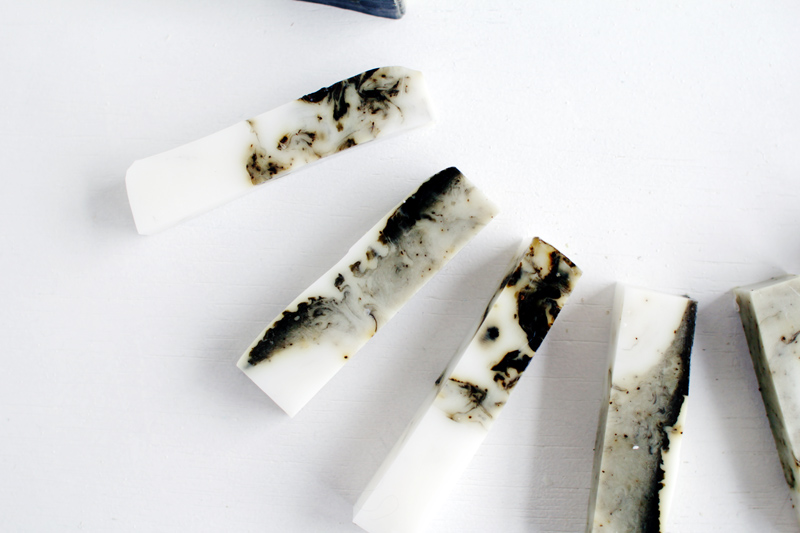 I've stored my sticks in a lock seal jar ready for guests to take a fresh stick whenever they like and left a couple of bars for me. I'll be getting my day off to a coffee fuelled start on the outside as well as the inside from now on!
•••This is a sponsored post. All words and opinions are my own.