There are three things I can guarantee to calm me down after a stressful day. Tea. Book. Scented candle. This is the precious little time I take to stop rushing around and actually stop to think about more than work. I know what you're thinking, but I genuinely love a scented candle. I mean, what's not to like? Not only do I love the calming effect I get from them (probably all in my mind, but whatever works for you!) but it also makes the space more inviting and comfortable. Scented candles give off a much lighter scent than air fresheners and incense, so it doesn't overpower your senses. And as well as smelling delicious they look great! Silly thing is I've been buying the candles and until recently had not thought about making them myself.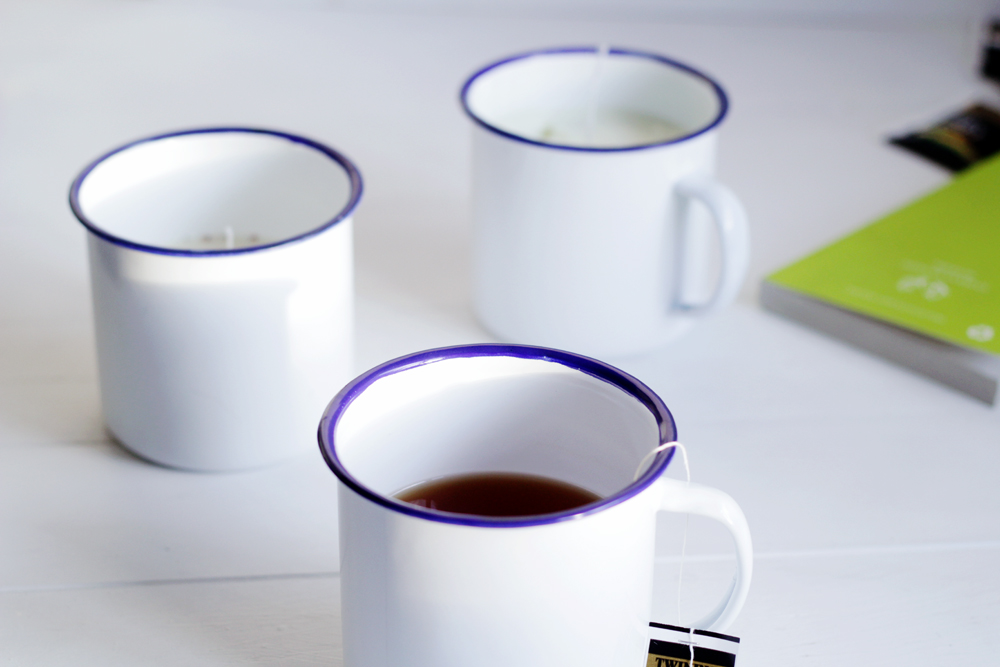 So I was going through the process of how to create a scented candle in my head. How I would flavour it and what kind of scents I would ideally like. And it hit me. Tea flavoured candles… My next thought – Could this really work? I knew you used essential oils to flavour scented candles, but what was there to stop you making tea flavoured essential oils? Turns out absolutely nothing. It's so easy and works so well. To make DIY tea infused scented candles all you have to do is pick your favourite flavour of tea.
We've teamed up with Twinings UK who have such an extensive range of traditional and fruit teas it's easy to find something you'll love. Twinings are the perfect fit for this project as they're currently running a campaign to encourage us all to take joy from the small things in life for a few moments each day – moments where you experience more out of your day with your senses turned up. To inspire everyone to share these moments, Twinings are hosting a weekly photo competition and this week's theme is "show us how you drink in the wonderful world around you". I'm going to be taking part using the hashtag #DrinkItAllIn, focussing on my immediate surroundings and the people in it! Join in and you might even win a gift box! Share your happy moments (and tea infused candles) for the rest of this month using #DrinkItAllIn on Twitter and Instagram (@TwiningsTeaUK) or commenting on their Facebook page.
Materials
Tea | Extract flavours | Soy wax | Enamel mugs | Cotton cord | Metal bases | Small non stick pan | Olive oil/Coconut oil | Peg
I chose Peppermint and Nettle tea, Ginger tea, accompanied by rose water and orange extracts.
Instructions
Pour around 100ml of oil into a non-stick pan and heat. Infuse your tea bags in the oil until they begin to break open. Do this two at a time until your oil smells delicious! Drop a cap full of your complementary flavour in. You don't want to flavour your tea.
– you want to enhance it!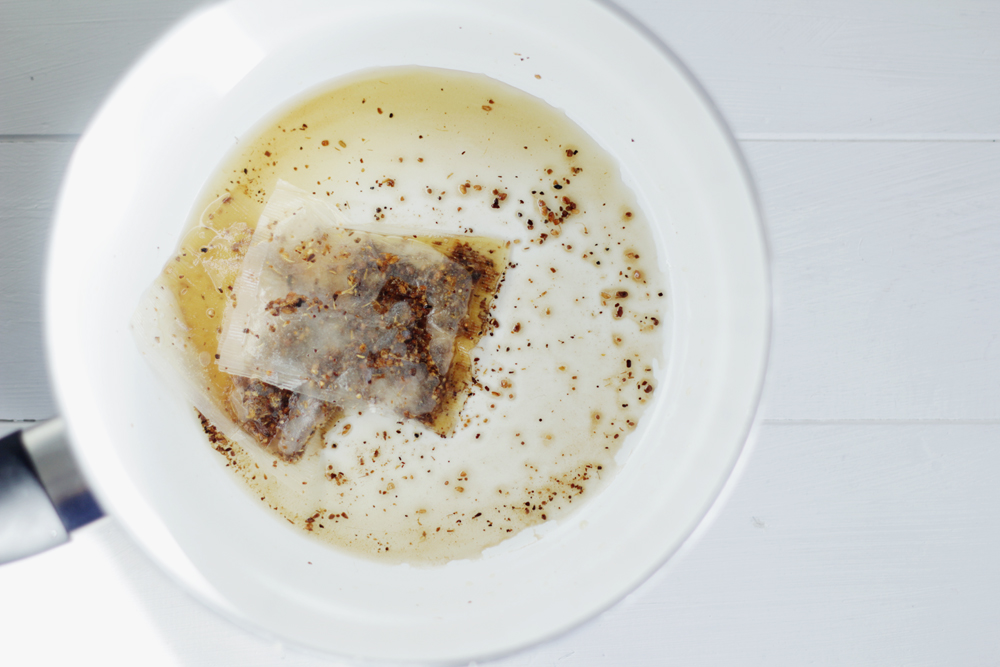 Fill your pan with double the mug full of wax (I'd suggest buying a cheap non-stick pan for this project) and melt on a low heat until it's liquid. Pour in your flavoured oil and mix well.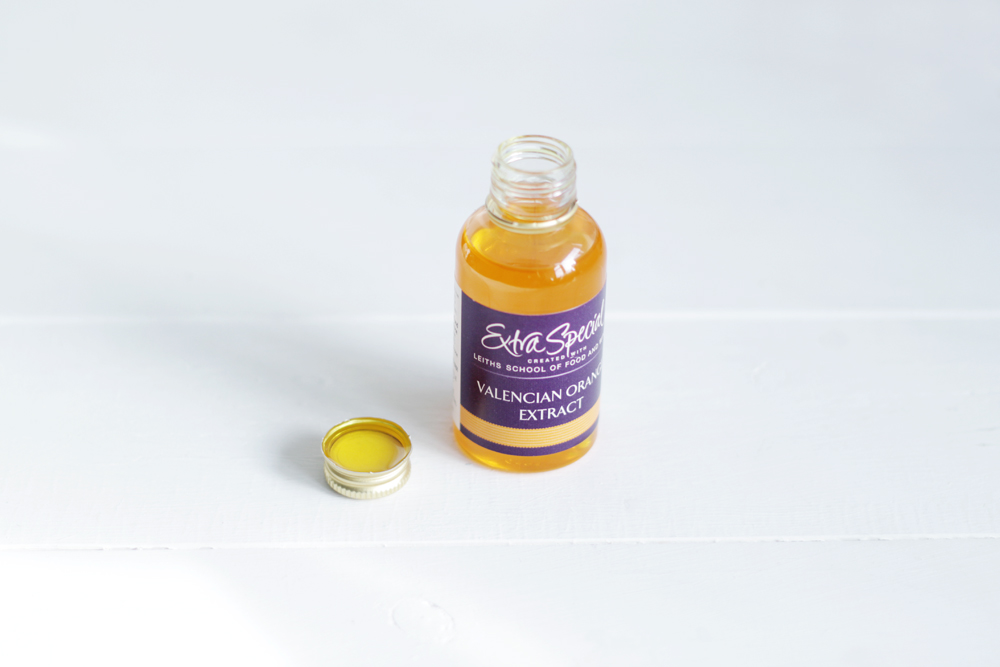 To make the wick dip your cotton cord into the wax and leave to cool. Then thread through the hole in the middle of the metal base. Squeeze the hole shut with pliers to secure in place.
Dip the metal base into the wax, place it onto the bottom of the mug and leave to set. Hold your wick in place with a long peg.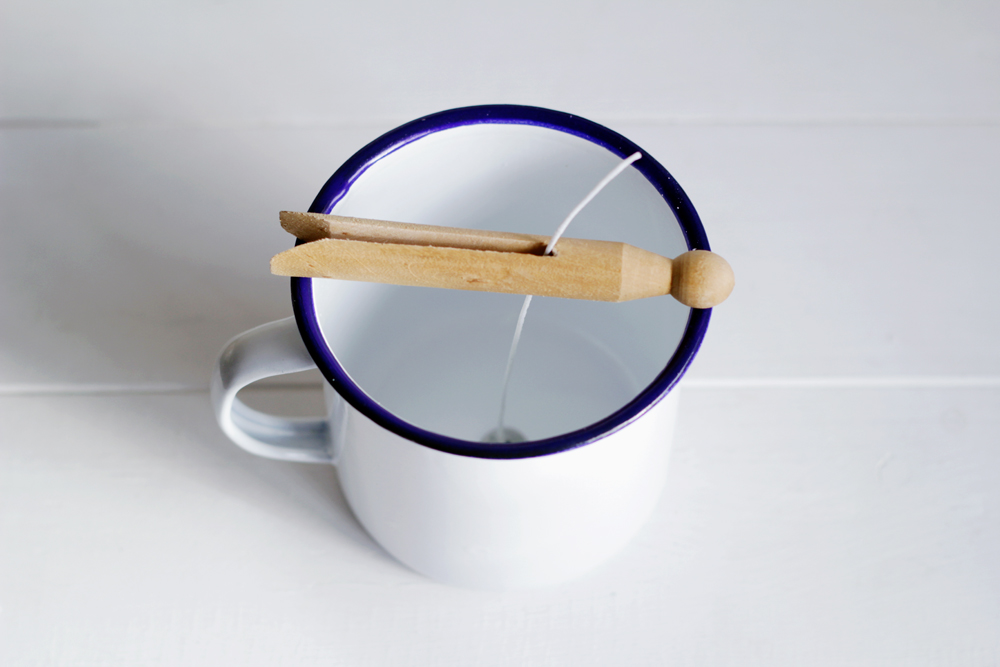 Pour the rest of the wax into the mug and leave to set in a cool place.
Now all that's left to do is enjoy the moment and remember to #DrinkItAllIn.