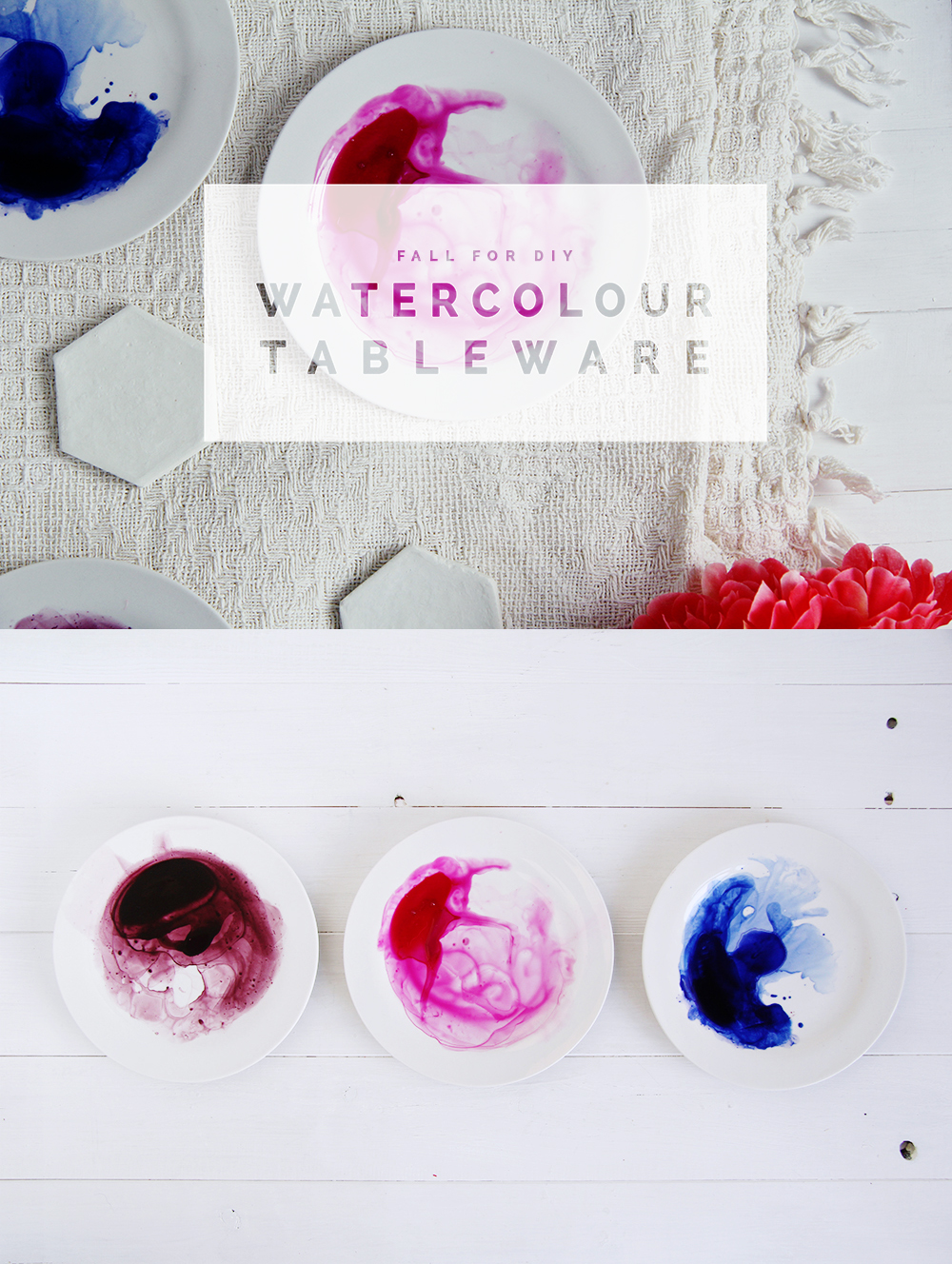 I've got to admit I've never had a traditional dinner party before. It seems like that's some sort of omission of guilt. I'm not a real blogger. I don't know how to style a table! I've had friends over for dinner of course, but it's always buffet style, grab what you want off my mismatched plates, find a seat and dig in. Who wants a Bloody Mary? I don't know whether it's my 30's kicking in but I want to give my guests a little more. A beautiful table and fancy cutlery perhaps, a luscious centre piece and many, many bottles of great wine. Just a little change of pace from our usual free for all attitude to dining. But I realise this is a big undertaking. There's a reason we have party planners – to make sure all the aspects of a perfect dining experience are figured out and ready more than two hours before the event. Basic organisation… something I'm not really known for. So I'm thinking baby steps. I'll work up to the perfect party. Collect together the ingredients before setting the date and give myself the best (or at least some) chance at getting it right.
First on my list are these dreamy DIY side plates decorated with a splash of watercolour. Doesn't the colour look like silk swirling underwater or is that just me? You can make these for the perfect injection of vibrance to your everyday table or for a special occasion. Here's how:
Materials:
Instructions: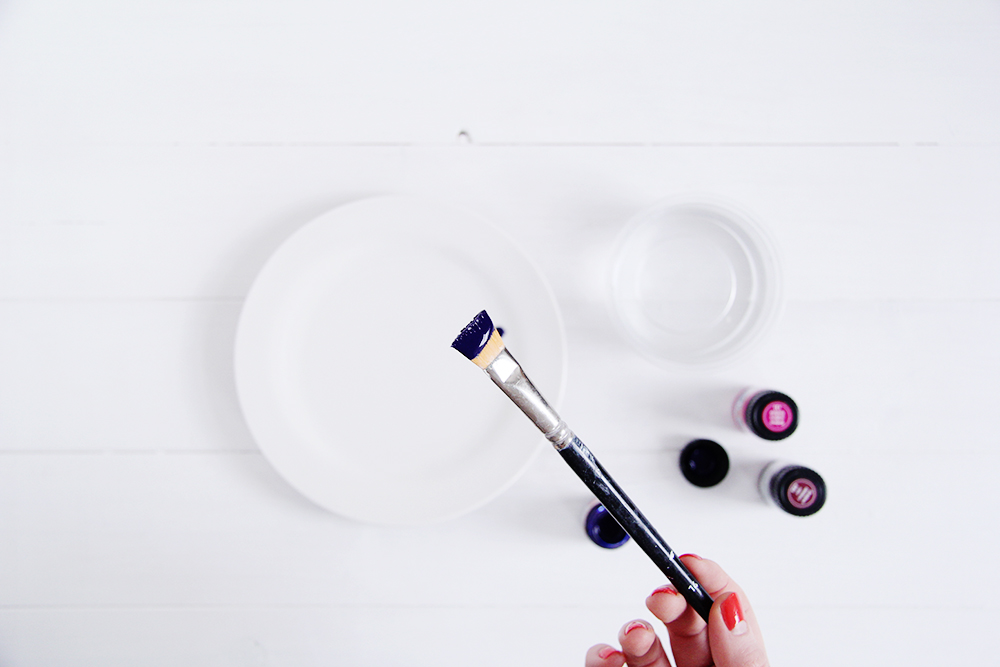 1. Dip your paint brush into the paint. Don't be scared of it, get a good amount on your brush.
2. Start to dab it onto one quarter of the plate. You're just getting the paint in the right place for now so don't worry about how it looks yet.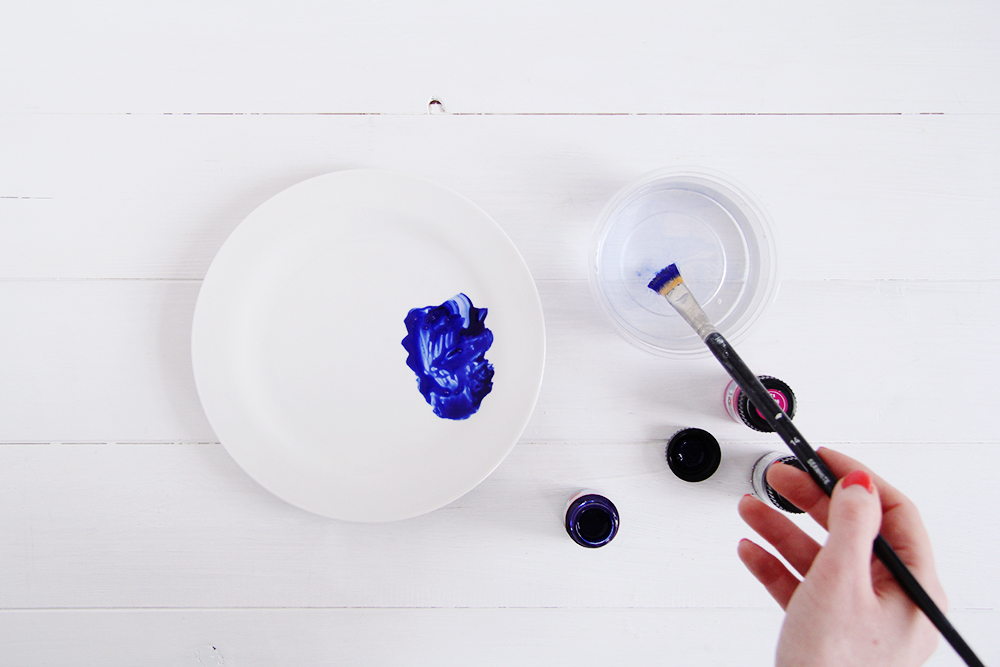 3. Once you have a good amount of paint on the plate dip your brush into the water and start to drip it onto the edge of the paint towards the empty space.
4. Keep adding more water until the paint starts to thin at the edge and begins to run into the rest of the plate.
5. Tilt the plate so that the paint runs around it in an organic pattern.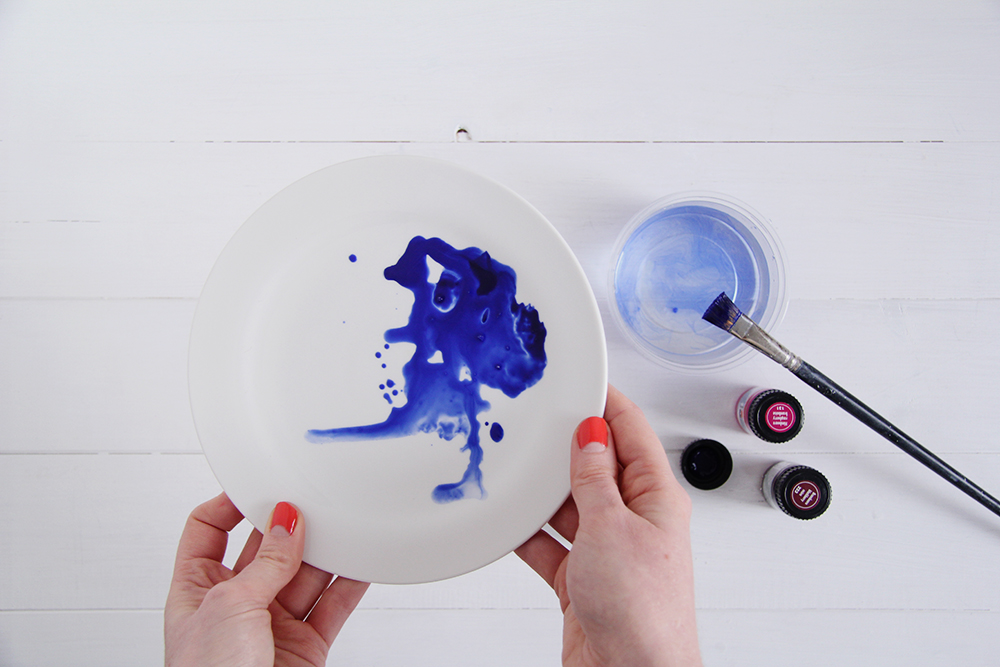 6. Add more water and tilt the plate again. Make sure to let the paint run back to the original section of the plate so that there is a heavy build up at one point. Keep the plate propped up so that the paint naturally runs back to this point.
7. Leave the paint to dry for 10 minutes and then tilt it around again. Repeat this step until you're happy with the design. Tilt the paint so that it runs back to the darkest point and leave to dry overnight.
8. Once dried I baked the plate on a low heat for 45 minutes. Usually when you're using these paints you wouldn't need to take this step but because we used a lot of water I wanted to make sure no one ended up with a blue bread roll…
Give your plates a quick wash and you're ready to lay the table!