I'm generally pretty optimistic when it comes to renovating, building and DIYing. I have a can do attitude which drives me to start projects probably more adventurous than I should and which can get me into some pretty stressful situations. But, when I do find I've got myself in too deep, the thing I love the most is the learning process. Somehow I always make it through to the other end. Whether that's by watching a Youtube tutorial or 300, or actually hiring someone to do the job. I feel much better informed on the way out as I did at the start.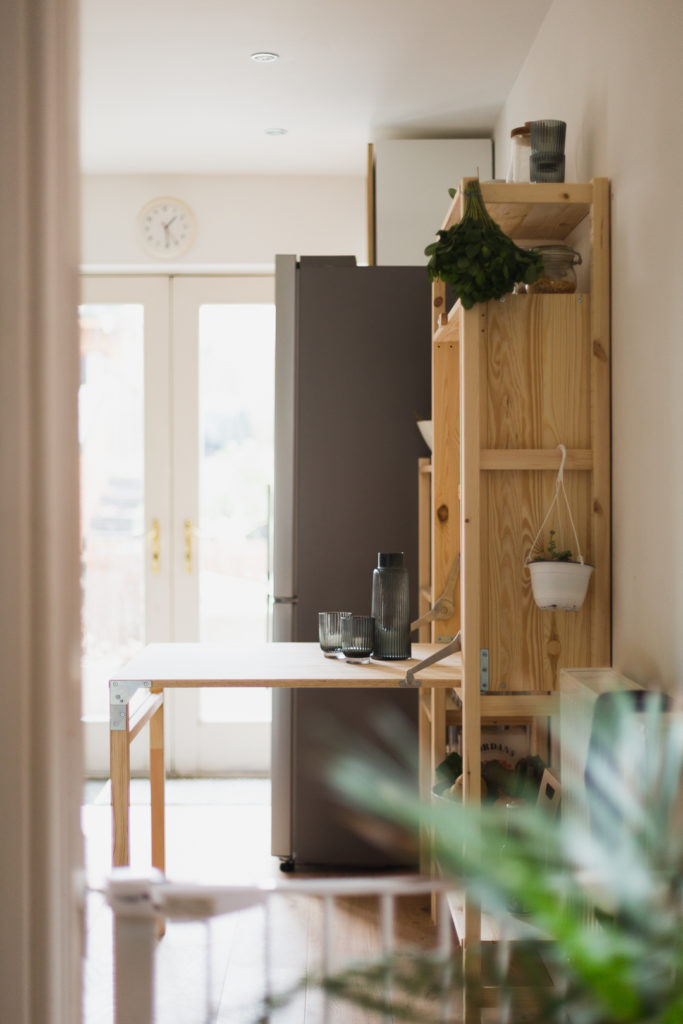 Throughout the entire kitchen process to date I've had this annoyingly positive attitude even though I know this is going to be a challenging process. (This is where me and Alex butt heads. He imagines everything that can go wrong. I imagine everything going just swimmingly.) Maybe I was driven by my pure hatred of our old kitchen, or maybe excitement to design my own space, but it all seemed so achievable. That is until last weekend.
We finally took the plunge and ripped out the usable part of the kitchen. Up until this point we'd taken out wall cabinets, tiles, trim and replaced the old fridge freezer with our beautiful new one. Our amazing friends at Skoup saw we needed help with the kitchen and sent us both a skip and a van with a team to clear the cabinets and electrical items (and as it turns out a car load of cardboard, scrap wood and the old work surface). They were amazing! I didn't know this service existed but you can hire them to come into your house, pick up your rubbish and take it away! They also gave me a discount code to share with you – which I've addeed to the bottom of this post.
So with everything we'd already removed from the kitchen taken away, there was nothing else for it than demolishing the remainder of the old kitchen. Until now we had a space to cook and clean. Some things were a little trickier than usual but we had everything we needed. Then the moment we started pulling out the old cabinets I panicked.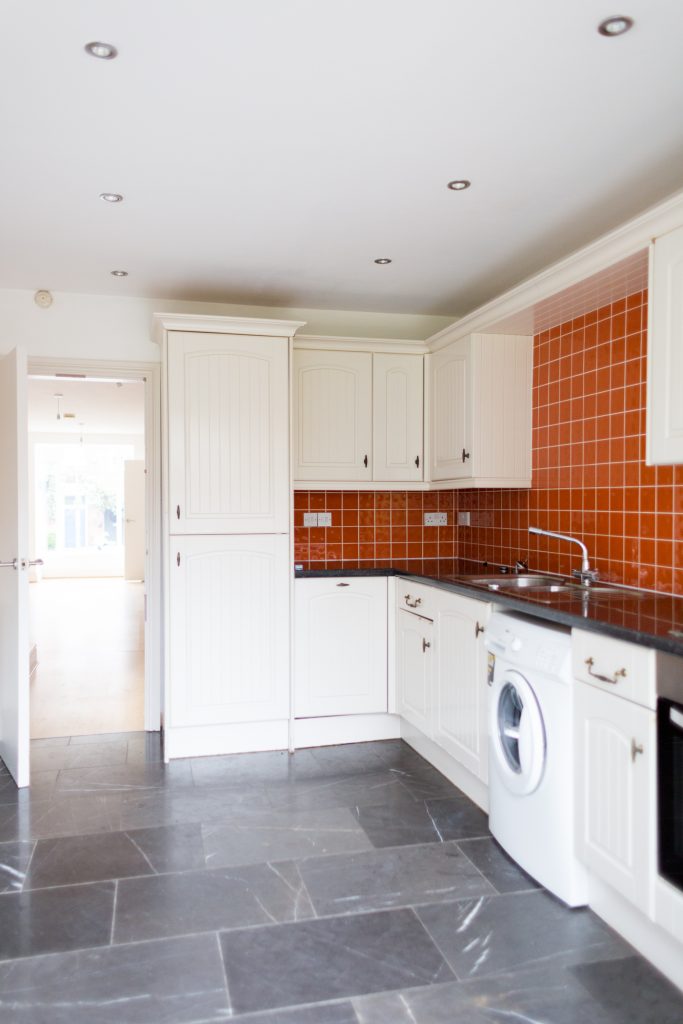 I have to admit it took me by surprise. DIY is like my cardio. I just push through when I hit the wall (sometimes literally). I'm ridiculously pig headed that way. I'm going to get the job done no matter what happens. But all of a sudden I regretted my whole decision to change the kitchen. And it seemed incredibly foolish to even think we could do it ourselves. My father is law was helping us watch Ollen while we worked and I felt self conscious and embarrassed that I thought we could do this without expert help.
Honestly, I felt sick to my stomach. I couldn't see how we were going to get back to a functioning kitchen again. I think for the first time I turned around to Alex and told him I had no idea what we were doing. But, there was no going back now, so I put on my big girl pants and ploughed on.
Luckily I had the floor to focus on. As I'd laid half the floor already it was a job I knew I could do. Everyone else went to the park and left me to it – which (because he knows me so well) Al knew I needed. A bit of space and a hammer to clear my head.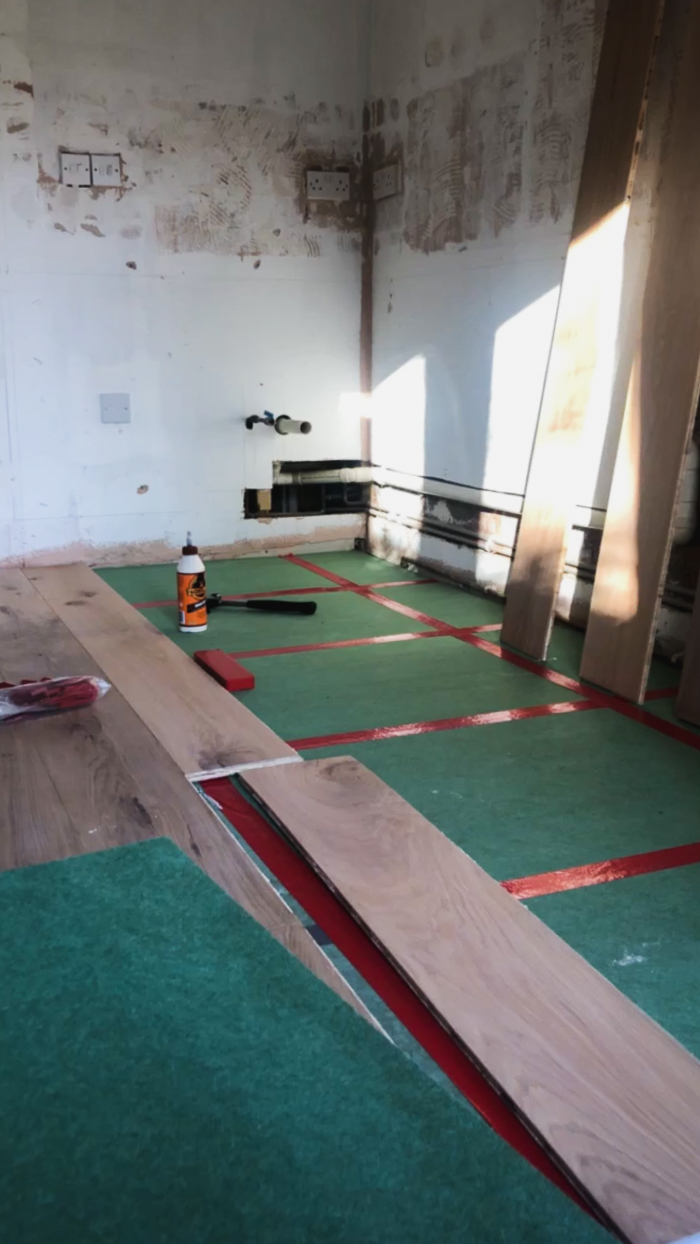 Next came the cabinets. By this point we were basically two days into our three day work limit for that weekend and we were not even close to being on schedule! So I made everyone stand in a dark kitchen while I drilled enough holes to place the first rail on the wall. I think at this point my father in law thought I had taken leave of my senses, but I had to feel like we were making some progress. This bar felt like we were. Like I knew we would start the next day knowing how to progress rather than waste time trying to work it out.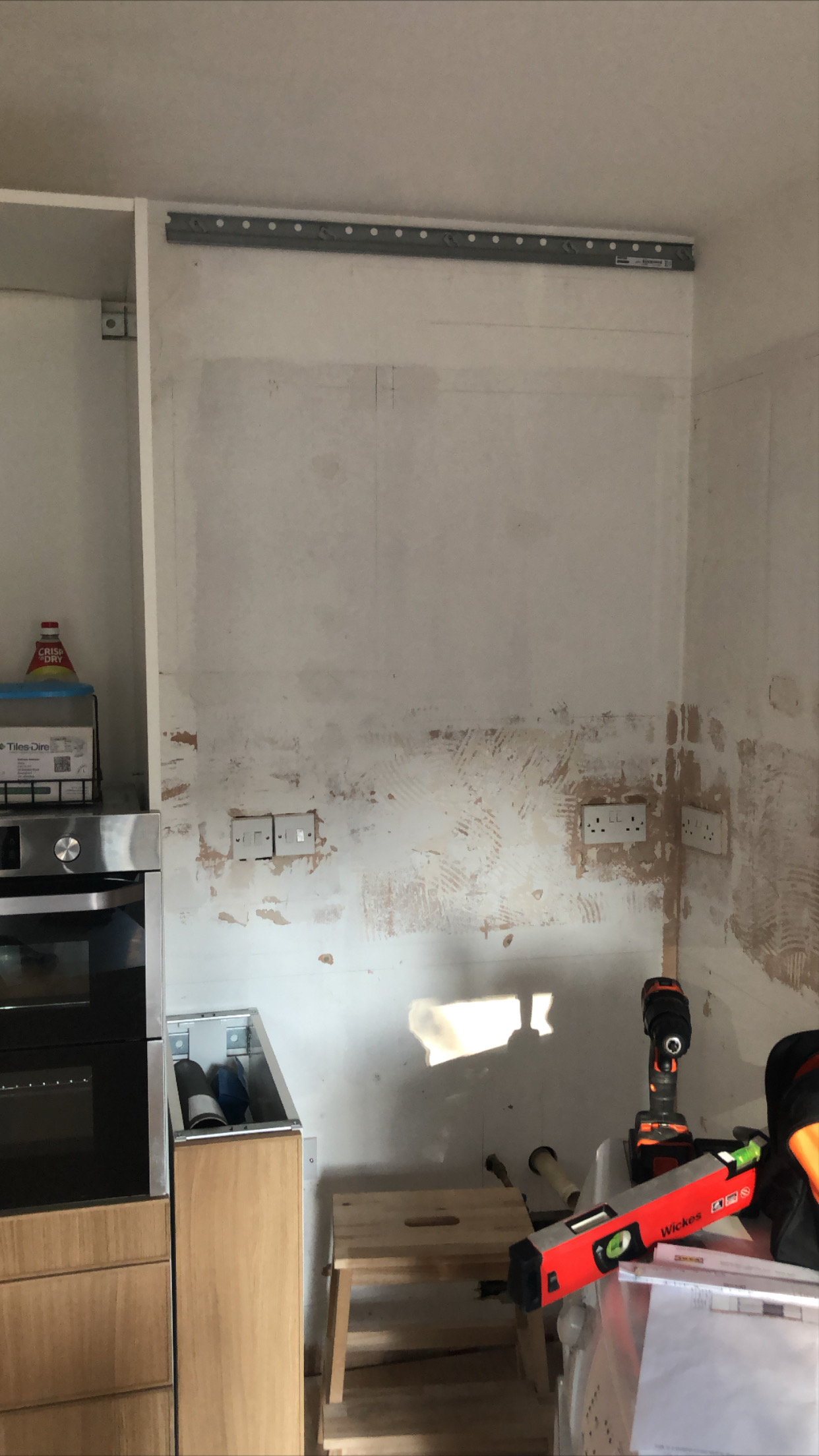 This is where the way me and Al work together can completely clash or compliment beautifully. He's the planner. I'm the doer. And when we're on form it's the perfect paring. Just today we spent around an hour working together and made huge progress. He so often catches my mistakes and I, just sometimes, can force him to make them.
As promised here's the code for 10% off hiring a van and crew from Skoup. Just use 'fallfordiy10' before the end of February for the easiest clear out you'll ever have!