In collaboration with Habitat. Thank you for supporting the brands that support Fall For DIY!
The funny thing is when Habitat asked me to write about 'what timeless style means to me' I was in the process of planning my kitchen renovation. The kitchen is one of the places in your home that most people don't change regularly. Some elements can be updated and refreshed but I'd say you want your kitchen to give you 10 years of life before thinking about a bit change.
It's easy to get overwhelmed by the idea of this and make more safe choices over creating something more interesting and impactful. I've been struggling with the idea that I need to reign in my big ideas to design a space that can last the test of time. But I don't want to make my kitchen plain or neutral. Yes, in 5 years I will probably like it as much as I do when it's built, but I'll never love it. In the process I've been learning that it's really important to me that my home has personality and that this is how I feel about the whole of my home, not just the kitchen.
More and more buying furniture is becoming a quick, in the moment decision. I'm a big fan of making good design affordable, but if that leads to less thoughtful buying we will see more and more furniture going to landfill. You might have heard of fast fashion. This concept is spilling over into our interior choices. How do we make choices that we will want to live in for 10, 15, 20 years. Products that can move and evolve with your style as you do.
I want to start thinking about all of my home design choices like I have been my kitchen. How do I create rooms that I love now and can still love as trends change? How do I invest in a sofa that I'll love for years to come?
Colours, style and patterns change, but for me quality materials will stand the test of time. Regular readers will know exactly where I'm going with this. My first choice always is to look for beautiful wood. Whether that's an item made from wood or has wood accents. It's a massively versatile material and can fit in with any style. It can be shaped, bent, joined and left raw. It can be waxed, stained, painted, stripped, upholstered, carved, even pyrographed, printed, cut out and accessorised. Personally I love natural wood. On it's own and mixing it up with other materials.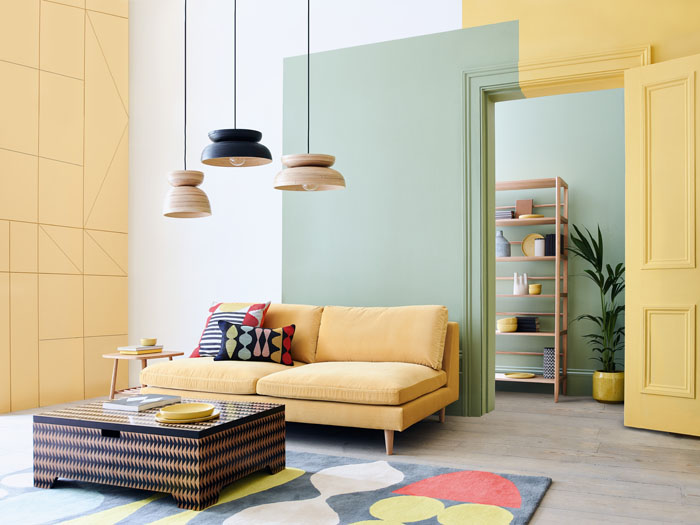 This Teo Sofa is a great example of how you can explore your own personal style and buy furniture that is timeless. The wooden sofa legs give the piece a mid century feel that perfectly accents the modern shape and fabric, bridging the gap between past and present. Giving you more flexibility when choosing from accessories such as rugs, choosing from a more abstract style like this Mary rug or if it suits you, something more traditional.
Also can we just take a minute to appreciate that Ellora coffee table/chest which is a beautiful example of printed wood.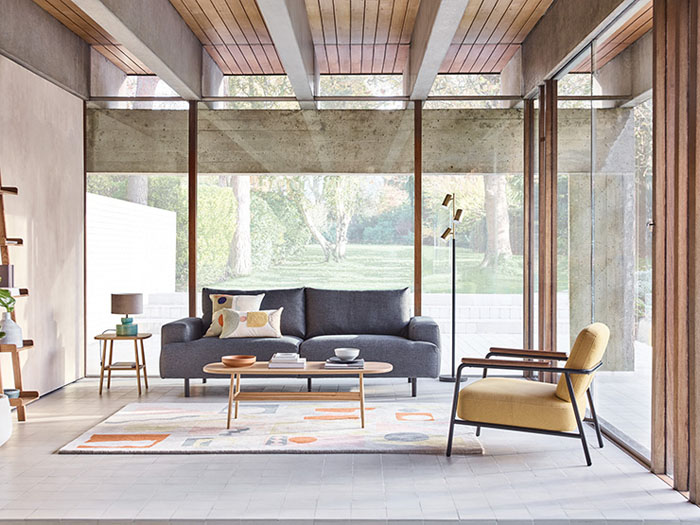 My personal style mixes elements from Scandinavian design with the clean, bright luxury of modern boho. Simple and minimalist combined with earthy (right now) tones and warm, playful accessories. I love a lot of texture and of course all the wood! It's been a process for me to understand and accept my own style. For a long time I fought against the Scandinavian influences I loved because they felt over done and to be honest a bit cliche. What I didn't realise it that I can take elements of different design and bring them together to break out of the norm.
This for me is timeless style. Being able to easily slot in new pieces to your furniture when you want to follow a trend or your tastes evolve. When these pieces work together it's great, but more importantly when you take the time to recognise your own style you pick out items you know you'll love for years to come.