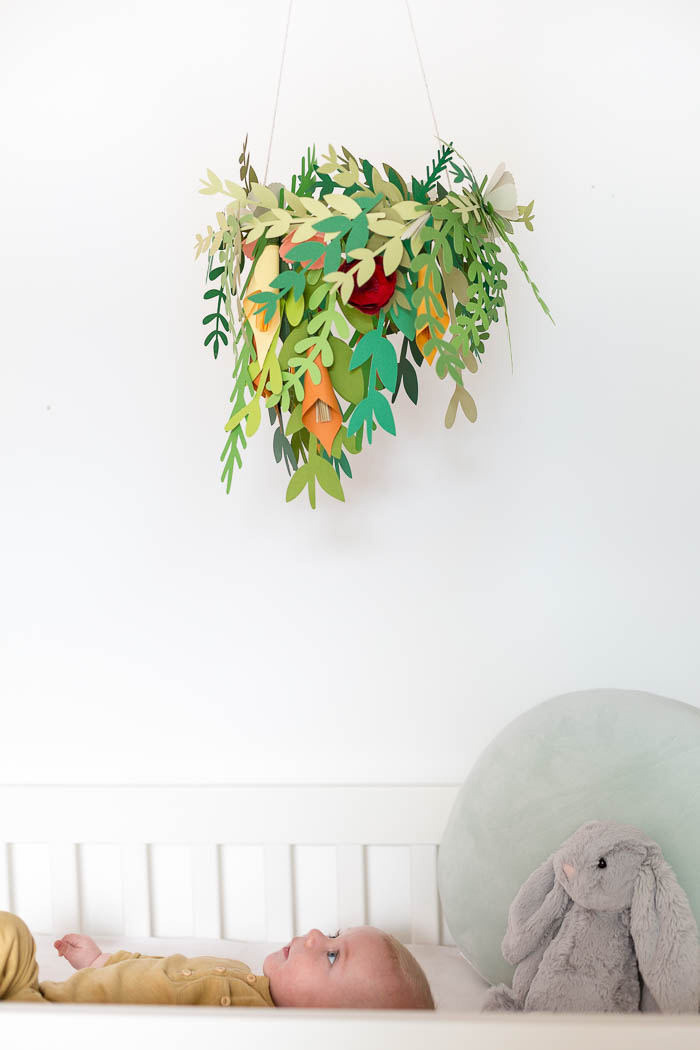 This post has been sponsored by Hobbycraft. All words and opinions are my own.
Not knowing whether Ollen was going to be a girl or a boy meant we didn't go for a classic, boy or girl room for him. But we also didn't want to stick to 'neutral' colours for his bedroom. I wanted his room to be a hideaway for him. A safe place in the world, full of wonder and imagination. I'm sure as he gets older he'll want more traditionally 'boy' elements in his room (or maybe not – we'll leave that for him to decide) and we can re-decorate when he gets to an age that he cares about all that stuff. But for now, I can take this opportunity just unleash my inner child and have some fun.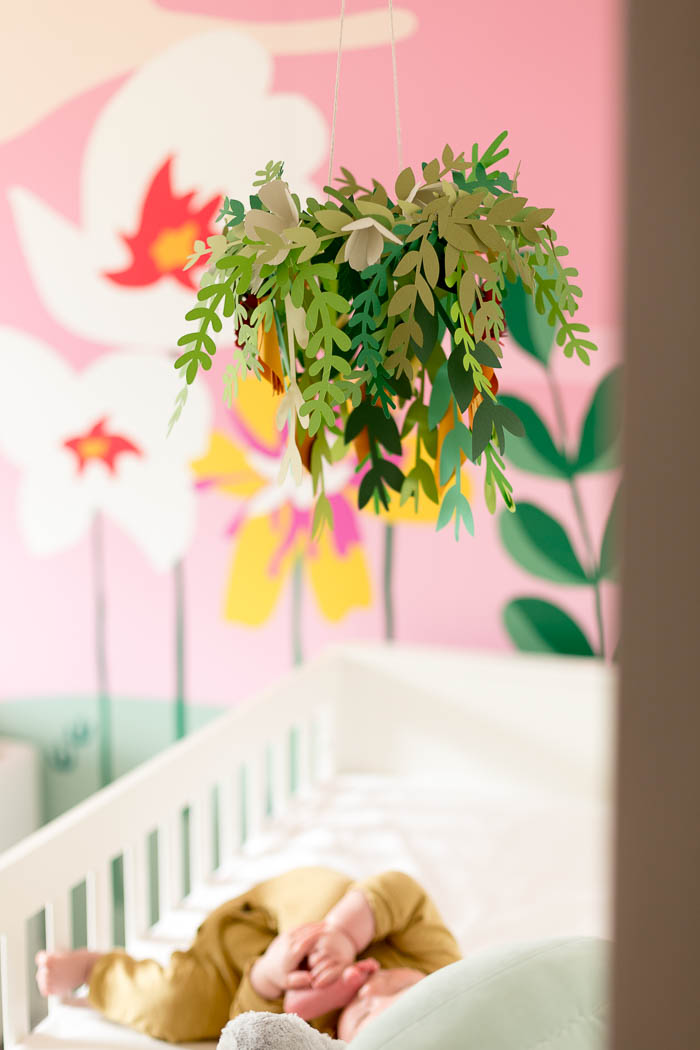 In that way I've never stuck to a theme in this room. I guess the real theme is 'baby', but I haven't been strict on colours, ideas or making everything go together in any way. The result is a botanical noah's ark, in space, with a few strange looking jellyfish thrown in just for a laugh.
Saying this, the most prominent element of the room is the mural wall. This is something Ollen has loved ever since we started taking him in there. Even before his little brain was able to process colour, this bold design caught his eye. Now he's older his grandma walks him around her garden and he grabs at leaves and flowers. The plants in our living room were the first things he really focused on and was interested in. It's no surprise babies are so fascinated with nature. The human eye sees more shades of green than any other colour. Plants and flowers have evolved to be appealing to animals and insects.
Now that he's aware and interested in everything that is around him I wanted to make him a mobile. He doesn't sleep in this cot yet, but I do leave him in there to organise his clothes and tidy his toys. He's an absolute pro at turning over onto his front (but completely useless at turning back onto his back), so I needed something to keep him occupied for at least a couple of minutes (wishful thinking) while I speed tidy.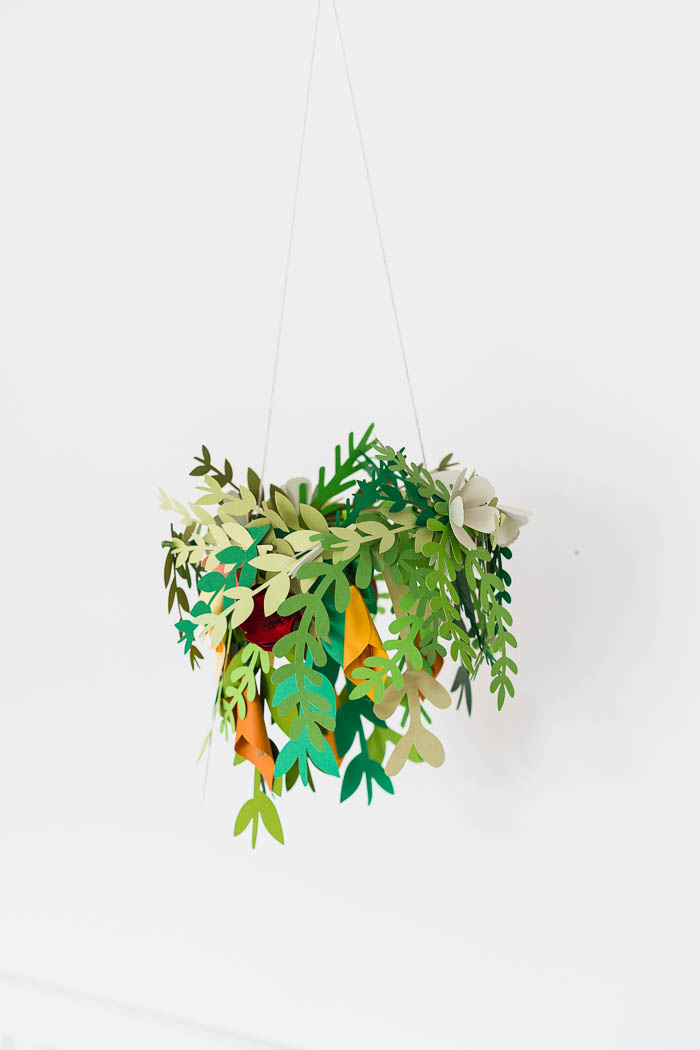 Nature was the obvious choice. Papercutting gives this bold, clean-cut look, which is easy for Ollen to focus on from a distance. And I LOVE an opportunity to put my Cricut Maker to good use! But I realise that not everyone has access to a Cricut machine, so I've created this mobile using three different techniques. Working in collaboration with Hobbycraft, I've used elements from the Cricut, using a craft knife and cutting out with scissors. So no matter your skill level this is a totally achievable project.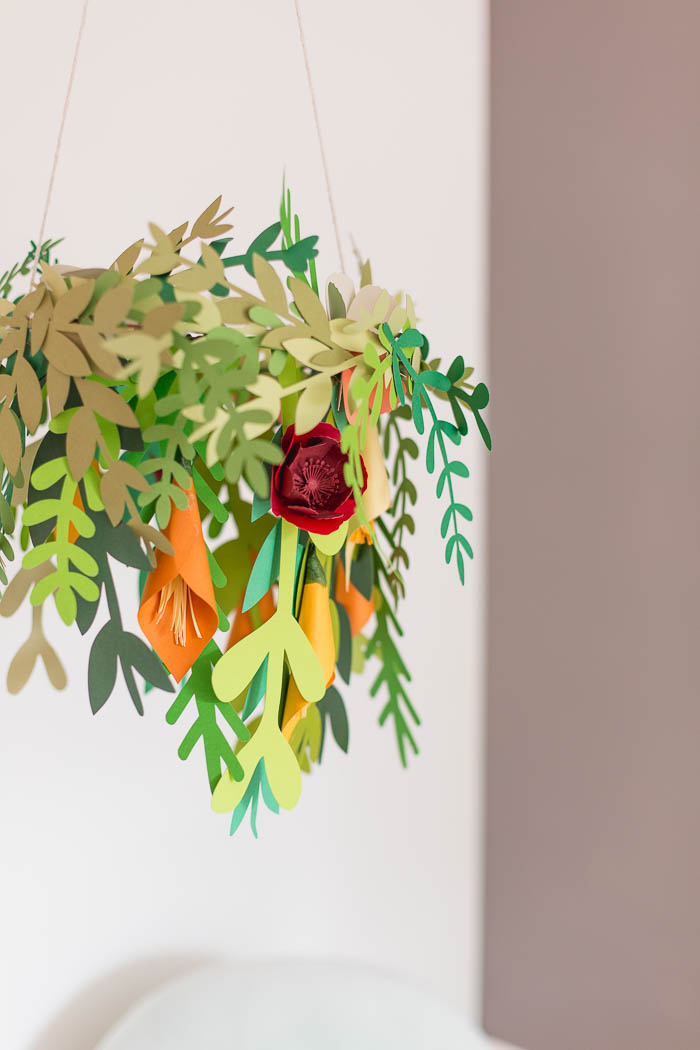 Materials
Instructions: Cricut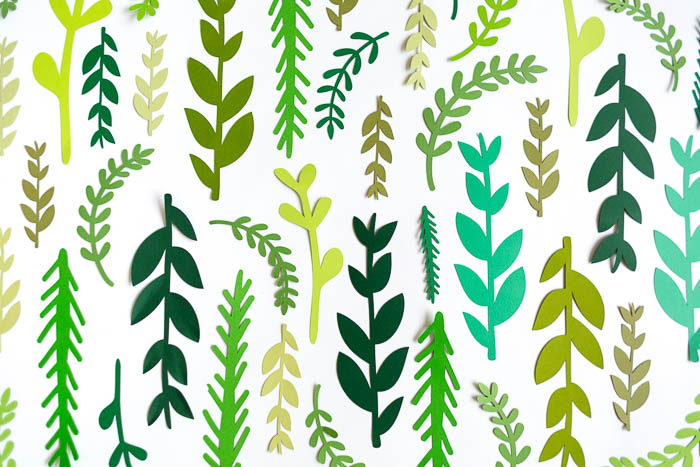 1. With you Cricut machine you have access to the templates and designs in the Cricut Design Centre. I've picked out some free leaf designs for this mobile. I've also used some of the free floral designs to add some colourful touches. All the designs come with assembly instructions.
2. Play with the size and colour of the papercuts. I've used bigger cut outs for the centre ring, creating depth and smaller ones to create the detail on the outer ring.
3. Once you have cut out the leaves using all the green paper in the pack, heat up your glue gun and begin assembling the wreath (Continue to assembly)
Instructions: Craft knife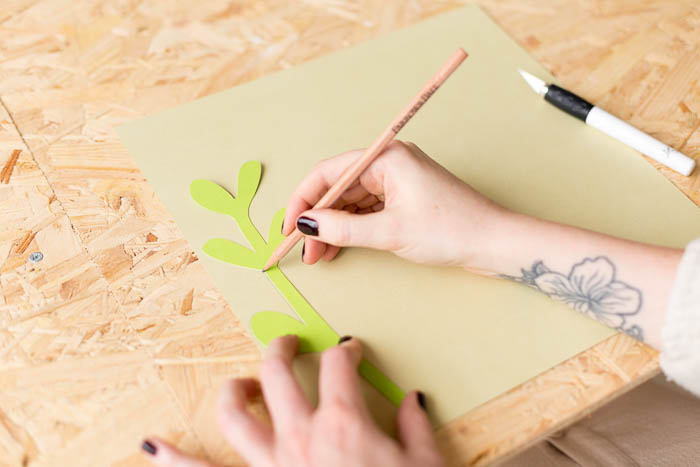 1. Using a piece of scrap card create templates for 5 different leaf designs. Make them in different sizes.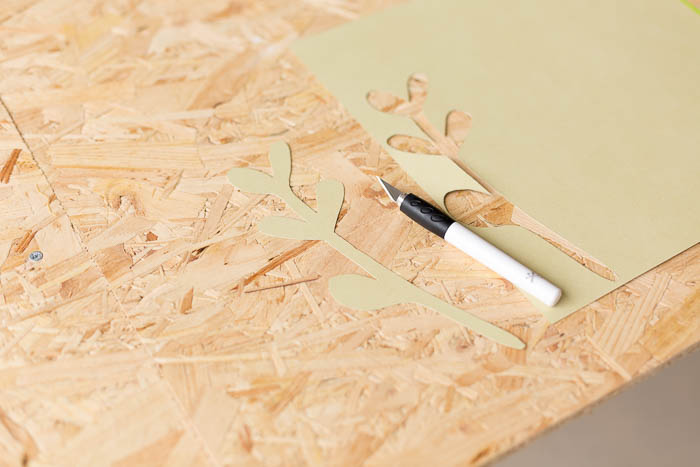 2. Cut out the templates and draw around these into the green card. Using the craft knife cut out the leaf designs. To create the flowers use the next tutorial to create floral shapes with scissors.
Instructions: Scissors
1. If you're using scissors follow the instructions for creating leaves with a craft knife, but make your templates very simple and easy to cut out. You can even fold the card in half and create templates for half a branch to make the cutting easier.
You'll need a really good pair of scissors for this. These are sharp all the way to the point which makes getting into the corners much easier.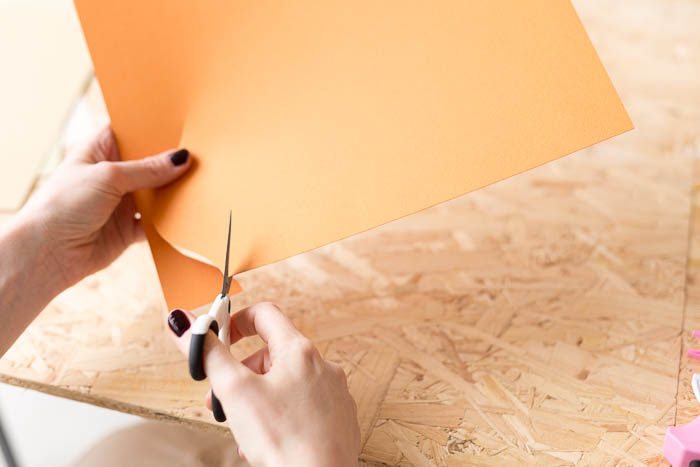 2. To make the flowers cut out a large leaf shape in colours paper.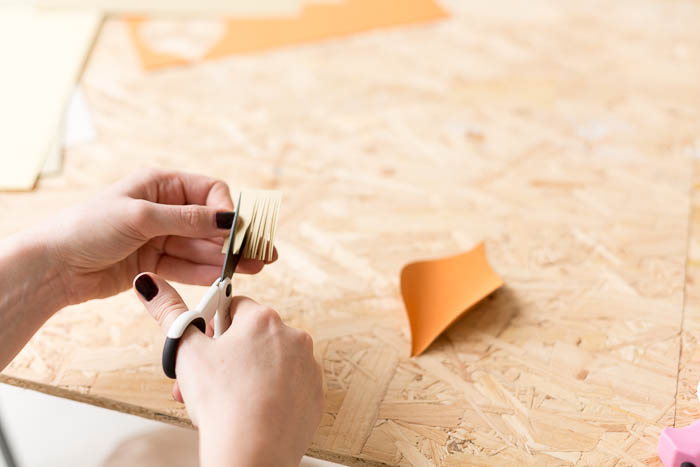 3. Cut out a small rectangle in a complimentary colour. Cut thin strips along the length leaving a small section at the bottom uncut.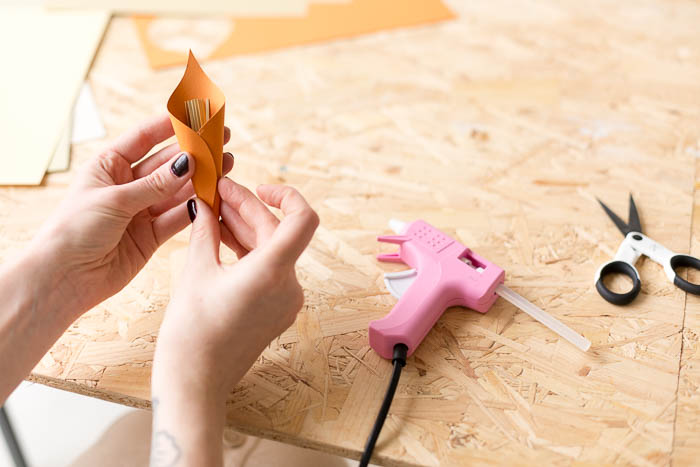 4. Fold both of the rounded sides into the centre until they overlap. Make the shape into a cone so that the opening at the top is larger than the bottom point. Using the glue gun secure this in place as well as the folded fringe strip.
6. Using the hot glue secure a strip of the flower tape to the pointed end of the flower. Once dry pull the tape to release the adhesive and wrap the cone end.
Assembling the wreath:
1. Wrap the whole ring in floral tape before you begin. Then using hot glue take the smaller leaf cut outs and begin attaching them to the outer ring. I've placed the ring on a basket that is smaller than the outer ring but large enough to rest the inner ring on. This helps me create the design. You want to place the leaves in all different directions to create this naturally, wild look. To help secure the paper wrap the longer stems to the wire with floral tape.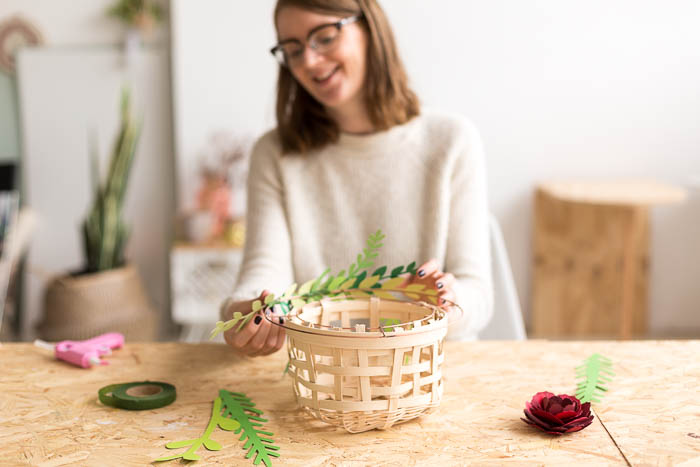 2. Work your way around the ring a number of times, layering up the leaves until you're happy. Save some of the smaller cut out for later. At this point I found it easier to tie the cotton cord to the mobile and hang to work on the inner ring.
3. Use the larger cut outs to fill the inner ring. Don't worry about keeping the mobile even or symmetrical. We're going for a natural look so just play with the design.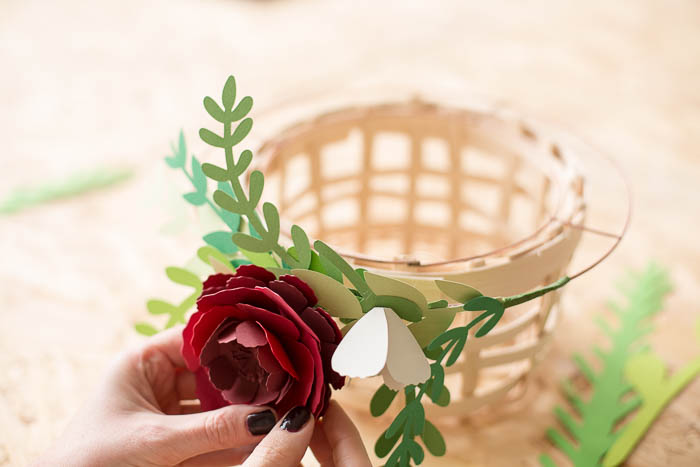 4. Using lots of hot glue secure the floral elements to the leaves. Make sure to balance out the weight so the mobile hangs evenly.
Once all the paper is in place and secure hang the mobile out of reach of little hands. Don't leave babies with the mobile unattended and periodically make sure all the leaves and flowers are all secured in place firmly.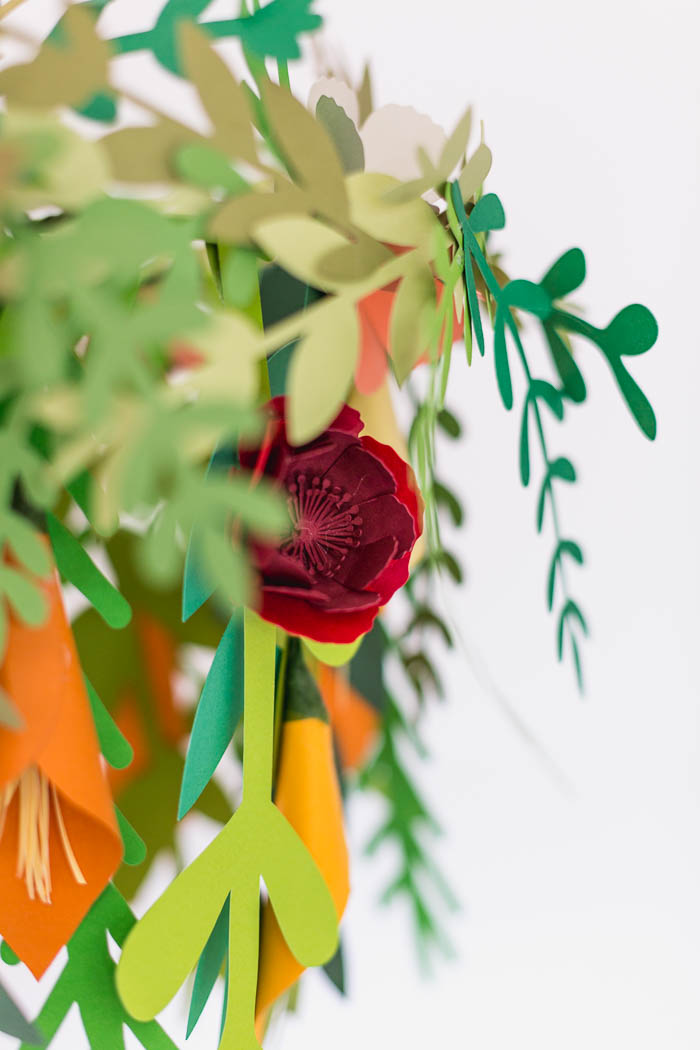 I love the natural, wild look of this mobile in contrast with more traditional styles. And Ollen can't take his eyes off it! If you want to make this head over to Hobbycraft now to find all the materials you'll need and use the code DIY15 for a 15% discount on all you materials (excluding sewing machines). This includes the Cricut range so if you've been thinking of investing now is a great time!