This time three weeks ago we were putting the final touches to a room makeover with a big deadline! I wanted to get the room finished before the baby arrived, mostly because I wanted to be able to relax and spend more time with the baby after he was born. But also because I was in some kind of nesting mania and couldn't sit still without inventing more jobs for myself! Three weeks on now I get why everyone was telling me to rest (night time isn't for sleeping anymore), but at that point the idea of resting made me feel more stressed. I was mostly coping by staying organised, making all the lists and working on my big goal of finishing this room!
It seems like the baby knew all of this. He very kindly waited all of 16 hours after we'd finished styling and photographing the room to start his arrival! Obviously, he wanted his room to be finished in time as much as I did!
We had decided not to find out if the baby was a boy or a girl, but instead of creating a gender neutral room which relied on using whites, greys and 'neutral' colours I decided to create something warmer and more colourful. I do love the look of these minimal rooms, but I wanted to have a little fun with this room. And to be completely honest I don't believe that you need to decorate a room in line with the sex of a baby. I didn't actually consider it when I was making any of the decor decisions. I just went for something I thought was beautiful and stimulating for little eyes.
We started from the floor up, replacing the old laminate. It was water damaged and had that yellowish tinge that clashes with most colours. I wanted something that was a cooler colour, but that looked like real wood (and here's the important part) without using real wood. After installing our parquet floor I knew that I wanted needed a quicker solution. I found the perfect combination of these elements at Floormaker.
The laminate flooring I chose has a gorgeous natural colour but with a grey tint which helps the colour to blend with the rest of the room. If you've ever looked at an old laminate floor it seems to all blend together. Instead of having any gap between the planks, the entire floor looks like a single piece of material. Newer technology can create much more realistic, weathered looking laminate. Each board is highlighted with a darker trim which really helps the flooring look like natural wood.
And the best thing about laying laminate flooring? It was installed in a day! By this point, I was about seven and a half months pregnant so Alex laid the floor with help from his dad. It wasn't easy for me to step back from. In fact about half way through laying the floor I made them take it up again to stagger the joins. Both more academic men than design-minded, they had worked out the best way to get the most out of the floor with the least wastage. But it meant that the joins lined up every second row. I had to ask them to spread out the rows they had already fitted and add some more random rows in between. This is why I like doing things myself! But even after making life harder for everyone the fitting took no more than about 6 hours.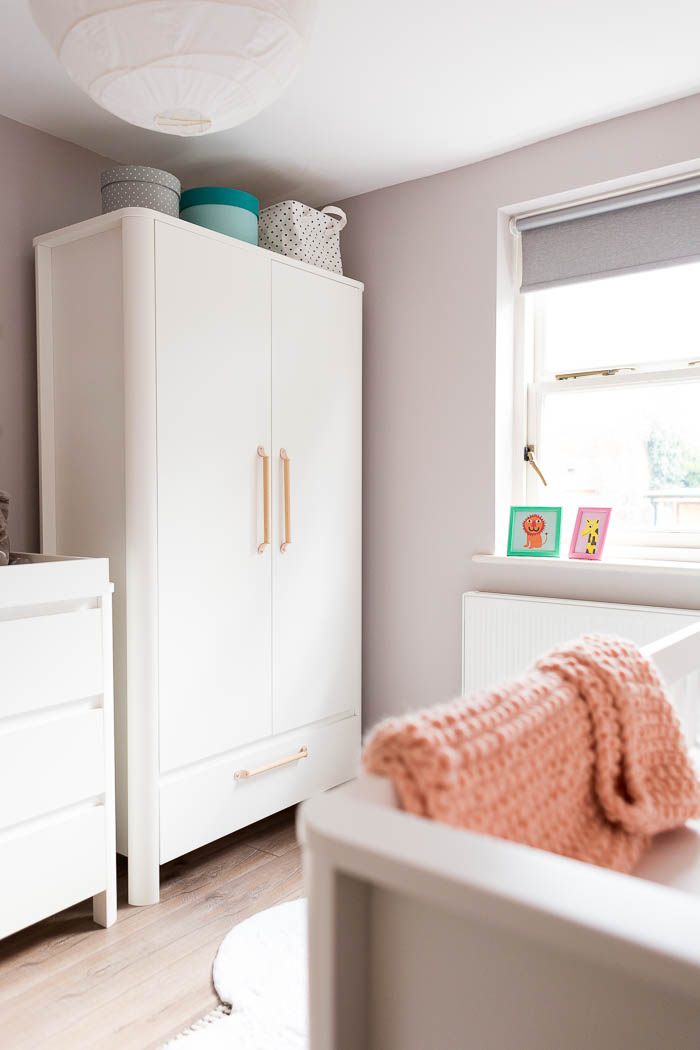 The floor was beautiful it almost felt wrong to cover it up but I wanted to create a softer play area for us. I created a layered effect with two rugs from Benuta, keeping some of the flooring uncovered and matching the cooler tones with the rugs.
The first is an area rug I chose to cover a large part of the floor and give the room a general cosy feeling. A chunky, knit look rug in greys, black and white. I knew I was going to have a lot of colour in the room and I wanted the rug to stand out but not overpower the rest of the decor. Layered over this I went for the Bambini Cloud rug which has a soft, thick pile but also has a towel like texture. As a cotton rug it's easy to clean and compared with wool rugs this will shed a lot less.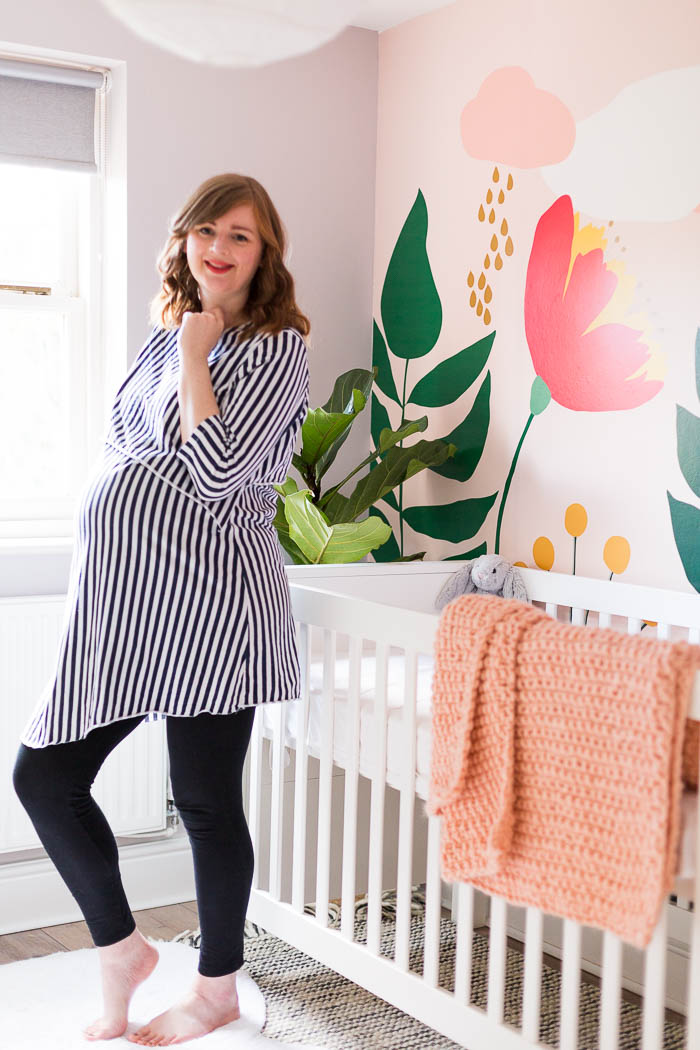 I'll be sharing more about our East Coast Nursery furniture soon, including a DIY to make the handles for the wardrobe and chest of drawers. These pieces came with very attractive handles in chrome, which I felt didn't go with the natural woods and more colourful aspects of the room. My first plan was to spray paint them, but then my indecisive pregnancy brain kicked in and I just couldn't decide on the colour. It became such a huge decision that I ended up going for something completely different entirely rather than actually make up my mind.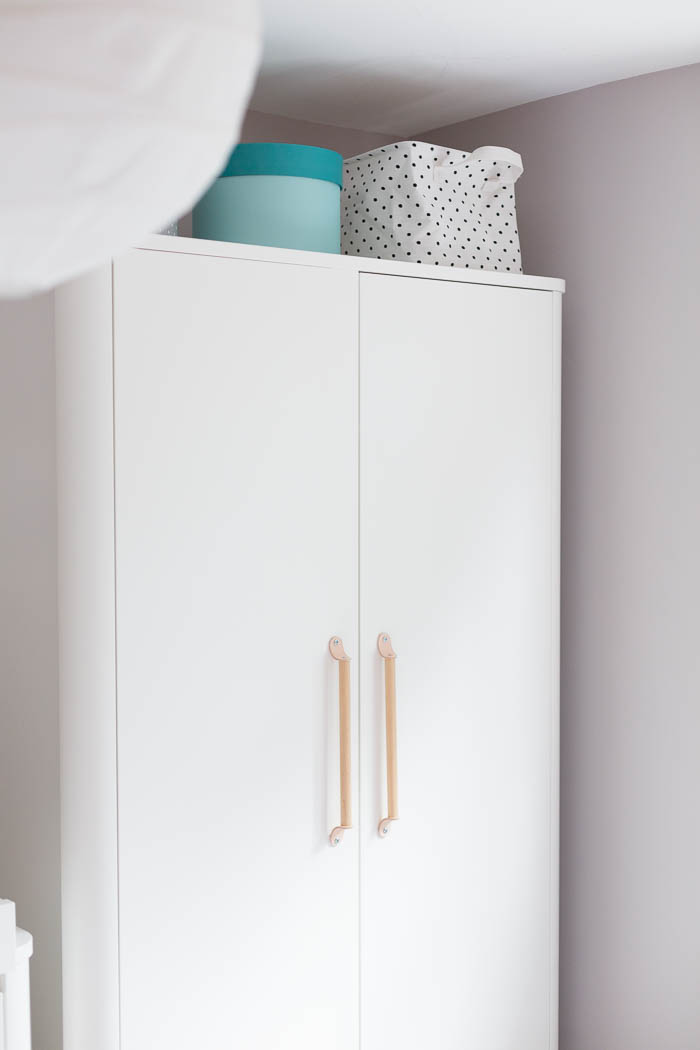 In keeping with the nursery theme, I made these wood and leather handles which can easily be customised to fit any size fittings. All you need are two holes in the door or drawer front. I used natural/pink leather but I think these would also look great in tan, especially if you wanted a more traditionally neutral look.
We decided on the Liberty three piece set from the range at East Coast Nursery. As a multi-award winning, 40 year old business I knew the furniture would be safe and well made. But as well as having a solid foundation in quality, their ethical stance supports sustainable sourcing, careful testing, and supporting local businesses. It ticked all the boxes!
The Liberty range has a simple design that is perfect for any room theme. But the curved corners make it more interesting than a simple white set and as a bonus more child friendly! Less of those dangerous corners they insist on putting on everything. Speaking of safety, all the drawers and doors are soft close to help avoid trapped fingers. I love this because let's face it, I've done this enough times as an adult, so now I want all my furniture to come with this feature please.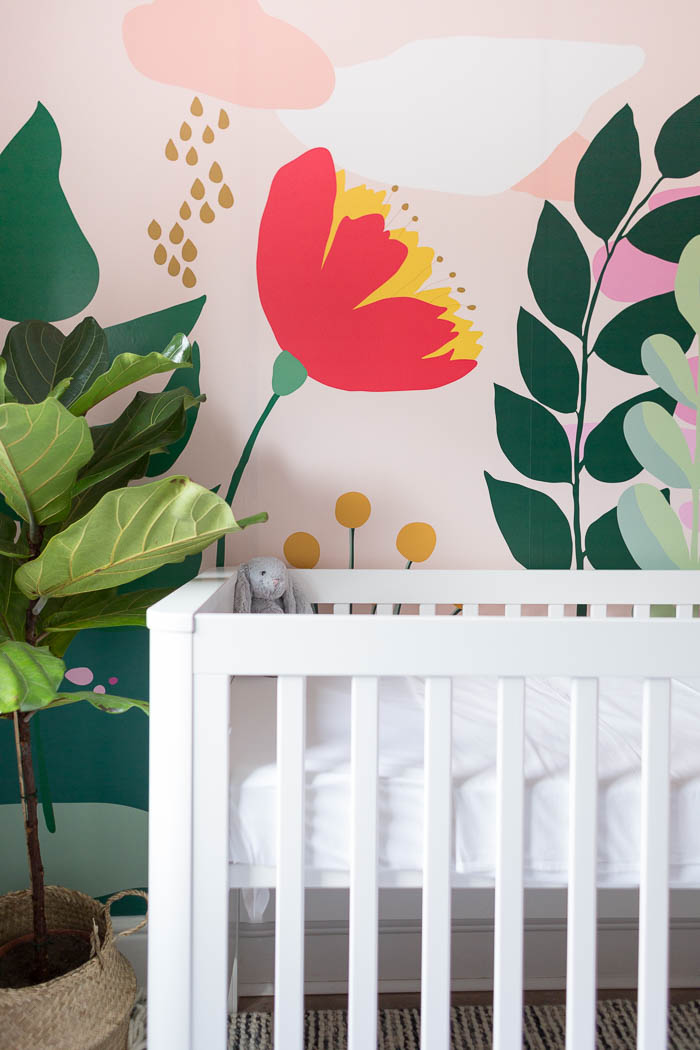 The cot bed is larger than I was expecting, but that's because it can be used as a cot and a bed (duh) with just a couple of modifications. It comes with everything you need to turn it into a bed later on, so we won't need to replace this furniture for years!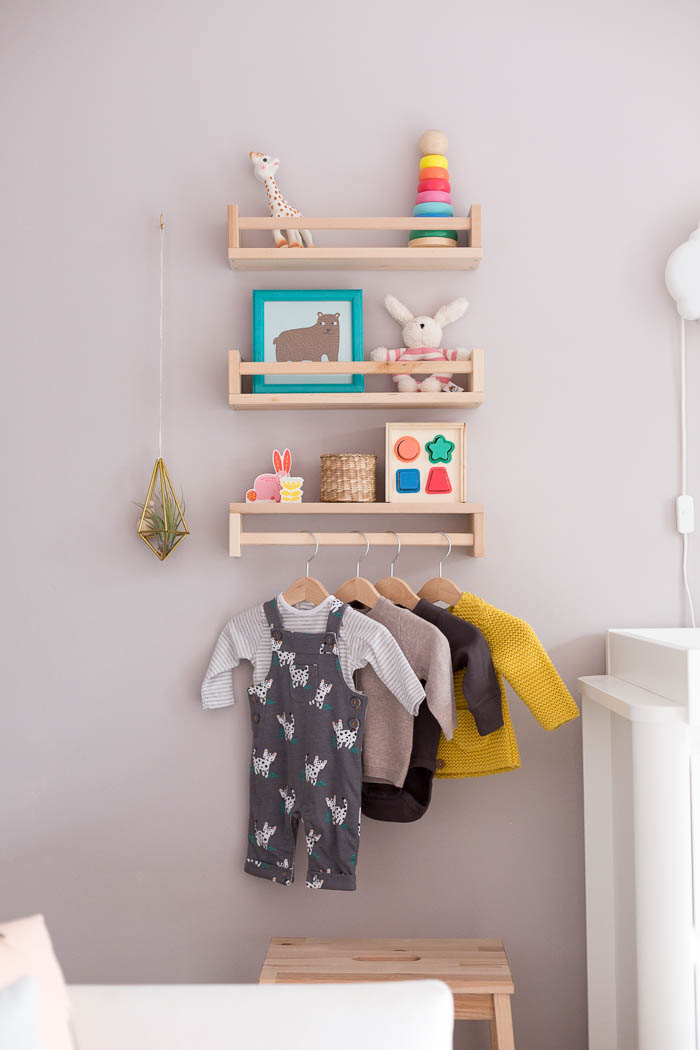 Now we get to the walls. This is where I wanted to introduce some colour. Instead of keeping the room white or painting it grey I thought the space would be warmer and more inviting if we made a feature of them. I stumbled across an amazing paint company on Instagram and knew I wanted to work with them to decorate this room. Paint the Town Green offer a beautiful choice of contemporary colours and all their paints are non-toxic, environmentally friendly and odourless. Perfect for painting any room, but especially for spaces you're going to have younger family members in.
For a waterbased paint the colour has a beautiful depth and needed only two coats. The paint dries within two hours which makes finishing a room quick and easy. Especially when you leave it right until the last minute like we did! You can order the paint online from this UK based company or even hire them to come and paint the room for you!
I chose Grey Seal for the walls and In the Clouds for the woodwork.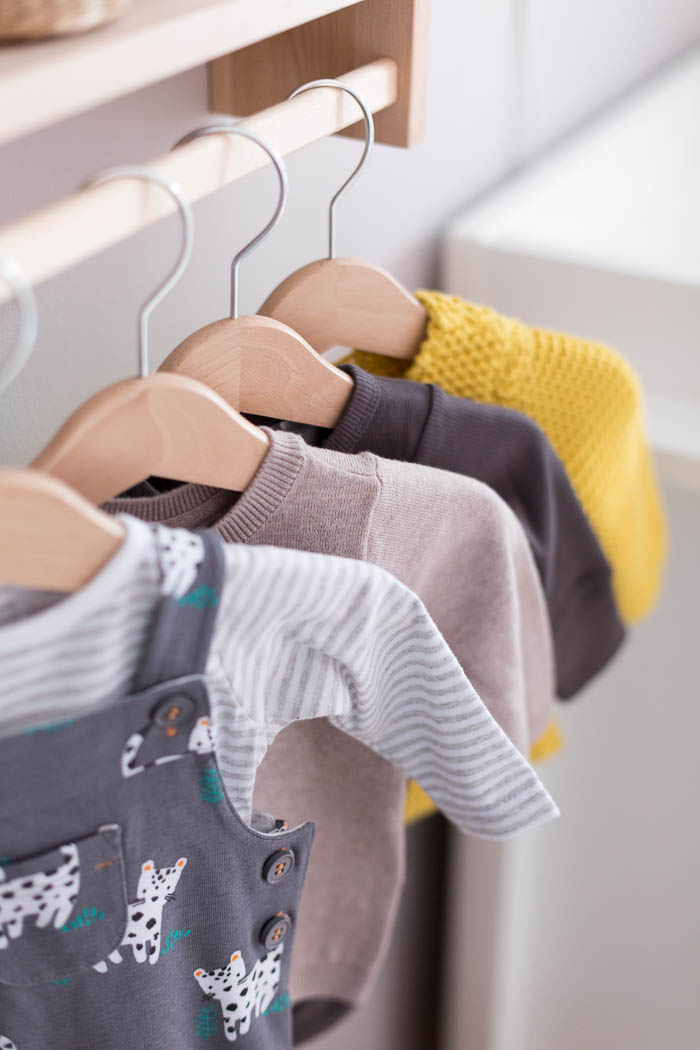 I had one wall earmarked for something more interesting and creative. I wanted to find a wallpaper which was contemporary and create a statement in the room. So when my friend Audrey released her line of children's wallpapers, including the mural she had hand painted for her own girls' room, I found the perfect solution.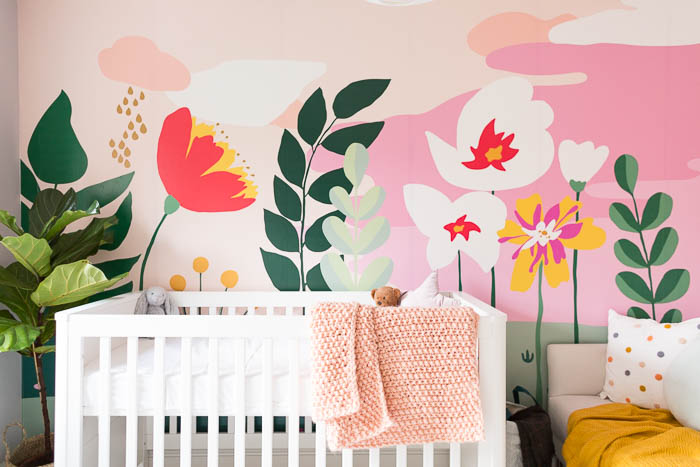 The baby already loves this mural (even though he can probably barely see it at the moment). When we come into this room he stares at the wall. I love how colourful it is and the oversize plants and flowers give the whole room a dreamy feel.
The artwork and cushions, all featured in this post, are from some of my favourite Etsy sellers. Plus I have a few DIYs to share with you soon, including these yarn art pieces. The 'Life is Beautiful' poster is from The People Shop and hung it using this DIY. The cloud lamp, shelves and plant basket are from IKEA – all under £10. I love this spice shelf idea I stole from Zeena. My tip to turn the bottom shelf upside down is to take off the plate that holds it to the wall, turn that around and reattach. (This took me far too long to work out so I wanted to save you the time!)
Teri over at The Lovely Drawer sent me this beautiful alphabet Print and I used this Moxon magnetic frame to mount it and hang it next to the cot. I'll be moving this plant once the baby is old enough to sleep in here. It looks great but I don't want the leaves to get nibble marks in them (jk, I don't want the baby eating plants really!)
There are still some changes and extra touches I want to make in here but we have some time before we'll be using this room regularly. But for now, we love coming in here to relax, pick out the boys clothes and just get away from it all.
*Thank you to the brands mentioned and linked to in this post for gifting us the items for our nursery. I chose each company personally and asked them to collaborate on this makeover because of their ethics, quality and service.