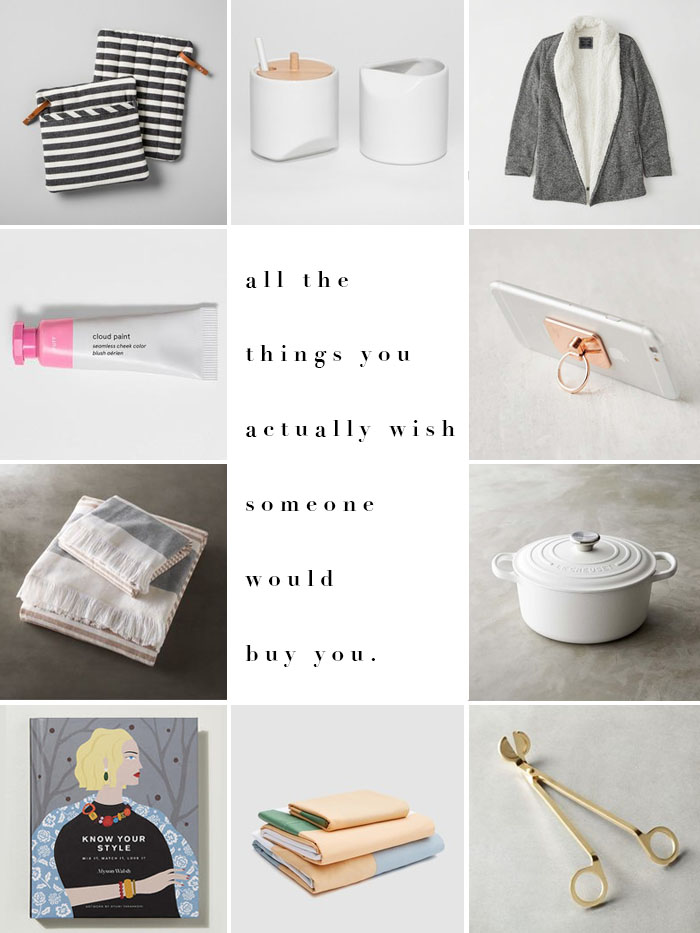 Ok, so your list might be a little longer for Santa this year, but if you're like me whenever the question comes up it's always a struggle to actually give an answer. I'm no saint. Of course there are tons of things that I actually want for Christmas, but I forget exactly what they are as soon as anyone else need to know. What's that all about? Maybe it's just knowing exactly what I want and being too picky to trust anyone else to get it right. Does that make me a control freak? But that's what the internet is made for and more recently Pinterest. Now all you need to do is click a button and send your wish list off to all the right people. Easy. So I created this gift guide to find the perfect gift for me and hopefully some ideas for all of you, who can't seem to work out what it is they want until it's Boxing Day.
And there might just be an idea or two in there for someone else too.
1. This is the year I remodel the kitchen, so obviously I'll need pretty pot holders to go in it.
2. Your tea just got a whole lot sweeter with this creamer and sugar set.
3. If I had this I'd never take it off! Especially in all this snow.
4. Am I the only person who doesn't own all of this makeup yet?
5. Just another reason never to let go of your phone.
6. Bath towels you definitely don't want to save for the guests.
7. I'd definitely cook more if I had this Dutch oven!
8. This book is perfect for that New Years resolution I'm making.
9. There's nothing more luxurious than fresh bedsheets… except new sheets!
10. I didn't know how much I needed a wick trimmer until now.