How to Design a Room with a Sloped Roof
There's nothing like the impending deadline of a due date to get you frantically ticking off those to do lists. My current focus is on getting as much done in our house as physically and financially possible before January rolls around. I figure that after that we might have our hands a little too full to make any major changes for a while. And yes, I know five months sounds like a manageable amount of time to basically move a few things around and decorate, I also know my own procrastination skills. Skills that have been finely tuned over years of practice. Those five months will very quickly whittle down to 5 weeks if I'm not constantly making plans, setting reminders and leaving long lists of jobs in convenient places hoping, no ensuring they are found and the not so subtle hint is taken.
And when I say planning I don't just mean pinning all the pretty pictures on Pinterest. Of course that is part of the process. Who would even think of planning a room now without first making a specific board, then spending the best part of 10 hours filling it with all the beautiful and highly impractical rooms. The ones you'd only be able to achieve after winning seriously big on the lottery and hiring an interior designer. Only once I've created my dream room can I actually start looking for practical solutions.
But I got all of that out of my system a long time ago. Which means now I'm focussing on the end goal and making actionable decisions. The most difficult of which are definitely for the new nursery. This room will be the 'attic' room in our house. We're going to split into a nursery and my office. I've got the feeling this idea will either be a stroke of genius or a huge mistake. (I've been going changing my mind about this and so I'd really appreciate any advice! Is this the worst idea ever?) So any changes I do make will be temporary or applicable to the room whatever it's being used as.
The biggest challenge in this space are the angled ceilings. Starting around half a metre from the floor they slowly slope towards the centre of the room. As me and Alex are both on the tall side we will need to think of clever ways to use this space as well as moving around it.
Making a Feature of the Ceilings
I cannot tell you how many times I have already walked straight into these ceilings! Both the walls and the ceilings are painted white, which opens the room out, but makes it difficult to distinguish where one starts and the other ends… And I have the injuries to prove it.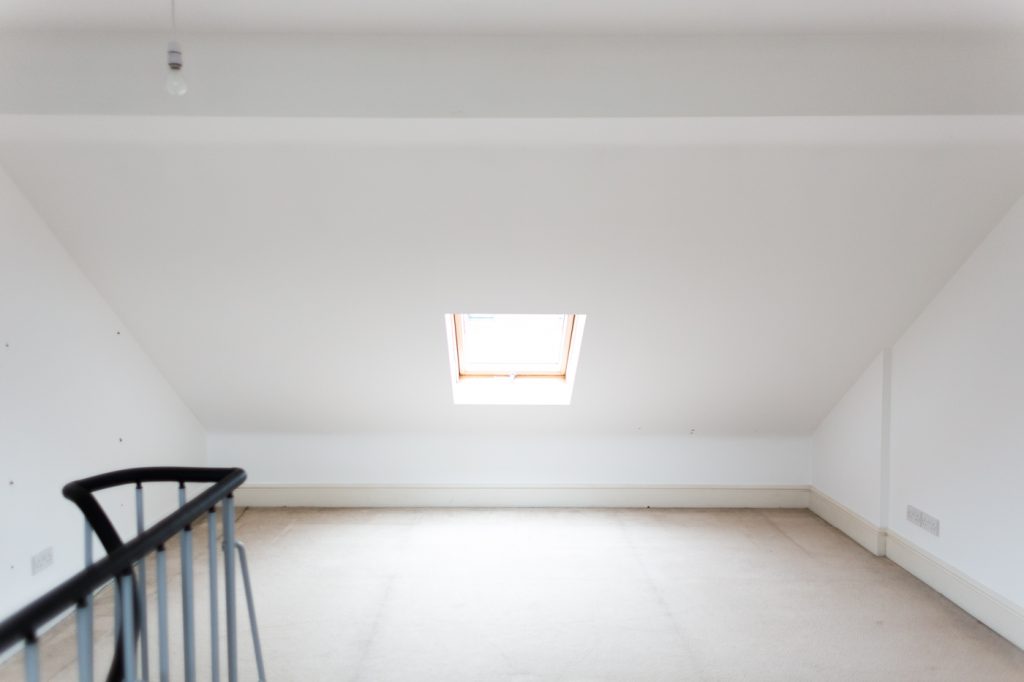 That's why I'm thinking of painting/wallpapering either the ceiling or the walls adjacent to them. I love the look of both these rooms below. My one concern with painting the ceiling is creating a space that feels too enclosed. It takes up a large area in the room so we probably want to keep that bright and light.
Working with Light
Now I'm going to completely contradict myself here but as well as creating a light open space, we also want a cosy, warm, safe and sleep inducing vibe in here. Everything helps right? This is one of the lightest rooms in the house, which I love for the office side but is not so good at nap time. So we need a solution for the windows that helps us achieve both of these things. I want to get something that will block out the light but isn't dark and clashing with the theme in the room. Luckily Roof Windows has a great range of blinds for Velux windows in all the colours! I'm pretty sure I'll find what I need there once I've made some of the major decor decisions.
Storage Space
To create storage solutions that work for us we will need to be a little creative. Luckily I have that dream board to go back to. And while I might need to rein myself in a little I think many of these storage ideas can be adapted to provide us with a practical space.
While a seating area is pretty much out of the question (because it would be incredibly uncomfortable to you know, actually sit on. No matter how good it looks), pull out drawers to keep the space clutter free but accessible is a strong contender. Alternatively shelving for toys and books would be easy to install, but a little trickier to get to/organise.
Another storage solution would be to build an open wardrobe along the wall. Can you imagine how cute those little baby outfits would look hung up along a smaller version of this! Yep, too cute, that's right. I'm thinking something like this rail would work well.
After researching I figured that the best use of this space is to utilise the lowest point of the ceiling and just spend a lot of time crawling around looking for things… Then I found these movable shelving units and freaked out a little bit. Of course this would be a DIY challenge and making it safe in a children's room would require some additional thought, but instead of scrambling around on the floor to reach the storage we could bring the storage to us.
A Small Space for Small People
One of the best reasons for using a space with a sloped roof as a child's room is that they literally fit in it better than we do. They can make much better use of the space just by being able to be in it without some kind of contortion. Instead of fighting with the space to make it work for you we can just hand it over. Of course I'm getting a little ahead of myself but I loved these ideas when, in a few years time, this little one can make the decisions on how to use this space instead of me.
This post was sponsored by Roof Windows. All words and opinions are my own. Thank you for supporting the brands that support Fall For DIY.