Ok, I'm starting to panic. A lot has changed here in my living room, but I'm not even close to finishing everything that I had planned to do. It might be cheating but I'll probably have to extend the challenge for a couple more weeks. I know! Totally against the rules but I won't tell if you don't! And who knows? Perhaps I'll pull it out of the bag and
So far the new sofa is here! I'm going to rave about it in my final post, but this sofa is so dreamy. And thanks to my pop up new coffee table I can now work there (almost) guilt free! I don't want to give you too much just yet but you
I finally decided on the colour Paper Mint by Dulux to paint the walls but after seeing it next to the sofa the colours were too similar and I didn't want the room to merge into one big grey smudge. So I bought a tester pot of a dark sage green and a grey and mixed a little of both into the paint can until I found a colour not too far away from the original, but that stood out more again the other colours in the room.
After we finished painting Alex turned around to me and asked me if I'd just made a paint colour exactly the same as the one in the studio! And…. yes. I basically bought a whole load of paint I didn't need to create a colour I have about 2l off already. Oh, I must really love this colour!
And do you know what? I do love it. Especially in this corner. I'm thinking of carrying the colour around to the front of the room with the bay window. I'm going to get the blinds up this week and judge it from there.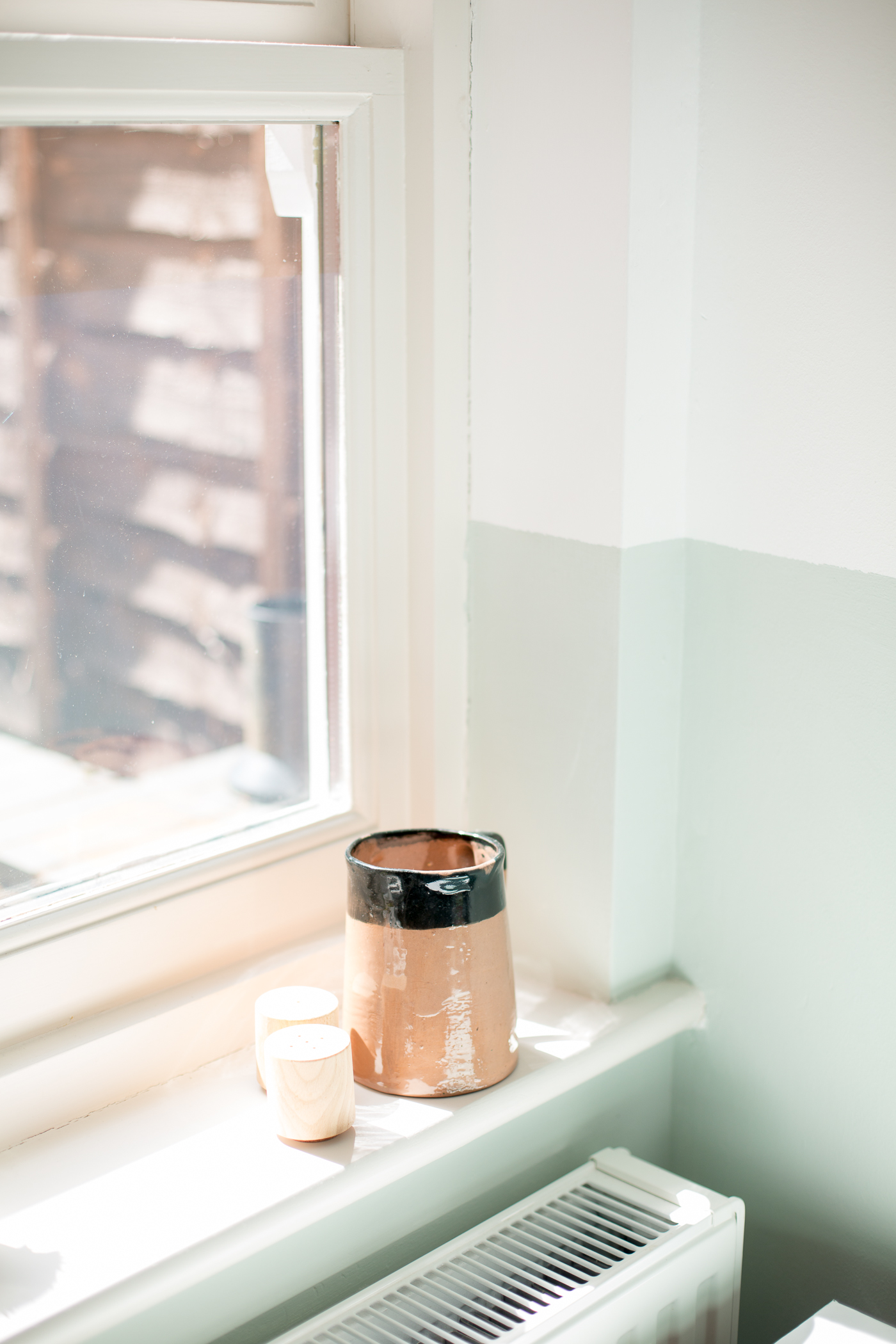 For the week ahead I'm looking forward to taking down these purple curtains and replacing them with clean, white wooden blinds. I also need to order and frame the artwork! The walls are looking pretty bare at the moment and I know these touches will help it feel more finished and homely. I want to get all my hanging planters in place and add in lots of lovely greenery dotted around the room.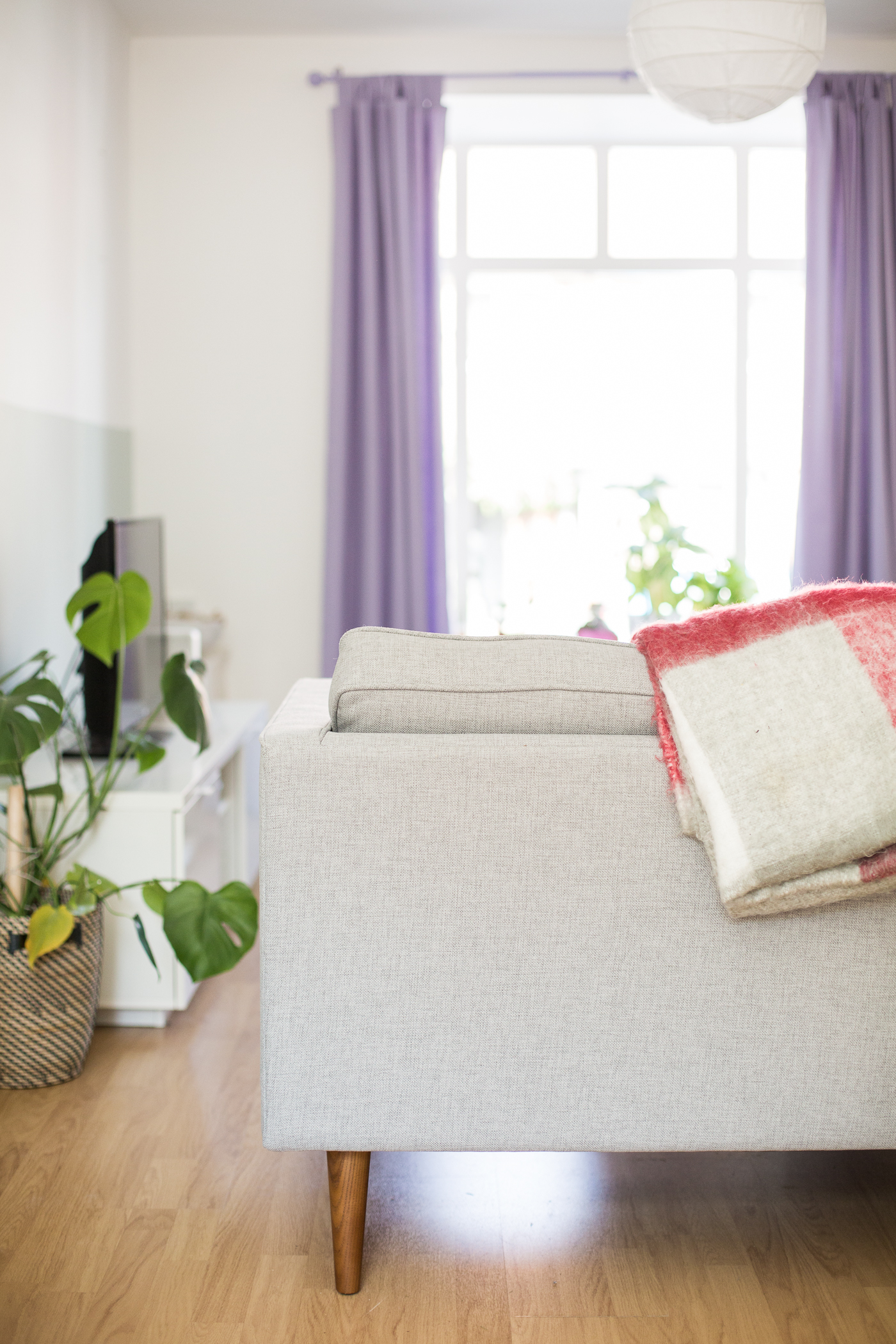 And finally, I need to think about those easy to overlook details. The small ornaments, vases and candles that bring everything together. This doesn't have to mean spending a lot of money. Just a few high-end items scattered amongst what you already have are enough to elevate the entire look. I'm struggling the most with how I'm going to style the coffee table.
In the past, the coffee table has been a kind of catch-all area. And styling post, fliers, remote controls and newspapers seemed a little pointless. Now though the coffee table is one of the first things you see as you enter our home. It needs some attention. I've been reading about how to style a coffee table and while it's great to follow some rules – like mixing together horizontal and vertical items and including items
I've been reading about how to style a coffee table and while it's great to follow some rules – like mixing together horizontal and vertical items and including items that range in height – the rest is up to you! Instead of thinking about how I should place my items I want to think more about creating a collection of pieces that work together. Then you can be more creative and play with composition rather than follow the rules to the letter. Where's the fun it that!?

Speckled Texture Vase  Indoor Green: Living with Plants  Succulent Scented Candles  Palm Leaf Catchall
Industrial Storage Coffee Table
This table is all about embracing the organic but with a little twist. Much like this Industrial Storage Coffee Table that has a surprising and unexpected element to it!

Speckled Texture Vase Eat Beautiful Mid-Century Metal Sculpture Faceted Mercury Hurricane
Marble-Topped Pedestal Coffee Table
I wanted to focus on shape and form for this coffee table because, well, just look at it! Its design lets us play with gold highlights, unusual ornaments and a play on the humble circle.

Scandinavian Glass Vase   Dior: The Art of Colour   Pure White Ceramic Vase  Metal + Stone Objects
Art Display Coffee Table
This table gives us more of a chance to explore our artistic sides. Fill the bottom layer with inspirational art and let that filter up choosing fun and interesting objects, shapes and colours for the glass top.