I've been taking a short blogging break to move into our new home. I say taking, but it's been more of a forced hiatus. As much as I planned for a smooth, organised move it quickly deteriorated into throwing things into boxes and thinking about the consequences later… which is now and I can't find a single thing I own. But that's all ok because at least it's in the right house.
After saving for a few years and we finally found the perfect house in our price range. The whole process has been long. With all the stress of searching and losing out, waiting for solicitors and advisors and banks, and expecting the worst to happen again and again, actually making it into our new home feels like the first time I've truly been relaxed in months.
But even though it's been a stressful experience I feel incredibly lucky to have this opportunity. I am beyond grateful that we have our base in the world. Our safe place that we always know we can come home to. And I hope I don't sound too boastful when I say I am proud of myself for making this happen. For all those extra weekends I spent working or those haircuts I missed just to put a little more in the pot. So many times when it just didn't feel worth it are now making sense.
I'm definitely going to write more about how I got a mortgage being self-employed. When I applied I only had one full year of tax returns and so I definitely had a few more hoops to jump through. But it's not impossible. For you guys in the same position keep the faith and keep your eye's peeled for that post! But for now let's forget the financial stuff and take a little tour!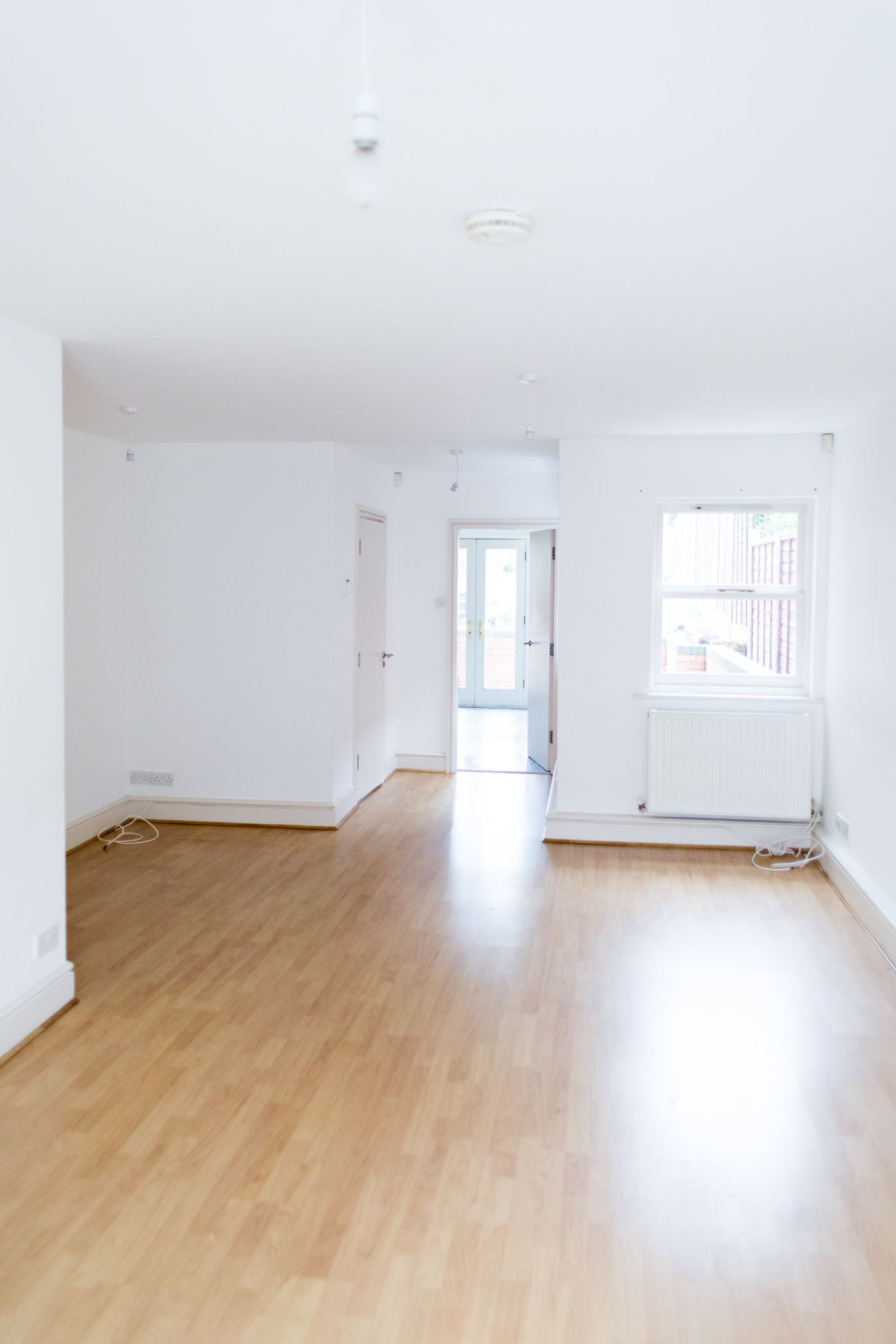 The house is actually bigger than what we had originally had in mind. It's only 10 years old and being a new house surrounded by beautiful Victorian terraces it was less in demand. But for us the modern interior wasn't a problem and unlike a lot of new builds (in this country) the high ceilings meant Al wouldn't be putting his back out crouching down all the time (he's 6′ 8″).
We actually spent about 10 minutes in the house before we both knew it was for us. There's a lot of space and with four bedrooms we have room to expand our family in the future without worrying about moving again. Downstairs is a large open plan living/dining room, a small bathroom and kitchen. The floors in the living room are covered in that very cheap laminate flooring. I'd love to change this but for now I think we can live with it. We just need some beautiful rugs!
The walls are perfect and ready for painting. I want to go for a look that is both minimal and colourful. Lots of plants and soft textures but without being cluttered. I loved my half painted wall in the studio so much I'm planning to do the same in here. I'm still deciding on a colour and I'll be sharing my inspirations, ideas and dilemmas here on the blog as part of One Room Challenge next month.
In an ideal world I would be gutting the kitchen as we speak, but it's actually in really great condition so it's difficult to justify spending the time and money on it right now. But this just gives me lots of time to live in it, find out what I really need and plan for my perfect kitchen. I love the double doors that go out onto a small patio area before climbing the steps to a grassy garden.
I am literally clueless when it comes to gardening. I have no idea what I'm meant to do with this space. I want flowers but I don't know how to make that happen! Luckily Alex seems to be taking the reins here while I scroll through pages and pages of Gardeners World.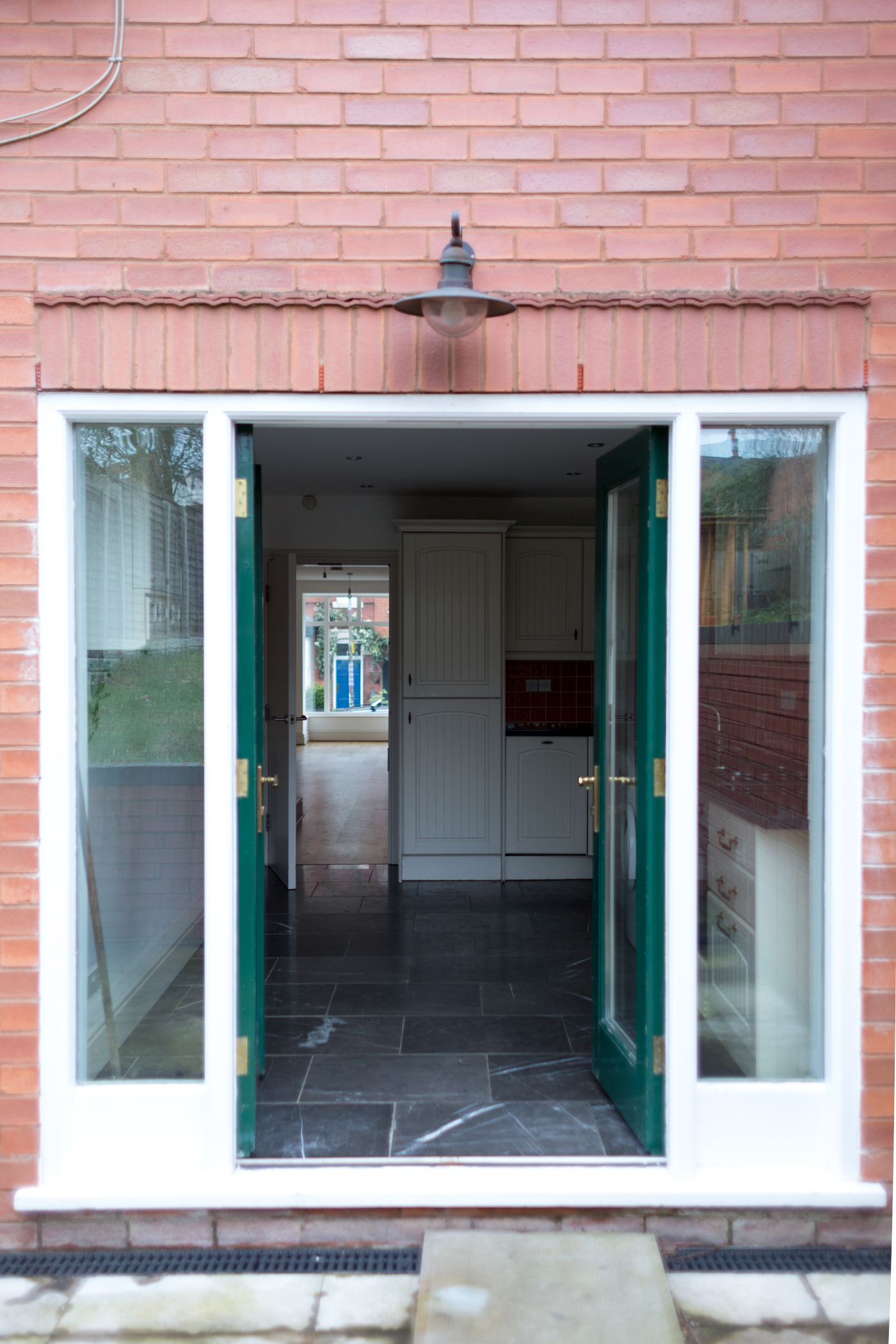 I'm going to be learning more but to be honest the house is more my domain. Going back in I want to be brave and paint the back doors and window frames black instead of this green and white combination to give it a fresh feel. What do you think? Too far?
I'm going to share the rest of the house with you tomorrow. There's a bit of a surprise upstairs and I feel like this post might already be dragging on a bit without the next two floors! Come back tomorrow to see more. x