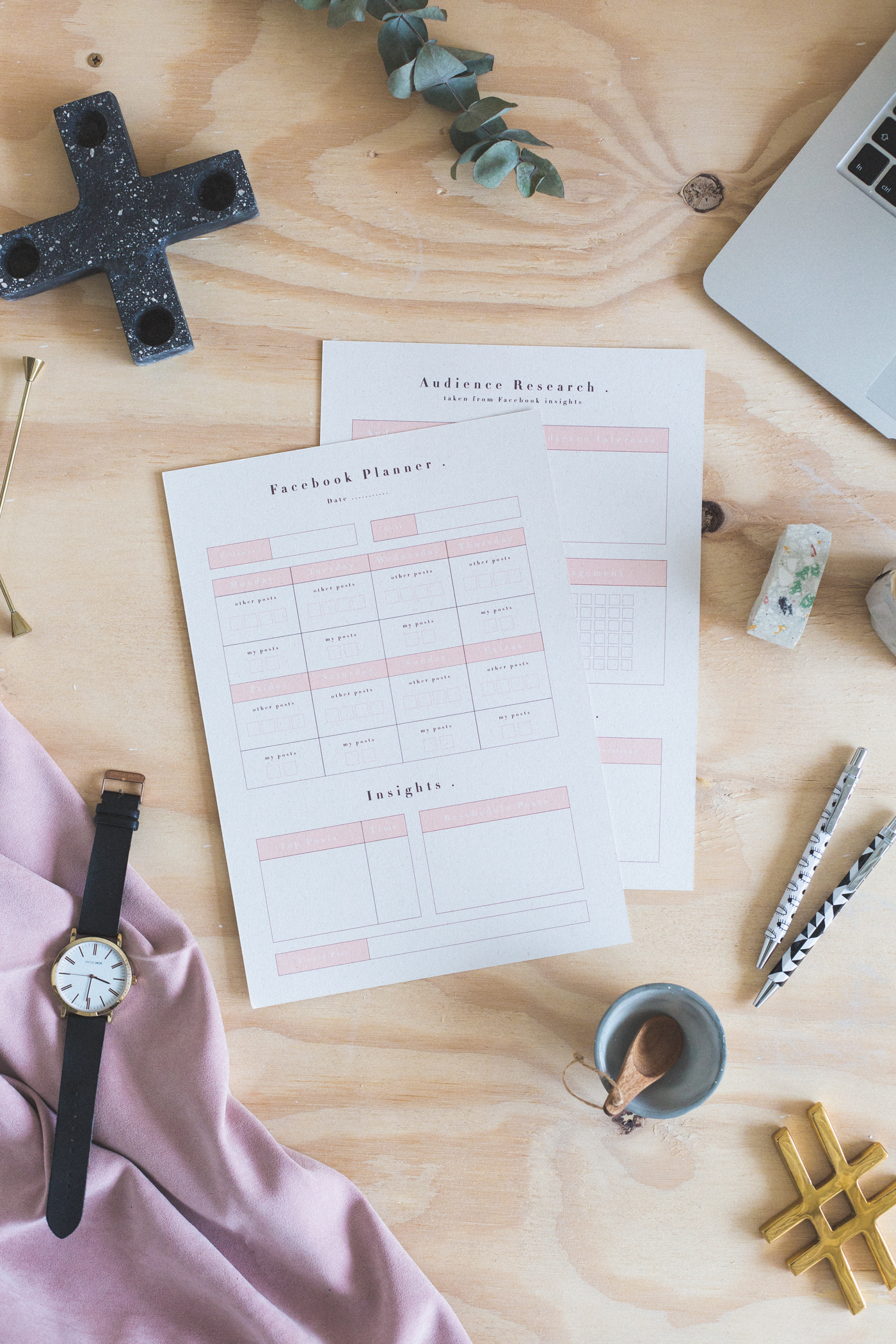 We are storming through our social media planners! I'm so happy that so many of you have been making use of the Instagram and Pinterest planners so far. From your feedback it seems that some of you get more use from various features than others, but that's what's great about the planners. You can use them as you find comfortable. Even if it's just starting small, planning the month rather than each individual week. Working through the options will help you stay on track and keep your focus.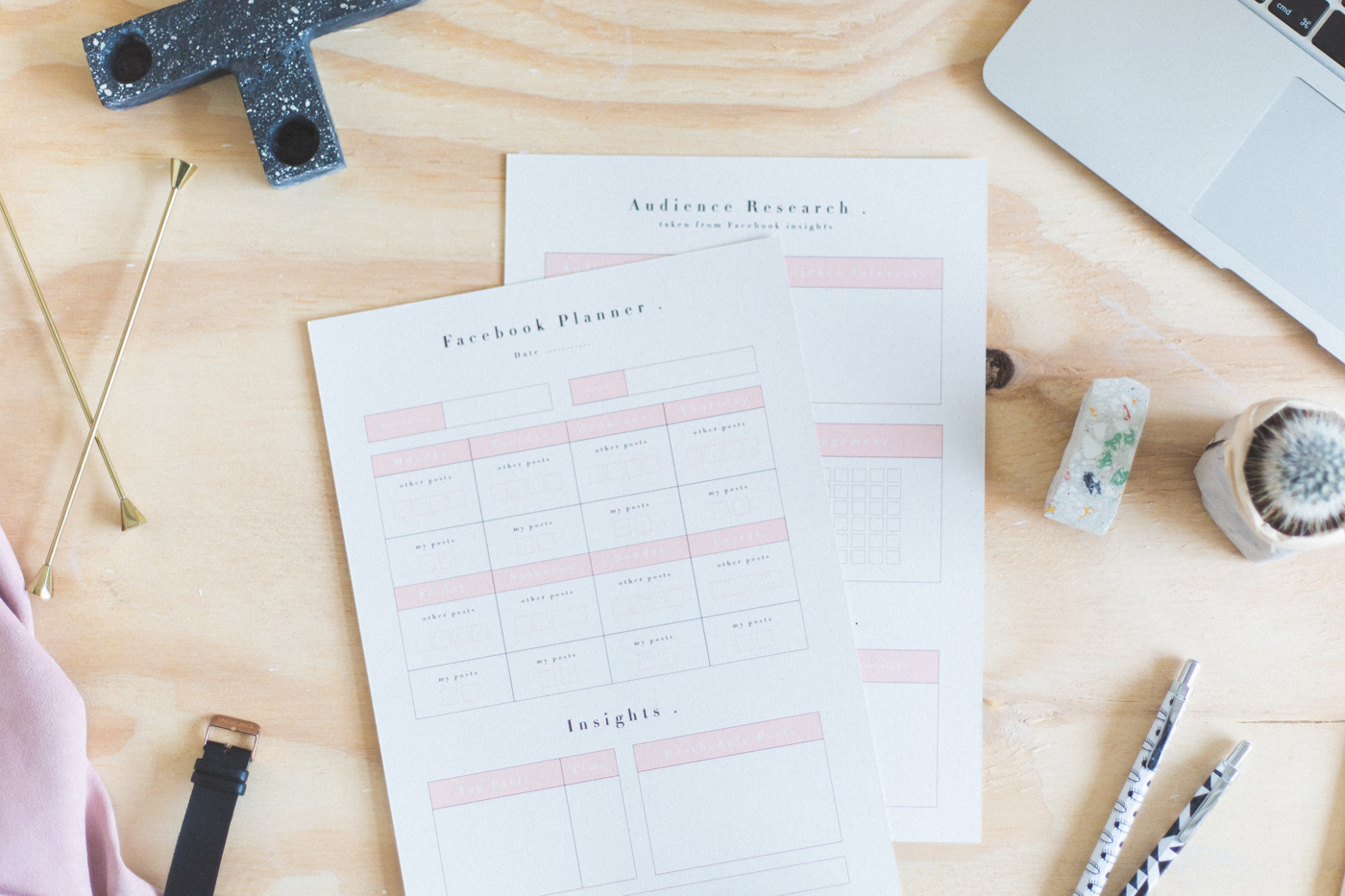 That's why this week I've decided to create a stripped down, beginner planning tool for Facebook. There's a lot you can be doing on Facebook – depending on your creative business and what you want to achieve. Do you want to gain traffic, grow your email list, convert for sales or get more followers? Each of these options requires a different strategy and you can get incredibly detailed with your planning.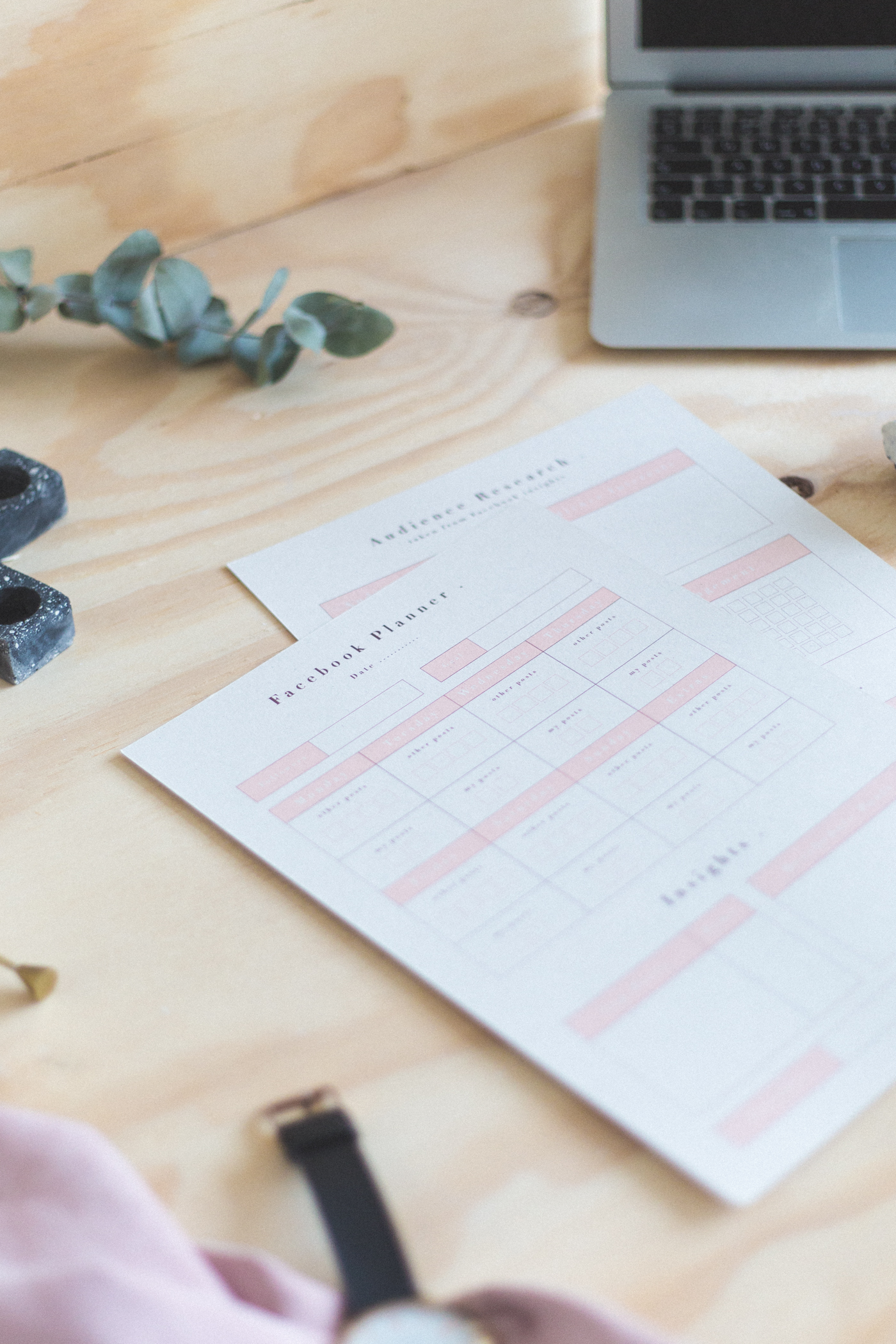 But instead of bombarding you with more information than you need I'm starting with the basics. To be honest it's all that I can cope with myself for now and once I have my own strategy in place I can think about advertising and boosting posts and add on apps and all that jazz. For now let's keep things simple.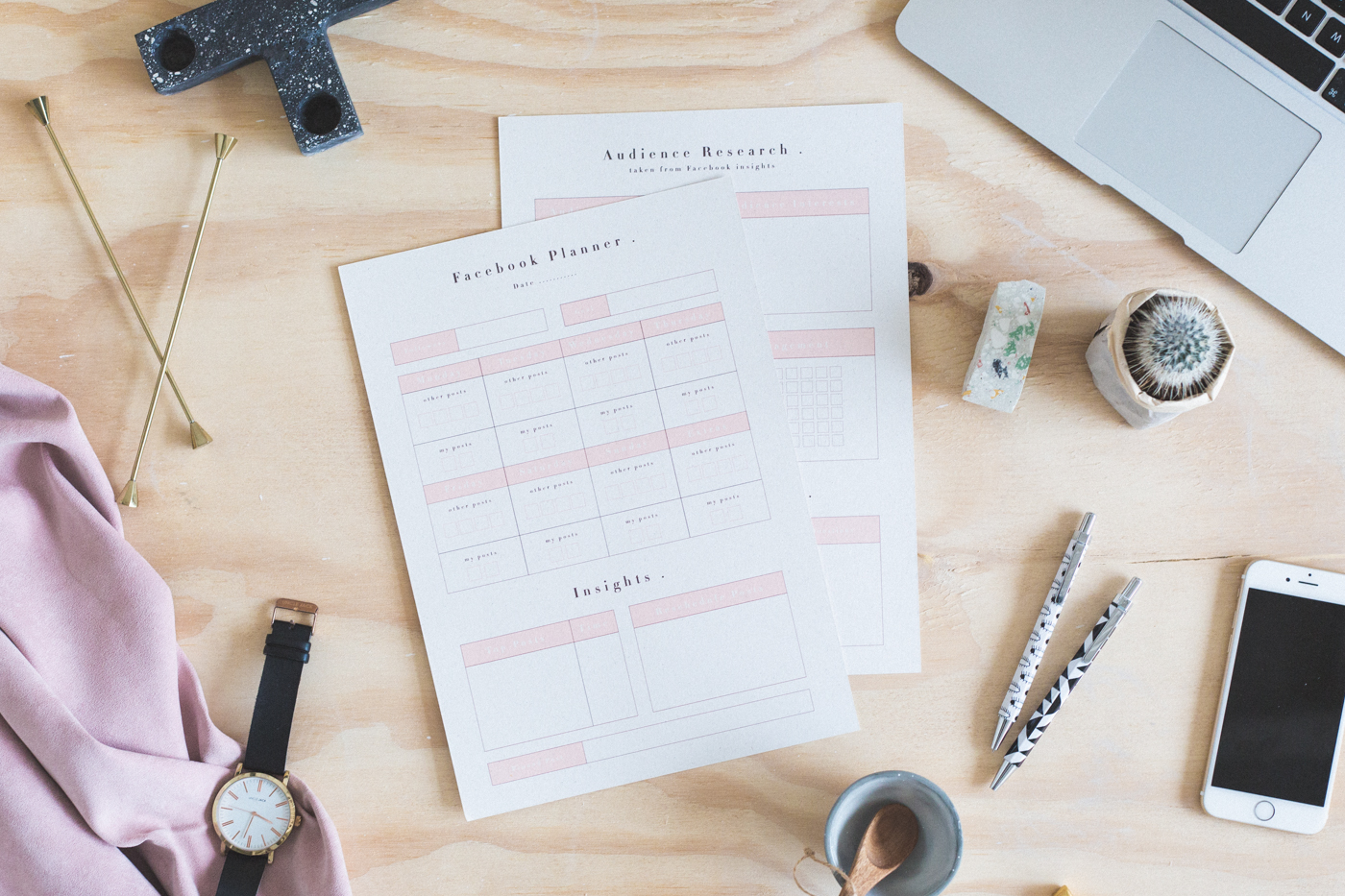 But just because we're going in light doesn't mean these planners aren't going to help you create a great strategy for your Facebook page. In fact it's going to give you the means to put in place achievable goals and work through them.
How to use the Facebook Planner
Our weekly planner is included but rather than plan outside of Facebook it seems easier and more sensible to schedule on the site. Use this space to mark the types of posts you want to be sharing every day. I might want to share a DIY, Recipe, Video and uplifting post every day, swapping out the types of posts on different days for something fresh. I can plan this in advance ticking them off as I schedule each one in Facebook. You can also find your optimum times to post (more on that later) and add this info to the planner to make life easier when you're in scheduling mode.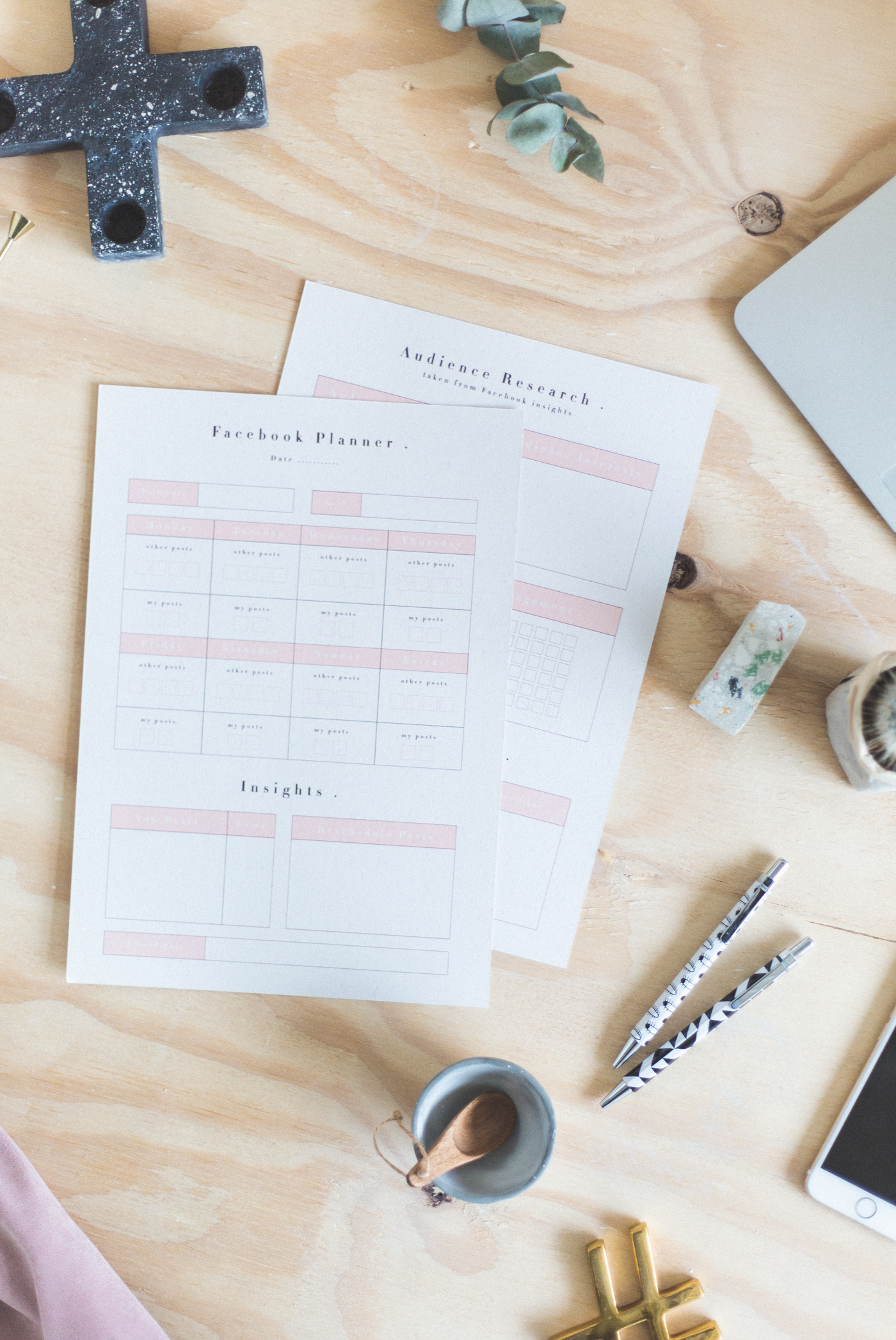 On the planner there's space to schedule your own posts and posts from other pages. Recently I've heard from Facebook gurus that you should be sharing around 8-10 posts a day, with only 2 of these posts as self-promotion. Now, this is FULL ON! And that's going to take some scheduling to keep up week after week. So personally I'm going to start with half that amount and see how it goes. Luckily our blogger community are always posting inspiring and beautiful pieces of content, so my plan is to head over to Pinterest and Bloglovin, get all my up to date posts once a week then schedule them into my predefined spots.
Finding what works.
If you're like me and have a bit of a hit and miss track record with Facebook, one great way to understand what your followers are engaging with is to look at your past successes. In your insights you will find a record of which posts are performing well (probably those one's Facebook told you were, like… 800 times) and most importantly what time these were posted. Use this information to reschedule them. You could post at the same time or try something different. These experiments can help you determine if it's the time of day that made the post popular, or if this will resonate with your readers any time you post it.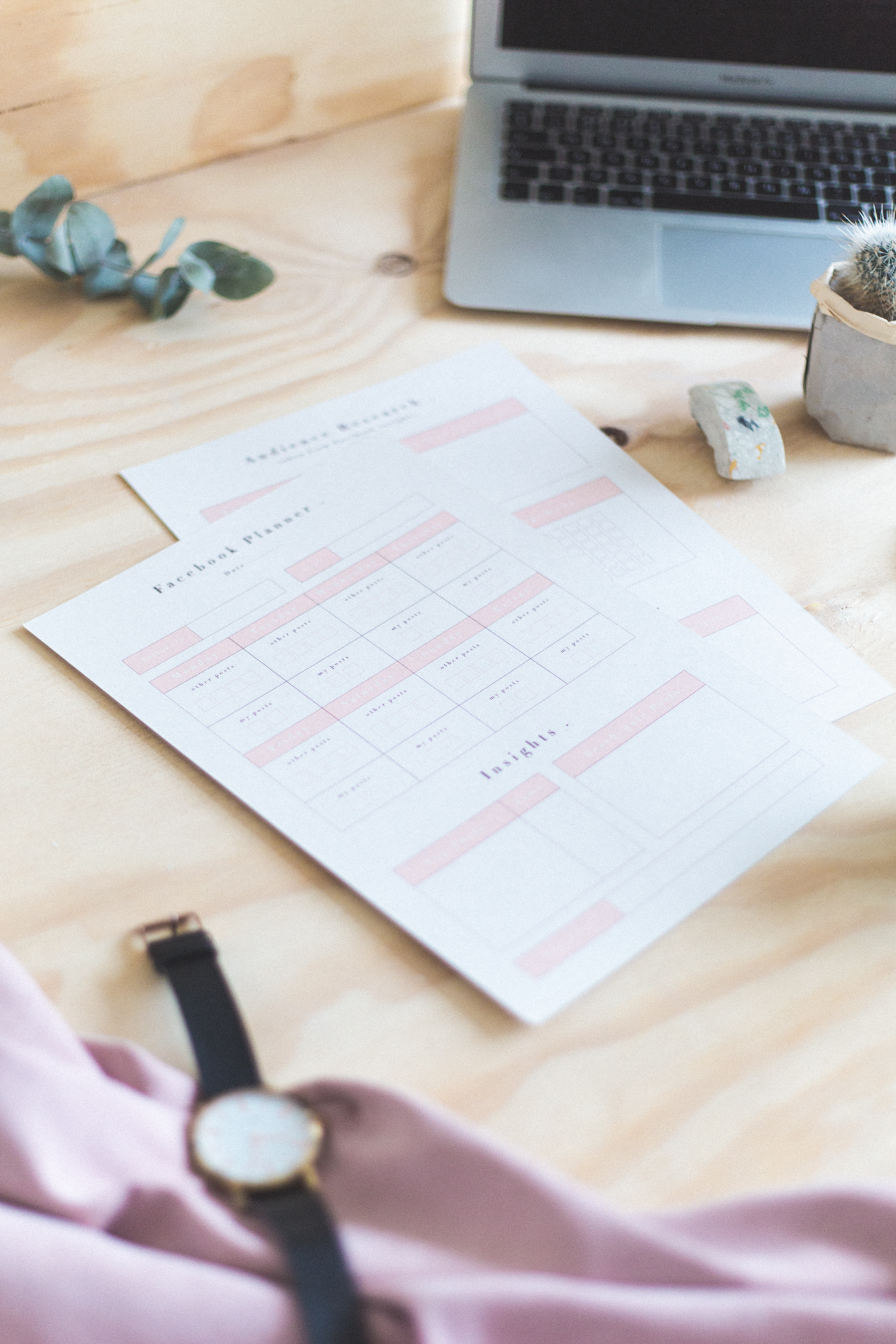 If it's the later schedule that out on a regular basis. Not all your followers will see it every time and even if they do it might prompt them to click through or like when they hadn't before. If you discover that the post does not perform as well at a different time then perhaps you can try a similar post at the original time. Maybe this is when a particularly engaged section of your audience is online and you're posting something they just love!
Either way this is still all about testing and finding what your strategy needs to be successful.
Pinned Post
Nope, you haven't just stumbled back in time to my Pinterest post last week. The pinned post feature is a way to highlight and 'pin' a post to the top of your Facebook homepage. This can be used to promote a specific post, category, product or freebie at certain times of the year or as you create campaigns.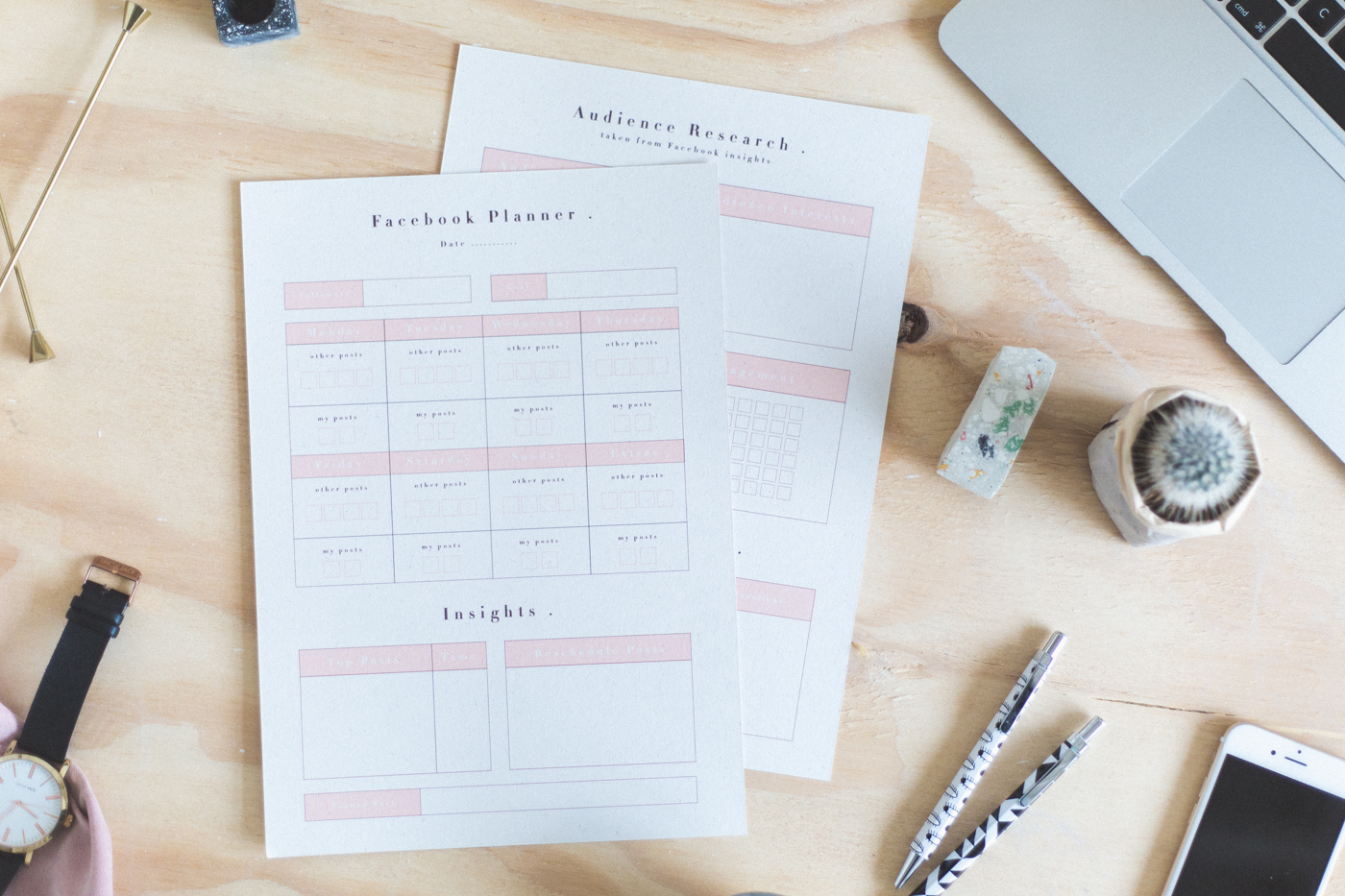 Audience Research
Using the insights tab again add the location and interests of your engaging followers. You can use this information to tailor content, schedule and even promote your posts in the future. This is information you can use in a business plan to target new followers and in your Facebook advertising strategy if you decide to take that route. Good information to have on hand!
Facebook Groups
Taking part in Facebook groups and adding to conversations is another way to learn, share and keep up to date with, you guessed it, Facebook algorithm changes. Before you even realise a change has happened someone will post how to 'beat' it. Keeping your finger on the pulse is not the only reason for using groups though.
Finding the right groups that have people in similar niches can be a fantastic place to network, collaborate or just find solace in like minded blogger/creative/indie businesses when these changes happen!
You should aim to add value to the group and comment as much as you can. On your planner you can list the groups and how often you engage helping you find the most useful and relevant places for you to spend your time.
Increasing your Engagement
Even though we see changes on social media platforms that challenge us to find new ways to connect, we must not forget the good old classics. Competitions, freebies and asking questions are all ways of getting your audience to talk back. They are also ways you can collaborate and find new ideas.
This could (and might) be a whole planner on its own but I've given space to these ideas so you can jot down any thoughts before planning more in depth. Set yourself deadlines, note down companies you would like to work with and make a note of any questions you would love your audience to answer. While you're getting their opinions, you may as well take stock.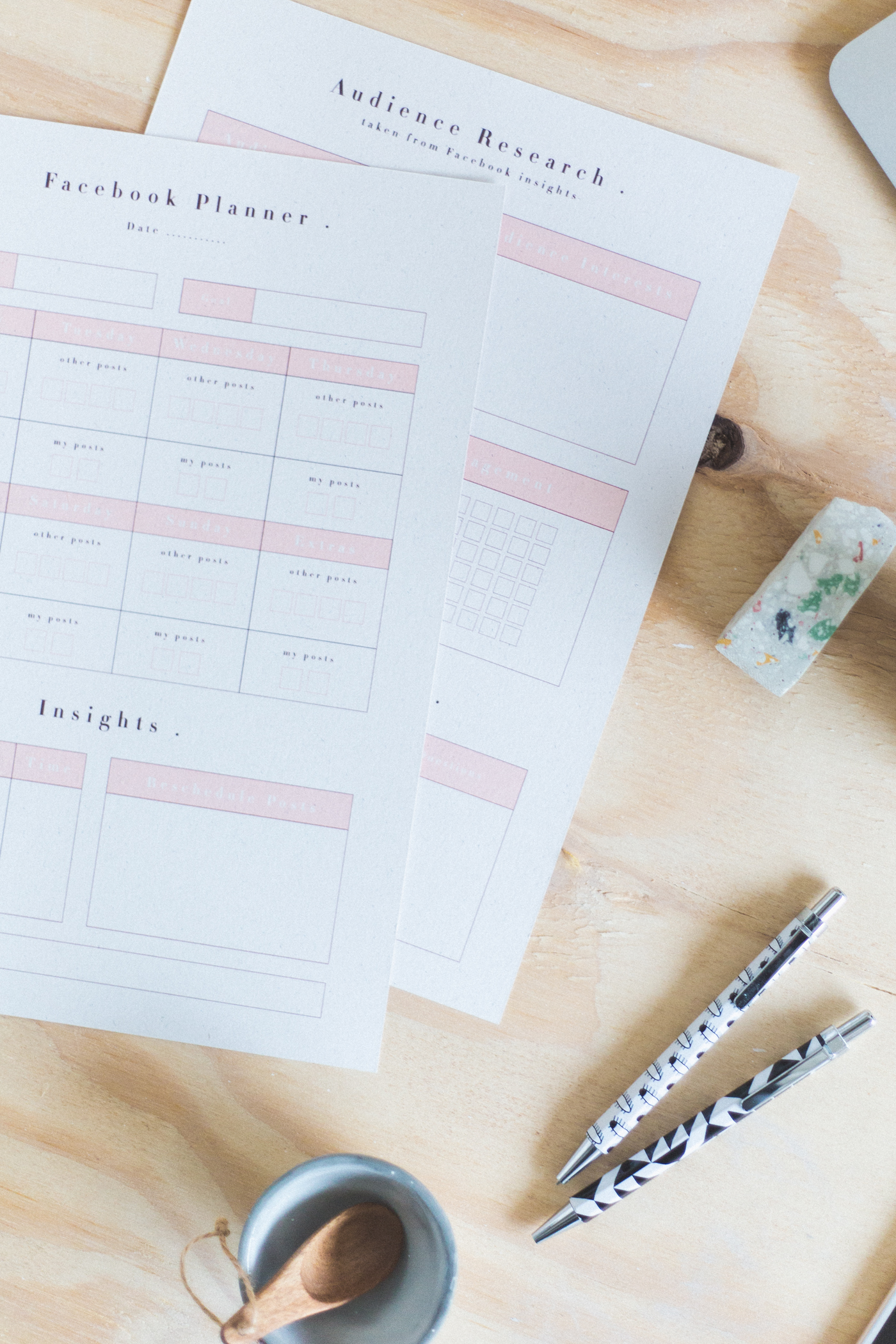 All you need to do is sign up to our newsletter below and we will send you the free printable planners straight to your inbox!
Share your planning with me over on Instagram. Tag @fallfordiy to show me!