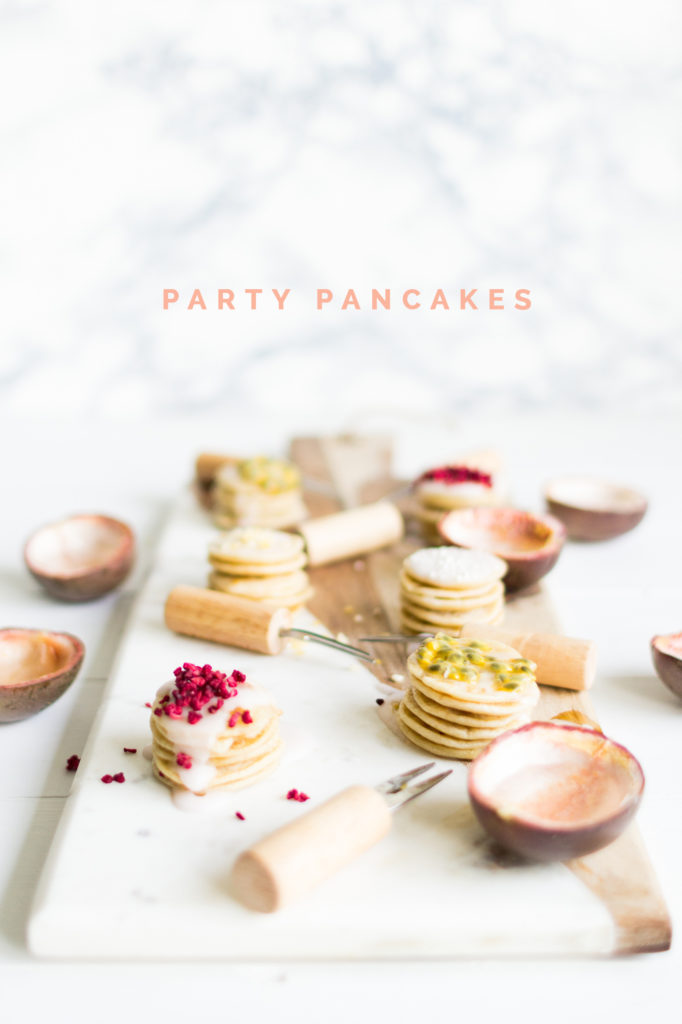 Pancakes are my favourite all day food. You know, something that is good for every occasion and can never be out of place. There is literally no time of the day (or night) I wouldn't eat a pancake… or eight.. at least. In fact a friend of mine is a genius an keeps batter in her fridge at all times. For spontaneous pancake eating of course. True story. But if you're not as organised as being spontaneous as she quite obviously is, then I have the solution. Make these lazy girl party pancake stacks in five minutes with ingredients you will most definitely have in your cupboards!
So there I was making up a batch and it hit me. Where have I never eaten pancakes before? (Yes, my mind wanders when I'm cooking… mostly about food, eating food rather than cooking it, of course. I'm one of those terrible people who can't cook a meal without sampling everything, and often) And it hit me. Parties! I've never had pancakes at a party which is strange because they are so much fun to eat.
For me the best kind of party food are the mini versions of regular foods. Need I say more? Smaller foods are easier to eat and look way cuter than regular sized versions. Whipping up these mini stacks takes just minutes and you can experiment with toppings like never before. Some of the combinations I've used include lemon icing, dried raspberries, sugar pearls, popping candy and passionfruit. For even more fun, fill the hollowed out passionfruit skins with limoncello or Chambord. It's a party right!
How to Make the Lazy Girl Party Pancakes
 Ingredients
1 cup of flour
1 tablespoon of baking powder
1 tablespoon of sugar
1 cup of milk
1 tablespoon of vegetable oil
1 teaspoon vanilla essence
Butter or vegan margarine
 Mix all the ingredients together in a blender or Nutribullet (this is the lazy girls recipe remember. I particularly like using the Nutribullet as I can put any leftovers in the fridge for the next day… yeah I know, as if I ever have left overs!) then whizz together.
Heat the pan until there's an even heat and melt in a generous knob of butter.
Using a tablespoon measure, slowly pour out your batter into small circles.
Cook until the top of the pancake is dry, then flip over. Wait until they begin to brown and remove from the pan.
Pile them into stacks of 6 and top before serving. Or create a pancake station and let your guests choose their choice of toppings!
Enjoy!