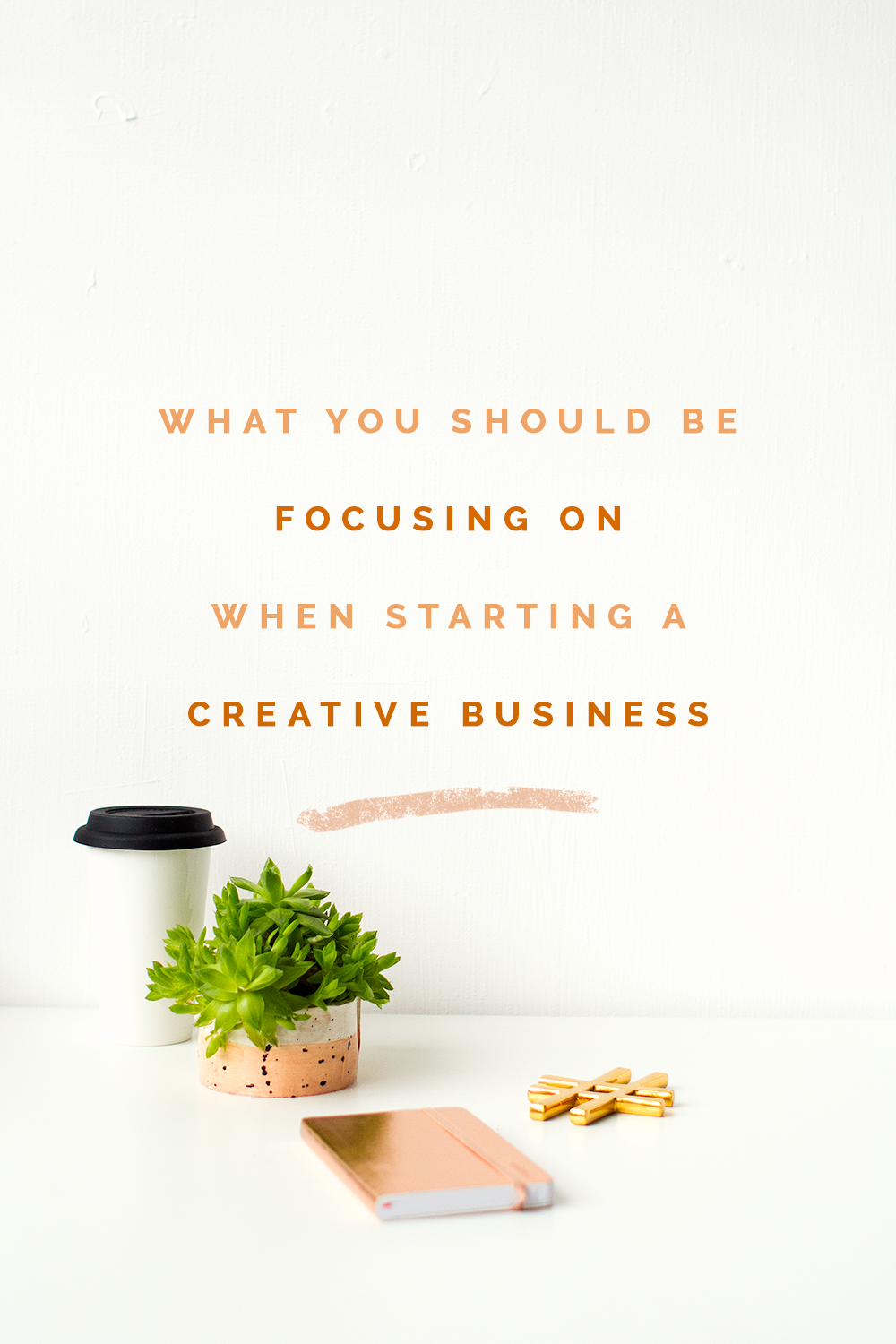 This was one of the questions from my recent reader survey that really made me think. When you are first entertaining the idea of starting a new, creative business (and even when your'e a year in, or two, or three) how do you know what to get to first in a overwhelming, most likely unorganised pile of to dos?. Where is it sensible to spend your time and what are the absolute must dos to get your business off to the perfect start.
While everything isn't this black and white and it's probably best to listen to your gut there are a few great places you can get started so you don't kick yourself for not having implemented them further down the line. Doing key research and having a solid background can help you direct your business and make quicker decisions. These are invaluable skills to have when you're trying to find the time of day to take on every job title you need to.
There are definitely 100 things you could add to this list but I've managed to whittle it down to three easy areas that you can start with and go from there.
Research your market
Oh I know, this is the boring bit we all want to skip for the more fun parts of starting a business, but actually just one day of work researching your customers will save you hours of time later on. It's not just about knowing who your ideal customer is. I think we all have that idea on our heads already, but it's knowing who they're friends with, who they aspire to be and where they spend their time.
It's finding which Instagram hashtags they follow and use, and what Facebook groups they are in. Do they love Pinterest? What do they Pin? Which style trends do they like and how do they express themselves. What words are they using? Give yourself a massive head start on your competition by being able to easily find your customer and give them what they want rather than waiting for them to come to you! Trust me, you will regret it if you don't.
What you learn can help you not only find your customs but also tailor your products and services to make them irresistible to them too!
Don't hide away until you're "ready" to launch
Because guess what, you are never going to be ready! There are always going to be those necessary steps that need to be taken but while you're procrastinating you're losing the chance to make an impact on people and to grow your customers trust. To start with sign up on every social media platform and claim your username, even if you don't plan on using it. It's much better to have nothing under your name than a spammy, get rich quick/lose weight fast etc account riding your wave.
Secondly set up a landing page. This may sound complicated but it's just a webpage that people can come to, find out more about your business and follow or sign up to an email list. There are so many ways you can do this!! If you're a complete novice I would suggest going with Squarespace. I don't actually use this at the moment (I'm hardcore WordPress) but I have in the past and it's easy to set up a one page website that looks pro in no time.
Your want your landing page to draw people in so make it beautiful. It doesn't matter if you haven't figured out your exact branding and logo yet. Add a great quality image so that it looks professional. If you haven't got around to the photos yet then there's nothing wrong with using a good stock image in the mean time. I love Death to Stock Photo for a cheap resource with some amazing photography, or with a little research you can find bloggers giving away stock photos for free! There's absolutely nothing wrong with using something like this as a place card while you get your own images ready.
As well as great images people really respond to a story. Tell them about you and why you want to set up your business. Let them know what you're working on and give them the opportunity to see some behind the scenes previews over on your favourite social media account.
Now you have them hooked it's time to reel them in. Make sure you have an email sign up to have direct access to your perfect customer when the time comes. I use Mailchimp because it's incredible easy to use and is integrated with just about everything. This means that when you want to put a sign up form somewhere you can usually avoid tricky little bits of coding and just click a few buttons. And that's all you need to create a landing page. That wasn't too difficult was it!
Invest in Yourself
I cannot stress this highly enough. None of us know exactly what we're doing when it comes to starting/running a business and none of us ever will. With social media moving the bar faster than ever, you need to be on the ball when it comes to learning new skills and finding your customer. After I took on blogging full time I subscribed to a premium account on Skillshare and I have learnt so, SO much. I'll be sharing my favourite Skillshare lessons in the next couple of weeks but whatever it is you want to learn there's an expert just waiting to teach you. In fact I often put random classes on in the background to soak up info in something I completely out of my usual comfort zone too. Once you've subscribed you're free to watch every single video, 24 hours a day. There is no limit to the learning!
As you can probably tell I'm a fan and I've never been quiet about how much I enjoy being a Skillshare member. When they got in touch and offered me the opportunity to give you an amazing discount I had to jump at it. Literally. I almost knocked my laptop clean off my desk! They're offering Fall For DIY readers three months of premium membership for just $0.99. How many classes do you think you can fit into 3 months? A LOT, that's how many! And if that's not long enough for you there's even a chance to win a year long free membership as well worth $96. Imagine the knowledge!
To get this offer just hop over to this Instagram post to read the details and click through (using the link in my profile) to get the three month deal and start investing in your business today!
And if you need even more then motivation to get started try one of these posts: