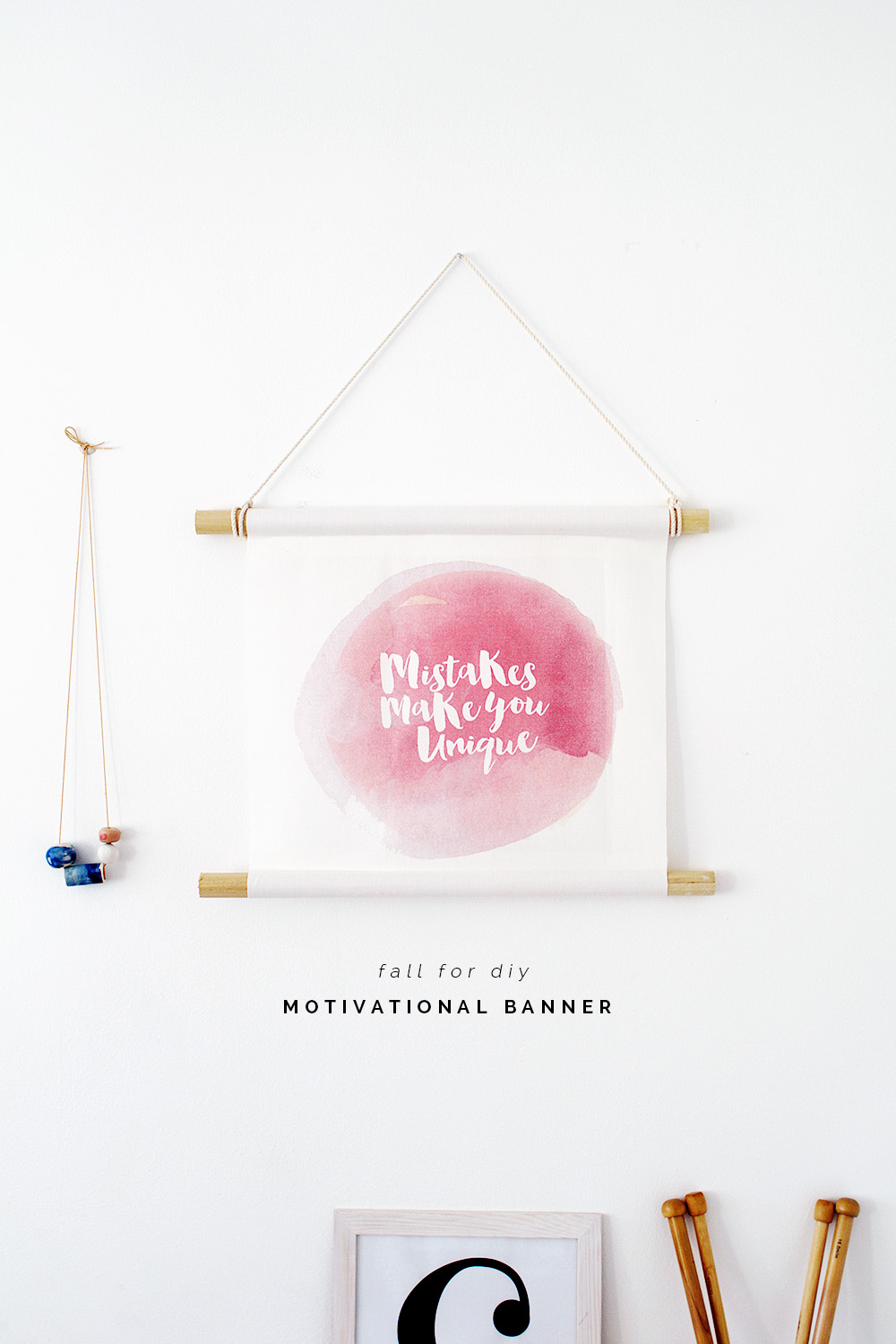 This weeks DIY is so apt. I was a completely overwhelmed by the amazing comments, emails and shares from so many of you in response to my Monday post. If you haven't read it, I spoke candidly about one area of blogging I seem to always struggle with and how I'm trying to overcome that. In turn my words seemed to expose a raw nerve in some of you too. Many of you spoke to me about what's stopping you from going after your own aspirations. By far the biggest obstacle that makes starting a new project difficult for you guys is self belief. Or lack thereof.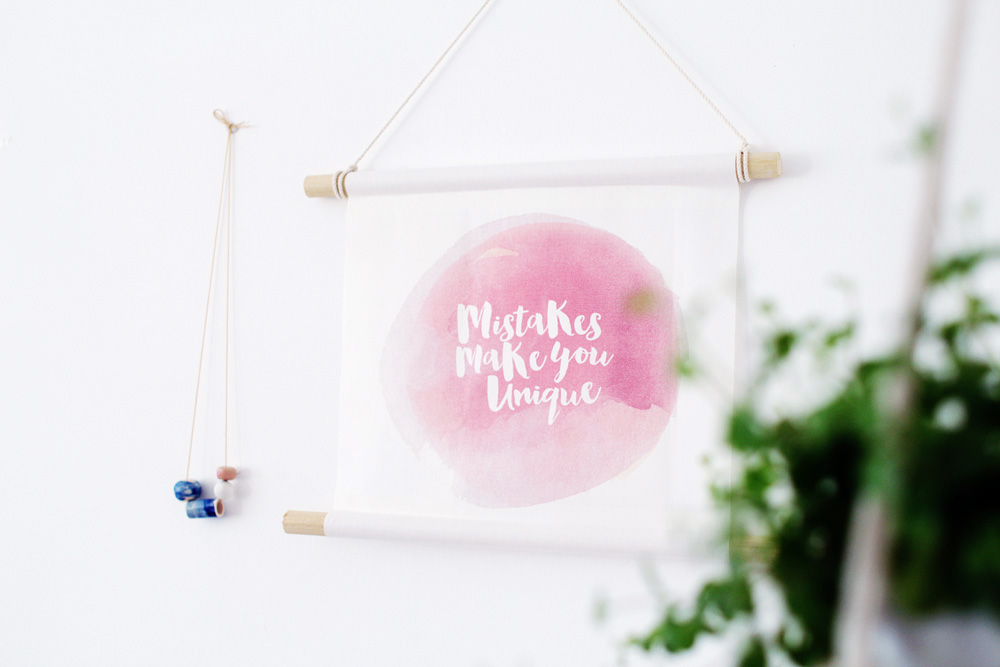 After chatting with a few of you it's obvious that the hardest thing to get past is the paralysing fear of making mistakes. Being scared of putting yourself out there is so natural but for many people it can completely halt any progress. For a long time I was scared about receiving negative comments here on the blog. I was sure each time I pressed publish someone would disagree with the way I do things or pick up on the mistakes I've made. But it's only since receiving negative comments that I'm not frightened of them any more. It's either constructive which, even if it's sometimes a little blunt, I feel like I can always take something away from. Or it's uninformed and malicious. In which case it's completely meaningless to me. It really is ok that some people don't like some of the things I do. Everyone's tastes are different.
I would never have realised this if I wasn't putting myself out there, making the mistakes and trying to do something new and different. That is a terrifying concept at first but then one day it's just not so scary anymore.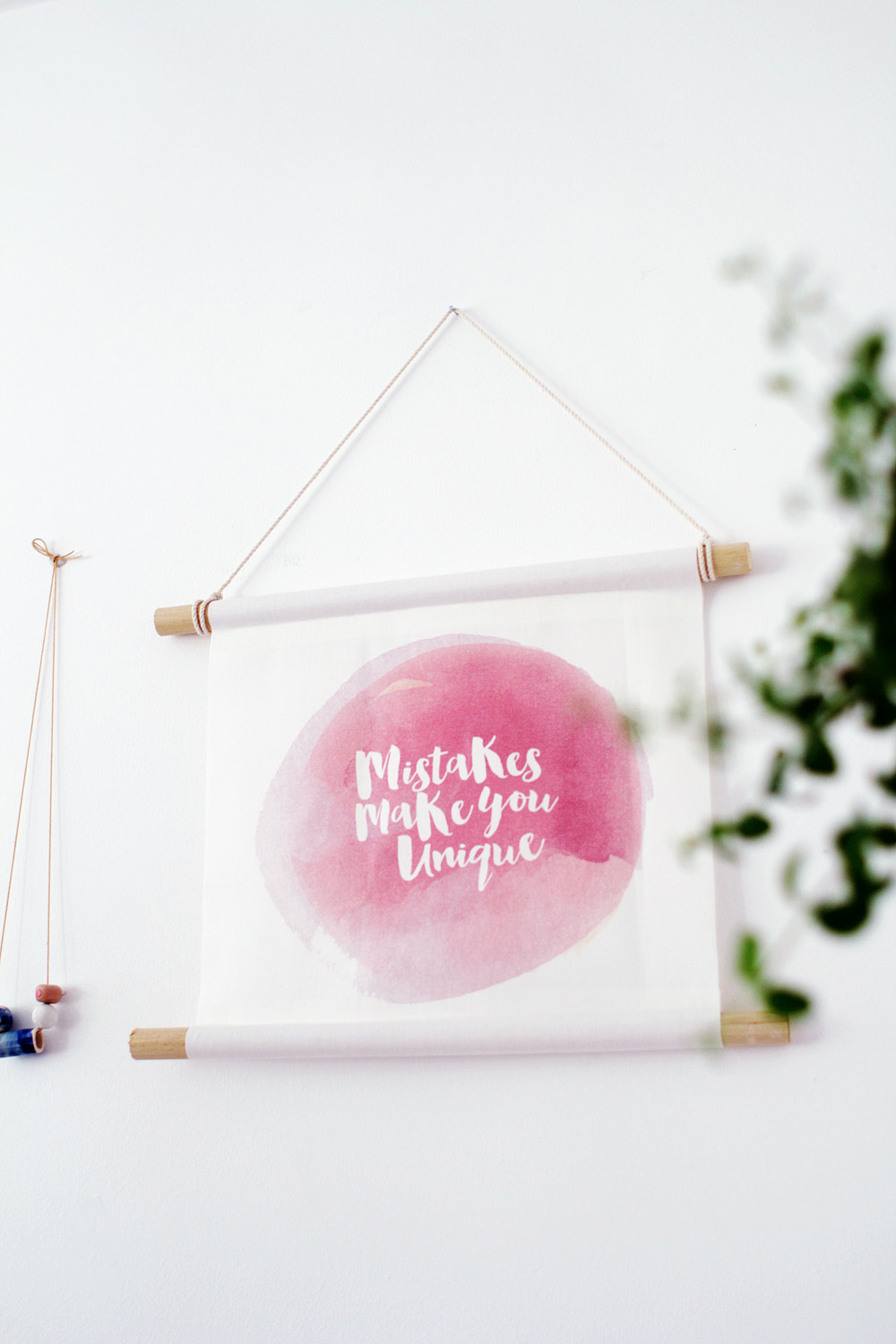 And in the spirit of starting something new I've been working with Zazzle to design this Motivational Quote Print fabric. There are four different quotes on each meter of material to keep you motivated and working towards your goals. I decided to use my favourite of the quotes on this banner to remind me not to be scared of getting things wrong and in fact embracing the little mistakes. And it the spirit of making mistakes I'll let you into a secret. When I first designed this fabric I didn't leave enough room around the quote to make this banner the way I wanted. I meant for it to be much longer – in a vertical rectangle. But instead I had to make it shorter and wider. I haven't seen many banners like this and so my mistake HAS made this piece unique… Like I said. Apt.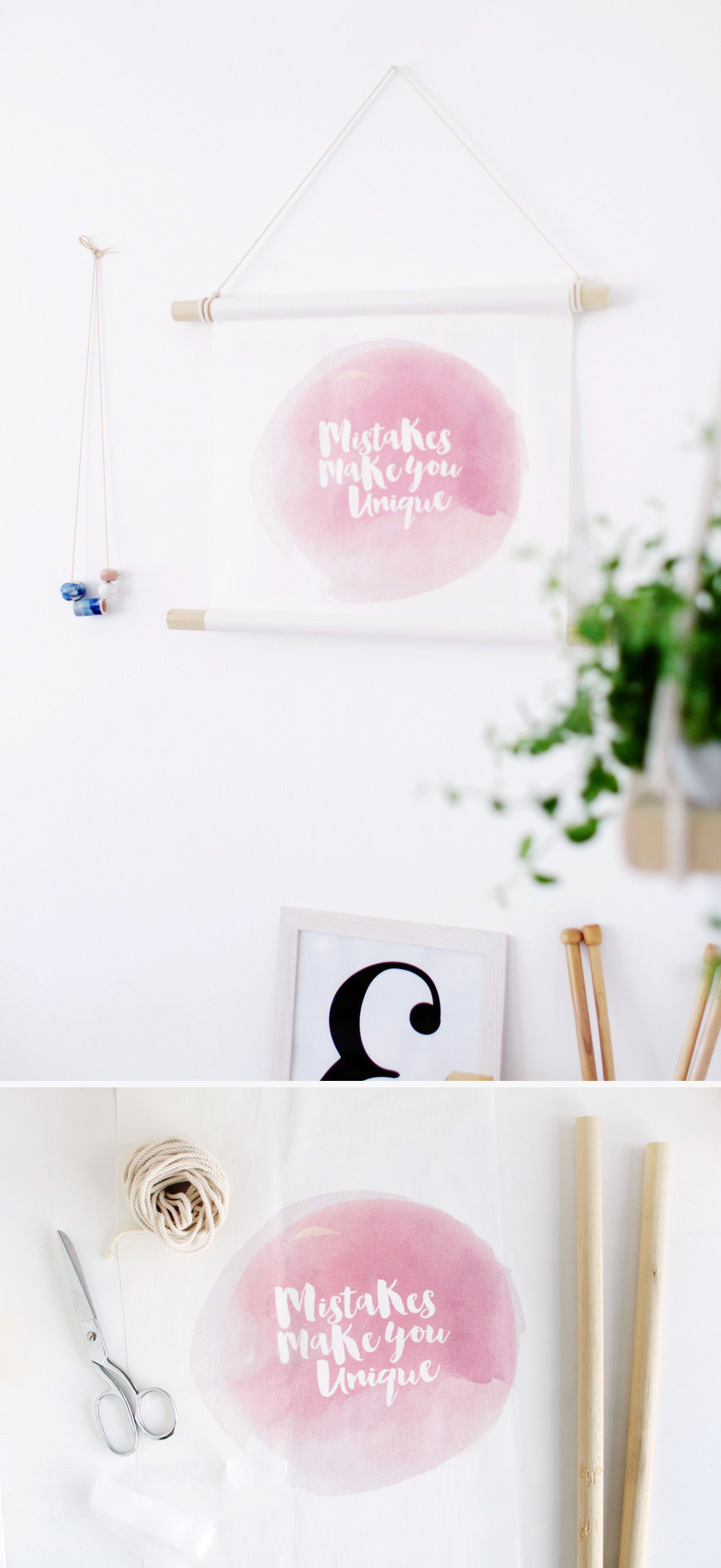 Materials
Printed fabric | Wooden dowel x 2 | Iron hemming tape | Rope | Scissors | Iron
1. Cut out the quote leaving enough white space at the top and the bottom to wrap around the dowel. Cut the width so that it fits onto the dowel with some space to spare either side.
2. Fold the fabric over the dowel and mark where the fabric meets with about 1cm excess. Cut lengths of hemming tape slightly smaller than the width of the banner fabric and iron it in between the fabric at the marked point. Push the dowel through the space made.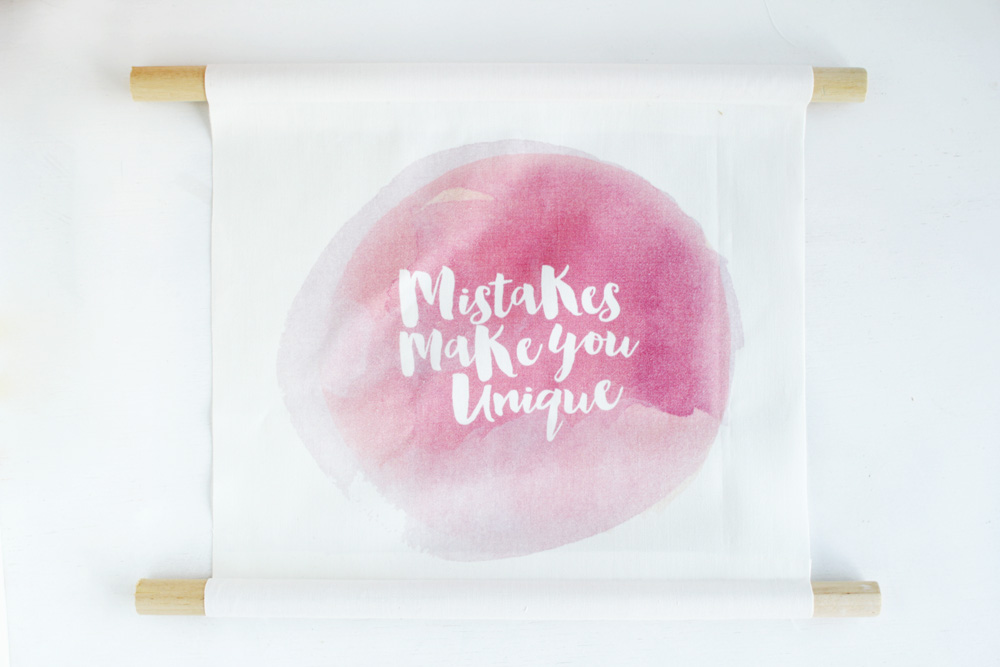 3. Repeat at the bottom of the banner.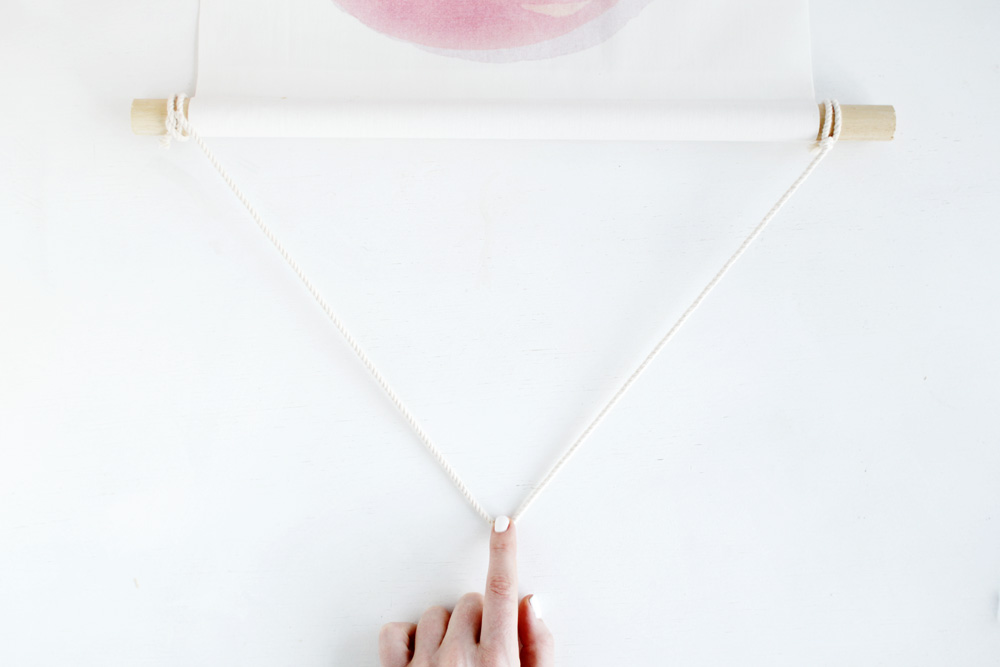 4. Tie the rope to either end of the top dowel and hang.
I have three more quotes to experiment with so next months exclusive email tutorial will include another motivational DIY! If you want to see that signup here:
***This post celebrating mistakes was made possible by Zazzle, but all opinions are my own. Thank you for supporting the brands that support Fall For DIY.