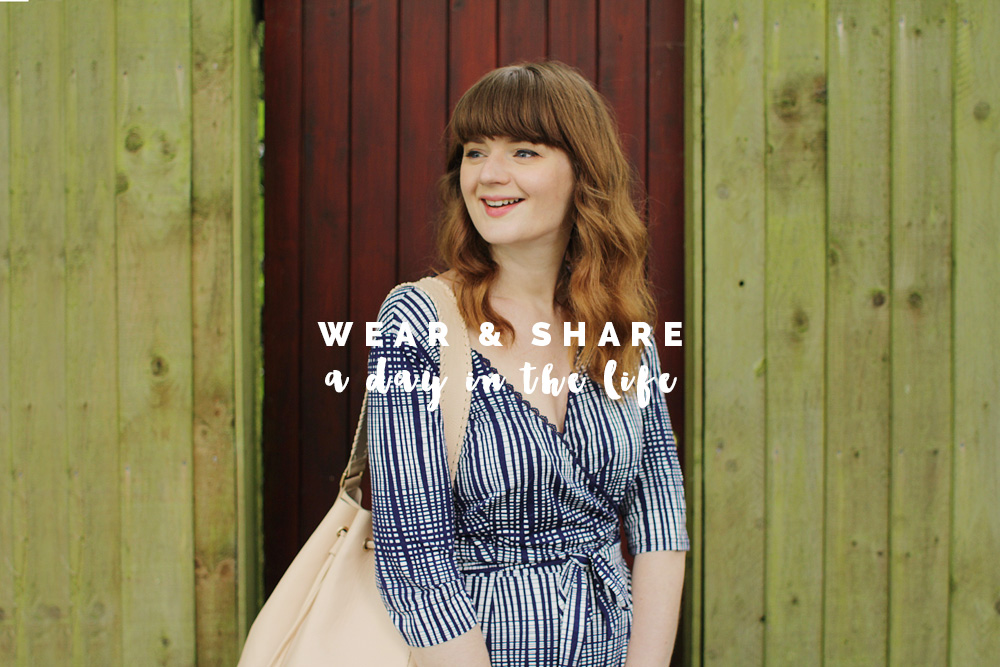 When Yumi asked me to share a typical day in my life with you, my first thoughts were all of the excitement. I'm always trying to find interesting ways to share more of my life on the blog and this was the perfect reason to let you into some behind the scenes action. But then I really started to think about what a typical day in my life looked like and I realised I don't have a regular routine or a schedule at all!
Blogging every day means new and different jobs each morning, but even the usual daily admin can vary. In the winter all photos have to be taken in a short window of time and any laptop work has to come second. But in the summer it's much easier to get it done before I get distracted by the more interesting aspects of blogging. Then once that's done I can spend the rest of the day on the fun stuff.
My day does have some consistency though. Each morning the very first thing I do (after a good 20 minutes on my phone in bed…!) is make coffee and feed the rabbit. I'll generally spend the morning answering emails and planning content before I set up camp with the little fur ball in my office for the afternoon.
I'm not going to lie, one of the major perks of working from home is wearing pajamas all. day. long! But apart from the odd PJ day (those are the best ones) I get showered and dressed to motivate myself and make sure I'm at my most productive. When I'm working I like to wear comfortable clothes but I might have to dash out of the house at any minute for supplies, so they need to be practical as well. These ripped jeans are great because when I'm crawling around on my knees playing with the bunny or searching through disorganised materials it doesn't stretch out the knees. And there's nothing I hate more than baggy knees! I cut the holes myself with a craft knife across the middle of the knee (take the jeans off first!) and leaving about 1″ of material between to edge of the cut and the seams.
Another daily staple for me is a comfy jumper and this one's perfect because I can roll up the sleeves and take tutorial photos without them getting in shot. This outfit is easy and ideal for jumping on my bike and riding down to pick up something from the post office, or running down to my local DIY store for anything I've missed from my weekly shopping list. And trust me, I always forget something!
As well as the crazy blogging life there's another reason I find it difficult to stick to a routine. Alex works all sorts of shifts, both day and night and his unusual hours impact on all aspects of our lives. From when we eat dinner to how we spend our weekends. If he's working Saturday or Sunday then usually so am I. The great thing about the flexibility of my job is that most of the time I can change my hours to help us find some time off together every week. Something we frequently struggled to do when I worked a 9-5.
Some days that means a morning shopping trip or sometimes an afternoon walk in the park. In this weather the latter is my favourite. When the sun is shining you don't have to ask me twice to get out of the house and clear my head for an hour.
It's also a good time to get my phone out and snap a few photos for Instagram! Al tells me off for working but Instagram isn't really work right!?
After a stroll around one of our favourite parks, or perhaps a long indulgent coffee break, it's usually back to work for the afternoon/evening and while we're talking about clothes, back into a cozy jogger and jumper combo. I'd love to show you the outfit I'm wearing right now but it's late and there's no light and I need to post this now (and really it's nowhere near at cute as these last two!) So just imagine me in all the comfortable clothes and you're probably on point.
I've just realised that's three costume changes in one day! Is this extreme? Please tell me I'm not the only one who does this.
I'm Wearing
Daisy Knit Jumper |Skinny Jeans | Wrap Dress (on sale!) | Bucket Bag | Sandals | Sunglasses