If you're a regular reader of Fall For DIY then you're probably aware of our new fluffy friend and the havoc she causes where ever she goes. In most cases chewed cardboard and nibbled coasters are easily forgiven, but damage to an unreplaceable wire cable is a bit harder to let go. As much as we try to keep them out of harms reach there can often be a stray left dangling. And you can be sure she will sniff it out within minutes.
So I've come up with a very DIY solution to our gnawing problem. These 'DIY Wire Tacos' are a great way to keep wires stored. Even if your electricals are safe from nibbling this wire storage can help to organise those messy wires. You can even colour code them for quick and easy access to all your connectivity needs. No bunny needed!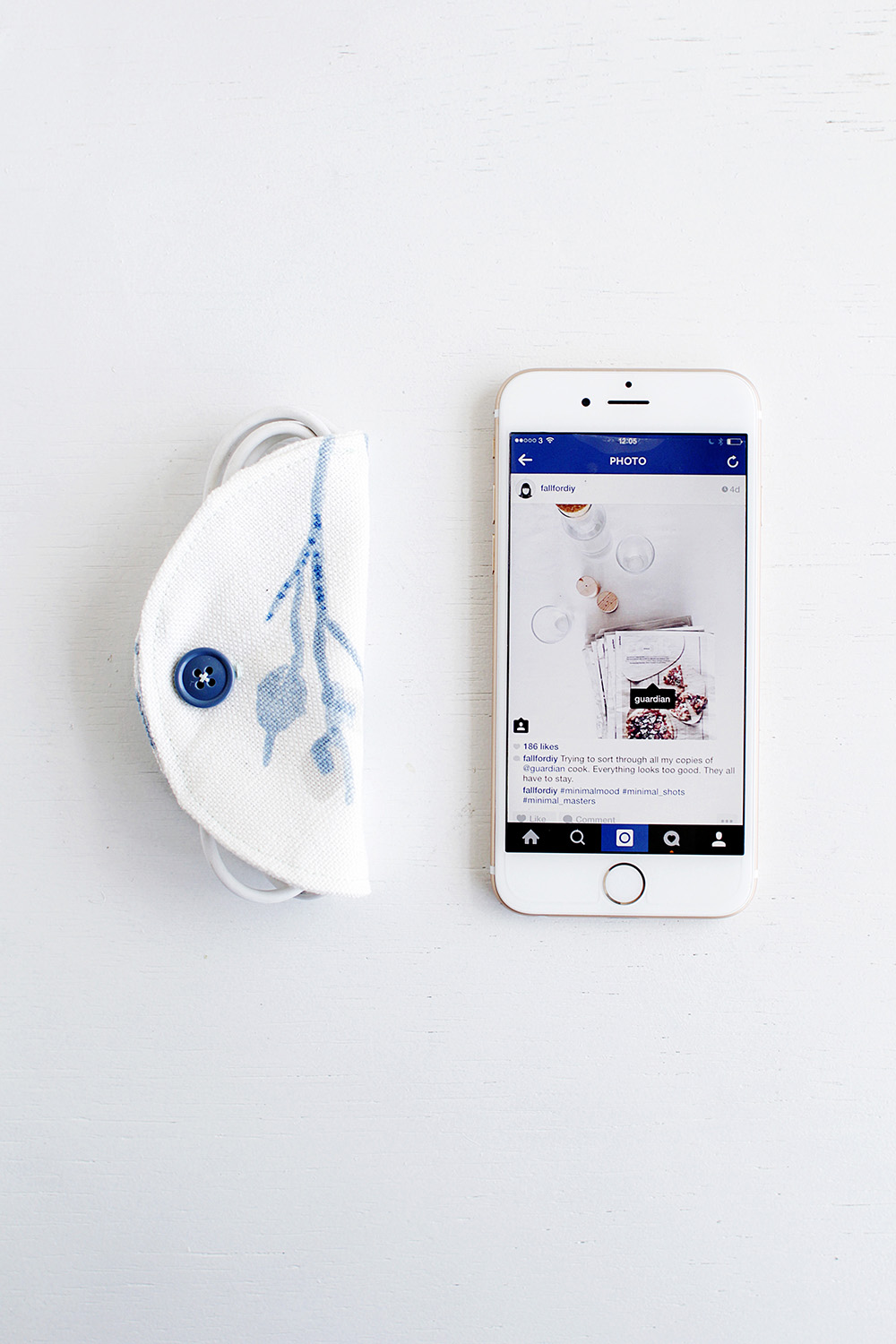 The idea for this post came after Laura Ashley sent over a box of goodies for me to play with for their online fabric challenge #sewandstitch. You can see my entry along with three others and vote for your favourite over on the Laura Ashley blog. Once you've voted you'll be entered into a competition to win a £50 gift voucher for Laura Ashley so if you want to get involved, pop on over now to vote for your favourite.
But for now let's get started with the tutorial!
Materials
Fabric | Thread | Buttons | Scissors | Sewing Machine | Needle | Iron

Cut out two identical circles. I've used a small bowl as a template. Make the circles just a little larger than the required size of the finished taco. Place one on top of the other with the right sides facing.
Sew them together most of the way around the circle leaving about an inch gap. Turn the fabric inside out, push the raw edges of the hole under and into the circle and sew around the entire circle again, leaving a small edge.

At the edge of the circle sew a button hole. A buttonhole foot is perfect for this job and well worth the investment if you like making your own clothes. Otherwise, this video shows you how to make a buttonhole by hand.
On the opposite side of the circle sew a button to the inside of the taco. Now when you close it you should make a secure pocket to store your wires in. Trim any excess threads and get organising!