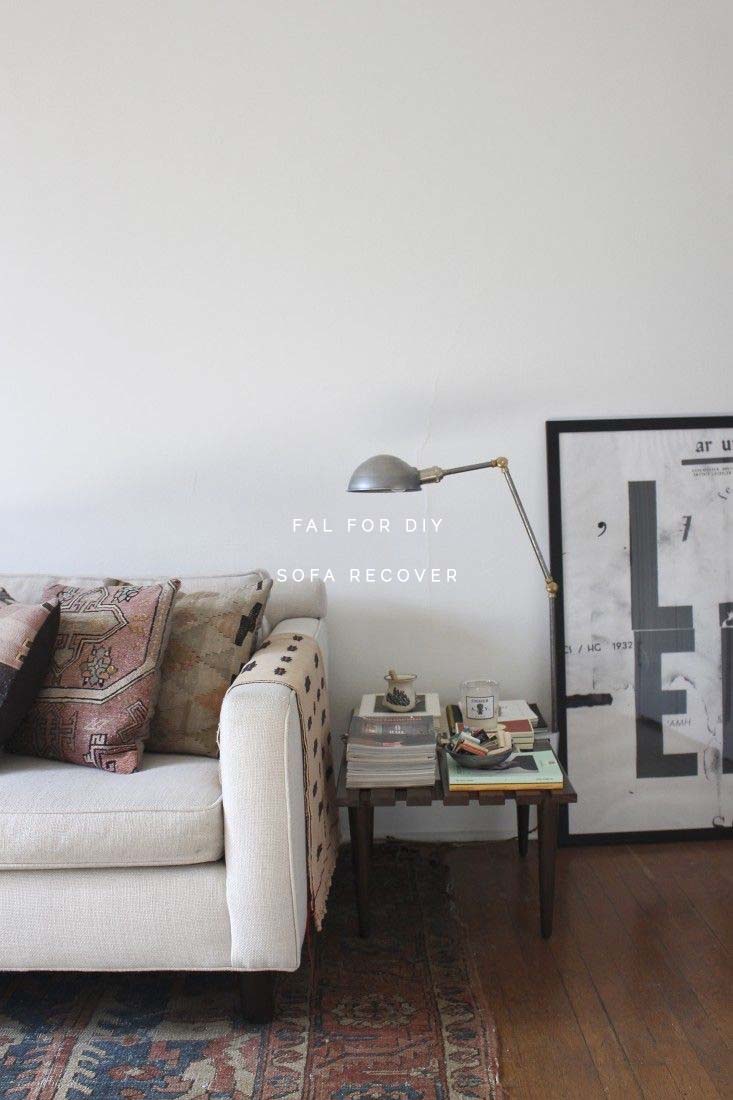 Confession time. This is not my living room… I sadly do not have these beautiful wooden floors and a collection of dream textiles strewn around so perfectly. My living room is a constant work in process and until recently this had really frustrated me. I found it difficult to spend so much time online looking at perfectly styled homes and minimal interiors without wishing I had the space, money and discipline to transform my slightly cluttered, mostly disorganised two bed flat into the perfect home.
But lets say I did. Overnight I have a home I cannot fault and everything I want within it. Then what? If I did would I even be writing this blog? If I had no reason to be learning and making would I have the drive to do it? My home is not perfect, but it's my home, in fact it's our first home together and I love it. Me, the boy and the bunny have made this our home, imperfections and all. Having the opportunity to change these imperfections means I can continue to work on creating our home with pieces that are so meaningful and that I hope will give us the feeling of home no matter where we might end up living in the future.
That's why I'm so pleased to be working on this project with Hive today. This is the second time I've covered my sofa. The first was a year and a half ago after we just moved in. Our second hand couch was so soft and the perfect size but had the craziest 80's Aztec, rainbow (not in a good way) upholstery and my main concern was just covering that eyesore up! I used a cheap dark grey fabric to quickly sew up an ill fitting cover with the promise to myself that I would put the time in and sew something more permanent (with a blog post in mind of course) as early as I could… and here we are 18 months later. Still dark grey.
I needed a push and thanks to Hive I have it! They're focussing on that feeling you get when you come home after being away for a period of time and are running this amazing competition to win a coming home experience worth £1500! To stand a chance of winning, comment on Hive's competition post on Facebook and tell Hive why someone you know deserves to win an unforgettable coming home moment. Hive will choose one winner at the end of the competition.
Me? I'm a creature comforts kind of girl. Where ever I've been, be it a day at work or a weekend away there is something so satisfying about coming home and sinking into your sofa under a cozy blanket. But until I win that £1500 to update my sofa (here's hoping) I'm going to give mine a much needed (and much cheaper) update. This post will be focussing on creating the pattern for your sofa and choosing the right fabrics and next week we'll be getting down to sewing it all up!
Just before we get started I want to share this brilliant video from Hive with you. I'm a bit of a sucker for a really good advert and I honestly love the new #ComingHome campaign. It's a 1 minute roller coaster of emotions and I have to admit I was welling up/punching the air at the end… Although I think I get far too emotionally invested in stories like this.
It's not just me right? That's a good advert! Anyway, back to the sofa cover.
Fabric choices:
I found it really easy to find inspiration for this project. All those hours on Pinterest have paid off and I already had a good idea of the look I wanted to give my sofa. A quick scan of my Home Details board and my mind was set. Or actually, not set. But I thought it was at the time.
My main inspirations were pink velvet, grey linen or just off white textured cotton: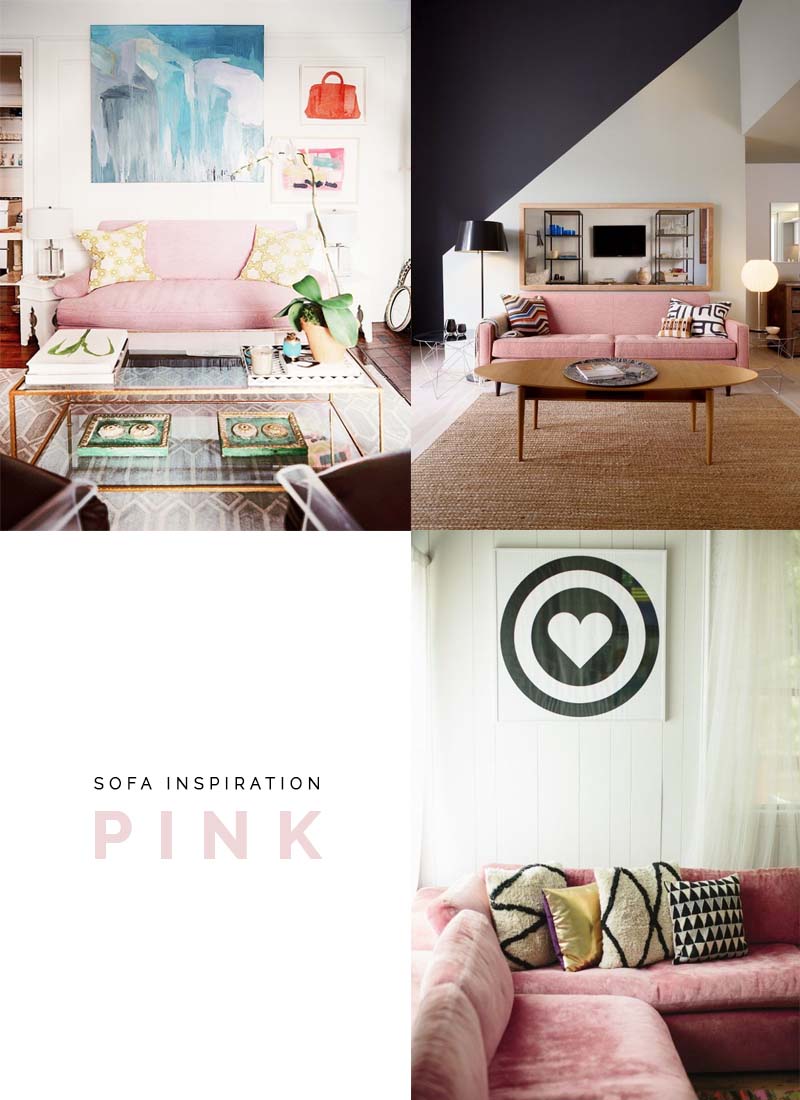 I loved the pink, but I really had to rule that out pretty quickly. I want to make a home we're both comfortable in and I think this is a little too pink and velvet for Alex. I'm saving this one for my dream office.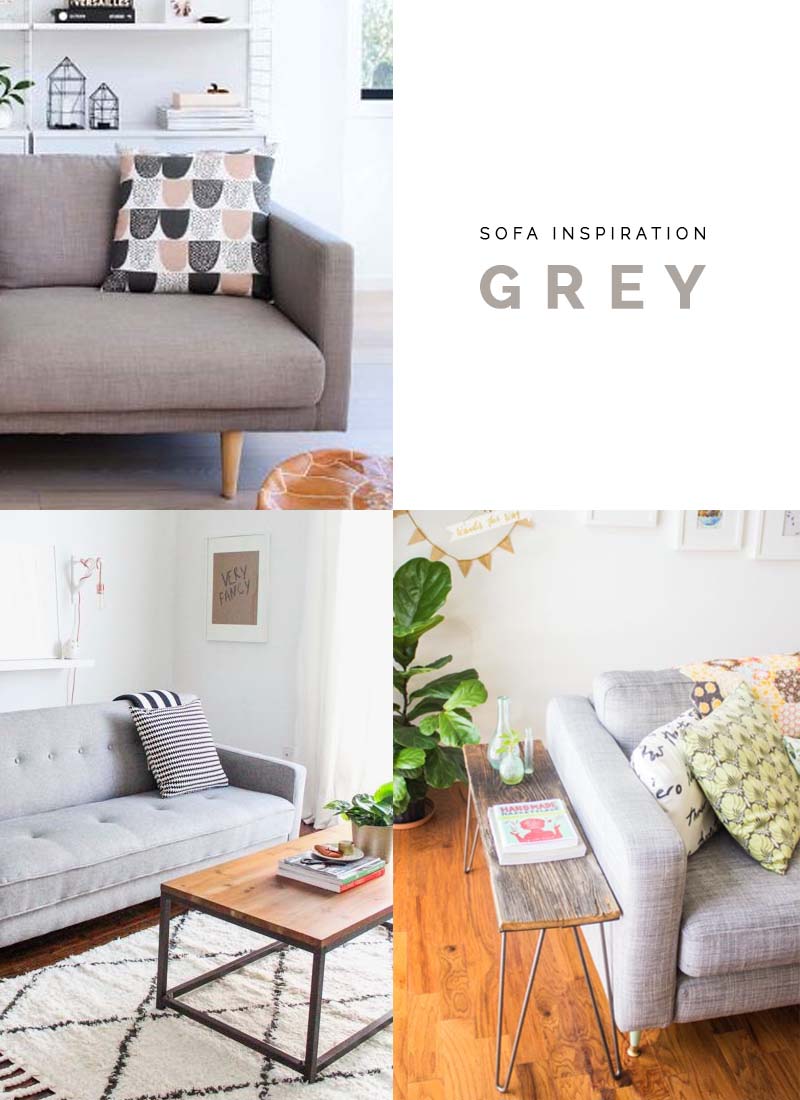 Initially I was all about the grey! I found a beautiful fabric but my the fabric warehouse I use was running low and I couldn't get enough. Sad times. So after an hour of deliberating I panic bought a cheap (£1 a meter) grey fabric which I did really like and thought would work well. But after getting it home and sitting (not literally) on it for a couple of days I changed my mind. It looked too cold draped over my sofa and just didn't have the linen look I was after. So after going back and forth in my mind 300 times I went back to the drawing boards (and the fabric store) and got the actual perfect fabric for the cover.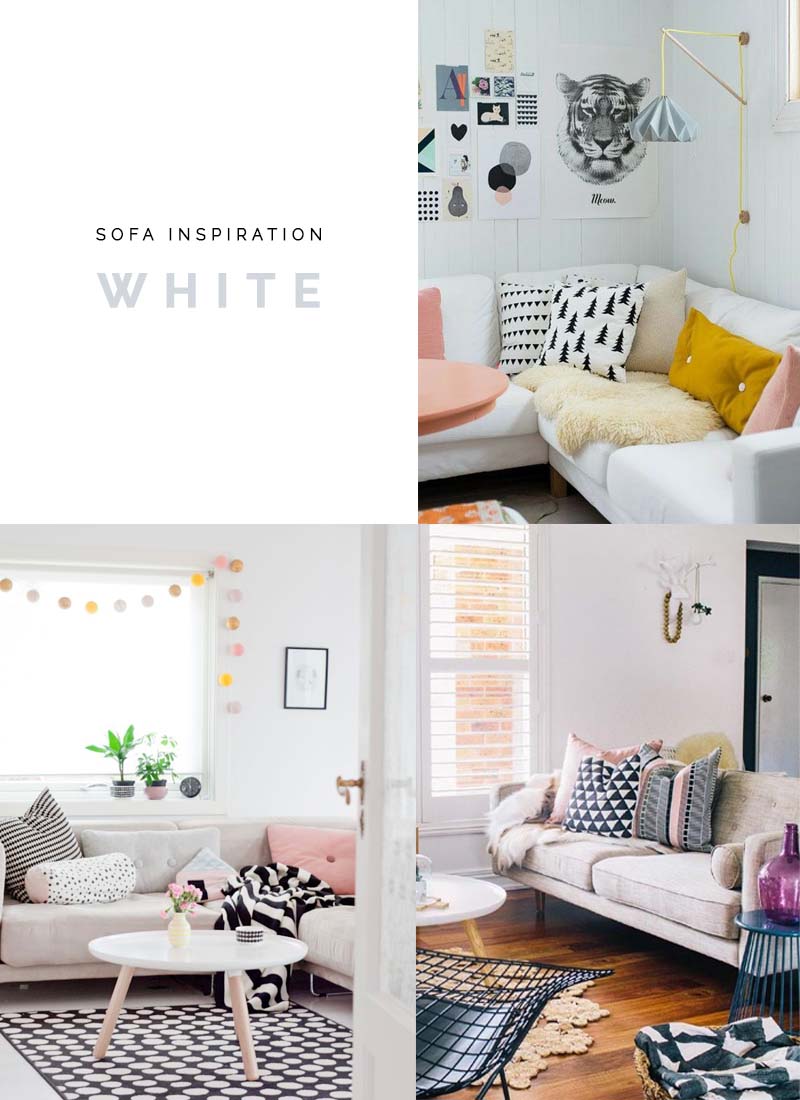 I've been brave and gone for white. The fabric is stunning and at £2.95 a meter did not set me back too much at all. I'm really happy I took a little bit of time over my choice rather than diving in with the initial material. It's a big project and it pays off to take it slowly and consider your options well.
When you're choosing your fabric there are lots of qualities you'll want to consider as well as picking the right colour (although I have to admit, this was sort of my top priority!) Think about how much use the sofa gets. You need a thick fabric that will stand the wear, but also that you can sew easily. Leather is out. Velvet is making a comeback in design for 2015. I've gone for a slightly off white, polyester fabric with a cotton linen look. It's soft but thick enough to withstand my love of sitting on our sofa daily.
There is such a fantastic range of fabrics out there that it becomes much more difficult to narrow them down than it is to find one that will work well. So now all you need is to figure out how much to buy. This requires a little measuring and planning before you leave the house and get your heart set on a fabric.
Measure up each section of the sofa including the cushions. Look at where the fabric joins are and use this as a guide. Make a note of each measurement. Take a piece of graph paper, scale the measurements down to say one box per 10″ and roughly draw each one out. This does not have to be exact, we're just getting an idea of the amount of fabric we need now. Cut them out and draw two rectangles using the same scale 45″ and 60″ wide. These are the standard widths that your fabrics will come in so it's good to have a working knowledge of how much you will need of either.

Now all you have to do is fit all the pieces within these boxes, a little like you can see above. Increase the length until they easily contain all of the pieces. Measure the length and scale back up. Then add 2/3 meters. Just incase. I like knowing I have some wiggle room if I cut something too small or just for a extra cushion or two when I'm done!
Now you've figured out how much fabric you need you can spend the next week getting together inspiration for your project and searching for the perfect fabric. Once you've found it get it straight into the washing machine!! I always forget this step and set myself back a day having to prewash the fabric so it's ready for working with.
Are you still with me? Yes? WOW. You have some staying power! Hopefully now you are completely ready to start the prep to your new sofa! Next Monday I'll have the tutorial for cutting and sewing the fabric and you'll be able to see the finished project! Follow along on Bloglovin (or anywhere below) so you don't miss it! And while you're waiting for next weeks post remember to pop over to the Hive Facebook page for your chance of winning a #ComingHome experience!