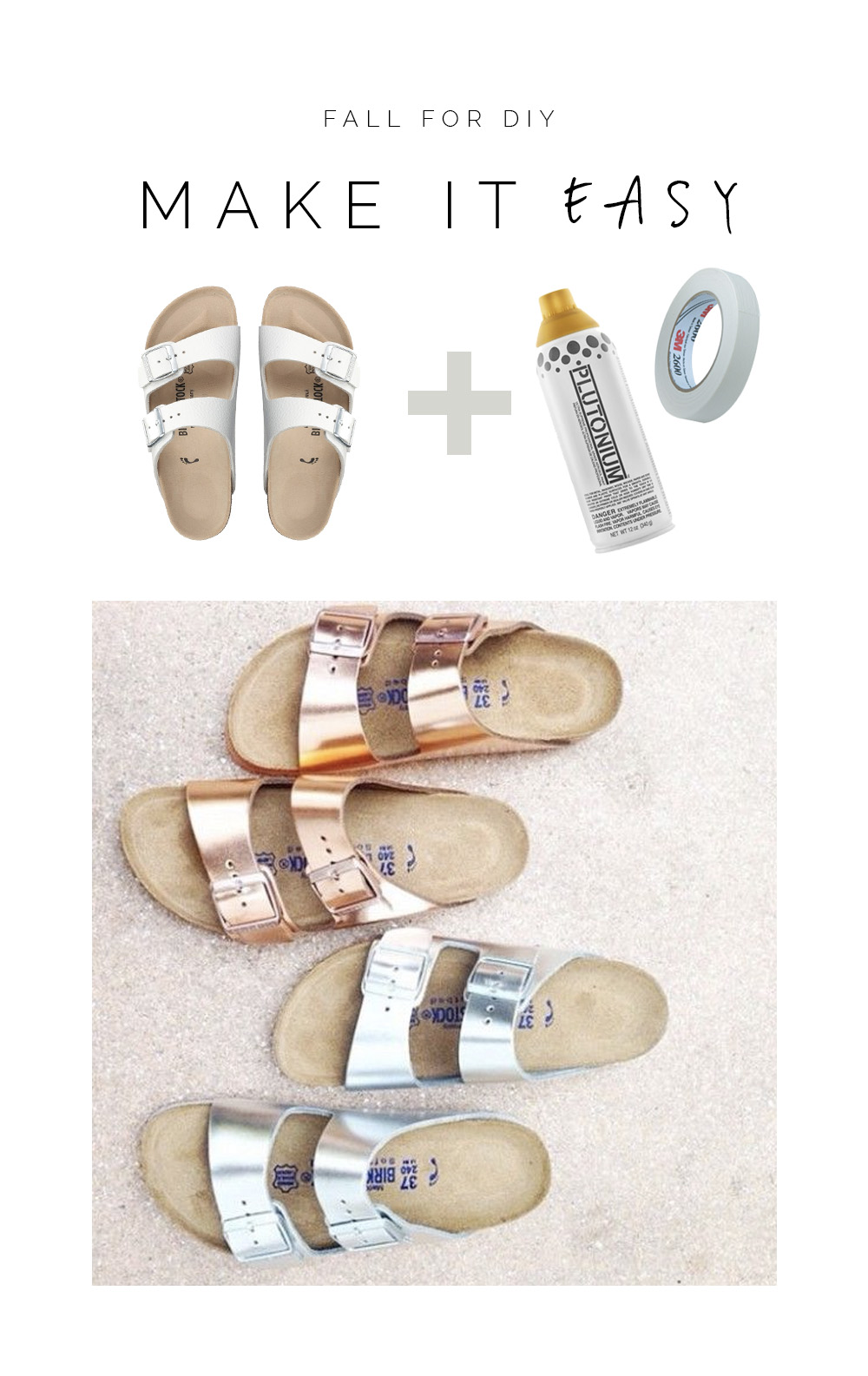 I posted a picture on Fall For DIY's Facebook page the other day which had a lot of people telling me off for my choice of footwear. All in good spirits of course, but in any case I leapt to the defence of my sandal choice (well, cried a bit) and vowed to keep wearing them until my toes get – just a bit – numb (well, made whining noises). You get the gist. I don't want to stop wearing sandals just because we're prone to downpours at a moments notice or because when I step on the wrong paving stone I'll have a wet foot for the remainder of the day. NO. I'll wear sandals until it snows or I start getting told off by people in the street (this has actually happened. Not to me but a friend in a Croatian public bathroom….)
So, for all you tough, sandal loving hero's (and you lucky, lucky guys from hotter climes) here's a little something for you: Metallic Birkenstocks! I've added links to the real deal Birkenstocks to update but I suggest this more as a great way to pep up an old pair (or find a similar style sandal) and give them an on trend update.
Materials:
Instructions:
Clean up and tape all parts of the sole leaving the whole leather strap exposed.
Undo the straps of the leather.
Spray a light layer of paint over the leather and buckle and leave to dry.
Repeat the last step 3/4 times until you're happy with the coverage. Do not be tempted to spray thicker layers. You'll end up with streaky and blobby bits. That's not the look we're going for.
When you're completely happy with the coverage of the paint leave to fully dry for a few hours. Carefully peal back the tape.
Now wear your sandals with pride, but do your best to avoid muddy puddles and soggy grass.