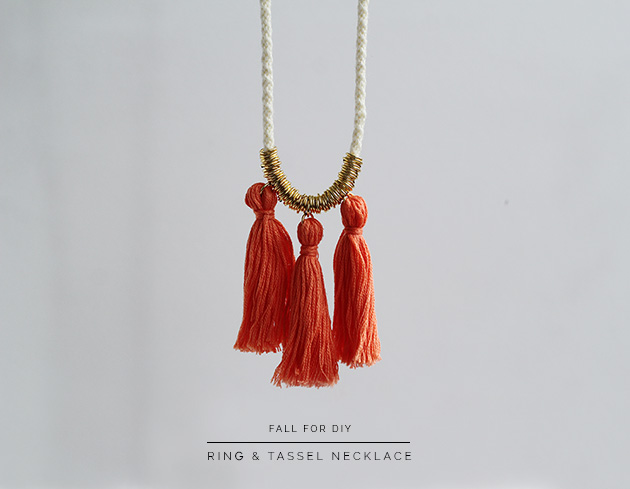 It's been a while since I've added a tassel or two to a project, I was getting fringing withdrawals! So when I was in need of something a little more colourful to brighten up the transition from winter to spring what else could I do? And I have to say I've got serious love for this burnt coral hue. I've also never used jump rings this way before but I'm loving the result. One of the perks of separating the tassels this way is that the weight they create help the necklace to hang naturally and not sneak off to the side/shoulder/back..

Materials:
Rope (I braided my own from yarn using this kumihimo tutorial)
Bell closer all in one clasp (2 x bell closers, 1 x extension chain, 1 x lobster clasp attached with jump rings)
Instructions:
Making tassels is super easy. Follow the instructions in this tutorial to find out how!
1. Make three tassels and attach a jump ring to each one.
2. Thread the rest of your jump rings onto the cord.
Continued…

3. Position the tassels evenly along the length of jump rings and then attach each one using the rings that are already on the tassels.
4. Glue your bell closer to each end of the cord. If you don't have one of these all in one clasps you can follow this tutorial to put one together yourself.
As I'm writing this it's raining…. oh well, at least it's spring around my neck!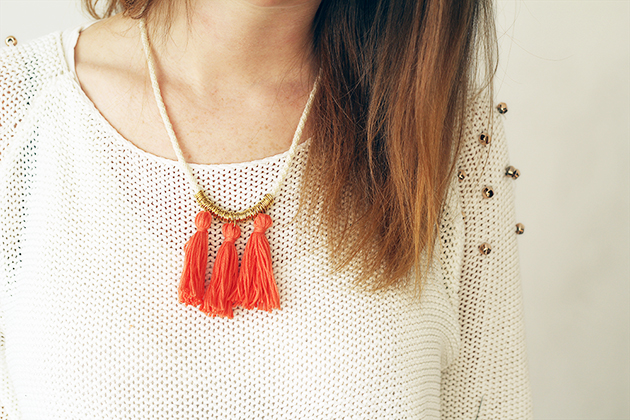 I don't usually do this, but I'm giving you guys a head up about my blog post tomorrow. It's the first of my "DIY LIFE" series and I'll be letting you in on my favourite and most productive way to stay organised. This has literally been a revolution to my life and helps me stay on top of work, blogging and my home life… I'll say no more. You'll have to come back tomorrow!