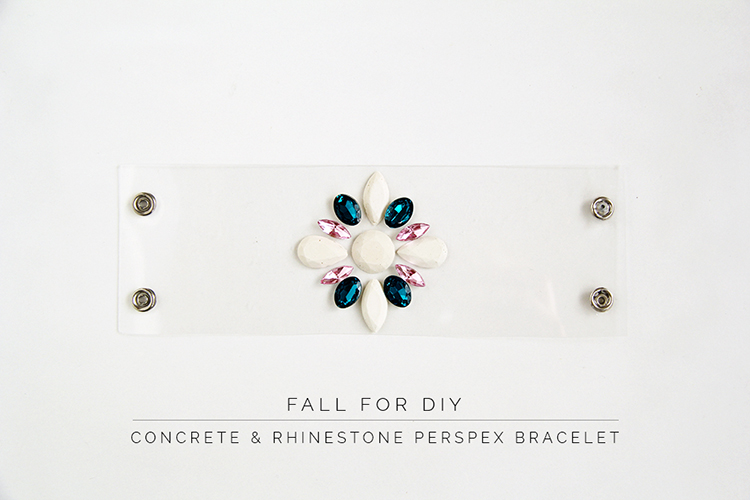 Such is life. Every since I made my DIY Perspex Bracelet tutorial I've been wanting to do an update with a few more glittery details! Well it seems great minds think alike! This week (after scheduling this post) I've seen so many of the same thing. I do try to give you guys something new and hopefully something you haven't seen before so at first I was a little bit gutted about seeing so many other versions of the same thing. That was until I saw this post from M.A.C.T.E.D (crushing on this blog at the moment). She has made her own floating bracelet but with an amazing material I have never seen before! It's totally worth checking out, and to be honest it's a better way of doing the base bracelet than my way.
So pop over there to make her version, then come back and make some concrete accents to add to the bracelet!
(The rhinestones I've used for this DIY are left overs from this post)

1. Lay out your embellishments into a design  making sure they will all fit onto the bracelet.
2. Glue the stones into place with strong glue. Start from the middle and work outwards. Glue down your stones in opposites to insure everything is symmetrical. Use plenty of glue. Glue is your friend!
3. Leave to dry fully.
So, I'm off on holiday to Paris, Brussels and Amsterdam (not all in one day) tomorrow which means I'll not be with you as much, but fear not! I have some great DIYs scheduled for you lovely lot and I'll be ever present on Instagram with pictures of my adventures See you on the other side. x