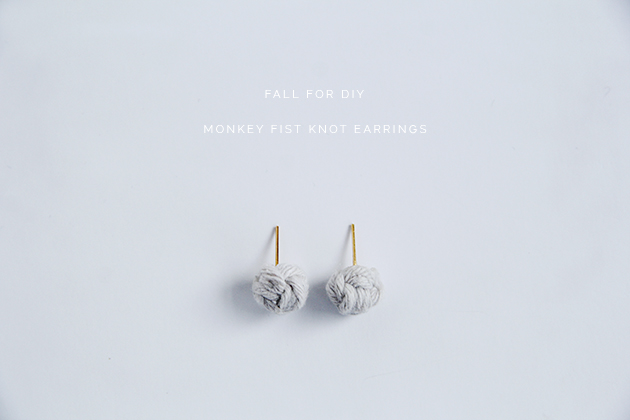 With Christmas fast approaching here's hoping you have mostly women to make for… right, in a perfect world. Fear (k)not (ha ha ha…) tomorrow we're making one for the boys. We'll be using this Monkey Knot technique so pay attention!

1. Using dyes or watered down acrylic paints, dye metre long lengths of yarn in whatever colours you like. (I like the bright ones.)
2. Wrap the (dried) yarn around your hand three times, then wrap around the middle of these three times. (Shown above)
3. Thread the yarn around the second three strands in the middle of the original three. (whoa, getting complex now. Follow the pictures below)

4. Starting at the top, pull the loops through to tighten the knot. Pull the loop furthest away from the end of the cord and work towards the end pulling all the cords through. I've made a video tutorial of the whole process that I think helps with this technique. You can see that here
5. Trim the ends and glue to keep them secure.
6. Spread glue onto the earring stud post and press the knot onto it for a few minutes and leave to dry.
So that's Monkey knots for the ladies. Same time, same place tomorrow for Monkey Knots for the gents! Sign up for our Email list to get a Monthly Zine, including an overview of all our DIYs, inspirations and news so you'll never miss a thing!