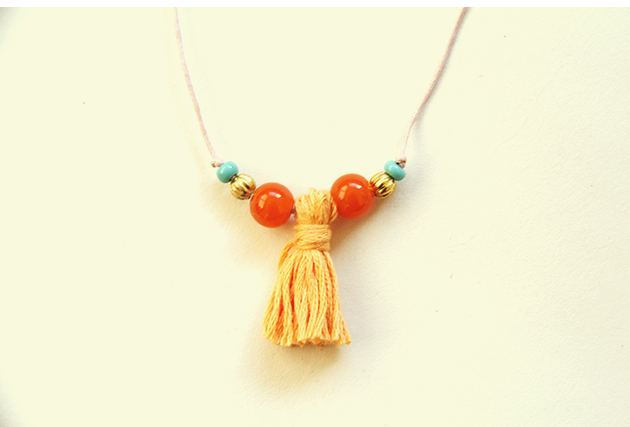 I'm a fashion bore. I spend an unhealthy amount of time reading about and researching fashion but I am naturally compelled to play it safe. As a general rule I'll only ever buy neutral coloured or dark clothing. My staple jumpers, dresses and jeans are all in black, white and navy blue shades. Although this gives me hundreds of outfit combinations, it can, at times get a bit dull. Black is the ultimate colour for style, but where's the fun in that?
So, I turn to accessories. This is where I can give my look a unique twist using accents and colour combinations. A stack of carefully selected bracelets and a statement necklace can make all the difference from blending into the background to being unmissable. That's why I love simple DIY bracelets like this one. This is a super easy, quick DIY that I made from supplies I have lying around, and the best thing is that you can make colour combinations that go with everything! A perfect accent against a background of camouflage.
1. Make a mini tassel using this technique. For this particular tassel I've wrapped the thread around my two fingers instead of a credit card.
2. Measure a piece of cotton cord that wraps around your wrist twice.
3. Thread the tassel onto the middle of your cotton thread.
4. Thread three beads either side. Mirror the beads to create this symetrical aethestic.
5. Tie a knot either side of the beads to stop them from sliding around.
6. Now to create your sliding fastening. Take one end of your cord and tie it onto the other end so that it can slide up and down the length. Take the remaining end and tie it onto the other side the same way so that it too slides up and down the cord. You should now be able to pull the knots away from each other to tighten the bracelet around your wrist. This might need some slight adjusting (unknotting and knotting again) so don't trim the ends until your happy with the size and fit.