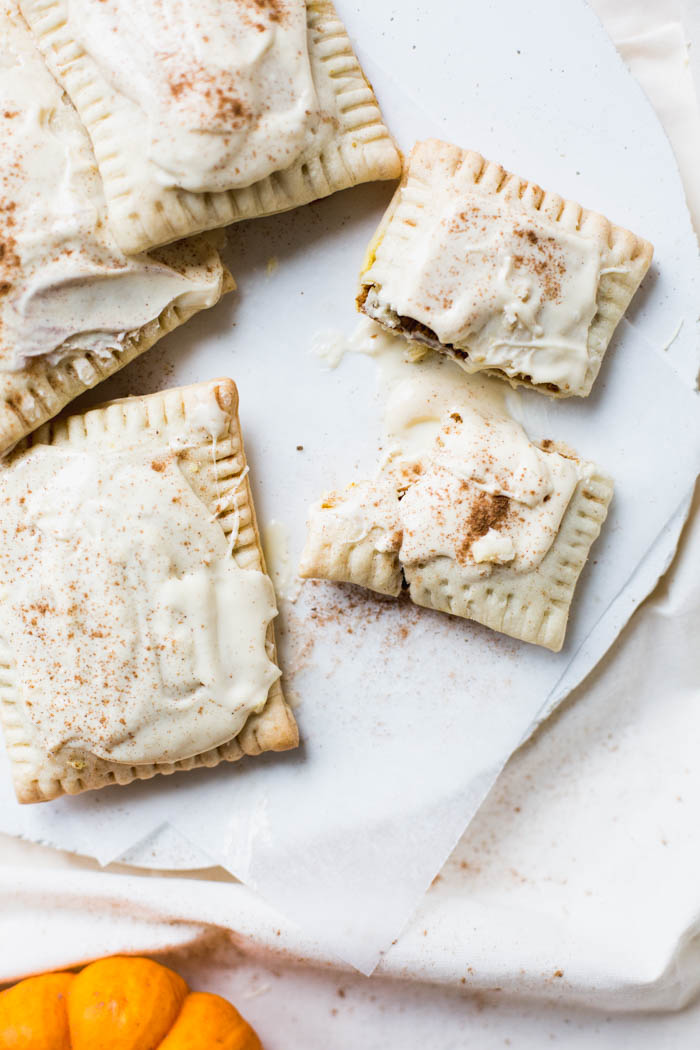 Pumpkin is one of those fantastic flavours you can create sweet and savoury dishes with. I remember trying pumpkin pie for the first time and feeling like autumn had exploded in my mouth. There's a reason everyone gets excited about those pumpkin lattes at his time of year (even though for me they're WAY too sweet!) Those spices added to the creamy sweetness of a pie are the perfect antidote to months of summery, sugar overload. Combine that with a weighty pumpkin filling and you get the ultimate comfort food for this time of year.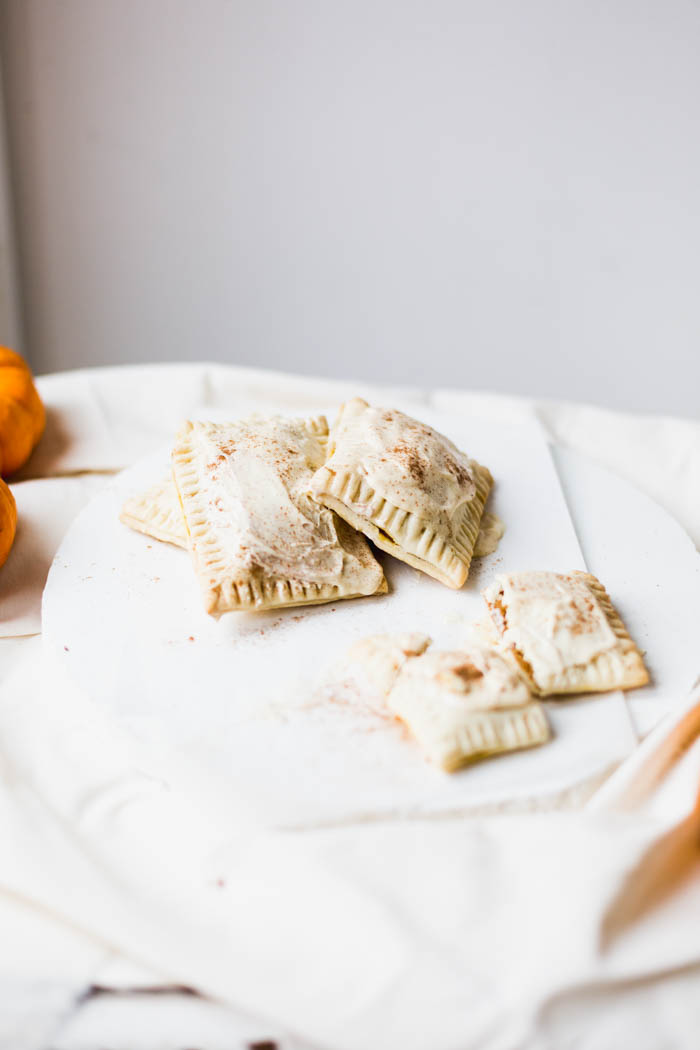 I like my pumpkin packed with spice, so these little pockets of joy come with some punchy flavours. And if that wasn't enough the chai spiced frosting gives a complimentary hint of spice with a big dose of sugar to keep these sweet pastries balanced and delicious.
I've got to admit I love a cheat when it comes to baking. I do not have the kind of patience it takes to create pastry or frosting from scratch when you can just buy it! And with my vegan favourites easily accessible why spend hours working out how to make a decent alternative… ok so that might be half the fun of baking, but really I just want to get to the eating part faster!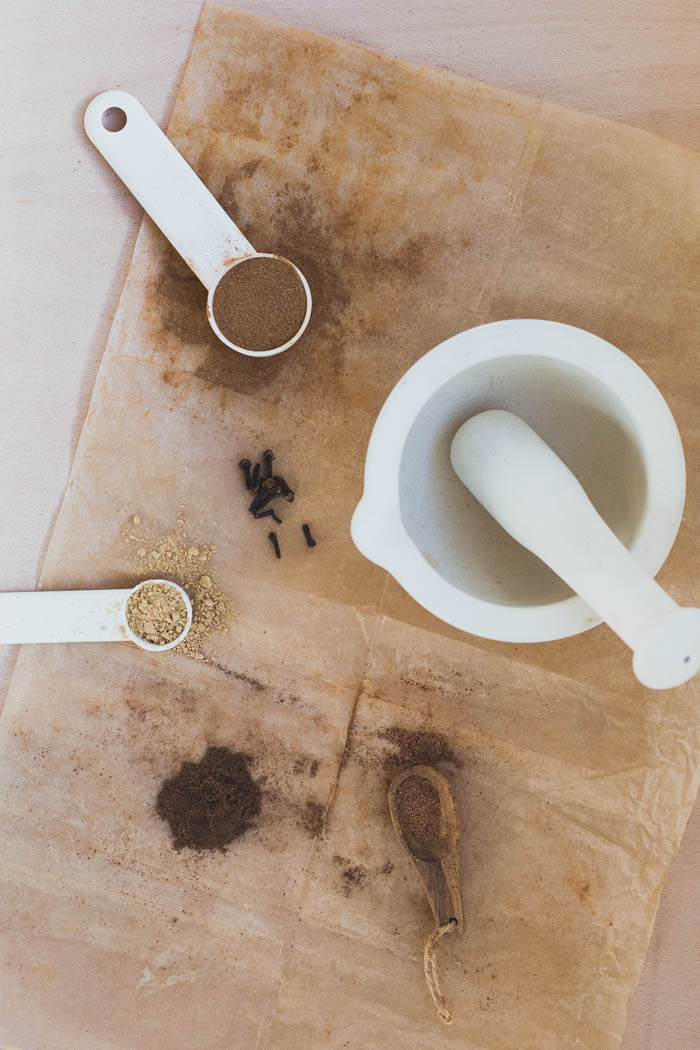 Pumpkin Spice Recipe
2 tbsp cinnamon
1 tsp Ginger
1 tsp All Spice
1 tsp Nutmeg
1/2 tsp cloves
Grind the cloves in a pestle and mortar until fine. Add the rest of the spices and mix.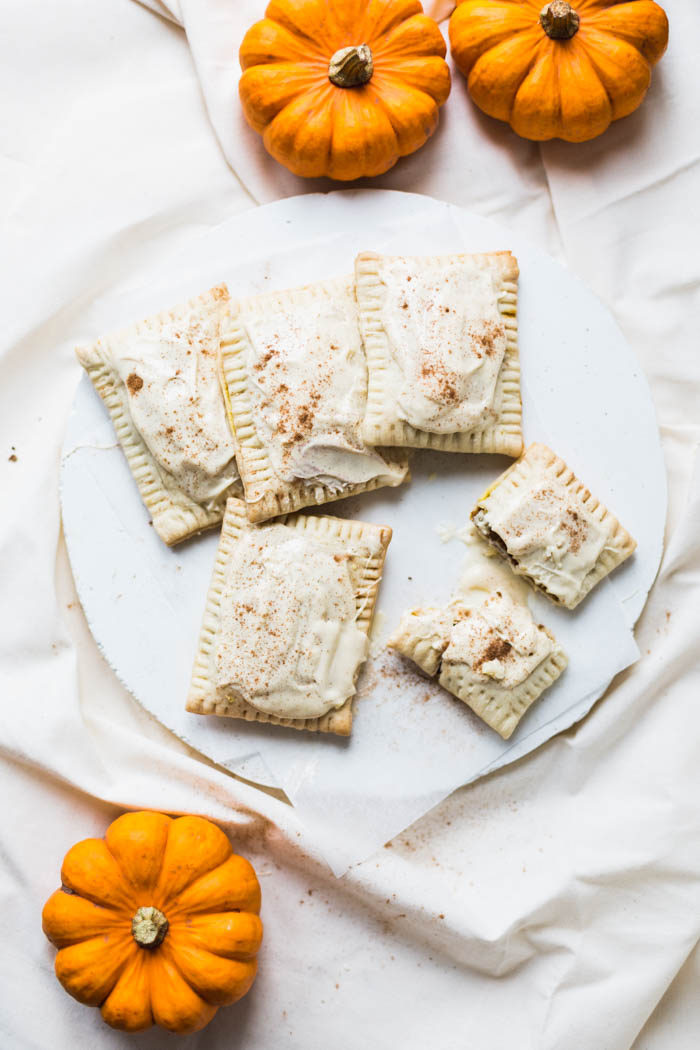 Pumpkin Pie Pop Tarts
Ingredients:
Ready Rolled Shortcrust Pastry (most chilled pastry in the supermarket is vegan. Just check the ingredients)
1 Can Pumpkin Puree
Betty Crocker Cream Cheese Frosting (here in the UK this is vegan)
Chai Tea
2 tbsp Pumpkin Pie Spice (recipe above)
Take the pastry out of the fridge and leave to warm slightly for around 10 minutes then preheat the oven to 180ºC/350ºF / gas mark 4. In the meantime empty the can of pumpkin puree onto a few layers of kitchen roll and squeeze out the excess liquid. This doesn't need to be too dry, but just a slightly firmer texture than it is in the can.
Place the puree into a mixing bowl and add 3 heaped tbsp of frosting and 2-3 tbsp of pumpkin pie spice depending on how spicy you like it.
Roll out the pastry and cut it into strips around 3″ x 10″. For me this worked out cutting the pastry in half vertically and into three strips horizontally to make 6 strips all together.
Add a tablespoon of the puree mixture to one side of the strip leaving a half inch border around the edge and at the middle of the strip. Fold the strip in half lengthwise.
Using a fork firmly press the edges together all the way around the pocket. I cut these straight after pressing to create a neater finish.
Cook in the oven for around 25 minutes until the edges start to brown. Once cooked leave on a rack to cool for half an hour.
While they're in the oven brew half a cup of strong chai tea. Leave this for as long as possible, preferably mixing into the frosting just before you serve. Mix a ratio of 2 tbsp cream cheese frosting to 2 tsp of tea and smother onto the pastries when cool. Sprinkle with a little more pumpkin pie spice to finish.
This is such a treat you can eat anytime of the day for a little autumnal pick me up. Extra points if you serve up with a hot toddy and a cozy blanket!