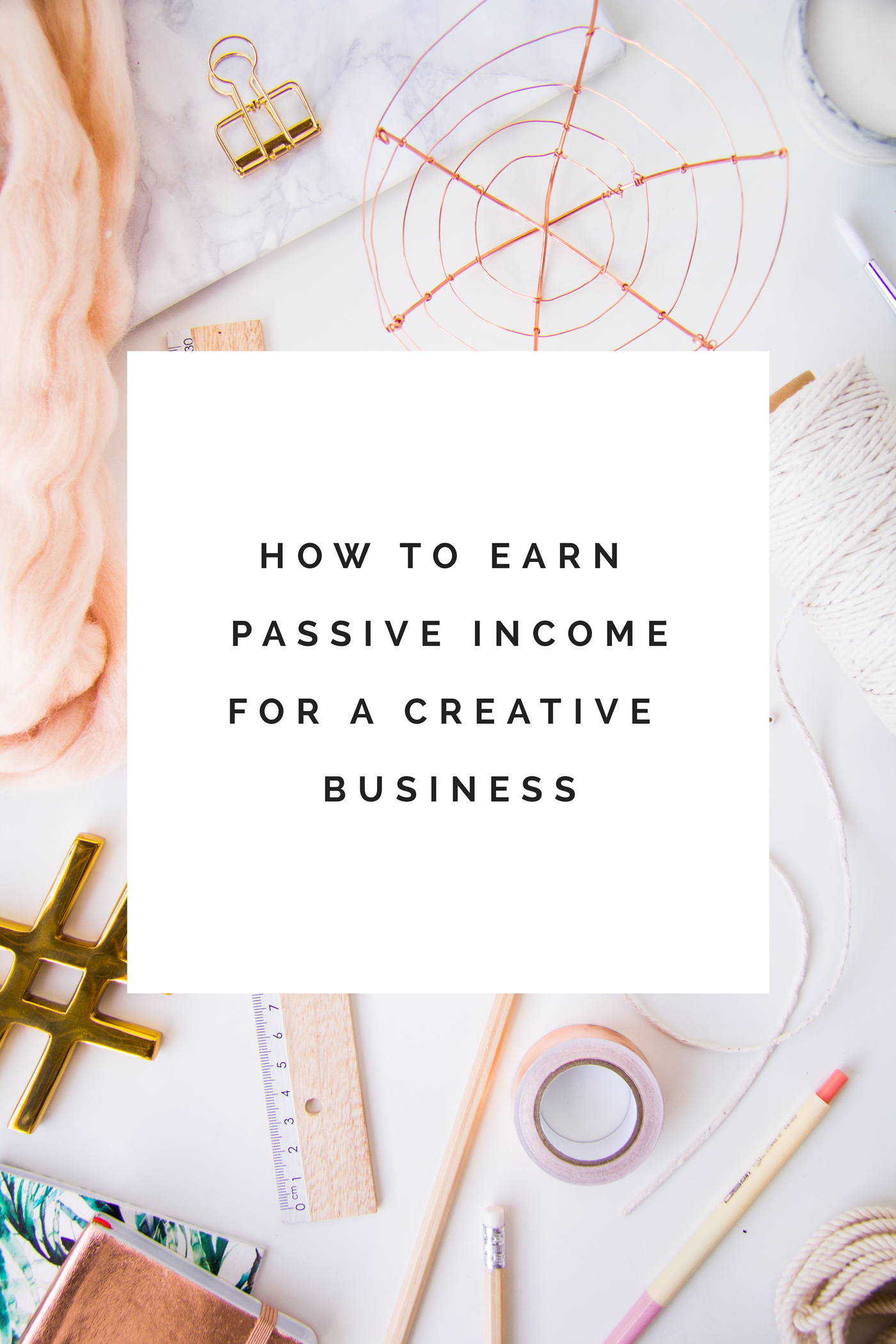 How great is blogging!? Watching my friends online and in real life crafting their own careers, learning how to turn their passions into businesses and doing it with so much authenticity is awe inspiring. Thanks to the Internet you can bring home the bacon and be frying it up in the pan at the same time. I see working moms who can spend time with their families, getting to spend extra time with their children whilst at the same time providing for them and helping with the family income. I see women who, given the flexibility of setting your own working schedule are taking over the world.
The Internet can be such an empowering place especially for my sisters from other misters (yeah, I went there) who are absolutely killing it! Watching all this makes me want to encourage more and more women to start doing what they really love online. In fact all of my girlfriends have sat through a long, blogging pep talk from me. I think everyone should do it!
That said I do have to admit it's not as effortless and whimsical as I might sometimes have the tendency to make out. Actually making a living takes time and a lot of different revenue streams and each of those trickles needs tons of energy put into them to make them flow (Anyone else needing to go to the bathroom now?) That is until we heard the term passive income. Sounds like the dream – making money in your sleep? Give me some of that! But as much as I see the term banded about I rarely see it used in a creative capacity.
So how is it done? How do you stay creative and spend your time designing and creating rather than writing ecourses on well, how to do just that? How can you create without investing money on products and/or spending most of your time queuing at the post office? It's an area I've been looking into as a strategy for my business and one of the best and most passive ideas I've had has been staring me in the face all this time!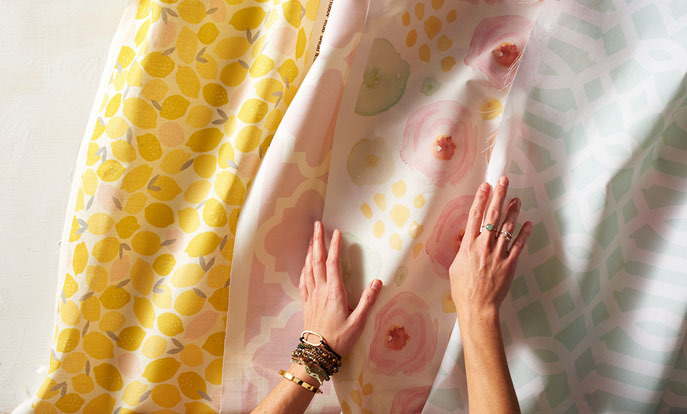 I created my own Zazzle shop.
I've worked with Zazzle a couple of times before on both this DIY Motivational Banner and this Watercolour Print Fabric Bauble tutorial. Both times I was just so pleased with the quality of the product I had printed from Zazzle. So after working on the lots of natural dyed Shibori designs for our latest We Make Collective kit I though I would try out some of these designs and make my own products!
Full disclosure, this is not a get rich quick answer. It will still take some work to get started (like most good passive income streams) and you won't be making millions over night, but it gives you the chance to create a product range. You can transform your design into hundreds of different products and as well as testing out how it will work (the online editor is scarily life like) you can also test your audience. It's worldwide market research with out any of the risk. See what works, see what needs tweaking and make money at the same time – all for free!
I've definitely got a little bit of work to do honing my designs and working out how to translate my ideas into fantastic products, but I'm really enjoying the process of designing with no pressure, no deadlines and no mistakes. If I change my mind I can just alter the design as and when I want! So much flexibility!
Currently I'm loving this Ne-Maki Shibori cushion that is available in my shop at the moment and I'm going to show you exactly how I did it!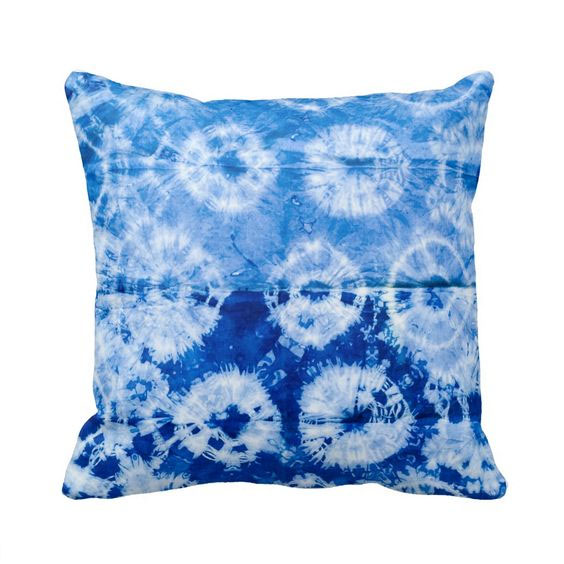 I usually use photoshop to edit my images but don't worry if you don't have access to an Adobe suite. Picmonkey is free and really easy to use and I'm going to go through a few simple editing techniques on this platform now to get your designs looking amazing! You want to start with a large image for the best results. If you can take the photo with a DSLR, but even a phone photo will work for the smaller products and to prove it I'll show you below:
Now you have your photo let's start editing!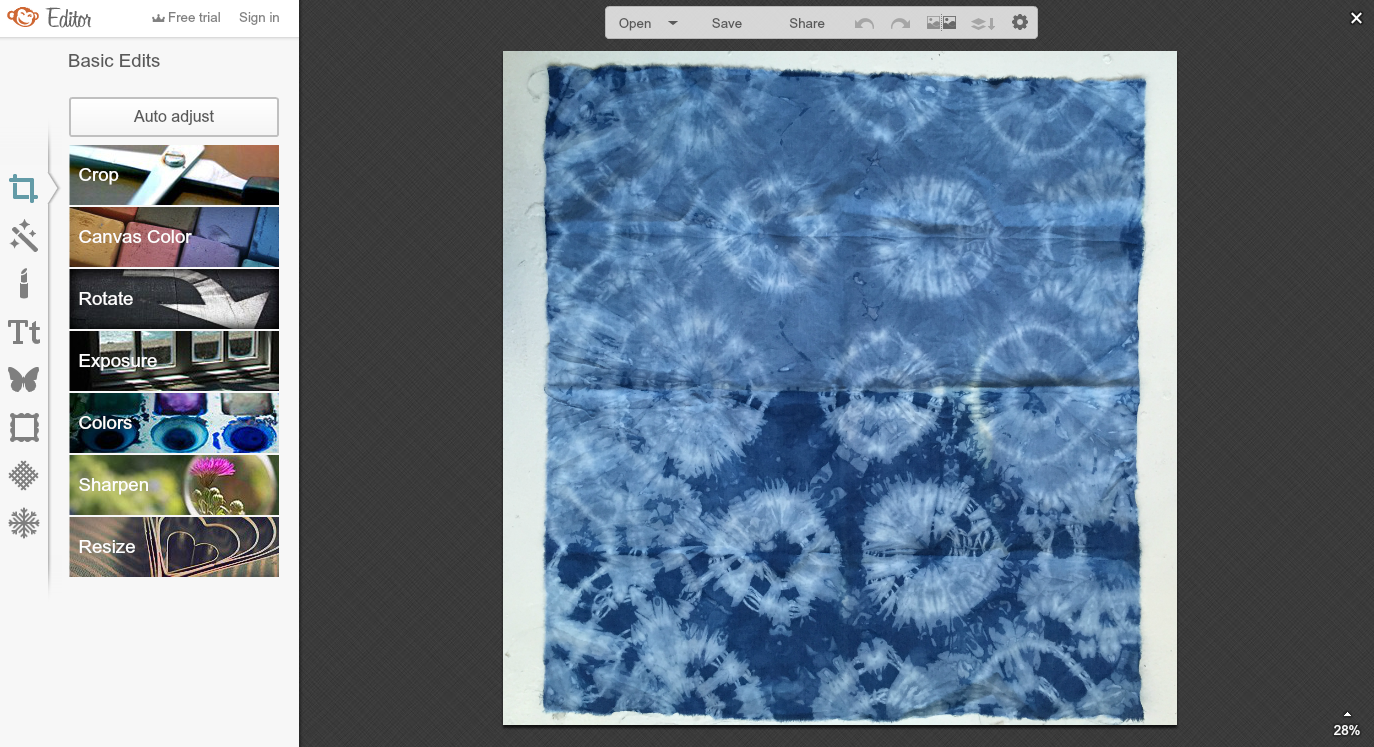 Here's my original, totally unedited snap of my fabric taken on the floor of my studio on a nice sunny day. Not looking that great yet is it?
So the first thing I want to do is click on that 'exposure' button on the left hand side to bring up the controls.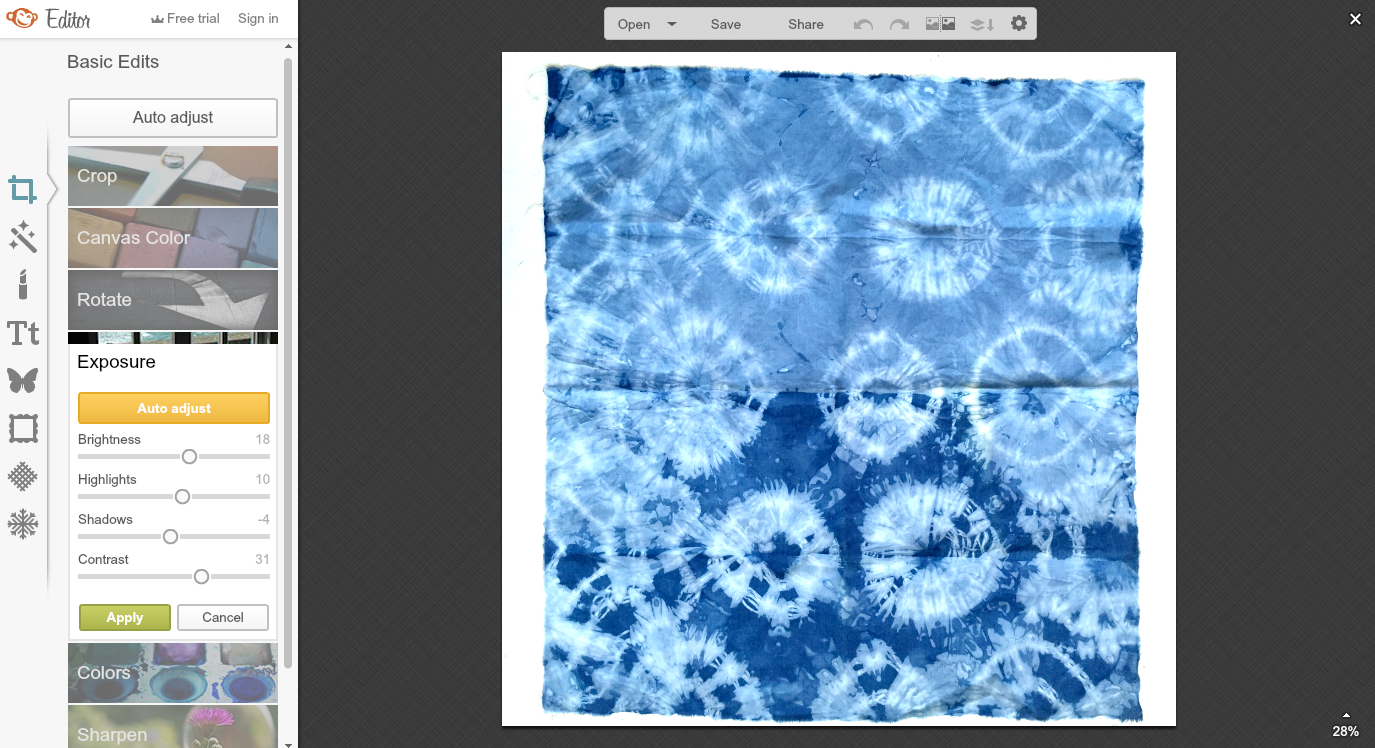 Play around with these dials until you're happy with your image. Each photo will be different so these aren't necessarily the right settings for your picture, but generally you will want to increase the brightness and contrast and bump the shadows down a little to create nice colour variations.
Speaking of colour, it's looking a little bit off. You can see that the white areas of the fabric look blue. Let's fix that. Click on the 'colors' button and then the Neutral picker. Now click around the image picking out the areas that should be white until you feel the image represents the true colours. I then bumped up the saturation – just for good measure.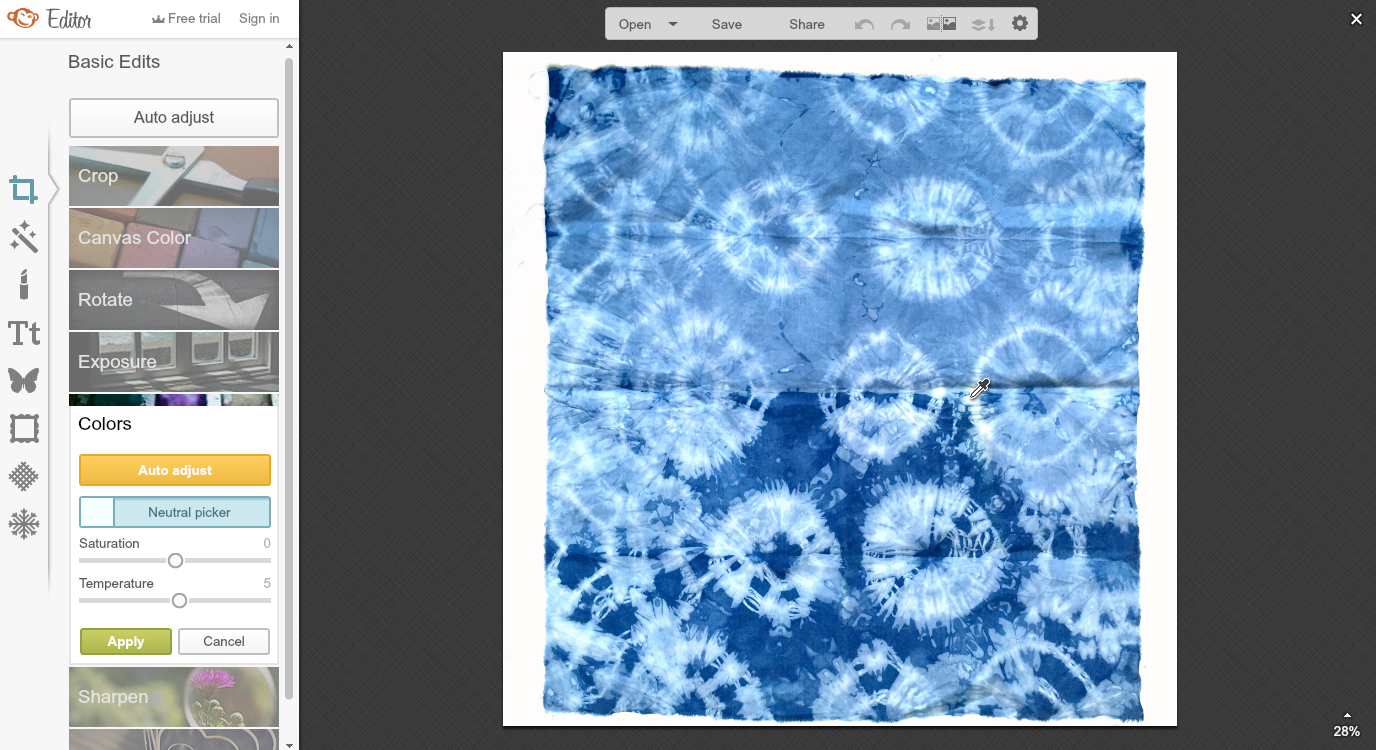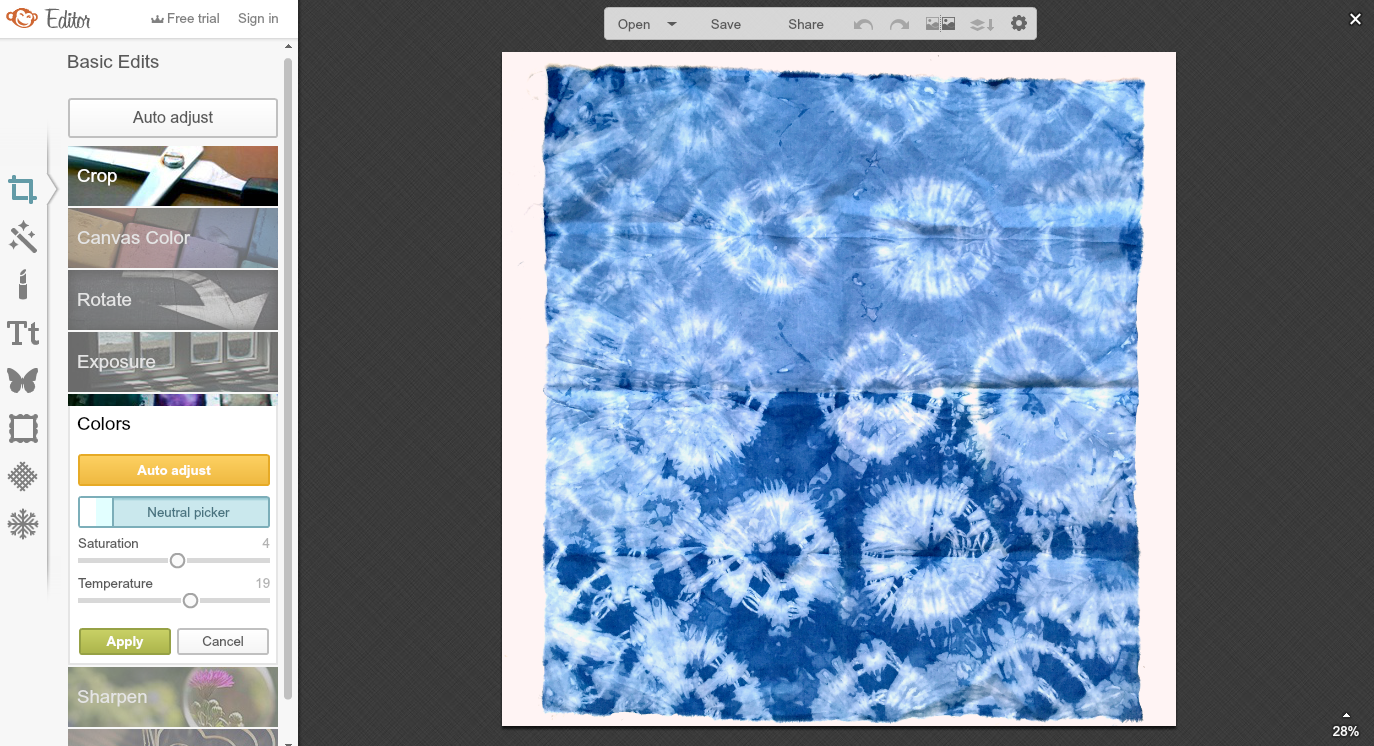 We're looking pretty good now but for one final tweak I just sharpened and clarified the image just a touch to really define those patterns. All that's left to do is crop and save!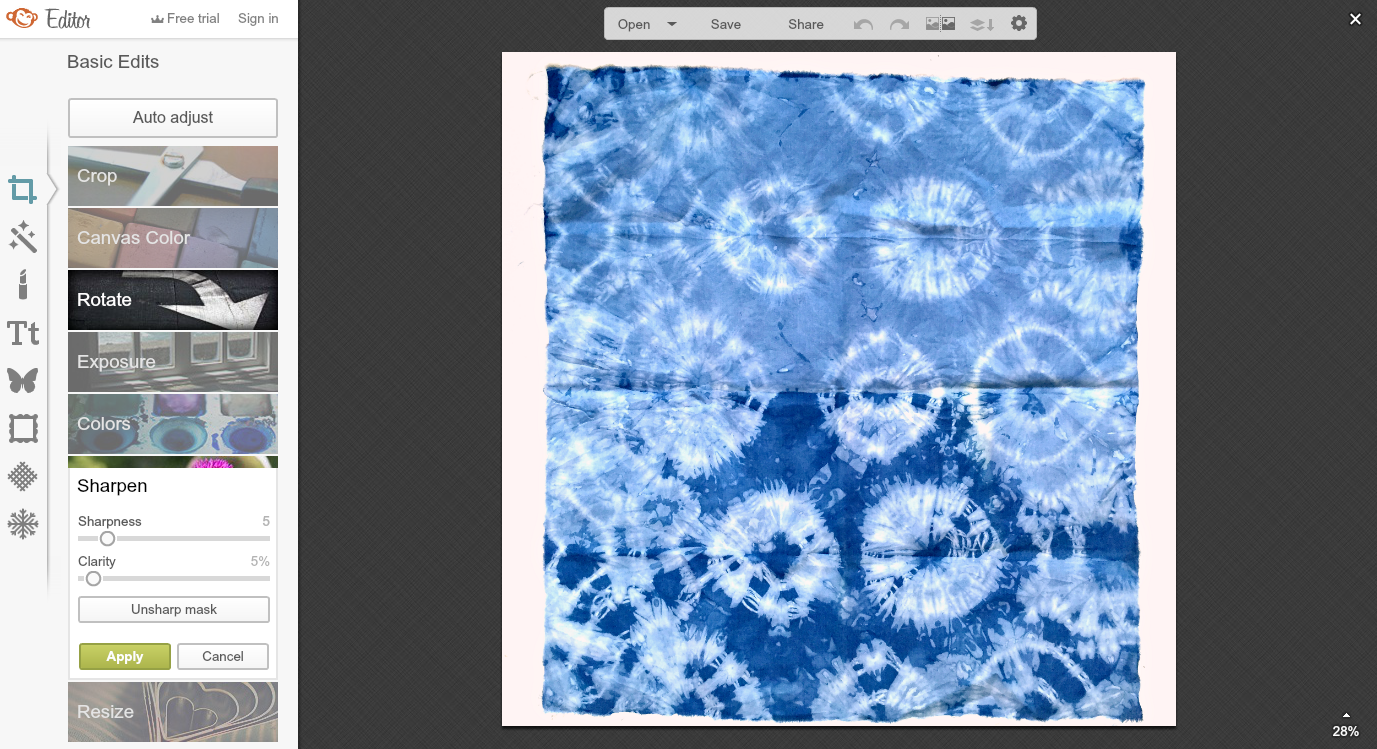 See, that wasn't painful at all was it! Now the image is ready to make into everything!! Don't believe me? Take a look for yourself right here :D
Now that we know how to take and edit your photos for use on any of the products, plus how to create products and sell them for free it's time for a giveaway! We're just the gift that keeps on giving! If you complete the following requirements you could win a £100 Zazzle gift certificate and have your products featured on the Zazzle home page getting you plenty of views!
–          Entrants must have set up a Zazzle store and provide that store name in the form below.
–          A store must have at least 10 public Zazzle products posted for sale to qualify, with a royalty rate of no more than 15%. The store must include at least one cushion design.
–          All entrants will be featured onsite for at least one month.
–          The overall winner will receive a £100 gift certificate to use on www.zazzle.co.uk. There is no cash alternative.
Click here for full terms and conditions.
**This post is sponsored by Zazzle. All opinions are my own.