I don't know if many of you know this but I have a degree in textile design. It's been a while since I finished but I'm still fascinated with texture, pattern and surface design especially of tactile materials like fabric and porcelain. What I absolutely love is pattern made from random formations and gradients, so you can imagine how excited I was to find a really easy way to create this fabric at home with old denim jeans off cuts. There are two different techniques I'm going to show you in this tutorial; Shibori and tie dye. Lets start with the reverse Shibori style tying process.

Materials:
Bleach
Denim Fabric – The perfect use for all those denim short cut offs!
Small off cuts of wood/plastic
Elastic bands
Shibori Instructions:
1. To create the uniform shibori dye style fold the fabric neatly into a square/triangles.
2. Secure wood blocks and/or elastic bands to block off sections of material.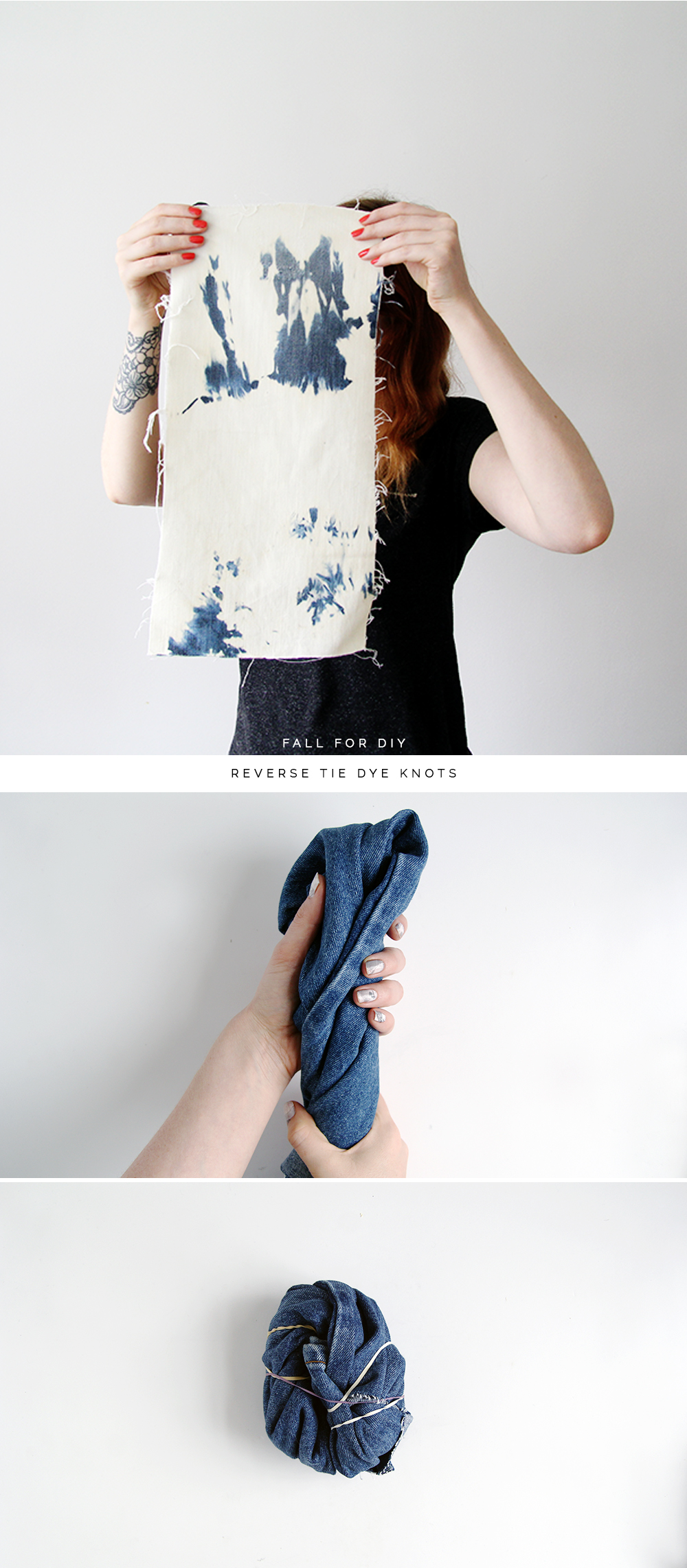 Tie Dye Instructions:
1. Take the fabric in both hands and twist in opposite directions.
2. Fold the twist in half and secure with elastic bands. Keep twisting and folding until you have a small ball of fabric. Hold in place with an elastic band.
Bleaching Instructions:
1. Pop on some rubber gloves. You don't want to get bleach on your hands… trust me.
2. Submerge your tied fabric in the bleach. It will probably float so you will need to weigh it down with something heavy that you don't mind getting a bit bleachy. I used an old plastic bottle full of water.
3. Leave for around 10 minutes and then turn over. After another 10 minutes check the colour. Keep turning the fabric until you have bleached the exposed fabric to a lighter shade.
4. Once you're happy take the material out of the bleach, remove the elastic bands and wood blocks and rinse thoroughly for about 5 minutes until all of the bleach is removed. Once you've made enough fabric for your project put it all on a quick wash in your washing machine to get rid of that strong bleach smell.

Now your fabric is ready to iron, cut and sew up into whatever your heart desires! My favourite project is this Clutch I made using this Zipper Pouch Tutorial. What do you think?