April Fools! No this is not a real gem stone… lol. Anyway…
Precious stones and sparkly gems are going no where in a hurry so I decided to try out another faux crystal jewellery tutorial. Rather than make another DIY pendant necklace I saw an opportunity to make these elegant faux labradorite Geometric Drop Earrings.
I think one of my favourite things about these earrings is that they can be worn in two different ways. The chain in slipped onto the earring post before putting it in the ear and can be easily removed leaving a small and understated faux labradorite stud. I guess this is the day to disco of accessories!
Materials:
1.5mm Gold Copper Wire
5cm Small Link Chain
Black and White Polymer Clay
4 x Jump Rings
Earring Posts
Strong Glue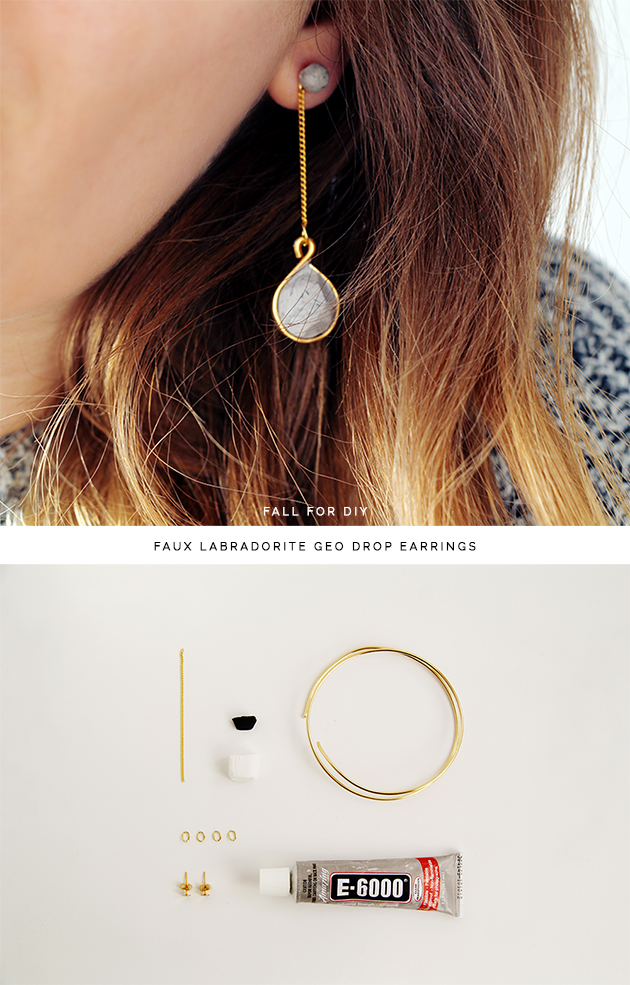 The first part of this tutorial follows the same steps as my DIY Faux Geode Pendant below. Follow the first two steps of this tutorial and then come back and follow the rest of this tutorial: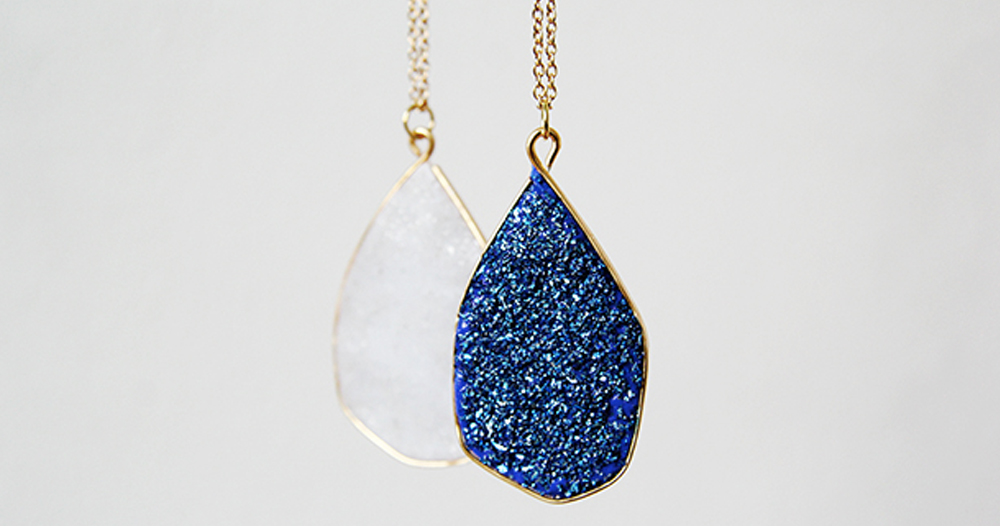 To make the droplet:
1. Bend your flattened wire around a cylindrical object to make a rounded drop shape and cut any excess off the end.
2. Mix small pieces of black polymer clay into the white. Keep mixing until you have a grey marble effect then break up small flecks of black clay and roll the grey marble into them.
3. Halve the clay mixture and squash each half into the droplets.
4. Use a craft knife to cut slices from the dome to create the geometric shape.

To make the stud:
1. Gather up the leftover polymer clay shavings and roll them into a ball. Use your knife to cut it in half. These will be your stud.
2. Bake the droplets and the studs in the oven on a medium heat for about half an hour.
3. Glue the stud domes to the earring posts and leave to dry.
4. Cut the chain into two and attach one jump ring to each end of the chain. Attach one end to the drops and thread the other end onto the earring post.
So which do you prefer. Simple studs or droplets?