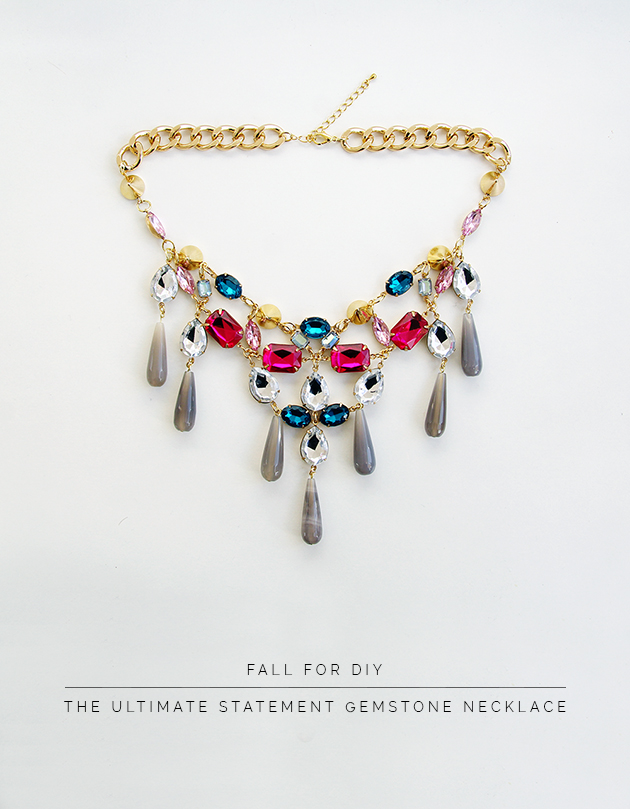 The Ultimate Statement Necklace calls for the Ultimate Tutorial post, so bear with me on this one.. It is long!
It starts with a search for pronged rhinestone bezel settings. I've been designing my new range and I needed the perfect materials. Finding these was proving to be difficult (one for the jewellery makers out there..) so when I was contacted by Dinne from Beadmixer it was like someone had sent him from the heavens to solve all my jewellery needs. They've got a fantastic range of rhinestone and setting and are sold separately which is exactly what I needed!
I was thinking about what I wanted to make with the materials and I realised I've never really gone down the statement necklace route on Fall For DIY. With it being such a massive jewellery trend I figured it was about time I changed all that and gave you guys some statement DIY treats.
Materials
Chain
Jump Rings 5mm and 9mm (20-30 depending on your design)
Head Pins (I used 12 but your design may call for more)
Extension Chain (make your own)
Stud Spikes
Prong Settings (range of different sizes)
Rhinestones (to fit settings)

Instructions:
How to set your rhinestones.
1. Match the correct size rhinestone to the setting.
2. Insert the rhinestone, colour side up and centred in the setting.
3. Using pliers gently fold the prongs inwards. Keep these loose to start with and when you've got your stone positioned correctly and secure tighten the prongs down.
Do this with all of your supplies.

Once you have set your rhinestones design your necklace:
1. Think about how the stones will hang, the space between them and if the look is symmetrical.
2. Take a photograph of your design so you don't forget your outcome half way through.
3. Prepare the studs you're using in your design with this eyepin tutorial.

Creating the Necklace:
1. You want to make sure all your stones and studs face the right way. The easiest way to do this is to keep your connecting holes horizontal and jump rings vertical. You can see this more clearly (than my terrible explanation) in the first image of this section. The holes connecting to the studs and stones are visible, and the jump rings holes are not!
2. Slowly piece the necklace together periodically holding it up by both ends to check how it hangs. If you need to adjust where the jump rings are attached to give a better aesthetic.
3. Use smaller jump rings to attach a number of stones together.
Finishing the Necklace:
1. To help your necklace hang professionally and make it look extra special add agate droplet beads to the bottom. Use head pins (as oppose to eye pins) with a flat bottom to do this.
2. Attach the extension chain to your large link chain and measure around your neck to find out how long you'd like the necklace and where you want it to hang.
3. Use jump rings to attach the chain to your stone arrangement.
You might need to rearrange a few stones and beads once you've seen how the jewellery wears. Don't be afraid to add or take away to make it perfect. You've got this far! I love the colours these gems and stones came in but Beadmixer have a massive range so play with combinations of colour to make your necklace unique!